Archive 539
January 16, 2023
---
Gina Lollobrigida has died
Born in 1927 in Subiaco, Italy. Died on January 16, 2023 in Rome.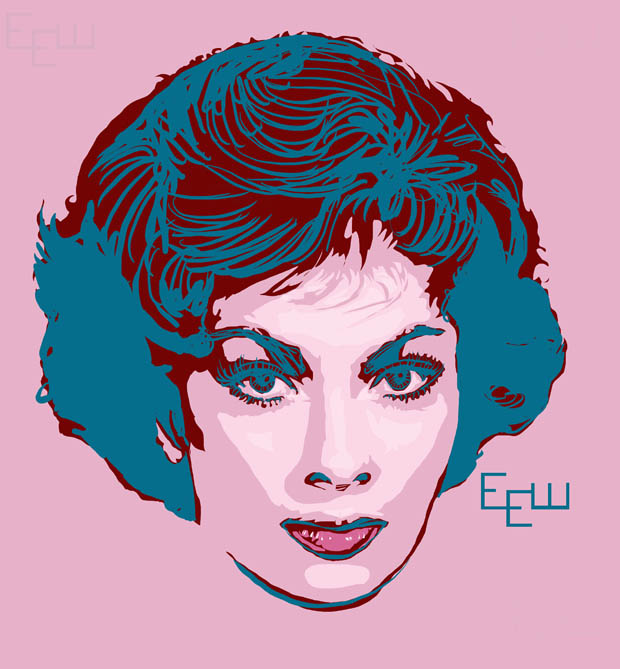 She was called "The Most Beautiful Woman in the World" – more Gina Lollobrigida
---
January 16 – Anniversary of the death of Carole Lombard in plane crash, 1942 – UPI Press International [English]
---
Working on Johnstown Flood (1926). This is what Nitrate Decomposition looks like: pic.twitter.com/Ve3a16SdLR

— James Mockoski (@AZFilmArchivist) January 6, 2023
---
Sophia Loren
---
Short Reviews:
Remember the Night 1940 – Preston Sturges script + Stanwyck and MacMurray
Preston Sturges is known for his comedy films, and there is plenty of comedy in Remember the Night, but the affectionate, sentimental streak is pretty wide in this tale of a shoplifter (Barbara Stanwyck) facing a public prosecutor (Fred MacMurray) in court with Christmas just around the corner. Through a series of circumstances, quite unintentionally the prosecutor ends up with the shoplifter accompanying him on a trek from New York City to Indiana, and then for a week-long stay at the prosecutor's widowed mother's (Beulah Bondi) home, and as you might suspect, a certain attraction crops up between them. However, Sturges' real story is about the effect an emotionally cruel childhood has on a person, and how much power a good (Bondi) mother and a bad (Georgia Caine) mother can have on a kid. Apart from that, there's also some goofy characters on the screen (Sterling Holloway, Fred Toones and Elizabeth Patterson) and several nice comedy sections where MacMurray and Stanwyck end up sleeping in a farm field for a night, then giving false names when forced into a local courthouse for trespassing, and escaping and then later travelling back to New York City through Canada to avoid the frustrated arm of the law. Remember the Night is not the whirligig comedy spectaculars of Sturges' own directed films, but the director here, Mitchell Leisen, keeps this cross-country tale moving and lets the plot simmer a bit on the unusual (for Sturges) out in the open and in your face homage to Motherhood.
---
Criterion is releasing MILDRED PIERCE in 4K on disk in March, 2023 - Page at Criterion about this
---
Review of Strangers on A Train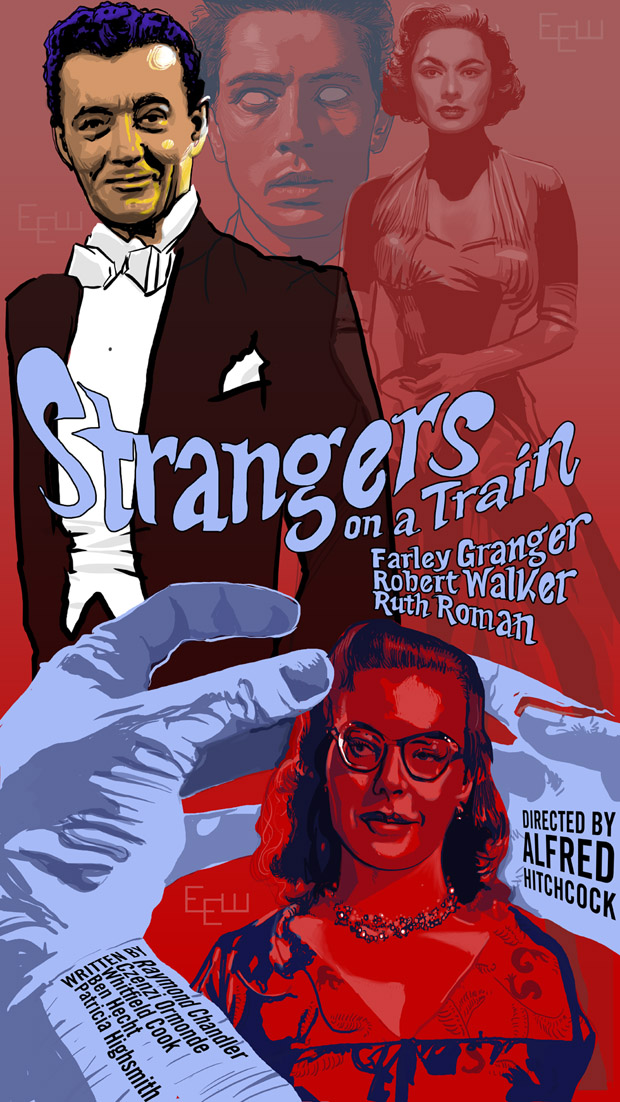 Hitchcock's Strangers on A Train - Released June 27, 1951, directed by Alfred Hitchcock
"I don't talk much, you go ahead and read."
Robert Walker (as Bruno Antony) says this to tennis star Guy (played by Farley Granger) when they meet aboard a train traveling north out of Washington DC's Union Station. Comfortably lounging across from one another, their shoes bump together and their chance meeting turns into the seed of the story running through the rest of Strangers on a Train, that is, Bruno trying to get Guy to fulfill on an odd little bargain made in sincerity by Bruno but only in jest by Guy: that they swap murders of two people that are tormenting them.
More Strangers on a Train, 1951, directed by Alfred Hitchcock
---
Hollywood: The Oral History
Fast Review of the new book by Jeanine Basinger and Sam Wasson, 2022
Literally thousands of quotations from famous (and no-so-famous) participants in Hollywood history make up the 768 pages of Hollywood The Oral History, and it is a mostly seamless flow of easy to read remarks, some just a few lines, such as:
Clint Eastwood: I'm not going to play Hamlet. I have no interest in miscasting myself.
Katherine Hepburn: Ethel Merman is not going to play Florence Nightingale. Everybody has their limitations.
But other quotations are much longer, spreading over several pages. Remarks are mostly from discussing films, actors, directors, and just about every other position within the industry. There are flashbacks, reminisces, and lots of friendly analysis of, for example, why a director thought a certain actor was good, but another not so good; or why a star thought they were succeeding (and more often confused a bit by how they're doing it); and much more.
More about Hollywood the Oral History - 2022
---
Mickey Kuhn, the last surviving cast member from Gone With The Wind has died – NY Post
Mickey Kuhn, a child star of the 1930s and '40s Golden Age of Hollywood — has died. ...He was the last surviving member of that cast, as Olivia de Havilland, who played Melanie, passed at 104 in 2020.
---
Short Reviews:
The Vampire 1957 (aka Mark of the Vampire) – Coleen Gray and John Beal
Effective low budget monster film that crosses 1950s laboratory disaster with a chunk of Dr. Jekyll and Mr. Hyde, a twist of vampire bat trouble and then more problems involving pills. John Beal makes the film work because he puts real effort into showing us the tortured decline of a small town family doctor facing a problem he can't understand. As he begins waking up without any idea of what he's been doing, but getting awfully suspicious as the dead body count starts to climb, Beal's portrait of a physician depending upon experimental pills to protect him in a race between losing his mind or committing suicide pushes The Vampire into being an analogy to the real world dilemma of chemical addiction. Coleen Gray is onscreen as the doctor's dependable nurse who gets threatened later on, since the film, aside from Beal's strong work, still follows the familiar monster movie plot about a monster on the loose. Though the vampire angle here doesn't equal blood-drained bodies, in The Vampire the victims instead experience total "cellular disintegration"
Caught In The Draft - 1941 - Bob Hope and Dorothy Lamour
Bob Hope first presented his "cowardly hero" persona in the 1939 The Cat and the Canary, but by Caught in the Draft the portrait is all worked out and as a mechanism for making one liners, Hope is cut loose and shooting free. One thing that is interesting about Caught in the Draft is that since it was released prior to the advent of America's involvement in World War II, the film contains the kind of knowing-joking about army life that, like Abbott and Costello's Buck Privates also from 1941, has humor at the army's expense that would vanish (mostly) for the duration of the coming war, though in no way does Caught in the Draft come anywhere near the anarchy of the Marx Bros Duck Soup which satirized things military (among much else). Caught in the Draft hurtles along through a simple plot and really doesn't move too far beyond the sketches that hold it together, so the character portraits are thin and seem like the equivalence of walk-on parts in a funny stage play that moves all the dramatology out of the way whenever possible to make space for the next series of funny set-ups. Eddie Bracken appears and provides some of the humour (such as the bizarre adventures of a tank rampaging across the countryside, picking up girls and getting into a lot of mischief).
---
Love on Repeat - 2019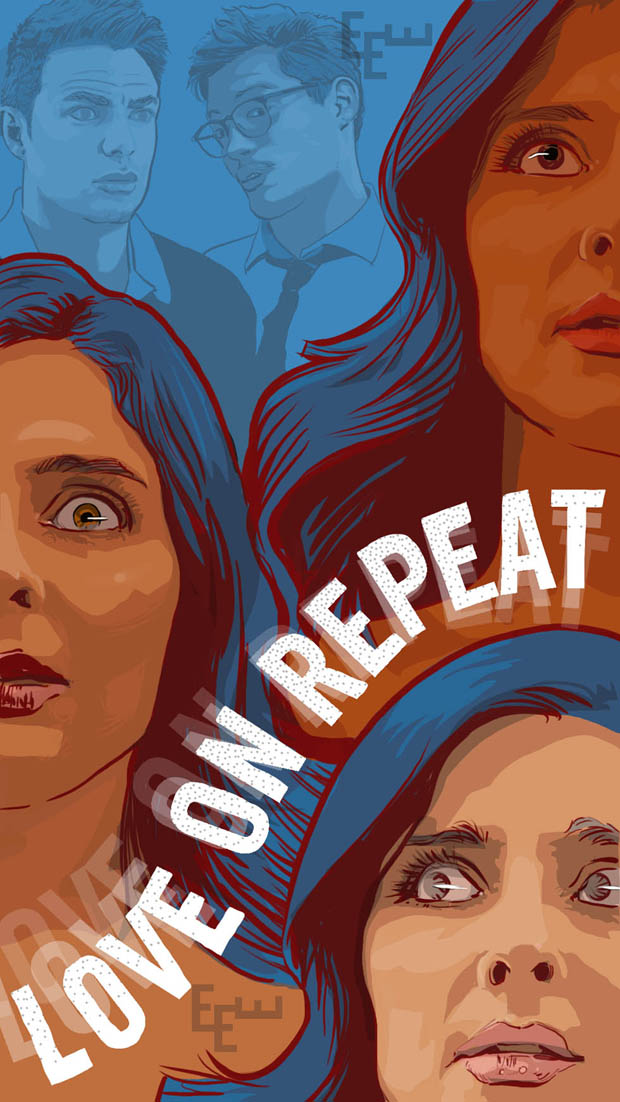 Caught in a time-loop at work, office-worker Amber (played by Jen Lilley) has to develop skills to stop triggering a repeating day of personal and professional disaster.
Read more Love on Repeat 2019
To see more movie poster art
---

---

---
---
What's Recent
---
---
---
Original Page October 26, 2022