Sophia Loren
Sophia Loren aka Sofia Villani Scicolone Ponti
Born September 20, 1934 in Rome, Italy.
Sophia Loren is an international star in the true sense, as her film career is a combination of American films and international films, and she can be categorized as an Italian film star, but just as easily labeled an American one, too, as her film list of Hollywood movies is very long and has her starring and co-starring with most of Hollywood's upper-tier of male stars: Clark Gable, John Wayne, Charlton Heston, Cary Grant, Gregory Peck, etc.
Loren won the Academy Award for Best Actress in 1962 for her performance as Cesira in director Vittorio De Sica's Two Women.
She has been the author of a number of books, has owned numerous businesses utilizing her fame to sell perfume, eyewear, and more.
---
Boy on a Dolphin - 1957
Probably the first "big Hollywood film" of Loren's career, Boy on a Dolphin has been roaming around television for many decades as a washed-out color movie with the question hanging in the air of whether decent film elements still existed for what had been a major production effort from 20th Century Fox back in 1957. A new blu-ray restored version from Kino appeared Fall of 2016 with crisp and sharp picture.
More on Boy on A Dolphin - 1957
Boy on a Dolphin - Sophia Loren - 1957 - Blu-ray - Amazon
---
The Priest's Wife - 1970 - Sophia Loren and Marcello Mastroianni
---
Review: Yesterday, Today & Tomorrow
Sophia Loren Memoir 2014
Sophia Loren uses the 352 pages of this book to chronicle her film career and to narrate the life of her family, particularly her mother who transfers her love for film (and ambition for acting) to her, and of Loren's long association with manager and husband Carlo Ponti.
Included in the tale is the impoverished desperation of her childhood and the pain of being an ignored daughter of a father who rarely enters the life of her and her sister, and when he does it often creates brutal emotional pain. She recounts her career rise through Italian photo-comic books, beauty pageants, and finally a long film career.
She talks about film productions and other Hollywood personalities like John Wayne, Cary Grant, Peter Sellers, among many others, and also discusses Italian movie production in general.
Read the review of Yesterday, Today, Tomorrow
---
Amazon
Sophia Loren's Recipes and Memories
---
---
Sophia Loren: A Life in Pictures - 192 Pages Amazon.com
---
The Films of Sophia Loren - 256 Pages - Amazon.com
---
Sophia Loren: A Biography - Simon and Shuster - Amazon.com
---
You will see Amazon links on this web site because I am an Amazon affiliate. I earn from qualifying purchases.
---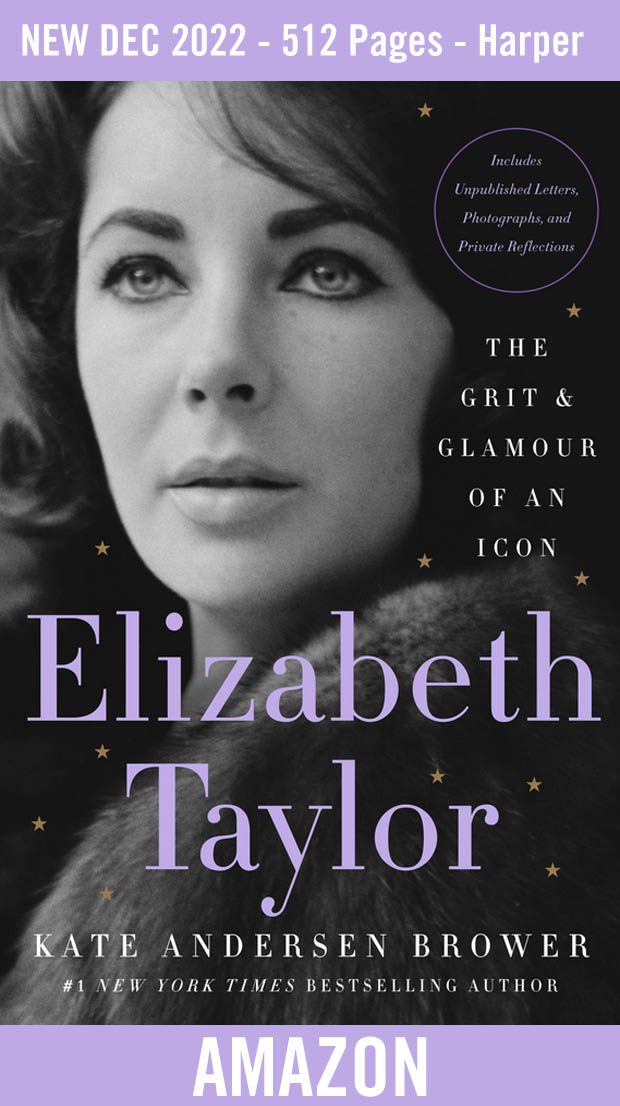 Elizabeth Taylor: The Grit & Glamour of an Icon - 512 Pages
"A dazzling portrait of an incredible woman. Elizabeth's life was more captivating than any film could ever be."— Demi Moore
"Brower's book takes the reader into the private world of the most famous celebrity of the 20th century. Elizabeth's heart, mind, and passion come vividly alive on each page. We see her as a woman who struggled and ultimately survived to rewrite the playbook on celebrity and power. I never wanted it to end!" — Brooke Shields
"Brower is quickly becoming a brand-name Washington writer because of her ability to deliver juicy tidbits and insider information while steering her books toward a mainstream audience without sacrificing historical credibility." — Christian Science Monitor on TEAM OF FIVE
Amazon Link to pre-order Elizabeth Taylor: The Grit & Glamour of an Icon Hardcover
Audio Book version - Elizabeth Taylor: The Grit & Glamour of an Icon
[This is an affiliate Amazon link which may provide a commission earned for this site. If that happens, we'll probably buy an old movie on Blu Ray with the proceeds.]
---
What's Recent
---
---
---
Original Page Feb, 2014 | Updated April 20, 2022