Enter Santo - The Blue Ray Box Set
Featuring: Santo vs Evil Brain and El Santo vs Infernal Men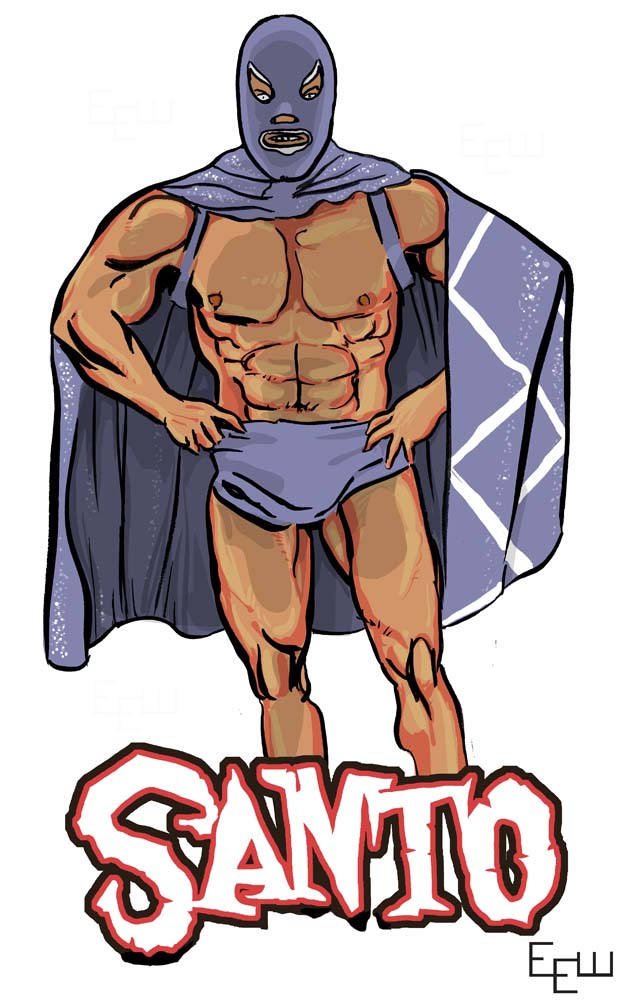 El Santo (Rodolfo Guzmán Huerta) is apprehensively lurking on a street when what looks like a pristine 1956 Cadillac Coup deVille pulls up, and out jump three men. They pursue El Santo who has run into a dead end alley and is obviously looking for a way to escape the clutches of these pursuers. The men, dressed rather snappy in late 1950s style with jackets and ties, pause and watch El Santo as he realizes there's no exit, and the the three prepare themselves to take on the bare-chested, masked wrestler: one man has a large length of chain, another a switchblade knife, and the last one pulls brass knuckles onto his fist. A battle ensues and El Santo fights bravely but is overcome, picked up and taken to the waiting Caddy parked by the clearly marked Hotel Sarmiento, which is in Havana, Cuba, where this very first El Santo film (there are 53 El Santo movies) was shot in the last days before the arrival of Castro in Cuba's capitol city on January 8, 1959.
Taken to a laboratory, a scientist injects the unconscious El Santo with a serum that will allow him to control El Santo to do his will, so thus begins Santo vs Evil Brain, and the formula firmly established, which is simple: evil men with evil plans underestimate the silver-masked Luchador who will literally overthrow them.
The box set from Indicator is in a limited 6,000 run and includes a booklet talking about the El Santo franchise, and the discs include both Santo vs. Evil Brain (Santo contra cerebro del mal) which was released in 1961, and Santo vs. Infernal Men (Santo contra hombres infernales) which was shot at the same time.
Picture quality is the best I've yet seen of the older black and white El Santo films. Seeing the location photography of 1959 Havana is fascinating all on its own, and though the plot is rather, shall we say, straight-forward, there are a number of interludes and side-stories (such as a beautifully photographed short Spanish dance section inside the Casino de Capri). The English subtitling obviously helps a lot if you do not understand Spanish (these films are not dubbed). There are several short special feature films on the discs that explore the connection of the El Santo movies to various actors and producers, and the general lore of the making of the movies.
Related: Santo vs The Vampire Women – 1962 – The fearless luchador Santo versus a cult of vampire women and their ruthless henchmen.
---
---
---
---
What's Recent
---
---
---
Original Page May 2023