Hollywood: The Oral History
Review of the new book by Jeanine Basinger and Sam Wasson, 2022
Literally thousands of quotations from famous (and no-so-famous) participants in Hollywood history make up the 768 pages of Hollywood The Oral History, and it is a mostly seamless flow of easy to read remarks, some just a few lines, such as:
Clint Eastwood: I'm not going to play Hamlet. I have no interest in miscasting myself.
Katherine Hepburn: Ethel Merman is not going to play Florence Nightingale. Everybody has their limitations.
But other quotations are much longer, spreading over several pages. Remarks are mostly from discussing films, actors, directors, and just about every other position within the industry. There are flashbacks, reminisces, and lots of friendly analysis of, for example, why a director thought a certain actor was good, but another not so good; or why a star thought they were succeeding (and more often confused a bit by how they're doing it); and much more.
The topics are grouped informally amid the quotations, and in a way many subjects lead naturally to another subject, and like a baton in a marathon (and this is a very long book) these subjects are passed forward to the next. In some places author Jeanine Basinger is quoted (for example during a section on Frank Capra) which helps to connect together the different statements.
In reading this book, it helps to have a familiarity with the Hollywood "greats," but for the most part there are plenty of names that will be unfamiliar to the average classic movie fan but nonetheless these words are a delightful insight into the creative process in Hollywood, also the business side, and of course the personalities, the stars that are the main remembered aspect of the classic years of studio production.
The book starts with the silent era then gradually moves through each decade until we reach something like the contemporary time, with remarks by George Lucas, Steven Spielberg, Kathleeen Kennedy and many others.
Because of this unique structure, a chorus of voices telling the story of Hollywood, you can open the book just about anywhere and begin reading.
Amazon link to Hollywood The Oral History – your purchase may provide a commission to this website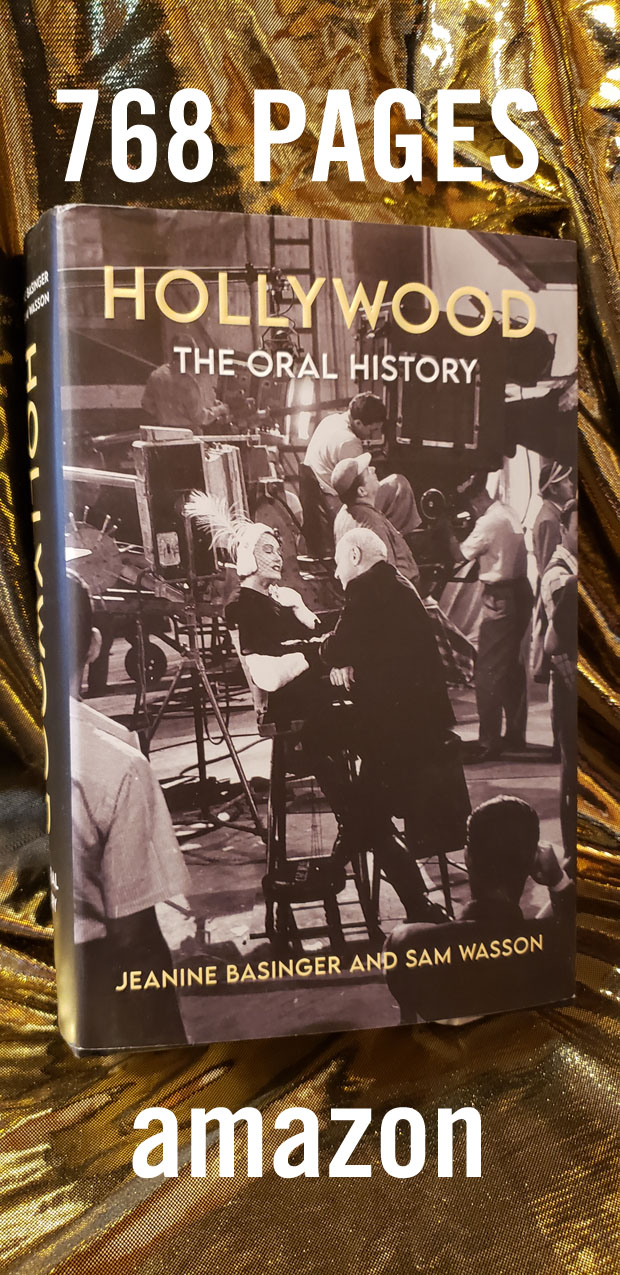 Contents Page List from Hollywood The Oral History
Introduction
The speakers
Chapter 1 beginnings
Chapter 2 comedy
Chapter 3 silent directors
Chapter 4 silent actors
Chapter 5 sound!
Chapter 6 studio heads
Chapter 7 studio style
Chapter 8 the studio workforce
Cameramen
Writers
Editors
Costume
Makeup
Music
Art direction
Studio personnel
Directors
Stars
Chapter 9 the product
Chapter 10 the end of the system
Chapter 11 identity crisis
Chapter 12 new hollywood
Chapter 13 the creep up
Chapter 14 the deal
Chapter 15 packaging
Chapter 16 everybody's business
Chapter 17 monsters
Afterword
Acknowledgments
---
---
---
---
---
What's Recent
---
---
---
Original Page December 2022