CINEMAGRAPHE
LAST UPDATE July 29, 2021
Reviews of Classic Film, with artwork and news
---
Profile of collectible movie poster company dealing in vintage pieces from across many eras of Hollywood
Settling on a favorite movie poster is harder for Liberman. "I'd have to go with Star Wars. The Style A one-sheet is classic. Everyone knows that image by Tom Jung, with Luke Skywalker holding the lightsaber over his head. I've sold hundreds of those over the years, and I always have a few in stock. The price has gone from $300 when I first started selling to now, where they're going for $3,500 and up."
Not long ago he sold a Casablanca one-sheet to actor Mark Wahlberg. "I got to meet him because I delivered the poster to his mansion in Beverly Hills," recalled Lieberman, who took the order from an employee of Wahlberg's. "I made her put Mark on the phone, and I said to him, 'Do you realize how much this is going to cost?'"
Casablanca posters are pricey. In fact, Lieberman said the rarest item he'd ever sold was a Casablanca half-sheet that went for $100,000 about 10 years ago.
Story at Phoenix New Times
---
Harvey - 1950
This somewhat ethereal comedy film directed by Henry Koster features two star players, one we can see (Elwood P. Dowd, played by Jimmy Stewart) and the other we can't, a 6-foot tall white rabbit that walks on two legs and wears clothes. There is one exception where the audience does get a glimpse of the magical Lagomorpha, that's when Dowd, accompanied by Harvey, are shown posed together in a dignified oil portrait that gets put on the mantle inside Dowd's large, old fashioned home that he shares with his older sister Veta.
At the beginning of Harvey, we're under the impression that only Dowd can see Harvey and no one else, but this changes. Veta (Josaphine Hull), who is burdened with the social opprobrium of having a "crazy" brother, confesses to a psychiatrist at "Chumley's Rest," a sanatarium near town where she wants Elwood committed, that sometimes she can see Harvey. This statement results in Veta being falsely identified as the "crazy" family member and held at Chumley's while Elwood is allowed to leave. Then the important Dr. Chumley himself gets involved in the case, and he, too, learns he can see the rabbit...
Is Harvey real? Or is this a mild, small-scale shared psychosis? We don't know since the movie, which is written by Oscar Brodney and Myles Connolly from the play by Mary Chase, concentrates the most on the humor generated by the shenanigans taking place by the identity mix ups at the sanitorium, and the coming and goings of a talking rabbit that we never hear or see but impacts the characters on the screen all the same.
Not that we're supposed to just accept everything without any obvious questions popping into our heads. How and by what power could a six-foot rabbit engage and talk with people isn't explained, though Harvey is identified by the Doctor as a "pooka," a kind of pixie animal-spirit derived from old Irish mythology. But, Harvey only plays with explanations but never commits to anything except the frequent comedy and a little bit of biography of Elwood P. Dowd, who revealingly says that "in this world, you must be oh so smart, or oh so pleasant. Well, for years I was smart. I recommend pleasant."
Other Hollywood films deal with the theme of mental strain and collapse in serious ways, but Harvey goes at it from a direction that puts it into the company of films like Arsenic and Old Lace, with similar expert comedy dialogue coming out of outlandish situations. Stewart smoothly moves through the story and is always calm, unruffled, understanding and putting a positive spin on things, meanwhile he is often surrounded by gesticulating, frustrated, upset people who seem to presented by the story with the question "and these are the sane ones?"
---
L'emmerdeur (aka A Pain in the Ass) – 1973
This Francis Veber scripted French comedy features an unsmiling, intimidatingly serious and professional hitman (Lino Ventura) who sets up a temporary shooting spot in an upper story of a hotel. With a clear view of the government court across the road, the hitman is there to wait for the arrival of a heavily protected witness which he has a contract to assassinate. Next door to his room is Francois Pignon (Jacques Brel), a man dedicated to ending his life after the breakup of his marriage to Mrs. Pignon (played by Caroline Cellier). Pignon's first attempt to hang himself instead cracks open water pipes which brings hotel staff running. In an attempt to control the situation next door to his rifle post which he desperately needs to not draw attention, the hitman tries to keep the suicidal Pignon close by and pacified.
Veber's script has the same tone and mounting-humor as his later films (such as The Dinner Game, The Closet, The Valet, etc), but in this 1973 film there is a period seriousness (at least at first) by director Edouard Molinaro that makes L'emmerdeur seem like it could be one of the 70's legitimate, and very self-serious, crime or spy films, a contrast that probably helps Veber's comedy steal in on the audience who watch the hitman struggle (and slowly lose) all control of the situation, ending up with this time-obsessed killer (he has to provide the rifle shot at exactly the right moment in time) being used to drive a pregnant woman to the hospital, deeper-and-deeper involved in Pignon's marital woes, and then mistaken for Pignon himself by a psychiatrist (Jean-Pierre Darras) who administers tranquilizers a little too freely.
Like classic comedies from the silent era or the 1930's, Veber's humor keeps revitalizing itself by building on top of previous laughs and expanding the situations until it has taken over the movie entirely, leaving some of the screen cast (and perhaps the audience) astounded at just how badly things can get out of control while a well-intentioned simpleton (Pignon) at the center travels through the chaos and disaster unscathed.
---
Here Comes Mr. Jordan - 1941
With a consideration of Heaven Can Wait, and Angel on My Shoulder
An urgency pervades life-after-death movies of the 1940s, and this is probably the result of the catastrophe of World War II following so closely on the heals of the economic depression that was afflicting a large part of the globe. War was already being fought (and being lost by the Allies) in Europe and in Asia, and the United States was soon to join the fray when Pearl Harbor was bombed in December, 1941. But that event was still a few months in the future when this Alexander Hall directed fantasy came out toward the end of the summer of 1941, but the sense that life can suddenly be cut short, and the worry about what follows next, was impacting popular entertainment, and is the central part of this movie about a heavenly screw-up that leaves boxer Joe Pendleton (Robert Montgomery) temporarily without a body to house his immortal soul.
The supernatural elements of Here Comes Mr. Jordan remind me of director Frank Borzage's one year earlier Strange Cargo of 1940, which contains a peculiar supernatural tone that lightly touched upon ideas of "eternity" but kept (almost) everything defined in modern 20th century terms. The sometimes creepy Strange Cargo had a seriousness in the undertone (a seriousness much more blatant in a later installment of this kind of film, Capra's It's A Wonderful Life of 1946) that isn't really present in Here Comes Mr. Jordan, which is a comedy combined with a phantasy with some screwball elements sprinkled over it, and with a Hollywood confidence that a good script can fix the malfunctioning of Heaven and get boxer Pendleton "a shot at the title."
We're guided by the charming, angelic Mr. Jordan (Claude Rains) who tells us that "everything's going to be okay," steadily working out the kinks of Pendleton's dilemma by dropping him into the middle of a murder at the home of the wealthy Mr. Farnsworth, who, to the astonishment of his murderers (his wife and her adulterous partner) who drowned him in a bath tub, discover suddenly he's back alive and he has a whole new attitude toward life. This is courtesy of the free-riding Joe Pendleton who needed a fit body to train with that will be "in the pink," and ready to fight for the championship, a goal that the resurrected Mr. Pendleton is pursuing with single-mindedly resolve. That soon gets wrapped up in a mission of vindication against the past crooked dealings of the dead man whose body he is using, and the murderous double-dealing of that man's wife (Rita Johnson) and the treachery of the dead man's secretary (John Emery).
Montgomery portrays Pendleton as well-meaning but always talking like a Hollywood version of a boxer, meaning we hear a limited vocabulary and thickened speaking style indicating a slightly punched-up brain. As a moral agent righting wrongs it takes a little work to get Pendleton interested, and that happens when Evelyn Keyes (as Bette Logan) needs the new occupant of Farnsworth's body to straighten out a swindle masterminded by the original Farnsworth that has left Bette's father holding the bag and in jail for securities fraud.
Claude Rains did a reverse of this role as angelic coordinator in Angel on My Shoulder (1946) where he played a Satanic figure who drops a dead gangster (played by Paul Muni) into the unoccupied body of a highly respected judge, hoping that the combination of a gangster with no ethics and the power of a judge would spread ruin and disaster (it doesn't work out that way). While Here Comes Mr. Jordan is occupied with the triumph of the well-intentioned and how heavenly goofs are fixable (with the right script at hand), Angel on My Shoulder is distinct in that it gives us an image of the afterlife where there is an active, fiery Hell getting filled with not only gangsters, but ordinary looking citizens who mutter "my mother always said I would end up here." The difference of the two films attitude seems to be explained by the imposition of World War II between their release dates, and Claude Rains smiling figure of help in the earlier film has decayed into a smiling, but frustrated evil being trying to crush the human race by maneuvering to have their worst intentions run amok through the corruption of institutions and authority.
Muni's self-absorbed gangster who "see's the light" (though that doesn't keep him from being sent back to the flames, an unexpected twist) is at odds to the sweet niceness of Pendleton, who shows outrage at finding corruption in the championship boxing ring that he's been working so hard to reach. In Muni's case, the gangster Eddie Kagle expects to find corruption wherever he goes, and his moment of outrage isn't sharp or climatic, just sad and introspective when he realizes he himself is the culprit who mangled his life.
In Ernst Lubitsch's Heaven Can Wait (1943), the premise is changed again, which features another character with (generally speaking) good intentions (Don Ameche) who is at the gates to the flames of eternity and must explain how he got there. Is Ameche an adulterer? Is his constant attention to women not his wife a voyeuristic exercise or is he more hands on? Lubitsch's production doesn't wrestle with morality, but just the simplicity of right-and-wrong, and comes out with the judgement that it'd be wrong to send anyone this well-mannered and well-dressed to perdition. While Here Comes Mr Jordan and Angel on My Shoulder show a clear progression of pre-and-post World War II Hollywood America trying to come to grips with the idea of even cartoon evil, Heaven Can Wait dodges the issue entirely while spanning seventy years of history and discovers good style as a far more eternal value. Aside from Laird Cregar (as "His Excellency") expressing gravitas on the screen, this Lubitsch movie is more of an inoculation than a comic meditation on serious things, completely hamstrung by having to somehow promote an adulterous hero to the Heavenly Realm (but Samson Raphaelson's screenplay gets the job done.)
As a parody of the 1941 Claude Rains movie, Angel on My Shoulder seems to work almost everything in reverse, with the angry, mean-spirited gangster now cloaked as a respected judge and in charge of legal power and ruling over a courtroom, but then getting stunned into clear-thinking by seeing the affects on society (and there's another pretty girl to help the anti-hero see what's right, this time Anne Baxter). By itself, though, Angel on My Shoulder is a plea for reform, patience, and to ignore the voice of The Devil advising there's an easier, self-centered way to goals. In this, the distance between Muni's movie and that of Lubitsch's and Alexander Hall's is immense, since Muni's movie seems to really mean what it's saying (like Frank Borzage's Strange Cargo).
All of these films, including Capra's It's A Wonderful Life, channel theology and a sense of the eternal through twentieth century sensibilities, and in a more comical way (if we don't include Borzage's movie) find that bureaucracy is everywhere, and that means screw-ups will soon follow.
---
Cry Havoc - 1943
Nurses and refugees gather at a military support camp in the Philippines while the Japanese conquest of the South Pacific is taking place. With the American defences crumbling, Cry Havoc's cast of nearly all women have to figure out what they're going to do. Concerned for their mutual safety and worried over what has happened to the men they care about, the film has a bleak undertone that fits the early years of World War II which featured more defeats than victories for the Allies.
Margaret Sullavan, Joan Blondell and Ann Sothern bicker and fight with each other but the ladies (and there's quite a few more* than just these three) pool together their resources and emotional strengths as their situation looks increasingly doomed. Not as dark as the earlier nurse war drama So Proudly We Hail which came out three months earlier, but the two films share a common core story that enduring defeat is better than not being able to endure it.
Cry Havoc is a unique film in that men are rarely seen in the film at all unless they are about to die, and otherwise living males are made known only by off screen voices or through communications equipment, making Cry Havoc an "all girl show," and in this way related to the similarly all-female screen cast of The Women from 1939.
*Fay Bainter, Marsha Hunt, Ella Raines, Frances Gifford, Diana Lewis, Heather Angel and Dorothy Morris.
---
---
Superman director Richard Donner has died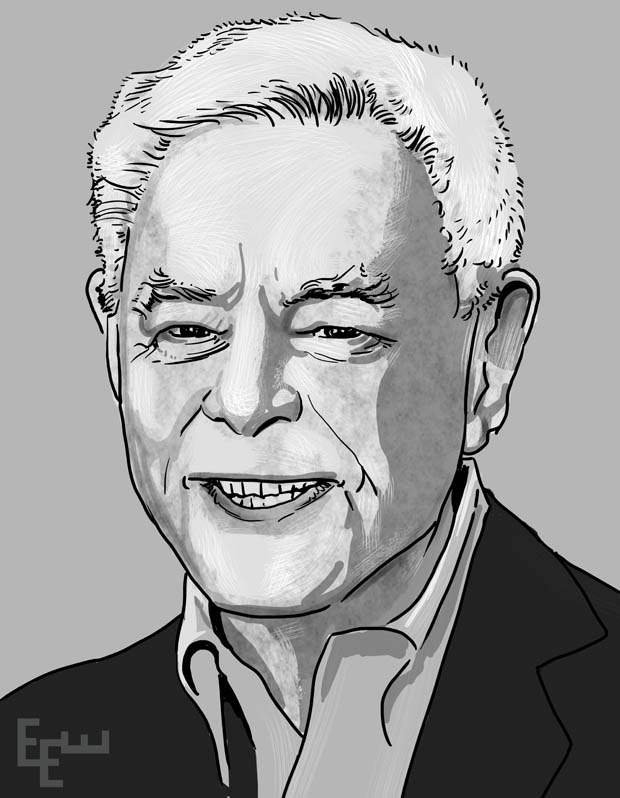 "Richard Donner, adaptable director of 'Superman' and 'Lethal Weapon,' dies at 91" – Washington Post
"Gene Hackman Honors Richard Donner With Hilarious 'Superman' Anecdote" – Hollywood Reporter
"Mark Hamill, Zack Snyder And More Big Names Pay Tribute After Goonies And Superman Director Richard Donner Dies" – Cinema Blend
Hollywood Pays Tribute to 'Lethal Weapon' Director Richard Donner: "Gifted Across So Many Genres" – Hollywood Reporter
---
---
Robot Monster – 1953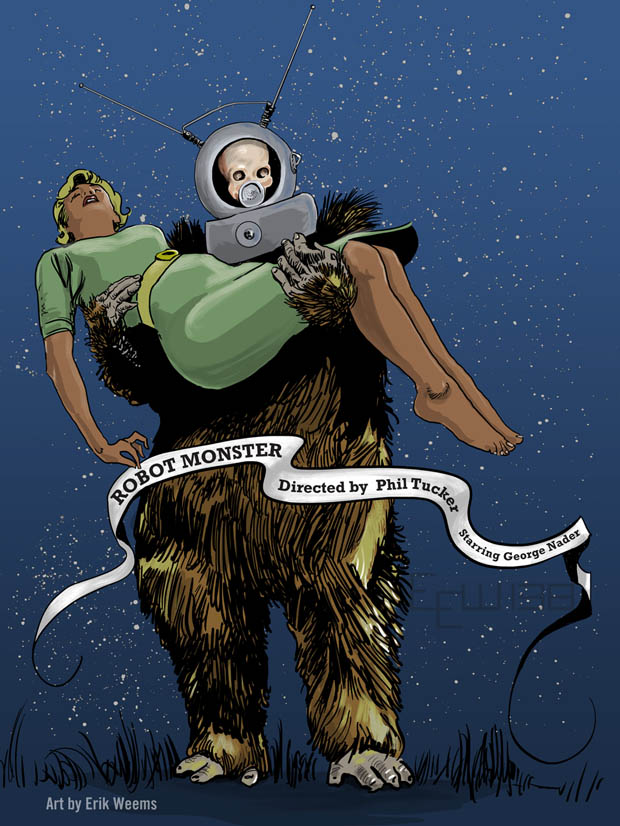 Robot Monster - released June 23, 1953. Directed by Phil Tucker
Legendary low-budget film (shot for a reported $16,000) which then grossed to over a million dollars in box office. Usually listed as one of the "awful" but funny sci-fi films of the 1950s, the story itself actually has a logical (and clever) structure, and Elmer Bernstein's music is not the average sci-fi soundtrack.
Visually the movie rarely can get away from it's low budget origins, and the "monster" is a bizarre deep-sea-diving-helmet-gorilla-suit combo. When the outer space "ro-man" (from the planet Ro-Man) moves about his cave headquarters, a hidden device churns out soap bubbles in the background, perhaps a substitute for a mist or fog machine, but certainly not a visual aid able to achieve the probable desired effect upon an audience.
A unique movie, earnest in the script and in the acting, more than a bit overwrought (in the style of 1950s dramas) and that is not exactly compatible with a Z-level sci-fi film, but all the same, Robot Monster is simply not the average "bad" 50's movie.
AMAZON: Robot Monster
---
Alive, or Preferably, Dead - 1969
Giuliano Gemma and Nino Benvenuti are brothers Monty and Ted in this Italian comedy-western movie which also features Sydne Rome. Gemma and Rome are fine (Benvenuti is better known as a professional boxer with three middleweight championships) but the film has a hard time accomplishing its goal of laughter. Stunts are over-the-top and this adds real humor to the story of train-robbing and kidnapping, and as long as bullets are flying and horses* are running the movie seems like its on the verge of improving to a level to match it's production budget, but then the dialogue reasserts the dopey sense of pure artifice and you can see why the dubbed release resorted to such an incredibly exploitative title in its American release as "Sundance Cassidy and Butch the Kid."
Gemma has made other well known westerns (such as Day of Anger) so the incongruity of Alive, or Preferably, Dead seems to reside with its lackluster writing. Director Duccio Tessari shows off the Italian "west" well and visually generates more funny with his camera than the script does with its words.
*Horse and rider stunts are at times so extreme that after they tumble I was wondering if either would be able to get up again without assistance.
---
Ned Beatty has passed
Obits:
"Ned Beatty Dies: Oscar-Nominated Star Of 'Network' & 'Deliverance' With More Than 160 Screen Credits Was 83" – Deadline Hollywood
"Ned Beatty, titanic character actor of 'Network,' dies at 83" – SF Gate
"With Superman, Ned Beatty delivered superhero movies' best lackey" – MSN News
---
Review: Easy Living 1937
Edward Arnold is banker J.B. Ball, aka "the bull of Wall Street," and in a family argument about a $50,000 fur coat recently purchased by his sweet and kindly but apparently profligate wife Jenny (Mary Nash), he hurls the offending garment off of the roof of their penthouse apartment. It falls downward, landing on a seated Mary Smith (Jean Arthur) riding in an open top public transportation bus on her way to work.
The script for Easy Living by Preston Sturges spins around on the audience correctly knowing what is going on and how the characters know each another, which is entirely different from the characters themselves who are operating under false impressions of each other. One of these misunderstands is gigantic: eventually everyone from New York City to Florida seems to believe that Mary Smith (Arthur) is a secret mistress of J. B. Ball (Arnold), though they themselves barely know each other and when they are in contact it turns quickly into an argument, the boisterous and shouting banker not used to being corrected by the unintimidated young woman.
But cluelessness and misunderstandings is the reality around Jean Arthur's character as she gets swept up into a rash of misunderstandings that follow from her brief association with the famous banker who she doesn't even know is a banker, and through most of the film she doesn't even know his name. By suddenly coming into possession of the flung-away hyper-expensive fur coat, (which she doesn't realize is even a true fur coat; she thinks it is imitation), we travel with her into a screwball world where the appearance of wealth inspires a gaggle of "helpers" who overwhelm her with free goods and services, with items ranging from jewelry, to automobiles, to clothing apparel, all showing up unbidden at her door, and stock brokers sneaking to see her, hoping for her to provide "inside" knowledge.
These merchants are hoping by pampering her this will lead to future purchases, or, at the least, they hope that the (apparently) wealthy and well-connected Mary Smith will influence other wealthy people toward purchases. They do not know she's actually nearly penniless, only possessing one single dime after getting fired from her low-level job at a magazine for children (The Boy's Constant Companion).
The 1937 world of Easy Living seems modern in a number of ways, with stock market surges and drops happening on nearly occultic notions of weather and feelings, and enormously powerful bankers (Mr. Ball) being pretty shakey on how math works, and expensive businesses based upon getting "influencers" to help spread the gospel about their pricey commercial goods.
Ray Milland also appears in the film as the spoiled son of J.B. Ball. When the story begins we see he has a taste for custom automobiles and seems to spend money as easily as the rest of the family, but following an argument that hurts his pride, he goes out on his own and is working cleaning tables at an automat (a kind of 1930s mechanized buffet cafeteria). After he tries to sneak Mary some food at the automat, feeling sorry for her since her one thin dime will only get her coffee and a roll, he gets fired. She takes pity on him and his plan to sleep on a park bench, and brings him to the palatial "Royal Suite" at the Hotel Louie (provided gratis by a hotelier named Louie Louie played by Luis Alberni). Like children in Wonderland, the two young adults have to figure out how the enormous, ornate bathtub operates and to find a way to obtain food, since Mary's arrangement with the Hotel Louie will only supply one egg a day to the Royal Suite.
Our glimpse into how a wealthy banker lives and works is through Edward Arnold's shouting, fist-shaking super-banker J.B. Ball, who is somehow both a genius and an idiot at the same time. His ongoing argument with Mary Smith over how to calculate compound interest is a running joke throughout the movie. We never hear how interest actually should be calculated properly, with Ball trying to explain by using examples of farmers selling cows, or counting marbles, etc. None of it actually ever makes sense, though. Ball is certain he knows how it's done, but has to keep shifting to some new analogy to try and illustrate his knowledge, his previous examples getting hopelessly tangled one by one.
A backing cast of comical talents lubricates the chain of comedy scenes in Easy Living, such as the jabbering Luis Alberni, the calm and collected Esther Dale as Ball's secretary Lillian (who seems to be the only person on staff who actually understands banking). Also on the screen is William Demerest, an actor who appears in almost all of Sturges' films, here he plays a snooping newspaperman named Wallace. William B. Davidson is the ironically named "Hyde," Ball's man at the Wall Street stock exchange, summoned during emergencies which interrupt him at the barbershop such that he rushes into Ball's office with his hair and face lathered to be shaved, looking like a madman.
Jean Arthur as the simultaneously naive and street-wise Mary Smith is our hero, and how she can survive the onslaught of privilege and magical wealth is the tale. The wave of gifts and money directed at her makes her shake her head in confusion, convinced the world has gone mad.
Though directed by Mitchell Leisen, Easy Living is primarily a Preston Sturges project by dint of the density of the script, full of Sturges' humor and his crackling, fast-paced comedy dialogue.
---

---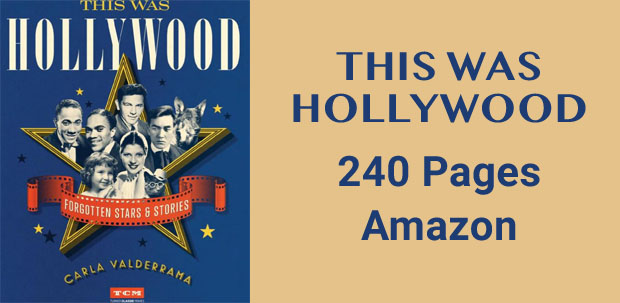 From former screen legends who have faded into obscurity to new revelations about the biggest movie stars, Valderrama unearths the most fascinating little-known tales from the birth of Hollywood through its Golden Age.
This Was Hollywood: Forgotten Stars and Stories (Turner Classic Movies)
---
What's Recent
---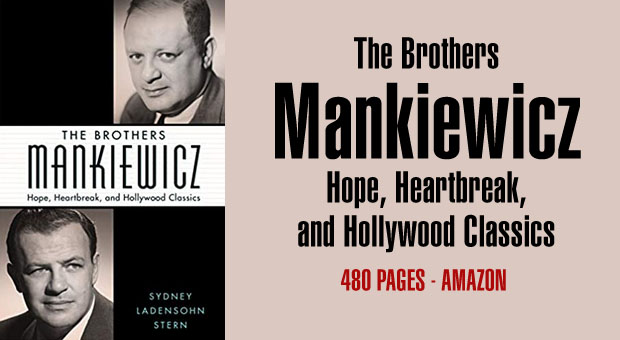 Winner of the 2020 Peter C. Rollins Book Award
Longlisted for the 2020 Moving Image Book Award by the Kraszna-Krausz Foundation
Named a 2019 Richard Wall Memorial Award Finalist by the Theatre Library Association
The Brothers Mankiewicz: Hope, Heartbreak, and Hollywood Classics (Hollywood Legends Series)