CINEMAGRAPHE
LAST UPDATE November 30, 2022
Reviews of Classic Film, with artwork and news
---
Hollywood: The Oral History
Fast Review of the new book by Jeanine Basinger and Sam Wasson, 2022
Literally thousands of quotations from famous (and no-so-famous) participants in Hollywood history make up the 768 pages of Hollywood The Oral History, and it is a mostly seamless flow of easy to read remarks, some just a few lines, such as:
Clint Eastwood: I'm not going to play Hamlet. I have no interest in miscasting myself.
Katherine Hepburn: Ethel Merman is not going to play Florence Nightingale. Everybody has their limitations.
But other quotations are much longer, spreading over several pages. Remarks are mostly from discussing films, actors, directors, and just about every other position within the industry. There are flashbacks, reminisces, and lots of friendly analysis of, for example, why a director thought a certain actor was good, but another not so good; or why a star thought they were succeeding (and more often confused a bit by how they're doing it); and much more.
The topics are grouped informally amid the quotations, and in a way many subjects lead naturally to another subject, and like a baton in a marathon (and this is a very long book) these subjects are passed forward to the next. In some places author Jeanine Basinger is quoted (for example during a section on Frank Capra) which helps to connect together the different statements.
In reading this book, i helps to have a familiarity with the Hollywood "greats," but for the most part there are plenty of names that will be unfamiliar to the average classic movie fan but nonetheless these words are a delightful insight into the creative process in Hollywood, also the business side, and of course the personalities, the stars that are the main remembered aspect of the classic years of studio production.
The book starts with the silent era then gradually moves through each decade until we reach something like the contemporary time, with remarks by George Lucas, Steven Spielberg, Kathleeen Kennedy and many others.
Because of this unique structure, a chorus of voices telling the story of Hollywood, you can open the book just about anywhere and begin reading.
Amazon link to Hollywood The Oral History – your purchase may provide a commission to this website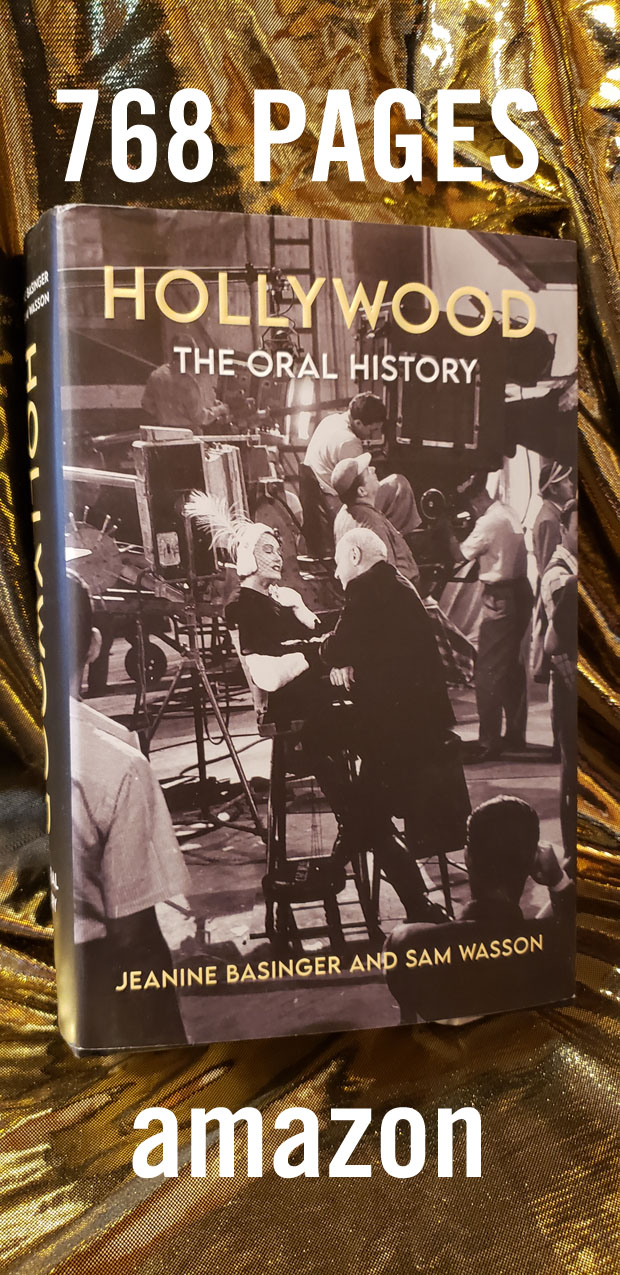 Contents Page List from Hollywood The Oral History
Introduction
The speakers
Chapter 1 beginnings
Chapter 2 comedy
Chapter 3 silent directors
Chapter 4 silent actors
Chapter 5 sound!
Chapter 6 studio heads
Chapter 7 studio style
Chapter 8 the studio workforce
Cameramen
Writers
Editors
Costume
Makeup
Music
Art direction
Studio personnel
Directors
Stars
Chapter 9 the product
Chapter 10 the end of the system
Chapter 11 identity crisis
Chapter 12 new hollywood
Chapter 13 the creep up
Chapter 14 the deal
Chapter 15 packaging
Chapter 16 everybody's business
Chapter 17 monsters
Afterword
Acknowledgments
---
---
Mickey Kuhn, the last surviving cast member from Gone With The Wind has died – NY Post
Mickey Kuhn, a child star of the 1930s and '40s Golden Age of Hollywood — has died. ...He was the last surviving member of that cast, as Olivia de Havilland, who played Melanie, passed at 104 in 2020.
---
Short Reviews:
The Vampire 1957 (aka Mark of the Vampire) – Coleen Gray and John Beal
Effective low budget monster film that crosses 1950s laboratory disaster with a chunk of Dr. Jekyll and Mr. Hyde, a twist of vampire bat trouble and then more problems involving pills. John Beal makes the film work because he puts real effort into showing us the tortured decline of a small town family doctor facing a problem he can't understand. As he begins waking up without any idea of what he's been doing, but getting awfully suspicious as the dead body count starts to climb, Beal's portrait of a physician depending upon experimental pills to protect him in a race between losing his mind or committing suicide pushes The Vampire into being an analogy to the real world dilemma of chemical addiction. Coleen Gray is onscreen as the doctor's dependable nurse who gets threatened later on, since the film, aside from Beal's strong work, still follows the familiar monster movie plot about a monster on the loose. Though the vampire angle here doesn't equal blood-drained bodies, in The Vampire the victims instead experience total "cellular disintegration"
Caught In The Draft - 1941 - Bob Hope and Dorothy Lamour
Bob Hope first presented his "cowardly hero" persona in the 1939 The Cat and the Canary, but by Caught in the Draft the portrait is all worked out and as a mechanism for making one liners, Hope is cut loose and shooting free. One thing that is interesting about Caught in the Draft is that since it was released prior to the advent of America's involvement in World War II, the film contains the kind of knowing-joking about army life that, like Abbott and Costello's Buck Privates also from 1941, has humor at the army's expense that would vanish (mostly) for the duration of the coming war, though in no way does Caught in the Draft come anywhere near the anarchy of the Marx Bros Duck Soup which satirized things military (among much else). Caught in the Draft hurtles along through a simple plot and really doesn't move too far beyond the sketches that hold it together, so the character portraits are thin and seem like the equivalence of walk-on parts in a funny stage play that moves all the dramatology out of the way whenever possible to make space for the next series of funny set-ups. Eddie Bracken appears and provides some of the humour (such as the bizarre adventures of a tank rampaging across the countryside, picking up girls and getting into a lot of mischief).
---
Criterion bringing out a HD Blu Ray of the 1934 Imitation of Life with Louise Beavers and Claudette Colbert – Criterion
The Special feature supplements:
4K digital restoration, with uncompressed monaural soundtrack
New introduction to the film by Imogen Sara Smith, contributor to The Call of the Heart: John M. Stahl and Hollywood Melodrama
New interview with Miriam J. Petty, author of Stealing the Show: African American Performers and Audiences in 1930s Hollywood, about the resonance of Louise Beavers's and Fredi Washington's performances
Trailer cut for segregated Black theaters at the time of the film's release
English subtitles for the deaf and hard of hearing
PLUS: An essay by Pett
---
Director John Ford and director of photography Joseph August working on The Informer, which was released in September 1935. Joseph August shot FOURTEEN Ford films, and also shot Gunga Din, The Devil and Daniel Webster, and The Hunchback of Notre Dame with Charles Laughton. #film pic.twitter.com/seUaGYY0h5

— Darrell Epp (@DarrellEpp) November 10, 2022
---
Leslie Phillips has died
"The comedy Casanova who made it to Hogwarts" – BBC News
"British actor Leslie Phillips, voice of Hogwart's Sorting Hat and star of 'Carry On,' dies" – Penn Live
"Leslie Phillips, Actor in 'Harry Potter' and 'Carry On' Films, Dies at 98" – Variety
---
The original Christopher Reeve Superman Costume auctions for $350,000 – MSN People Magazine
---
SANTO VS. EVIL BRAIN - 1961 and SANTO VS. INFERNAL MEN - 1961
Indicator in the UK will be releasing the first two Santo films on Blu Ray in December – Powerhousefilms
Shot in Cuba in the final days before Fidel Castro entered Havana, these two films represent the celluloid birth of a true screen legend, and spawned a further fifty Santo films. Beautifully restored in 4K from the original negatives, these thrilling films finally receive their world Blu-ray premieres in this individually numbered Limited Edition two-disc set, complete with new and archival extra features, including a feature-length documentary, a poster, and an 80-page book.
---
Resolving rights entanglements for classic films – Self Styled Siren
Interview with Lee Tsiantis "a film lover and industry veteran toiling in the field of rights research for TCM and Warner Home Video"
---
Love on Repeat - 2019
A girl in a mid west town relives a bad day over and over again in a fashion similar to the better known Bill Murray/Andie MacDowell comedy Groundhog Day. The concept of a cinematic "relived day" has been around since before that film, though, such as the noir-like 1947 Repeat Performance featuring Joan Leslie reliving an entire year over, trying (often in vain) to avoid the tragic events of the original "performance."
Avoiding the seemingly predestined snafus and disappointments in Love on Repeat, is office-worker Amber's (played by Jen Lilley) mission, and while the earlier part of the film is rather dryly written, once the mechanism of a repeating day is created, Amber begins steadily developing skills to beat circumstances, has better lines and scenes, and much like Bill Murray's character (or Tom Cruise's in the military sci-fi version of this dilemma Live Die Repeat-Edge of Tomorrow) the repeating time frame gimmick starts to work in Amber's favor.
Though a comedy, bitterness haunts the early part of this movie as Amber is in a career funk, and is self-absorbed about the things she wants but can't get. Her sudden power to experience a single day over and over changes things, though, and eventually, after trial-and-error, she is able to achieve her personal career goals (and to learn how to avoid a certain heavily-frosted birthday cake which keeps slamming into her blouse unexpectedly, day after day). Amber's interactions with her co-workers (the best parts of this film take place in offices) forces her to realize a few things about other people, and about herself. As a lightly-done self-help exercise, Love on Repeat is effective for bringing into view what matters beyond nailing a contract or getting back a missing boyfriend.
Unfortunately, a good portion of the film is rather perfunctory, not counting the better written and more energetic (and funny) office segments, which is where the film excels since the rather simplified characters best fit together in the repeating comedy of the same scenes repeating one-after-another. Though a lot of the material is played for laughs in Love on Repeat, it does try to have a serious undertone at times, but this is also hit-and-miss, though Jen LIlley's handling of that through the expression of her evolving character is the only place the film achieves this aim with effectiveness.
To be fair, the ambition of Love on Repeat never tries to break out very far from Amber merely conquering her day (and herself), and in finding a pleasant conclusion for the various characters in the cast. By contrast, Groundhog Day put Bill Murray's character through a much rougher series of obstacles, from depression to despair to nihilism and then catharsis of the Hollywood enlightenment variety, but in both films, Amber (and Bill Murray) have to become better versions of themselves in order to find release. Murray goes about this project with a far larger budget at hand and the writing fueling his dialogue is polished and precise. Love on Repeat seems underdeveloped and far more primitive, but also with far more modest goals. Except for Jen Lilley's carrying a lot of the scenes and some of the office-worker episodes where group dynamics really help to liven up the actions and dialogue, this production plays it too safe and is too intent upon the march to the end credits and letting everything end "happily."
---
Santo vs the Vampire Women - 1962
aka English version Samson vs the Vampire Women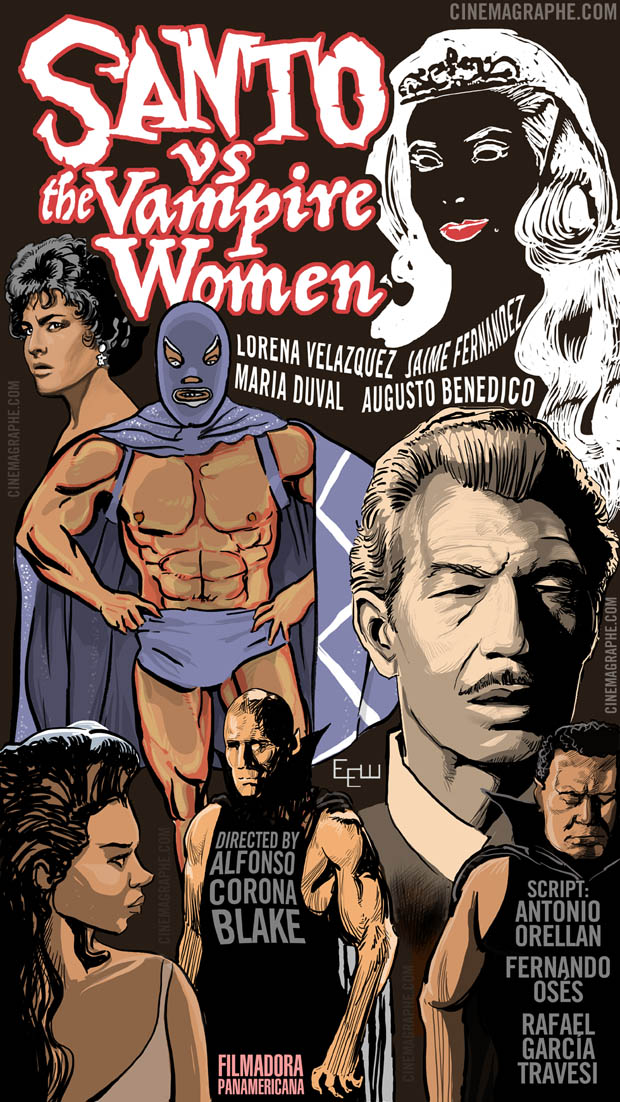 The mysterious costumed wrestler Santo arrives just in time when the scholarly Professor Orlof (played by Augusto Benedico) discovers his daughter Diana (played by María Duval) has been marked for capture by a re-awakened cult of vampires led by Zorina, queen of the vampires (played by Lorena Velázquez).
More Santo vs The Vampire Women 1962
---
Jules Bass has died age 87 - Producer of Rudolf the Red Nosed Reinder and other famous animated films – Yahoo News
---
Dr Jekyll and Mr Hyde - 1932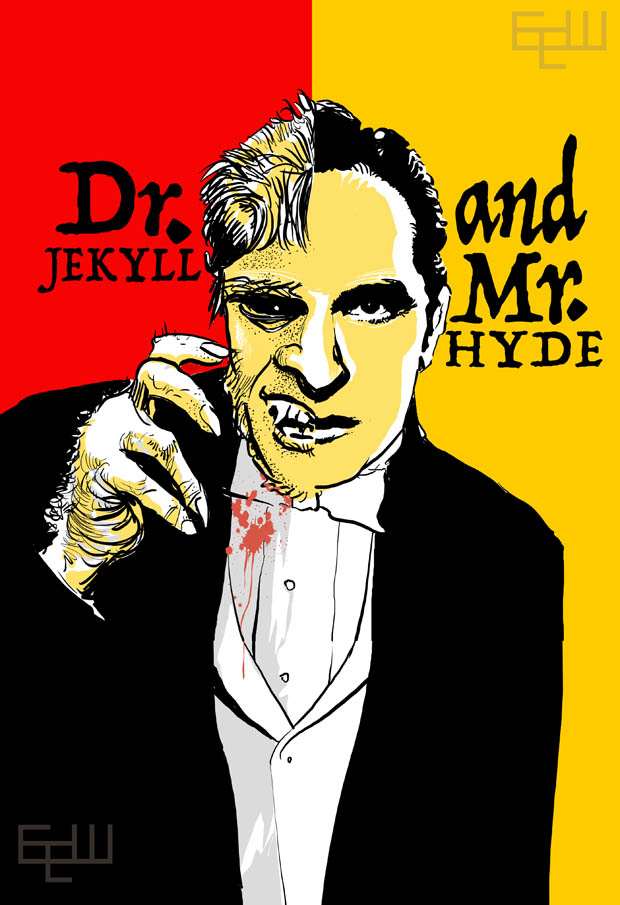 Frederic March is the center of Dr Jekyll and Mr Hyde (with and without his Mr Hyde makeup job) in a way that goes beyond what was required out of the leads on the Universal monster films. The Dracula, Frankenstein, et al, films spend a normal amount showing us the leads but also the rest of their casts, and of course spending time with the various special effects. But here March is carrying a great deal of the story through his acting (as two separate characters), and except for poor Miriam Hopkins, who gets terrorized in a way that goes well beyond what any special effect could have achieved, no other character in the film comes close to the demands on our lead, and in some ways a portion of this movie is a bit like a one-man stage play.
The new Blu Ray from Warner Archive is the best looking print of the film I've ever seen, and it includes the missing scenes that were excised for later releases after the original in 1932 (Miriam Hopkin's character of Ivey shows us a rather freely displayed invitation to Jekyll's desire because she adores the gentle and helpful doctor. But this is a lure that brings also Mr. Hyde's attention, who is, among other things, a connoisseur of lust and exponent of sheer brutality).
The new disc includes commentaries and extras, such as the Bugs Bunney Hyde and Hare cartoon.
Amazon Link for the 2022 Blu Ray – a purchase via Amazon may result in a commission paid to this website.
---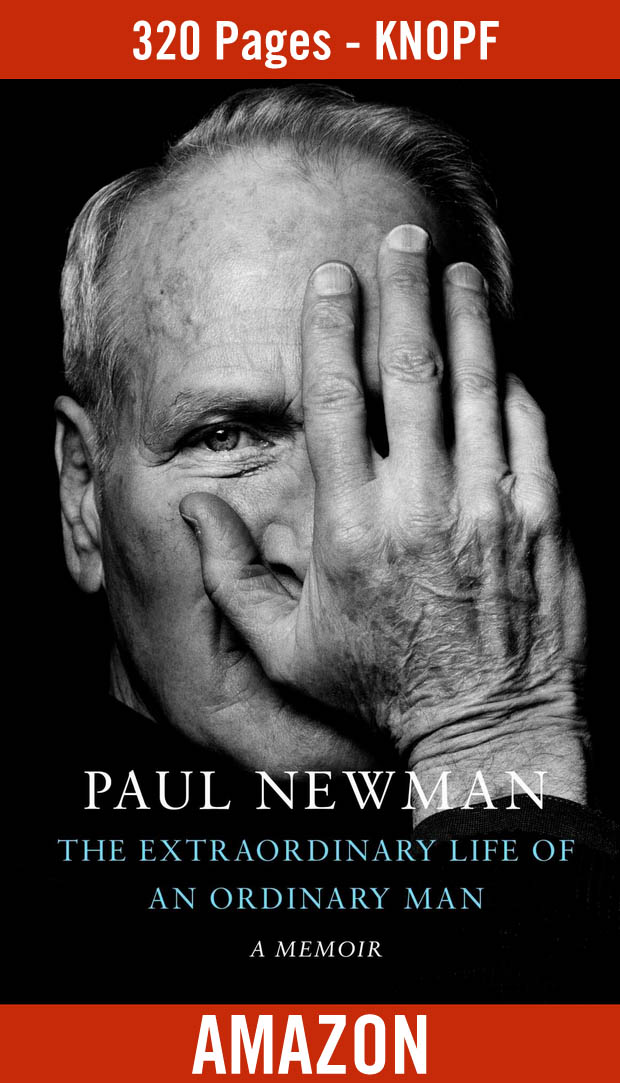 Paul Newman An Extraordinary Life of an Ordinary Man Book
Amazon Promo text:
"The raw, candid, unvarnished memoir of an American icon. The greatest movie star of the past 75 years covers everything: his traumatic childhood, his career, his drinking, his thoughts on Marlon Brando, James Dean, Elizabeth Taylor, John Huston, his greatest roles, acting, his intimate life with Joanne Woodward, his innermost fears and passions and joys. With thoughts/comments throughout from Joanne Woodward, George Roy Hill, Tom Cruise, Elia Kazan and many others."
Our Amazon Affiliate Links:
The Extraordinary Life of an Ordinary Man: A Memoir - Hardcover Book
---
Joan Blondell was an ace comedian for Warners throughout the 1930s, but she could handle any of the dramatic demands from a more serious tale by hardly modulating at all. As was true with a number of the top leading ladies and men of the classic Hollywood production era, Blondell seems to mostly just be playing "herself," and doing whatever was required to keep the audience engaged until whatever was to happen next in the story happened. As a supporting player she cheerfully seemed to say her lines while putting her eyes on the lead, guiding the audience to do the same. By the mid 1950s she was employing a sharper and more cartoonlike style, but maybe the films demanded it or it was what was needed to keep from fading into the background. She kept right on working right into the 1970s.
---
---
Anna May Wong quarter coin coming – Vanity Fair
Though her name dropped out of the limelight many decades ago, Anna May Wong's life and legacy are well worth remembering. For one thing, she had an extraordinary knack for defying expectations—and not always in a good way. When she was born in 1905, her father was sorely disappointed; he had wanted a son. As Wong grew older, she held out against the tenets of what was expected of a good Chinese daughter, eschewing a life of domesticity for one in motion pictures.
After several years of extra work and bit parts on studio lots, she caught the eye of Douglas Fairbanks, the veritable King of Hollywood, who cast her in his 1924 fantasy blockbuster The Thief of Bagdad. The film was the biggest production the industry had ever seen, and the unlikely breakout role of a "Mongol slave" made 19-year-old Anna May Wong an international sensation.
Page about the coin at the United States Mint
More Anna May Wong
---
---

---