CINEMAGRAPHE
LAST UPDATE September 23, 2021
Reviews of Classic Film, with artwork and news
---
Director Melvin Van Peebles has died
Obits:
Influential Director, Actor and Writer, Dies at 89 – Variety
Iconic director, actor, and writer – Entertainment Weekly
Groundbreaking playwright and director, dies at age 89 – UK Guardian
The Godfather of Black cinema – ABC News
Filmography at IMDB
---
New Kino Releases for HD Blu Ray
Hunchback of Notre Dame - "4K restoration by Universal Pictures" - Kino Page
13 Washington Square – 4K restoration of the silent film from 1928 – Kino Page
The Hound of the Baskervilles – 1978 version with Peter Cook and Dudley Moore – Kino Page
Secret of the Blue Room – 1933 mystery featuring Gloria Stuart and Lionel Atwill – Kino Page
Corridor of Mirrors – 1948 mystery noir film with Christopher Lee's first apeparance – Kino Page
---
Lady in a Jam – 1942
Irene Dunne starred in several of the best screwball comedies ever made: Theodora Goes Wild, My Favorite Wife and The Awful Truth. Seeing her in the mediocre Lady in a Jam is jarring. We hear her sparkling, mocking delivery in her lines as in these other (better) films, showing her ability to twist a simple statement like "Isn't science wonderful?" with her unique inflection it becomes the sardonic "isn't science absurd," but this special talent of hers cannot save us in a 78 minute movie that simply doesn't have that much funny in it.
The plot seems ready-made for screwball humor. Psychiatrist Patric Knowles (as Doctor Enright) is determined to fix the flighty, shallow, and suddenly bankrupt rich girl Jane Palmer (Irene Dunne). Following a sheriff's sale that auctions off her belongings, he drives her out to Arizona (he masquerades as a chauffeur that she hires in desperation) where she has gone to stay with an Aunt who has possession of a barren gold mine.
There's no problem with the cast, it's loaded with veteran comedy talent: Ralph Bellamy, Eugene Pallette, Samuel S. Hinds and Charles Lane, among other recognizable faces, but they can't fix the writing by saying unfunny things in a funny way, and the sheer limit of talent to reshape inferior dialogue is on display over and over (and over) again.
Strangely, the timing and pacing of a good screwball film is here, and the writers* are constantly hurling new cracks at us from every direction as if following a formula, but, again, the jokes aren't very good. In the end, we've got a standard three-way-romance between Dunne, Bellamy, and Knowles, but the story writing can't support it and we're not able to understand why Dunne (who goes through a massive, sudden change in character as soon as she reaches Arizona) shows any interest in either guy she's been assigned to. The story tells us that her affection is spurred by the fact the psychiatrist smacked her across the face during her earlier "arrogant" phase, but I can tell you this springboard for romance is completely unconvincing and her reaction might be the only genuine thing in the film which shows Jane Palmer needs psychiatric help.
Once we're in Arizona, Ralph Bellamy appears on horseback in Cowboy regalia. He's an old childhood friend who gets one look at the adult Jane Palmer (Dunne) and is immediately smitten. To show off his singing-cowboy skills, Bellamy launches into My Darlin' Nellie's Grave, a morose tune that Bellamy fills with off-key vocals while strumming a guitar and it may have been meant as cutting satire of singin' cowboy movies, but because so much humor falls flat so often in Lady in a Jam, it's hard to say what the bad crooning is supposed to mean. Considering Bellamy gets several more showcases to sing badly as the story carries on, and Irene Dunne, easily one of the best singers in Hollywood films of the 1930s, doesn't sing anything here, it shows you how backwards a film Lady in a Jam is. Director Gregory La Cava (who directed the vastly superior My Man Godfrey just five years earlier) can't do much to fix this except to shoot quality sets featuring a hospital, a mansion, a city, a roadside travel camp, and then on location in Arizona which shows off some nice cowboy stunt riding and roping. It's all for naught, the whole film is in a "jam."
*The writing credit goes to Eugene Thackrey, Francis M. Cockrell, and Otho Lovering
---
Willie Garson has died
Actor with 170 acting credits in film and Television.
Willie Gason has died aged 57 – Hollywood Reporter
Actor best known for playing Stanford Blatch in "Sex and the City" and Mozzie in "White Collar" – Variety
Filmography of Willie Garson at IMDB
---
Jane Powell has died
Star of Seven Brides for Seven Brothers, Nancy Goes to Rio, and A Date with Judy, among others.
Jane Powell had 46 credits for movies and TV altogether.
Obits at:
The star of Hollywood golden-age musicals – ABC 13
The star of Seven Brides for Seven Brothers – Yahoo News
Jane Powell dazzled in broadway musicals – Broadway
She made us want to sing – Houston Chronicle
Star of Growing Pains and Royal Wedding – Comicbook
The 'girl next door' – Roger Ebert
Jane Powell, actress of the Golden Age - Deadline
Filmography – Jane Powell at IMDB
---
How "Mommie Dearest" wrecked the reputations of both Joan Crawford and Faye Dunnaway
Story at UK Telegraph blames it on "scenery chewing."
---
The classic screwball comedy as medicine – Bend Bulletin
A nice selection of films are briefly discussed. The titles are:
The Awful Truth - 1937
Bringing Up Baby - 1938
His Girl Friday - 1940
It Happened One Night - 1934
The Lady Eve - 1941
My Man Godfrey - 1936
---
1930's All Quiet on the Western Front to screen in Fayetteville, Arkansas Sept 21 – NWAOnline
---
Showgirl in Hollywood – 1930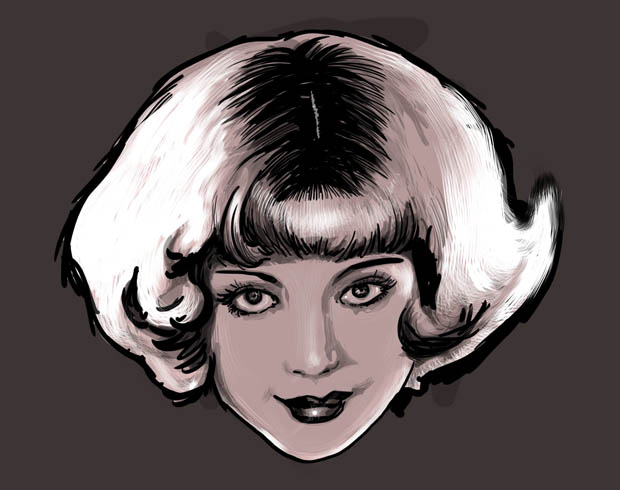 "I'm 32, and in this business when you're over 32, you're older than those hills out there."
Alice White plays a young understudy in a theater play in New York City that is in the progress of closing down as a flop. A sleazy film director (John Miljan as "Frank Buelow") is in the city on a scouting trip from the film studio he works for and promises Dixie a film contract, and though Showgirl in Hollywood completely avoids telling us there is a quid pro quo going on here, it is implied in several other ways. When White's character reaches Hollywood only to discover the promise of a film contract is null and void, the reaction of the studio executive in charge (Mr. Otis played by Ford Sterling) is that this isn't the only time Director Buelow has run this scam on young women and abused his position (and, implied, the young women).
This 1930 film featuring Alice White (as "Dixie Dugan") starts off pretty rocky with all of the crudities of production that marked the early "talky" films. Monotone line deliveries matched against over-enunciated dialogue doesn't allow for smooth pacing, and often the characters seemed trapped in front of the cameras, likely because of how hard it was to "mike" for sound in those days, so the actors don't move much or even show expression except to flash cliché grimaces at the end of a sentence to signal that we've just heard a "clever" piece of snappy dialogue or a to mark a punch line of a joke.
Like a piece of film history happening before our eyes, though, as Showgirl in Hollywood progresses, the stiffness of what we're watching begins to get smoother, as if everyone was learning a better way to put the tale across and use the new filming techniques now married to sound-recording equipment. What began with actors inside rooms talking at each other begins to change with people moving about and the stage-bound atmosphere beginning to loosen up. Even the scale of the movie increases as production numbers for musical sequences of the film-within-a-film that Dixie Dugan is hired to star in ("Rainbow Girls") expands onto large sound stages. (The film originally included a final ten-minute reel that was shot in Technicolor. This innovative section is now considered lost, only black-and-white versions survive).
More importantly, as the movie develops, star Alice White's song delivery (there are a lot of tunes here) also improves dramatically, as if all she needed was more space to move around in to get the air into her lungs. At this point Showgirl in Hollywood has raised a couple of notches in quality and begins to shed that "beginner" feel many original "talkies" had.
Since this movie's story is giving us a back-stage look at Hollywood (and the downside of stardom, especially for women), we get to see Vitaphone technicians inside soundproof booths while filming Rainbow Girls, their cables and microphones hanging from the sound stage ceilings, and all of the other gear and equipment that makes a production possible (in this way Showgirl in Hollywood is like the slightly later film Make Me A Star). We are even given a ride (vicariously) when a tour bus travels around the city pointing out the famous landmarks of Hollywood (most of which are shown via a not particularly convincing series of process shots, but there is also nice location footage of classic Hollywood locales).
As an insight into film production in 1930, Showgirl in Hollywood is rich in visual detail, though the bittersweet lament inside the story is about the casual superficiality of the industry and how it handles actors, especially female, in what can be called a very cavalier fashion, along with the inflation of ego that hits a young star unprepared for the power they suddenly can wield and then proceed to self-destruct, and in this way the tale is "immortal," as they say in Hollywood about anything that lasts past decades.
As a contrast, Mr. Otis, our high-up film executive, is shown humorously surrounded by "yes men" but otherwise he is a sage leader within the studio with a paternalistic sense of responsiblity for the wayward actors who have a hard time listening to his mature advice (which reminds me of the much later studio head Eddie Mannix played by Josh Brolin in the 2016 Hail, Caesar!)
The humor in the writing for Showgirl in Hollywood is a grab-bag of very early-30's patter and other bits that are truly hilarious, such as the simple visual gag of a roaming Dixie Dugan wandering about on an active sound stage: a gangster murder scene is being shot by a fevered film director and two battling actors portraying a gangster about to hurl a resisting victim from a skyscraper office window. We appear to be twenty floors up, or higher, the scene outside the window showing us the gleaming surface of other nearby skyscrapers. And then Dixie Dugan comes wandering into the frame just outside those windows, innocently looking in on the action, floating on air for a moment until we realize her presence has completely crushed the illusion, we're simply on an enclosed movie set in California and there's nothing outside those windows except painted matte-boards.
---
Moscow's oldest operating cinema – Russia Beyond
The 'Khudozhestvenny' movie theater on Arbat Square is one of the world's oldest cinemas still in operation. The picture palace has survived the 1917 Russian Revolution, World War II, the era of stagnation in the 1970s and the tumultuous Perestroika in the 1980s.
---
The Pioneering African-American Women of Silent Cinema – Film School Rejects
---
Movie project Mr. Shaw Goes To Hollywood will feature the milieu of 1933 Hollywood
Film is about how the Shaw play Pygmalian was a highly sought-after property, long before it became My Fair Lady later – story at Deadline Hollywood
---
Venice film festival features "Old Henry," homage to classic Westerns
Story at Deadline Hollywood
---
Jean-Paul Belmondo has died
Obituaries:
Star of 'Breathless,' dies at 88 – SF Gate
Remembering Jean-Paul Belmondo, the Suave French Film Icon Who Inspired Spielberg and Tarantino – Variety
Jean-Paul Belmondo, Magnetic Star of the French New Wave, Dies at 88 – Seattle Times
France mourns 'national treasure' Belmondo, New Wave cinema star – Reuters
---
---
Criterion coming releases on HD Disk
Criterion web site pages:
La Strada – 1951 – The Federico Fellini movie about a carnival strongman (Anthony Quinn) who learns he can't control events or people the way he thinks he can, with tragic results. Releases November 2, 2021.
Melvin Van Peebles 4-film set – set features Sweet Sweetback's Baadasssss Song, The Story of a Three Day Pass, Watermelon Man and Don't Play Us Cheap - Releases September 28, 2021.
The Incredible Shrinking Man – 1957 – A "disaster" film from the fifties that's not about things getting bigger, but smaller, much smaller. A thoughtful screenplay and good special effects make this one of the best sci-fi films of an era that was packed with sci-fi. Releases October 19, 2021.
High Sierra – 1941 – Directed by Raoul Walsh and featuring Humphrey Bogart and Ida Lupino. Releases October 12, 2021.
---
---
---

---
You will see Amazon links on this web site because I am an Amazon affiliate. I earn from qualifying purchases.
Amazon FreeTime Unlimited Free Trial
---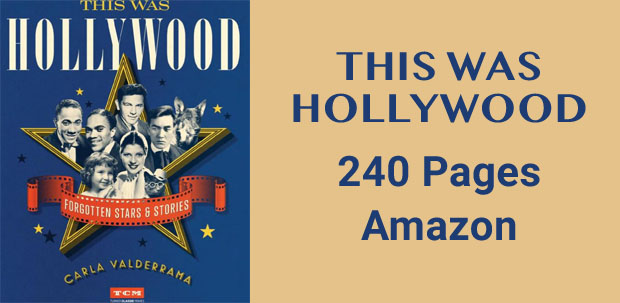 From former screen legends who have faded into obscurity to new revelations about the biggest movie stars, Valderrama unearths the most fascinating little-known tales from the birth of Hollywood through its Golden Age.
This Was Hollywood: Forgotten Stars and Stories (Turner Classic Movies)
---
What's Recent
---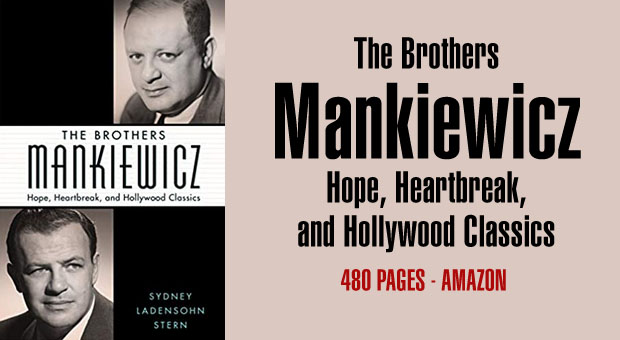 Winner of the 2020 Peter C. Rollins Book Award
Longlisted for the 2020 Moving Image Book Award by the Kraszna-Krausz Foundation
Named a 2019 Richard Wall Memorial Award Finalist by the Theatre Library Association
The Brothers Mankiewicz: Hope, Heartbreak, and Hollywood Classics (Hollywood Legends Series)