CINEMAGRAPHE
LAST UPDATE September 3, 2019
Reviews of Classic Film, with artwork and news
---
Lucky Penny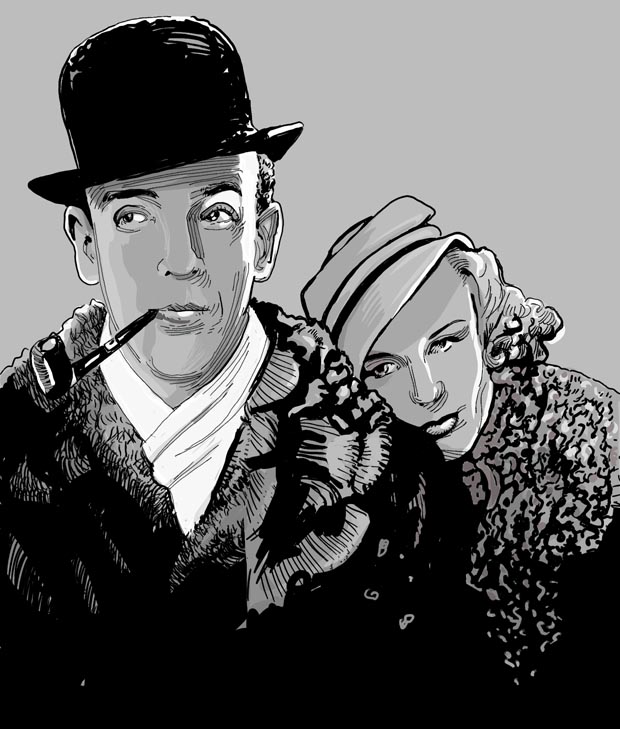 Swing Time - Released October 12, 1936. Directed by George Stevens
The Astaire-Rogers films often repeat (there's ten in total), and that's the case with Swing Time. Fred (as "Lucky" Garnett) and Ginger (as Penny Carroll) has the usual set-up: Fred likes Ginger but she's reluctant, therefore he must pursue. To win over this lady he'll have to have something to draw her besides talk and jokes (script from Howard Lindsay and Allan Scott), he'll need (you guessed it) great dancing. And that's where Swing Time is a unique and rare film. The famous dancing couple work through several different numbers sprinkled into the goofy story line, the first one the absurd situation where Fred is at the dancing school where Ginger teaches and he makes pretend he's got no ability whatsoever. Tripping, falling and sliding as Ginger struggles to keep him aloft finally leads up to the payoff: the dancing school owner (Eric Blore) is made to see what the helpless Astaire has learned during his ten minute lesson and he then proceeds to grab Ginger and deliver a bravura number that has the pair devouring all of the space in the school's practice studio.
Swing Time has a bit more "middle" than usual due to director George Steven's layering in more emotional life to the couple getting to know each other, though there's no mistaking this part of the film for a serious effort at a romantic drama. It's only between dancing and just staring past the camera together that we are allowed to visually see depicted a warmer human tale versus what the wise-cracking screenplay allows.
Many of the Astaire and Rogers films are hampered a bit by a kind of variety-show structure that has songs and other dancers popping into the center of the film as if the stars from above the title needed a break off screen to catch a breather (this is most obvious in the otherwise very fine 1935 Astaire-Rogers film Top Hat featuring Irving Berlin's music and tunes). Swing Time isn't in that category as Dir. Stevens has centered the film more onto our two principals, and they carry the load like a typical comedy-romance. Perhaps that is why Swing Time is often considered the best of their movies together.
The Criterion Swing Time Blu-ray
is a smooth and carefully balanced picture, and is said to be a restoration effort on the Criterion packaging (which features a wonderful black and white photo of Rogers and Astaire dancing, with the title and bits of text in golden-ink, which in my opinion is appropriate and representative of this whole effort). The sound is a bit harsh and loud in places, but is nonetheless the best example of this film, for both audio and visually, I have ever seen.
---
Audrey Hepburn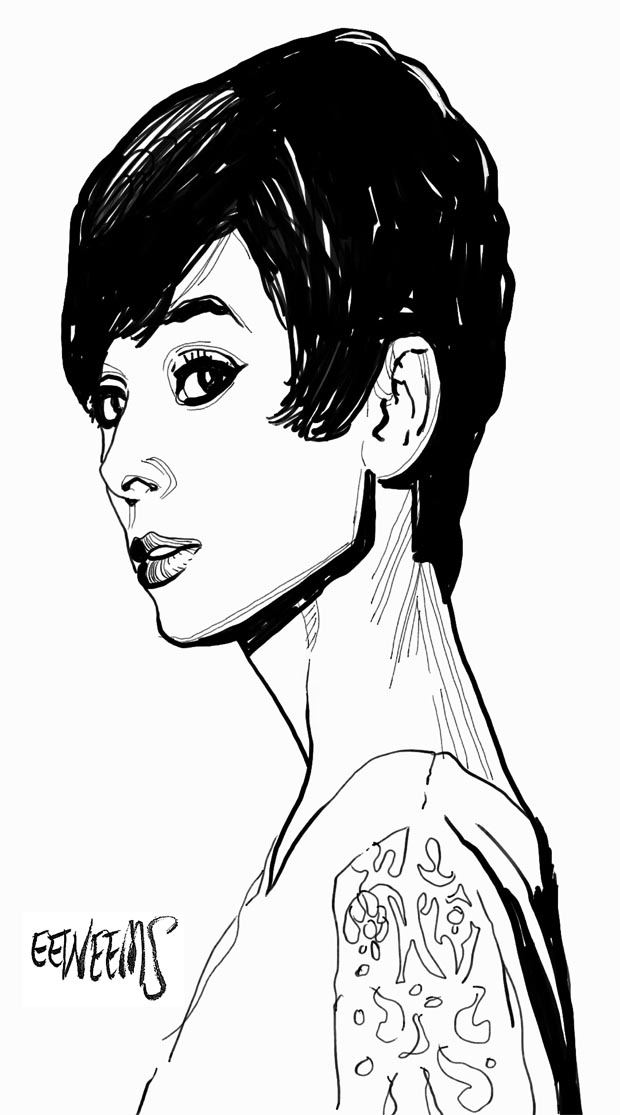 ---
New from Twilight Time
Wild in the Country - Elvis 1961 - Twilight Time page
Movie also features: Hope Lange, Tuesday Weld, Millie Perkins, and John Ireland
The President's Lady - Chuck Heston 1953 - Twilight Time page
Also features: Susan Hayward, John McIntire and Fay Bainter
---
Louise Brooks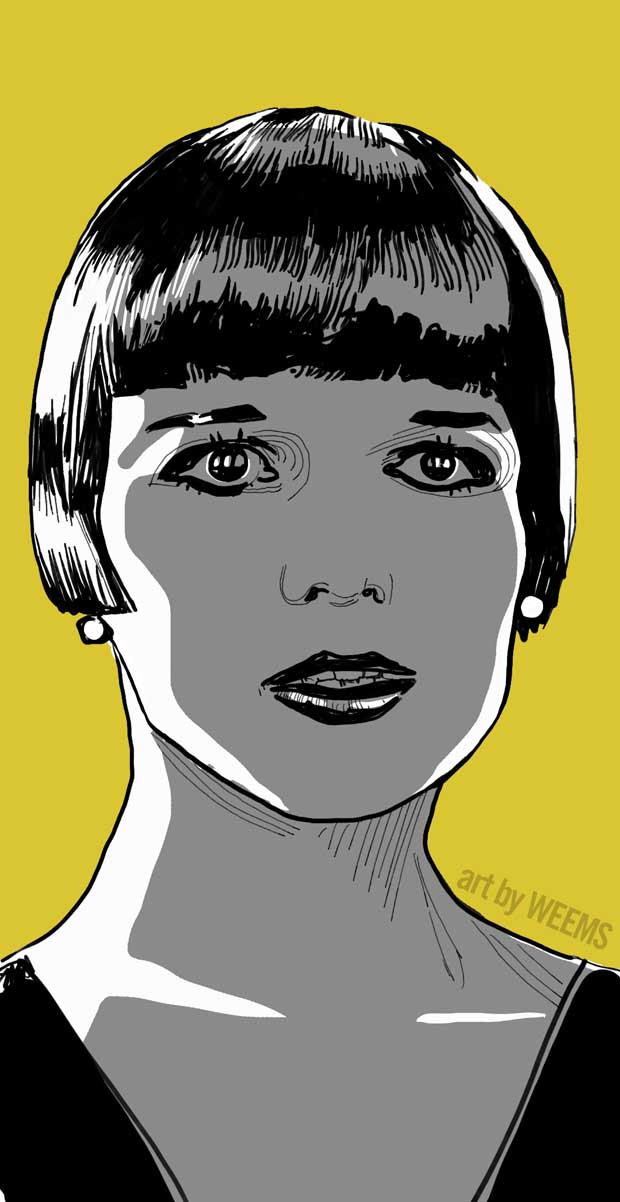 ---
Bette Davis double release from Criterion
Criterion has two classic Bette Davis titles set up for Blu-Ray release in Novermber. All About Eve is listed as a 4K restoration, and Now, Voyager is "restored" 4K transfer.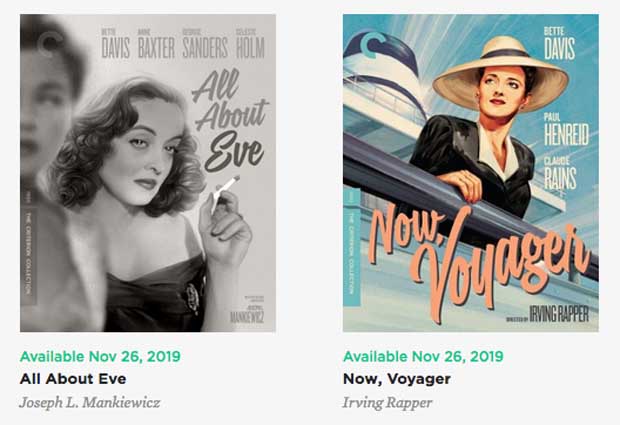 Criterion website page on All About Eve
Criterion web page on Now, Voyager
---
The Frozen Ghost - 1943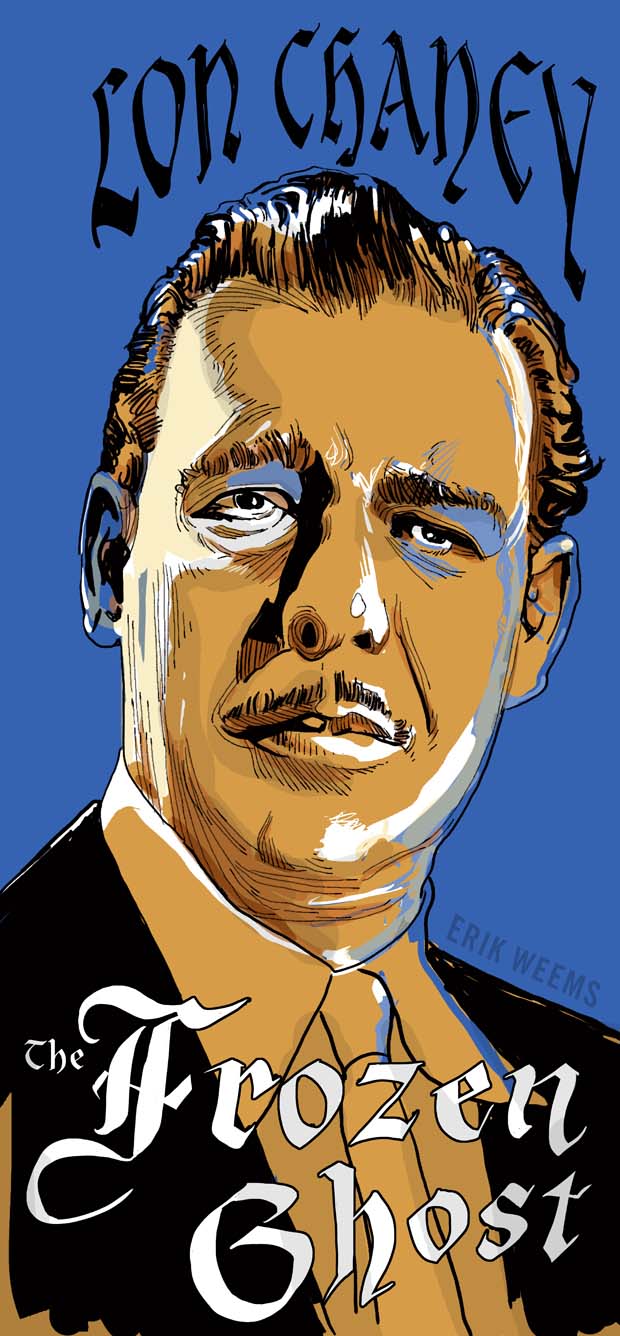 Lon Chaney Jr (as Gregor the Great / Gregor the Mentalist) has a load of worry on his mind after his power of hypnosis seem to have gone beyond his control and is actually killing people. He retires from his stage act to think this over while incognito at a wax museum, but this only stirs up more trouble as the whole roster of actresses in The Frozen Ghost cast are either in love with him or are carrying a heavy crush, a situation that is driving the unstable Dr. Rudi Poldan (Martin Koslek) to plan a murderous revenge.
More on the 1945 Inner Sanctum film The Frozen Ghost
---
Easy Living Blu-ray from Criterion
One of the best of the 1930s screwball comedies with a script by Preston Sturges and featuring Jean Arthur. Arthur is Mary Smith, the recipient of a lot of good (or bad) luck all in one day. When financial super-businessman J.B. Ball (Edward Arnold) takes away his wifes fur coat and flings it off the top of their building, it lands on struggling Jean Arthur on her way to work in the street far below. This begins a chain of events that causes her to fall into a world of wealth and luxury, completely oblivious why all the gifts and attention are coming her way.
AMAZON: Easy Living [Blu-ray]
More on Easy Living
---
Clark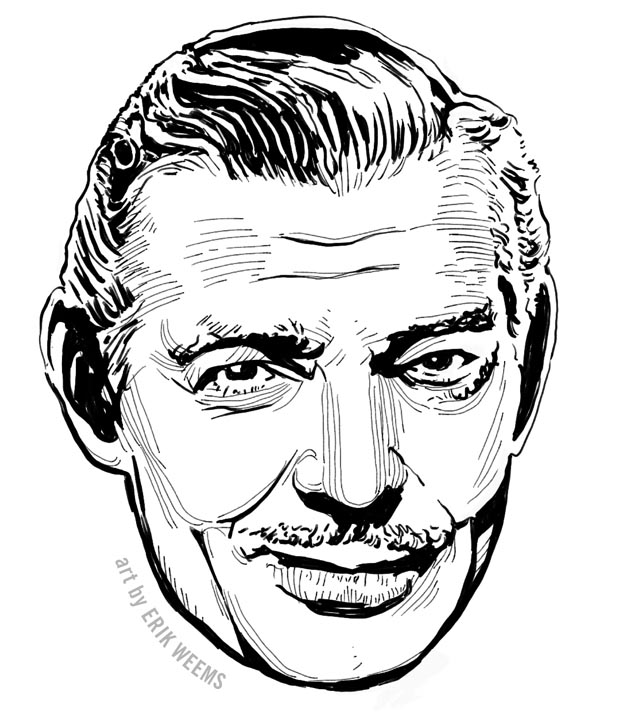 ---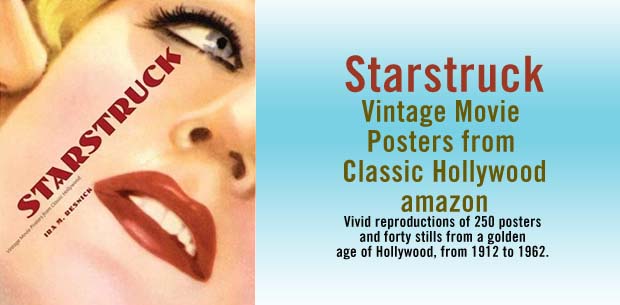 Starstruck: Vintage Movie Posters from Classic Hollywood
---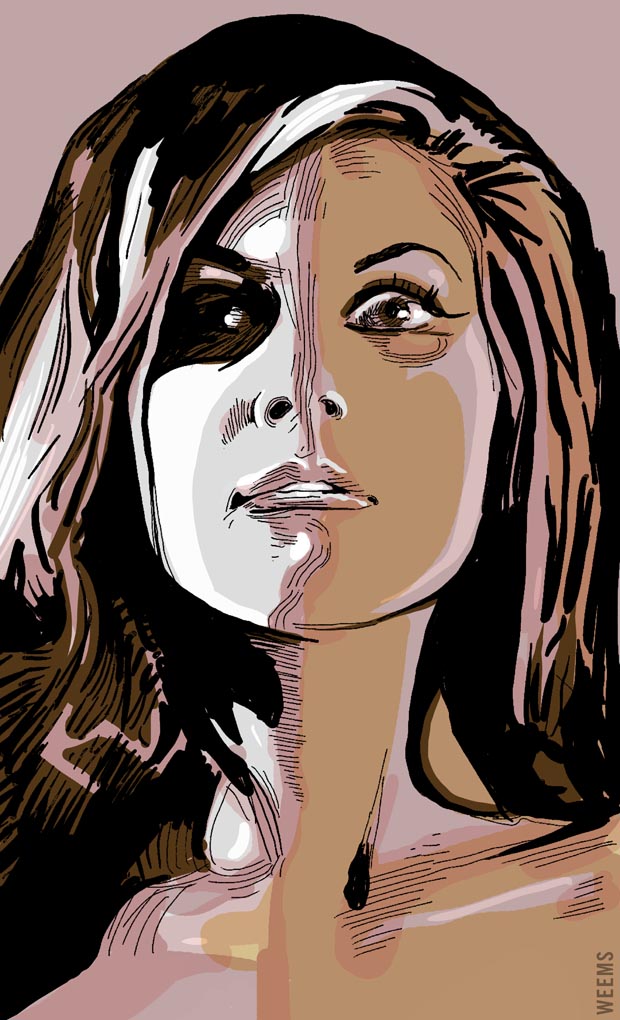 Slaughter of the Vampires - 1964
Director: Roberto Mauri
This low budget Italian horror film borrows heavily from Bram Stoker's Dracula: a vampire noble menaces the happiness of a newly wedded couple who live on a large estate featuring beautiful 18th century outfits, winding staircases, landscaped grounds and sumptuous interior art direction, all heavily draped in shadow with precise lighting.
What carries this film beyond the predictable story and acting is the well done, economical cinematography. Director Mauri (who also wrote the screenplay) often moves his camera around and generally executes some first-class storytelling despite the stodgy material.
While the conflict between the vampire and the victims is rote and any familiarity with the many previous Dracula films from Hollywood makes the outcome here entirely predicatble, nonetheless the angles and motion of the camera is frequently interesting and inventive. None of this can salvage the mundane elements of the story, but Slaughter of the Vampires (Italian: La Strage dei Vampiro) tries to compete with the quality standards of something higher in calibre like a Hammer film, and visually speaking, often succeeds.
---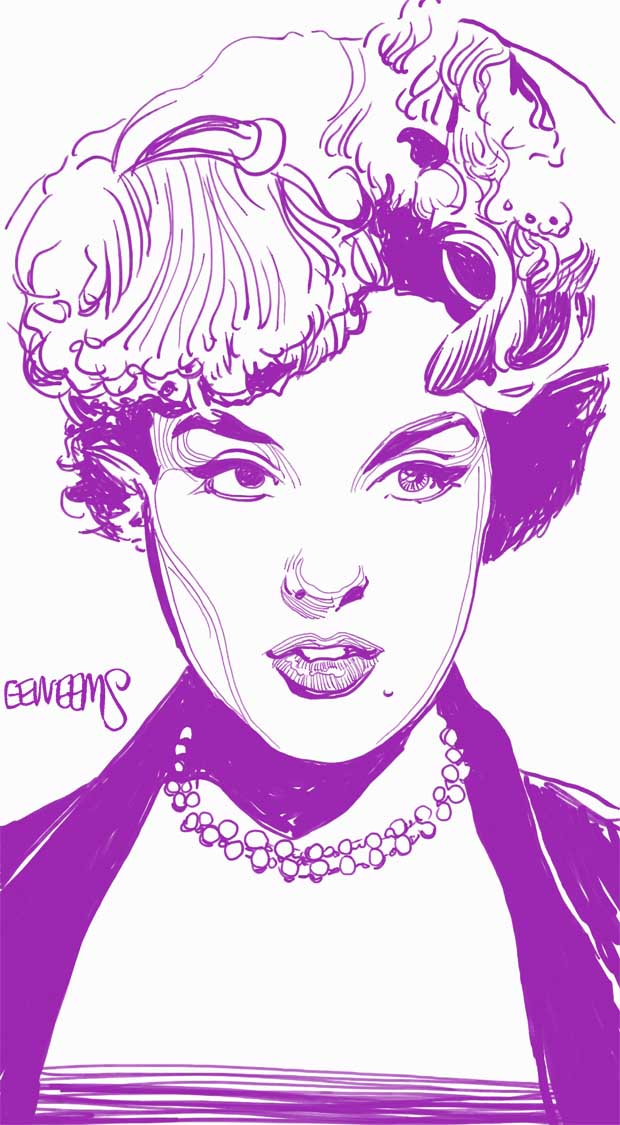 Allison Hayes
---
The Man Who Turned to Stone - Released March, 1957. Directed by Leslie Kardos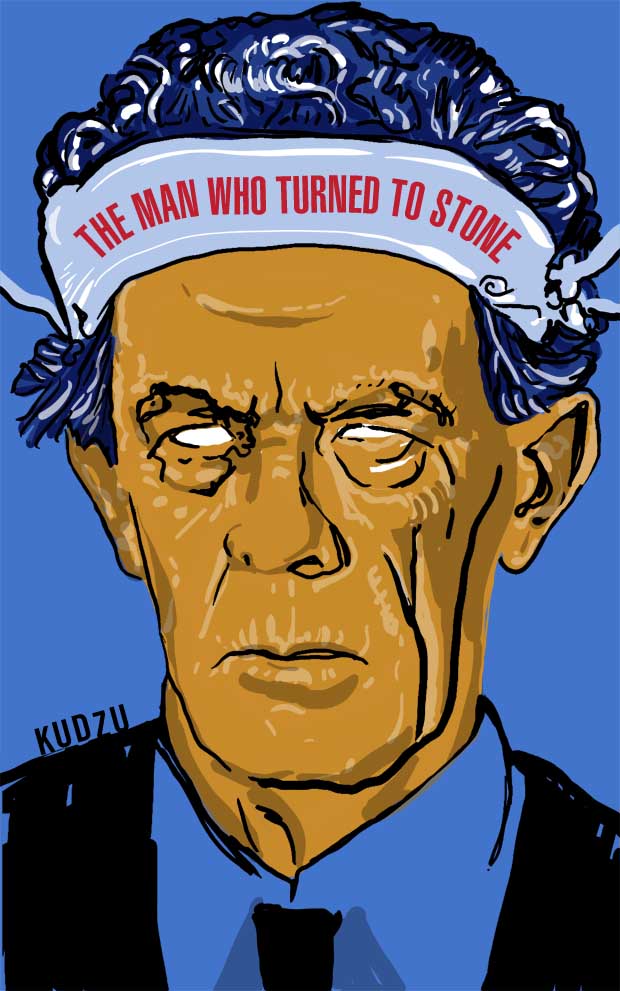 A girl's reformatory school is being used as a supply warehouse by a group of aged scientists (though they certainly do not look elderly, just distinguished and academic) who have found a way to use the girls as power-rechargers that expand their own life-spans hundreds of years. These people (who kill the girls in the cause of science) will begin to harden like petrified trees without these special treatments. A low-budget effort with minimal effort to the sets and directing, though the actors certainly give it a go as they travel through the crazy storyline.
More on The Man Who Turned to Stone - 1957
---
Don Knotts
---
Criterion breaks forth with Godzilla for release #1000
Godzilla - The Showa Era Films - 15 titles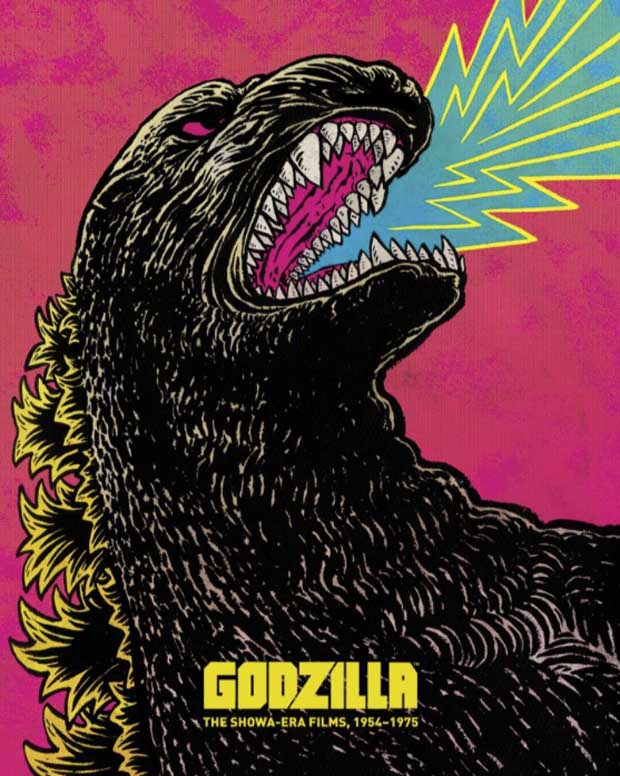 This is the lineup for their box set spine #1000 on Bluray:
Godzilla (1954)
Godzilla Raids Again (1955)
King Kong vs. Godzilla (1963)
Mothra vs. Godzilla (1964)
Ghidorah, the Three-Headed Monster (1964)
Invasion of Astro-Monster (1965)
Ebirah, Horror of the Deep (1966)
Son of Godzilla (1967)
Destroy All Monsters (1968)
All Monsters Attack (1969)
Godzilla vs. Hedorah (1971)
Godzilla vs. Gigan (1972)
Godzilla vs. Megalon (1973)
Godzilla vs. Mechagodzilla (1974)
Terror of Mechagodzilla (1975)
Here's Criterion's promo language:
"These fifteen films, all presented in high-definition digital transfers, are accompanied by a slew of supplemental material that brings the King of the Monsters to life in a giant deluxe hardcover book, with new essays and newly commissioned illustrations from sixteen artists; new and archival interviews with cast and crew members; and much, much more!

It's a colossal set, and we'd have it no other way for our 1000th release! We can't wait to share it with you when it roars into stores on Blu-ray on October 29."
See the Criterion Godzilla Showa website page
---
Sessue Hayakawa
Sessue Hayakawa career began in 1914 with O Mimi San (a short film with Hayakawa starring as Yorotomo ) and concluded in 1967 with Junjo nijuso , with Hayakawa playing a character called Tajima. In between he had 107 acting credits.
Hayakawa started in Japanese cinema, but quickly became a star in Hollywood with films such as The Wrath of the Gods, The Typhoon, and had considerable success with Cecil B. DeMille's 1915 film The Cheat. By 1922 his career in Hollywood had dropped off and he returned to Japanese films, but was back in Hollywood for the Anna May Wong film Daughter of the Dragon (1931) and also appeared in some French films. His later career included Tokyo Joe with Humphrey Bogart in 1949, and Three Came Home with Claudette Colbert in 1950. In David Lean's "epic" The Bridge on the River Kwai, Hayakawa was nominated for a supporting acting Oscar for the 1957 film for his role as the POW camp commander.
---
---

---
What's Recent
---
Amazon: Harlow in Hollywood: The Blonde Bombshell in the Glamour Capital, 1928-1937
---

Best. Movie. Year. Ever.
How 1999 Blew Up the Big Screen - Fight Club. The Matrix. Office Space. Election. The Blair Witch Project. The Sixth Sense. Being John Malkovich. Star Wars: The Phantom Menace. American Beauty. The Virgin Suicides. Boys Don't Cry. The Best Man. Three Kings. Magnolia. - 416 pages - AMAZON 2019