CINEMAGRAPHE
LAST UPDATE June 15, 2021
Reviews of Classic Film, with artwork and news
---
Ned Beatty has passed
Obits:
"Ned Beatty Dies: Oscar-Nominated Star Of 'Network' & 'Deliverance' With More Than 160 Screen Credits Was 83" – Deadline Hollywood
"Ned Beatty, titanic character actor of 'Network,' dies at 83" – SF Gate
"With Superman, Ned Beatty delivered superhero movies' best lackey" – MSN News
---
Review: Easy Living 1937
Edward Arnold is banker J.B. Ball, aka "the bull of Wall Street," and in a family argument about a $50,000 fur coat recently purchased by his sweet and kindly but apparently profligate wife Jenny (Mary Nash), he hurls the offending garment off of the roof of their penthouse apartment. It falls downward, landing on a seated Mary Smith (Jean Arthur) riding in an open top public transportation bus on her way to work.
The script for Easy Living by Preston Sturges spins around on the audience correctly knowing what is going on and how the characters know each another, which is entirely different from the characters themselves who are operating under false impressions of each other. One of these misunderstands is gigantic: eventually everyone from New York City to Florida seems to believe that Mary Smith (Arthur) is a secret mistress of J. B. Ball (Arnold), though they themselves barely know each other and when they are in contact it turns quickly into an argument, the boisterous and shouting banker not used to being corrected by the unintimidated young woman.
But cluelessness and misunderstandings is the reality around Jean Arthur's character as she gets swept up into a rash of misunderstandings that follow from her brief association with the famous banker who she doesn't even know is a banker, and through most of the film she doesn't even know his name. By suddenly coming into possession of the flung-away hyper-expensive fur coat, (which she doesn't realize is even a true fur coat; she thinks it is imitation), we travel with her into a screwball world where the appearance of wealth inspires a gaggle of "helpers" who overwhelm her with free goods and services, with items ranging from jewelry, to automobiles, to clothing apparel, all showing up unbidden at her door, and stock brokers sneaking to see her, hoping for her to provide "inside" knowledge.
These merchants are hoping by pampering her this will lead to future purchases, or, at the least, they hope that the (apparently) wealthy and well-connected Mary Smith will influence other wealthy people toward purchases. They do not know she's actually nearly penniless, only possessing one single dime after getting fired from her low-level job at a magazine for children (The Boy's Constant Companion).
The 1937 world of Easy Living seems modern in a number of ways, with stock market surges and drops happening on nearly occultic notions of weather and feelings, and enormously powerful bankers (Mr. Ball) being pretty shakey on how math works, and expensive businesses based upon getting "influencers" to help spread the gospel about their pricey commercial goods.
Ray Milland also appears in the film as the spoiled son of J.B. Ball. When the story begins we see he has a taste for custom automobiles and seems to spend money as easily as the rest of the family, but following an argument that hurts his pride, he goes out on his own and is working cleaning tables at an automat (a kind of 1930s mechanized buffet cafeteria). After he tries to sneak Mary some food at the automat, feeling sorry for her since her one thin dime will only get her coffee and a roll, he gets fired. She takes pity on him and his plan to sleep on a park bench, and brings him to the palatial "Royal Suite" at the Hotel Louie (provided gratis by a hotelier named Louie Louie played by Luis Alberni). Like children in Wonderland, the two young adults have to figure out how the enormous, ornate bathtub operates and to find a way to obtain food, since Mary's arrangement with the Hotel Louie will only supply one egg a day to the Royal Suite.
Our glimpse into how a wealthy banker lives and works is through Edward Arnold's shouting, fist-shaking super-banker J.B. Ball, who is somehow both a genius and an idiot at the same time. His ongoing argument with Mary Smith over how to calculate compound interest is a running joke throughout the movie. We never hear how interest actually should be calculated properly, with Ball trying to explain by using examples of farmers selling cows, or counting marbles, etc. None of it actually ever makes sense, though. Ball is certain he knows how it's done, but has to keep shifting to some new analogy to try and illustrate his knowledge, his previous examples getting hopelessly tangled one by one.
A backing cast of comical talents lubricates the chain of comedy scenes in Easy Living, such as the jabbering Luis Alberni, the calm and collected Esther Dale as Ball's secretary Lillian (who seems to be the only person on staff who actually understands banking). Also on the screen is William Demerest, an actor who appears in almost all of Sturges' films, here he plays a snooping newspaperman named Wallace. William B. Davidson is the ironically named "Hyde," Ball's man at the Wall Street stock exchange, summoned during emergencies which interrupt him at the barbershop such that he rushes into Ball's office with his hair and face lathered to be shaved, looking like a madman.
Jean Arthur as the simultaneously naive and street-wise Mary Smith is our hero, and how she can survive the onslaught of privilege and magical wealth is the tale. The wave of gifts and money directed at her makes her shake her head in confusion, convinced the world has gone mad.
Though directed by Mitchell Leisen, Easy Living is primarily a Preston Sturges project by dint of the density of the script, full of Sturges' humor and his crackling, fast-paced comedy dialogue.
---
---
Brandon, Vermont site for seven movie weekly silent film fest
Begins with Mark of Zorro – Story at WCAX
---
---
Review: Van Helsing 2004
Director Stephen Sommers up against his own The Mummy of 1999
Dracula to Werewolf: "Don't wish for death so quickly!"
Werewolf: "I'd rather die than help you!"
Dracula: "Oh, don't be boring. Everyone who says that dies."
Generally speaking, the 2004 Van Helsing is held to be a not very good movie. Saturated with special effects and action sequences, the simple story is a comic book-ish tale of a group of heroes (Helsing, his assistant Carl, the Frankenstein Monster, ace vampire-fighter Anna Valerious) going up against Count Dracula and his cohort of three deadly wives who can turn into bat like creatures, swooping skyward to frighten and hunt the local populace.
Despite the puzzle of why the film isn't as good as it ought to be, it is all the same enjoyable in a way few other movies are, or can be. For one, Van Helsing looks like an unashamed effort to take Forrest J. Ackerman's Famous Monsters of Filmland magazine onto the screen with the kind of special affects and sheer movement that wasn't technically possible in the old Universal monster rallies. Affection for those old, slowly creeping monsters from the black and white world of celluloid nightmare comes through in director Stephen Sommers' epic of colorful, loud, Hollywood gothic peopled with the familiar characters from the past but given twists that almost bring them into the 21st century.
Frequent insertions of comedy helps this Universal Pictures monster mash. The downside, though, is that like a superhero film overstuffed with men and women in tights, Van Helsing suffers from good but then too much CGI effects. This combined with a rapid, constant stream of action sequences becomes a case of too much that's too good, leading to repetition and sameness. What is otherwise a highly-detailed effort, the film story is hollow and this viewer wondered how much story must have been simply edited out in order to bring in even more stunt work and CGI.
This film recalls director Stephen Sommers' earlier revival of The Mummy at Universal that was released with great success in 1999. However, The Mummy was a deck of cards with many faces, something that isn't achieved in Van Helsing, mostly because star Hugh Jackman doesn't have the easy, simple grace to be funny like Mummy star Brandon Fraser who could move from action star serious to humor and then back again in seconds. Jackman is serious for long stretches which gives the film a feeling that the main actor isn't in on the jokes, though he does provide some good deadpan delivery of some lines, but its not enough to let Sommers' script have its cake and eat it too the way Fraser was able to in The Mummy.
But maybe that was deliberate. Jackman is able to benefit the proceedings with his Wolverine-esque fighting and action style and he never misses when performing this chore, but modulating to the funny insides of Van Helsing just isn't part of his assignment, throwing off the easy balance which the The Mummy had but Helsing lacks.
Hugh Jackman's characterization of Prof. Van Helsing is a far cry from the little old man with spectacles in the 1931 Dracula described by the Count as "...for one who has not lived even a single lifetime, you're a wise man, Van Helsing." In this 2004 Van Helsing, Hugh Jackman doesn't know a lot, he guesses at matters (including his own past), and though he tries awfully hard, he can't save the heroine (Kate Beckinsale as Anna Valerious). In a way, this Prof. Van Helsing has more in common with the ultimately ineffectual Professor Abronsius from the funny horror film from 1967, Fearless Vampire Killers.
Richard Roxburgh, who gives Van Helsing's Count Dracula some very funny line readings and is able to move from serious-threat to joke cracking and back again with ease is probably meant to help ease-up the overt-seriousness in Hugh Jackman's style (and this is a mystery, since Jackman's Wolverine in the X-Men movies was able to effortlessly deliver sardonic jokes one after another), to bring more balance between Roxburgh's Dracula and Jackman's Helsing. It just doesn't gel together that way, though. The two opponents don't get to spar using words (the way Everett Van Sloan and Bela Lugosi did in the 1931 Dracula) which would have helped in Van Helsing which is so loaded with action. There is some good and witty dialogue, and more of that would've helped the movie refresh itself as it moved through the plot, but that's not what we get.
Not that the fighting sequences between Dracula and Van Helsing are not impressive, for they are, but without the grounding in language that was such an important part in the duelling between the vampire-fighting professor and the deadly king vampire, we end up deadened by the CGI and fights.
Another issue is surprising, considering the writer and director. Van Helsing is focused on making the old Universal horror formula work (though in a very, very updated way) but doesn't bring in elements that made his The Mummy so good, such as by throwing in some Raiders of the Lost Ark style adventure (which, to be fair, is actually just an updated version of the same 1930s foreign adventure films that The Mummy is partially derived from). Van Helsing is full of brawling, but is somehow light on the adventure, which is unexpected.
The mono-genre limitations around Van Helsing appears to be the main failing, and no matter how well Roxburgh brings in the funny lines without losing his sinister motivation as the Count, and despite all the goofy jokes spread across the screen by David Wenham as Van Helsing's assistant Carl, or (the under utilized) Kevin J. O'Connor as Igor, Hugh Jackman's seriousness and the razzle-dazzle special effects (particularly effective with the werewolf vs bat-form Dracula battle scenes) is too plentiful at the expense of all the other talent on the screen.
To make this problem even clearer, aspects of Van Helsing look like a parody of other films, like Coppola's Dracula of 1992, for example, helping make a reasonable argument that I have seen in some reviews that Van Helsing can be celebrated as a camp project. I'm not going to protest against that view, but it seems like a nice, friendly way of praising the film and overlooking the deficits in other areas.
But maybe that's the best way to take this film, to believe it was meant to embrace camp. Because this is where Van Helsing has its biggest failure, in an area where camp typically just doesn't care to do much more than act as a spectator, that is, Van Helsing lacks a good sentimental, melancholy center, which is what powered so many of the old Universal monster movies. Whether straight up horror like the 1931 Frankenstein, or the inside-joke infused sequel of 1935 Bride of Frankenstein, the old monster films from the Universal lot were made in the years of the American Great Depression and in the still simmering aftermath of World War One, and the escapism offered was peppered with feelings of doom, trouble, depictions of marital alienation and especially the general knowledge of happiness foolishly lost and replaced with monsters lurking around the corner, usually because someone brilliant and seemingly a paragon of establishment virtue has made a single decision to go up against God, in the end learning human limitations: "I meddled in things man must leave alone". But the heroes of Van Helsing don't battle Dracula within such an environment, but use teamwork and gadgets in a battlefield more like a video game shooting gallery with levels of obstacles to overcome.
Transforming the Universal stable of classic characters into 21st century personalities is a challenge, and Van Helsing tries different ways to complete the task. Despite the failures in the film (and the relative failure at the box office, with Van Helsing making $300 million gross against a $160 million production budget); Stephen Sommers did achieve what I originally stated, he brought Famous Monsters of Filmland to the screen in a way that gave it the speed, color and inventiveness that was always hinted at in the old films but not technically within reach. When Roxburgh's Dracula transforms into a giant bat and battles Jackman's professor now changed into a werewolf (you'll have to see the film to see how that conundrum came about), it is as if one of the covers of FM featuring the monsters fighting athletically in a way they never could in the original films has finally been realized.
---
Charles Grodin - 1935 – 2021
Obits:
---
Amazon wants to buy M-G-M
Story at UK Guardian
---
Olympia Dukakis has died
Story at UK Guardian and Deadline Hollywood
---
Rotten Tomatoes has unearthed a 1941 review of Orson Welles' classic that single-handedly took down its decades-long perfect critics' score."
Story at Hollywood Reporter
---
Short film on Boris Karloff
Author, TV writer, actor and comedian Charlie Higson has scooped the winning prize for Plymouth College of Art's Boris Karloff film challenge

...entrants were asked to submit a one-minute video taking inspiration from the life and work of English actor Boris Karloff, most famously known for his role as Frankenstein's monster in Frankenstein (1931) and later sequels.
Article about the short film at Plymouth Herald
---
Manhattan Melodrama, 1934 Gelatin Silver Print - Photo of Gable and Myrna Loy by Ted Allan at Staley-Wise Gallery Artsy
---
REVIEW
Calling Dr. Death - 1943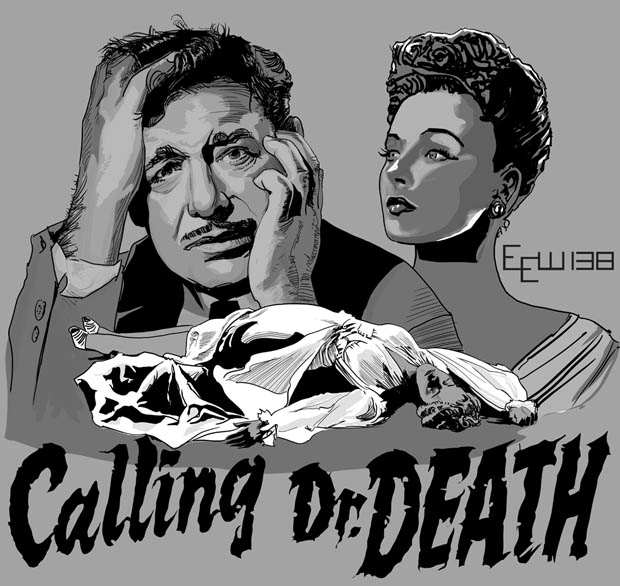 "Not murder, Doctor. You haven't the courage..."
Lon Chaney, Jr. is Dr. Mark Steele, a neurologist and hypnotist who spends a portion of this short film (63 minutes long) talking to himself within his mind in a hushed voice of soliloquy, arguing with himself whether he has somehow murdered his wife (Ramsay Ames) but just can't remember doing so. Police Investigator Gregg (J. Carrol Naish) at first is sure that Dr. Steele has done the deed and that the doctor's memory loss is a dodge to escape responsibility, but soon, Gregg also has his eyes on the rest of the cast (Patricia Morison and David Bruce in particular) and he makes a few comments that makes us wonder if even Gregg could have done the killing.
In this first film from the Inner Sanctum series of six films based on the popular radio program, the tangle of conflicting thoughts inside of Dr. Steele's head doesn't help the audience figure out what has happened to the cruel-tongued, adulterous wife that Dr. Steele loathed. Instead, his interior-editorials just add to the confusing overlapping clues that point in several directions at once. When the dead wife's lover is arrested, tried for the death and then slated for execution, the pressure on Steele really begins to bear down on his guilt-soaked mind. Patricia Morison as Steele's loyal and sympathetic nurse (and the closest thing the alienated Dr. Steele has to a friend) looms up as more and more important as the story winds up toward a climax moments before the execution.
The influence of 1940s cinematic psychology (like Lewton's Cat People, Hitchcock's Suspicion and Bette Davis's Now, Voyager) hovers over Calling Dr. Death. The hushed whispering voice inside of Steele's mind is reminiscent of the "inner voice" that deaf-mute sailor Finn (Skelton Knaggs) used in Val Lewton's Ghost Ship.
Exploring the interior world of the mind in this cinematic way obscures the usual dry clue-gathering work we expect from a murder-mystery, and with Dr. Steele being in the dark about what's going on in his own head (and his own activities) opens up a lot of space for guessing who is the culprit behind the death of Mrs. Steele, with Dr. Steele just happening to be at the top of the list.
Lon Chaney, Jr. carries the conflict of Dr. Steele forward with the tortured angst that marked so many of the characters Chaney played during his career, but in Calling Dr. Death he is aided by the script by Edward Dein which deliberately alludes to the hidden compulsions that emanate from out of known, and unknown, motivations in the human psyche.
---
Adding product placements into classic film?
So items can be digitally added to almost any movie or TV show. For example, advertisers could put new labels on the champagne bottles in Rick's Cafe in Casablanca, add different background neon advertising signs to Ocean's 11, or get Charlie Chaplin to promote a fizzy drink. And then a few weeks, months or years later the added products can be easily switched to different brands.
The technology to do so has arrived – story at BBC
---
Criterion Classic Movie Release News:
A Blu Ray edition of Bringing Up Baby is coming on July 6, 2021. Criterion Bringing Up Baby product page.
Criterion Blu Ray edition of the Barbara Stanwyck The Furies is now out (April 20) - Criterion The Furies product page and at Amazon The Furies (Criterion Collection) [Blu-ray]
---

---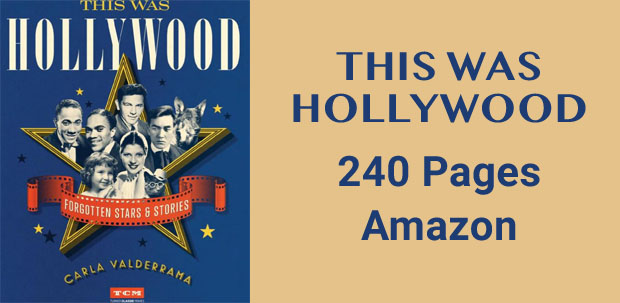 From former screen legends who have faded into obscurity to new revelations about the biggest movie stars, Valderrama unearths the most fascinating little-known tales from the birth of Hollywood through its Golden Age.
This Was Hollywood: Forgotten Stars and Stories (Turner Classic Movies)
---
What's Recent
---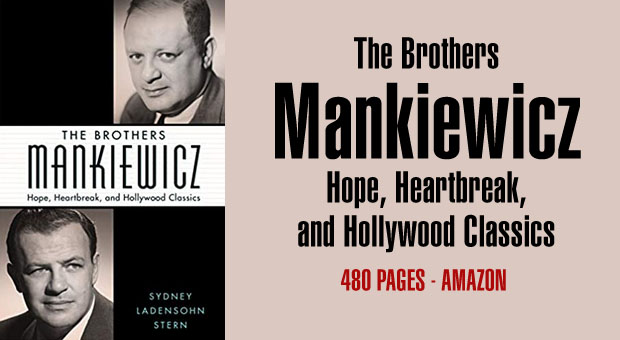 Winner of the 2020 Peter C. Rollins Book Award
Longlisted for the 2020 Moving Image Book Award by the Kraszna-Krausz Foundation
Named a 2019 Richard Wall Memorial Award Finalist by the Theatre Library Association
The Brothers Mankiewicz: Hope, Heartbreak, and Hollywood Classics (Hollywood Legends Series)