CINEMAGRAPHE
LAST UPDATE June 27, 2020
Reviews of Classic Film, with artwork and news
---
Conquest - 1937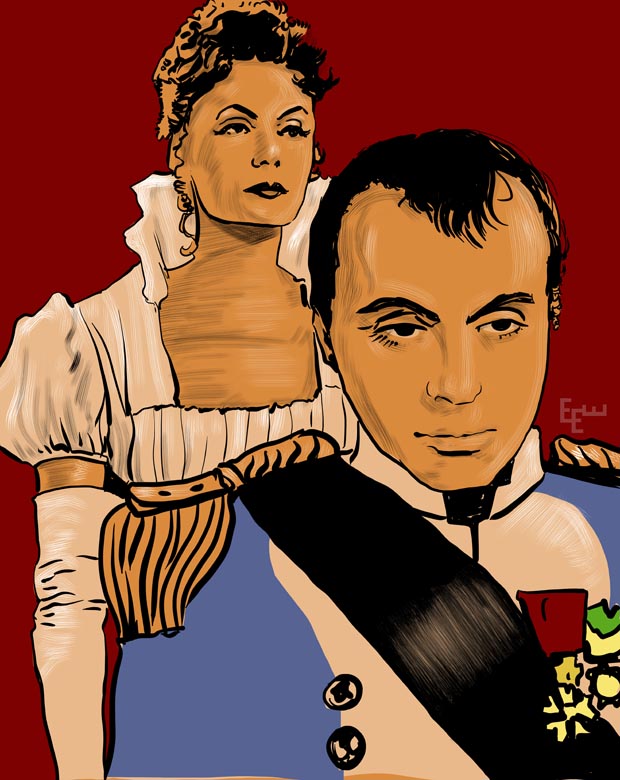 Conquest - released Oct 22, 1937. Directed by Clarence Brown and Gustav Machaty. Starring Greta Garbo and Charles Boyer.
Napoleon in love
Greta Garbo plays a beautiful Polish wife who is sacrificed to the conquering leader of the French army (Napoleon Bonaparte, played by Boyer) that sweeps into Poland and kicks out the Cossacks that had just a bit earlier arrived as a ruthless Russian invasion force. But the title Conquest also works as a description of what happens when Napoleon gets emotionally attached to Greta (Countess Marie Walewska) and this connection moves through the years as Napoleon's career as a world-conquering emperor goes through its ups and downs.
Boyer makes for a likeable Napoleon, and his mannerisms and way of speaking seem a perfect model of a parody of Napoleon (Boyer himself was French, and so his accent is quite legitimate. Napoleon was actually Corsican and French was for him a second language.) I wonder if Conquest and Boyer's version of Napoleon seems familiar and more recent because his very nicely done portrayal has influenced what has come afterward (particularly in terms of comedy). Boyer's version is a lot like how we automatically "see" Napoleon, arms behind his back, walking forward hurriedly, emitting a kind of genius inquisitiveness.
There is some gentle humor in Conquest, especially with Maria Ouspenskaya whose character (Countess Pelagia Walewska) effortlessly trades lines with Boyer, building up a funny scene, bit by bit, involving a card game, before which the famous man is astounded to realize she's never heard of him and she doubts if any of his claims to world-wide importance are even true. As the conqueror begins losing to the little old lady at cards, this is when Greta will finally come into the scene, and it is a shame that there isn't more of this sort of entertainment value in the movie for Garbo to share in, because by the halfway point of the movie it has begun to get bogged down into trying to provide biography without the story really able to catch up. (In terms of earnings, this film did not do well at the box office.)
The title Conquest acts as a magnifying glass into the tale as we're shown that Napoleon has something like an addiction to finding importance through winning battles, and is determined to create a lasting line of Bonaparte children to establish a royal line (the story shows him forcing his way into the royal families of Europe via marriage, certain this will cement his fame and his name into history) but these efforts only demonstrate that for him marriage is just another strategy for success, in contrast to his long-term love affair with the Countess Walewska.
For her efforts (which at one point are encouraged by the leaders of Poland, desperate for Napoleon to keep the Russians out and to back their hope for independence), she eventually gets disowned by her husband, a much older Count (played by Henry Stephenson).
She and Napoleon will meet a few more times in the succeeding years, he repeatedly throwing away his chances for happiness with Garbo (and the child their affair has produced) so that he can continue pining for his military and political victories. At one point she provides a possible escape for Napoleon to leave the island prison of Elba where the British have him socked away, and traveling with her and their young son to America, but he will wistfully reject it.
The movie has splendid productions values, and is a very glossy M-G-M movie that features large movie sets, lots of extras (especially soldiers) and gorgeous period costuming. The story itself can't keep the quasi-biography of Napoleon going while also spinning the tale of a romance spanning years, and in the end both sides of the tale get hurt, and the story concentrates more on keeping it all straight instead of providing entertaining vignettes of this famous life. After awhile, Greta isn't given a lot to do but to show up periodically to demonstrate that Napoleon is still striving for greatness, yet still has a yen for her, and the tension that he might still somehow make the better decision (settle down with Garbo) is never established, for in the end, though he is her "conquest" he is still driven by his appetite for world importance.
---
Drive-in movies theaters are a surprise summer hit
Profile of the phenomenon at Wall Street Journal
---
John Wayne, Princess Leia (Carrie Fisher), Judy Garland and others put onto large outdoor mural
Story and pictures at Dayton Daily
---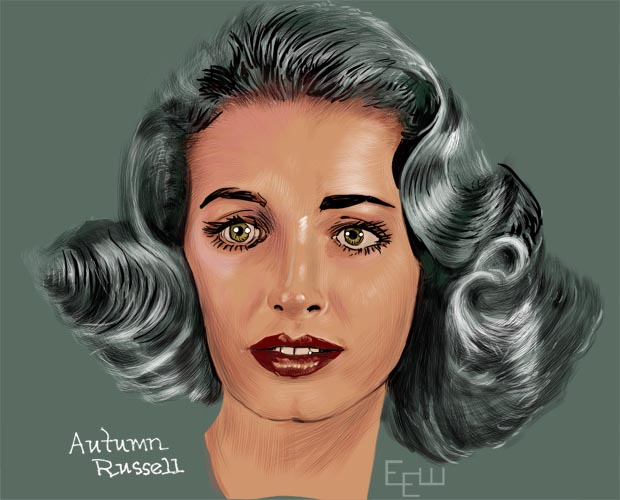 Autumn Russell - Zombies of Mora Tau
---
Twilight Time puts out pre-order news for restored Bluray of Abbott and Costello Africa Screams
Preorder page at Twilight Time
More on Twilight Time: They're still closing up shop this summer, but have moved the close-down to July 2020. They're still sending out regular emails noting that their announcement of closing business (due to a death in the leadership) has generated a massive spike in sales that they've been struggling to fulfill from their warehouse where they also have the problem of COVID-19 requirements which also slows down the process.
From their recent email:
"Important Dates: Monday, July 6th will now be the last date we will accept new orders for Twilight Time films. Please note, orders will continue to ship after this date until all are fulfilled. The last date to place orders for regular and priority international shipping for all countries except Canada will be Friday, June 19th. Please note that international orders will also continue to ship after this date until all are fulfilled. Federal Express international shipping will be available for all countries through July 6th."
...On July 7th we will make all Twilight Time products we have ever carried visible on the site through July 20th so you can download the high resolution artwork or product specifications for your future enjoyment.
---
The world of movie credits
Article at UK Guardian protests how streaming services are now cutting off credits from the film presentations they provide.
"Companies such as Netflix, Amazon and even the BBC may publicly laud their commitment to the arts but, to film-makers and the creative community, the way they are presenting that work tells a completely different story...
There is some hope. The saviour of the end credits sequence may be the most unlikely: Marvel Studios. Through its regular use of post-credit dramatic scenes, it has become their unlikely protector..."
---
Academy Awards plan a delay in 2021
Story at NME
---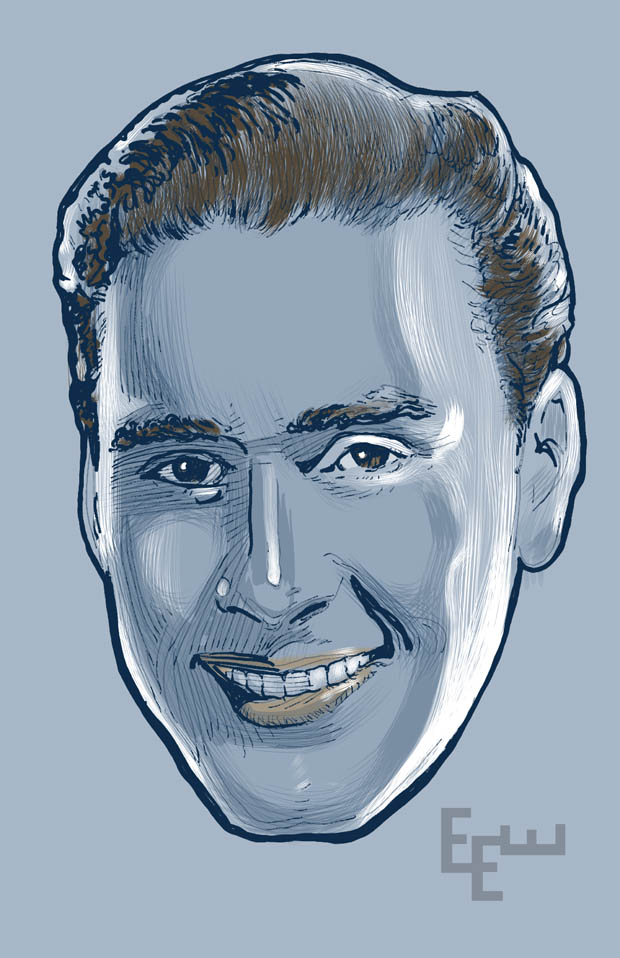 ---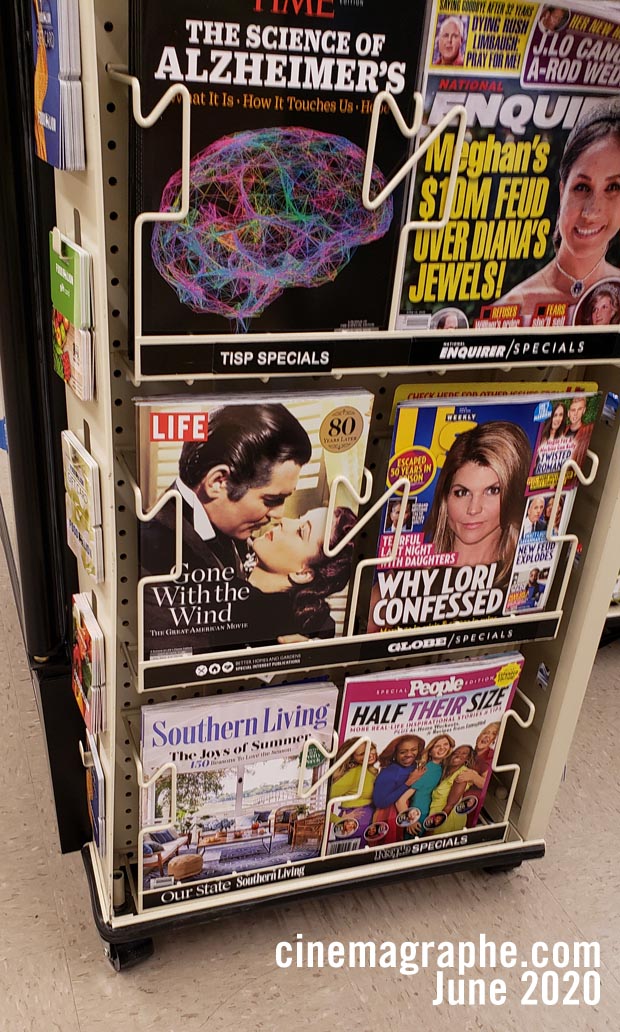 Grocery store cashier stand, June 2020.
---
Otto Kruger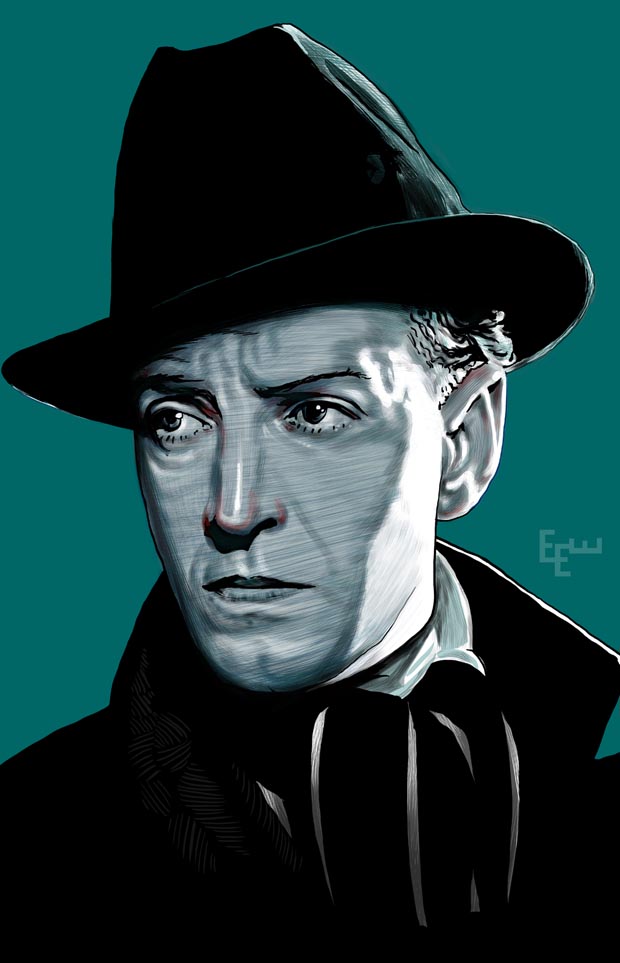 Otto Kruger - Born 1875 - Died 1974
Originally a stage actor, Otto Kruger's film debut was in 1915 with The Runaway Wife, and during his long career in movies and television he accumulated 122 credits (for example, four different roles on Perry Mason). During his peak activity in Hollywood Kruger was acting in seven or eight roles in a single year, modulating between heroes and villains, plus many character roles, something particularly did as he got older.
---
Gone with the Wind tops Amazon's sales charts after publicity about the film getting pulled from lineup from HBO Max streaming service
June 9, 2020
Fears that old films will start "being erased" may cause a gold rush on controversial movies. I guess the news about the HBO move prompted anyone who had wanted to buy their own physical copy of the film to move fast and do it with a concern the option may no longer be available in the future.
HBO says they plan to add some new material to explain the objectional content, perhaps as a leader into the film, so this would indicate the "erasing" of GWTW isn't really the goal.
A bit of irony is that Gone with the Wind features Hattie MacDaniel who won the first Academy Award for an African-American for her role in the film. Olivia de Havilland, who starred in the film (as Melanie), is still alive at the age of 106.
Story at Variety
---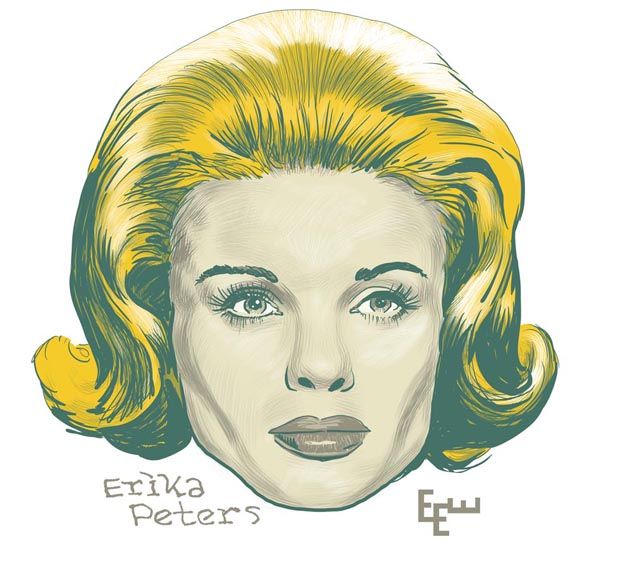 Erika Peters - Born 1935
Peters career started in Germany (under her birth name, Erika Knab) and after coming to the United States she was featured in many television programs and a few films (the best known is probably G.I. Blues with Elvis Presley). She is listed with 24 acting credits altogether. Her appearances on Bonanza, The Untouchables, 77 Sunset Strip, Thriller, etc., are readily available online through various services.
---
Shout Factory is re-releasing their Vincent Price Collection Volume I set in September
This was a Bluray 6-film set which was pulled suddenly during the original issue in 2013 (copyright issues) and since then unopened and used copies of the set have been selling on eBay (and elsewhere) for $300, $400, and more (though since the announcement of this reissue, prices have dropped).
Shout Factory page on the Vincent Price Collection Volume I re-issue
Set includes these films:
The Pit and the Pendulum, 1961
The Abdominable Dr. Phibes, 1971
The Masque of Red Death, 1964 (original theotrical version, and an extended version)
The Haunted Palace, 1963
The Fall of the House of Usher, 1960
Witchfinder General, 1968
---
Jean Harlow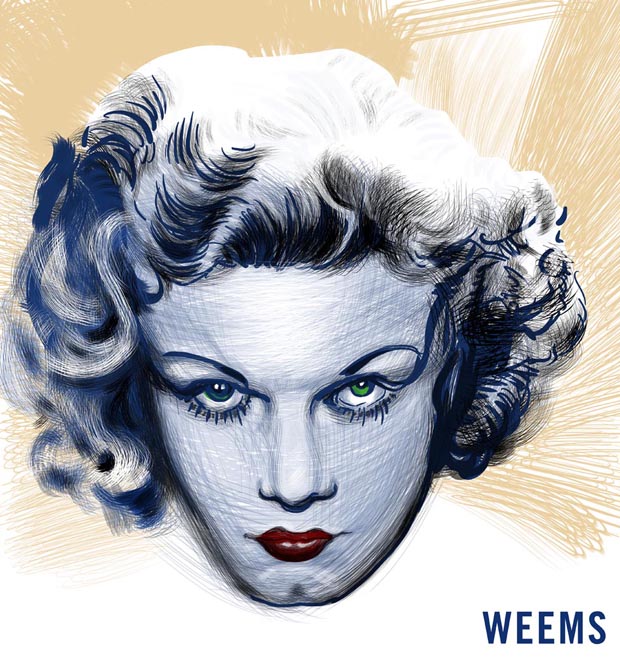 ---
Hazel Court
---
New Yorker: "Classic movies to watch with your kids"
The writer (Richard Brody) describes a series of movies watched with young children. He spends time making judgements about what's on screen (such that a viewing of a single film require two evenings to explain negatives about past stereotypes, for example). That films should be watched with explanations is probably part and parcel of a healthy family life, and is the obvious duty of a parent extolling their beliefs. On the other hand it sounds like it turns films into teaching tools on current accepted contemporary mores (well, New Yorker style contemporary mores), but I guess that's unavoidable within the context.
Some of the films:
Modern Times : "...we talked with our daughters about strikes and their breakers, about the desperate poverty of the Depression years."
I wouldn't go to Chaplin for depression-era teaching. I'd go to Our Gang shorts. But Modern Times is a fantastic film and it transcends American culture of that or any era: I saw it playing a theatre in Greece. Poverty and desperation (and comedy) is trans-continental.
Some Like It Hot: "...Monroe... stars as a member of the all-women's jazz band that Jack Lemmon and Tony Curtis join, in drag, as male musicians fleeing Mafia hit men, was a multilayered delight..."
I think Marilyn Monroe parses easily for kids since her make-up, dresses and presentation in a film is often quite cartoonish, the natural purview of children. Actually, I'd go further, for a lot of young people, some Marilyn Monroe films probably operate in a way unknown even to the people who wrote and directed them, such is the power Monroe has to be in a film and outside of it (or beyond it) simultaneously, something only a limited number of actors have possessed since George Melies got things rolling.
Billy Wilder is a film genius, but I'm probably one of the few classic-film era fans who has objections to Some Like It Hot. Wilder, either out of deliberate decision or maybe out of just not knowing what to do with Monroe, seems to often frame her as almost an animal in this movie, not a character, the camera treating her in ways it simply doesn't treat the other characters (who are otherwise just as gigantically cartoonish as she is). I thought this film was hilarious when I was a teenager, but as I've gotten older and older, the film gets harder to watch.
Tony Curtis aping Cary Grant is quite funny.
Some of the other films in the New Yorker article:
The Last Laugh
The Chaser (Harry Langdon)
Marnie
Monkey Business
Dragonwyck
Singin' in the Rain
Playtime
The Gang's All Here
Goodbye Charlie
The Pajama Game
---
The new HBO Max streaming service has a long list of classic Warner films, along with a big chunk of Criterion-catalog films. See the quite-long list of English language classic and foreign-classic movies at The Verge
---

---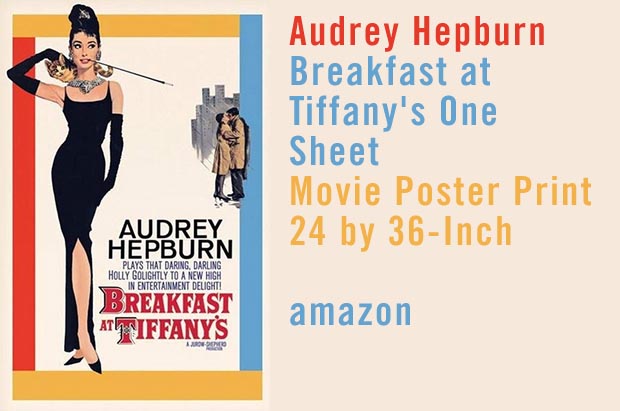 ---
What's Recent
---
Discovering Jean Harlow - Online Documentary
---

Best. Movie. Year. Ever.
How 1999 Blew Up the Big Screen - Fight Club. The Matrix. Office Space. Election. The Blair Witch Project. The Sixth Sense. Being John Malkovich. Star Wars: The Phantom Menace. American Beauty. The Virgin Suicides. Boys Don't Cry. The Best Man. Three Kings. Magnolia. - 416 pages - AMAZON 2019
---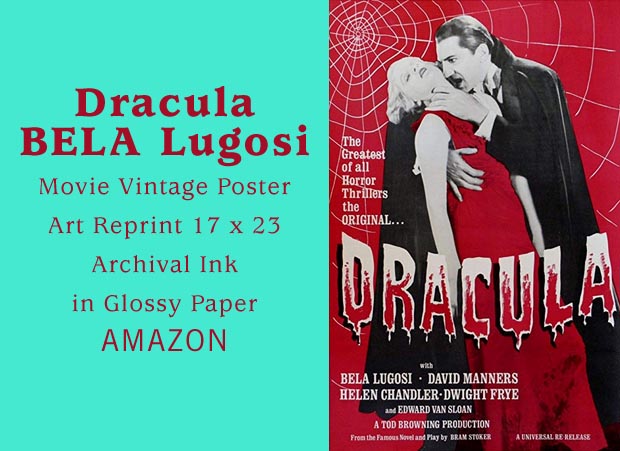 DROB Collectibles Dracula BELA Lugosi Movie Vintage Poster Art Reprint 17 x 23 Archival Ink in Glossy Paper VMP07
---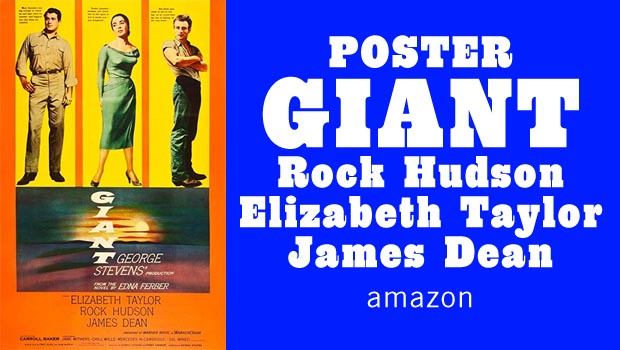 Posterazzi Giant Rock Hudson Elizabeth Taylor James Dean 1956 Movie Masterprint Poster Print (11 x 17)
---
Universal Classic Monsters Collection - Box Set Bluray - AMAZON