CINEMAGRAPHE
LAST UPDATE October 19, 2020
Reviews of Classic Film, with artwork and news
---
Rhonda Fleming has died
Her birth name was Marilyn Louis, 1923 - 2020. She starred in a number of well known films, such as While the City Sleeps, Spellbound, Cry Danger, A Connecticut Yankee in King Arthur's Court, Out of the Past and The Queen of Babylon.
Her first screen role was as an uncredited dance-hall girl in 1943 for In Old Oklahoma. Two years later she had a supporting role in Hitchcock's 1945 Spellbound which led to stardom in a number of late-40's films, and on through the 1950s. During the 1960s and into the 70s she had a number of roles in TV shows and TV-movies, and she did singing in Las Vegas and TV commercials.
Rhonda Fleming is in a several highly-regarded noir films of the 40s (like Fritz Lang's While the City Sleeps) and 50s (such as Dick Powell's Cry Danger), and her films of the 50s are of a wide variety, such as playing Cleopatra in 1953's Serpent of the Nile, several Westerns, and sword-and-sandal films Revolt of the Slaves (Italian 1960: La rivolta degli schiavi Fabiola).
From her first film in color, "A Connecticut Yankee in King Arthur's Court " (1949) with Bing Crosby, Fleming became immensely popular with producers because of her vivid hues. It was an attraction she would later regret. "Suddenly my green eyes were green. My red hair was flaming red. My skin was porcelain white," Fleming remarked in a 1990 interview. "There was suddenly all this attention on how I looked rather than the roles I was playing. - Article at USA Today
Obits at:
Indie Wire - emphasis on Hitchcock films
WFTV - The "Queen of Techniciolor"
---
You know its Halloween season when the monster movies are on the racks at stores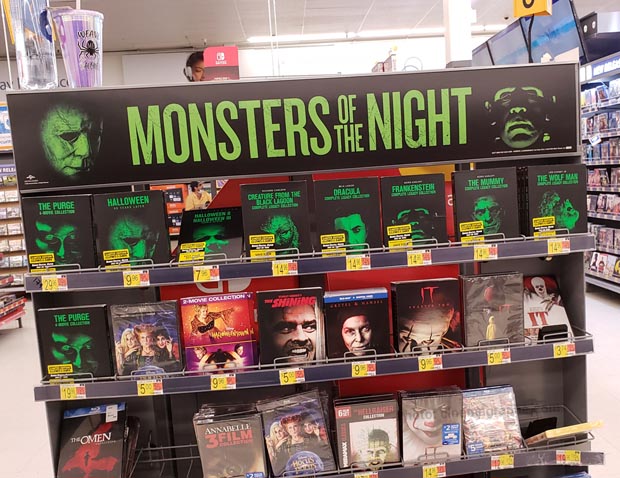 October 2020
---
Creature from the Black Lagoon Blu Ray Set
Note about the image quality on the set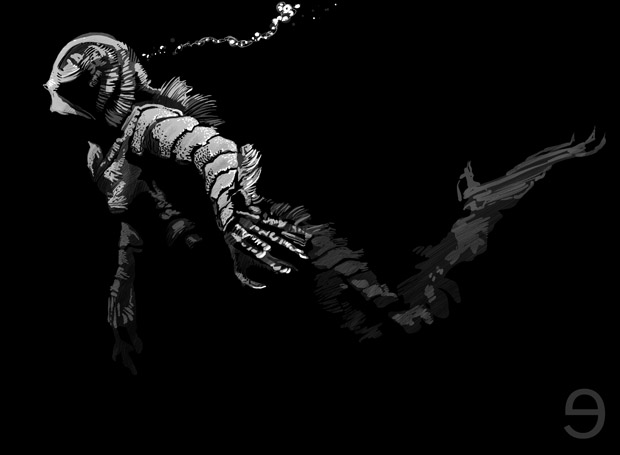 The Creature from the Black Lagoon set is the runt of the litter when it comes to the Universal "Complete Legacy Collection" series. While the other monster collections contain six, seven or eight films in their sets (for example, the Frankenstein collection features eight movies), the Creature set only has three. Not surprising, since there were only three made in that Universal series: Creature from the Black Lagoon, Revenge of the Creature, and The Creature Walks Among Us.
Typically, all of the sets (Wolfman, Dracula, Frankenstein, Mummy, Invisible Man, and Creature) are priced the same amount, despite the varying number of titles in each set, which makes Creature with its mere three films the most expensive set on a "per film basis."
Interestingly, the titles in the sets overlap each other, e.g., the movies House of Frankenstein and House of Dracula are both verbatim in the Dracula, Frankenstein and Wolfman sets. The "House" films were called "monster rallies" back in the 1940's during their original run, and since they feature Count Dracula, the Wolfman, and the Frankenstein Monster, they logically make the three different sets complete by duplication.
Notes on The Creature set films:
1. Creature from the Black Lagoon (1954) - Julia Adams and the Gillman made this film a huge hit in 1954, with references about the Gillman showing up in the rest of pop culture in numerous ways, from Marilyn Monroe in Seven Year Itch ("I felt so sorry for the Creature ... he wasn't all bad. I think he just craved a little affection...") to parodies of the Creature on the cover of comic books.
The 2D version of Creature (the set also contains a 3D version) is sharp and shows attention to restoration and the scanning into the HD format for Blu Ray. White highlights are crisp and the contrast is overall best meant for a theatre (or dark home theater).
2. Revenge of the Creature (1955) - This film stars Universal monster movie pro John Agar and Universal utility star Lori Nelson. The quality of the picture is easily the best I've ever seen for Revenge (compared to VHS and DVD) but it looks like a minimum of attention was given to the film to get it into HD Blu Ray format. The titles are blurred on the edges, the sharpness of a really good HD film transfer isn't here, and the contrast and general appearance is average. Still, I've not seen better anywhere else for this title. There is also a 3D version of the film on disc, too.
3. The Creature Walks Among Us (1956) - Unlike Revenge, Walks Among Us shows better attention to transfer and restoration has taken place with film titles clear and sharp and overall picture quality much better than Revenge (but not as sharp and clean as the original Creature from the Black Lagoon). Though this film ends with an open-ended finis that made a fourth film in the series possible, this was the last one made for the Creature of the Black Lagoon series. Review of the film on this site.
Amazon - Creature From the Black Lagoon: Complete Legacy Collection [Blu-ray]
Related links:
Republic World - Article about the locations used for the three Creaure of the Black Lagoon films.
Bleeding Cool - Article about The Creature from the Black Lagoon 1992 pinball machine.
---
Coming classic film titles from Kino
Films are released October 20, 2020
Outside the Law - A Lon Chaney 1920 silent film with Priscilla Dean. Directed by Tod Browning. The disc release contains commentary, trailer, and an alternative ending version. Also has film soundtrack by Anton Sanko.
Amazon - Outside the Law [Blu-ray] 1920
Page at Kino-Lorber on the Blu Ray release
The Ape - A Karloff film from 1940. Disc containstwo different commentary tracks, trailer, and optional subtitles in English.
Amazon - The Ape [Blu-ray]
Page at Kino Lorber for the Blu Ray release
Drifting (1922) and White Tiger (1922) - Two Tod Browning directed silent films. Drifting features Priscilla Dean and an 18 year old Anna May Wong with a soundscore by Anton Sanko. Disc contains also a fragment of remaining footage from the Tod Browning/Priscilla Dean "lost" film from 1919 The Exquisite Thief. Disc also contains film commentary tracks for both Drifting and White Tiger.Musical score for White Tiger by Andrew Earle Simpson.
Amazon - Drifting / White Tiger [Blu-ray]
Page at Kino-Lorber on Drifting & White Tiger
---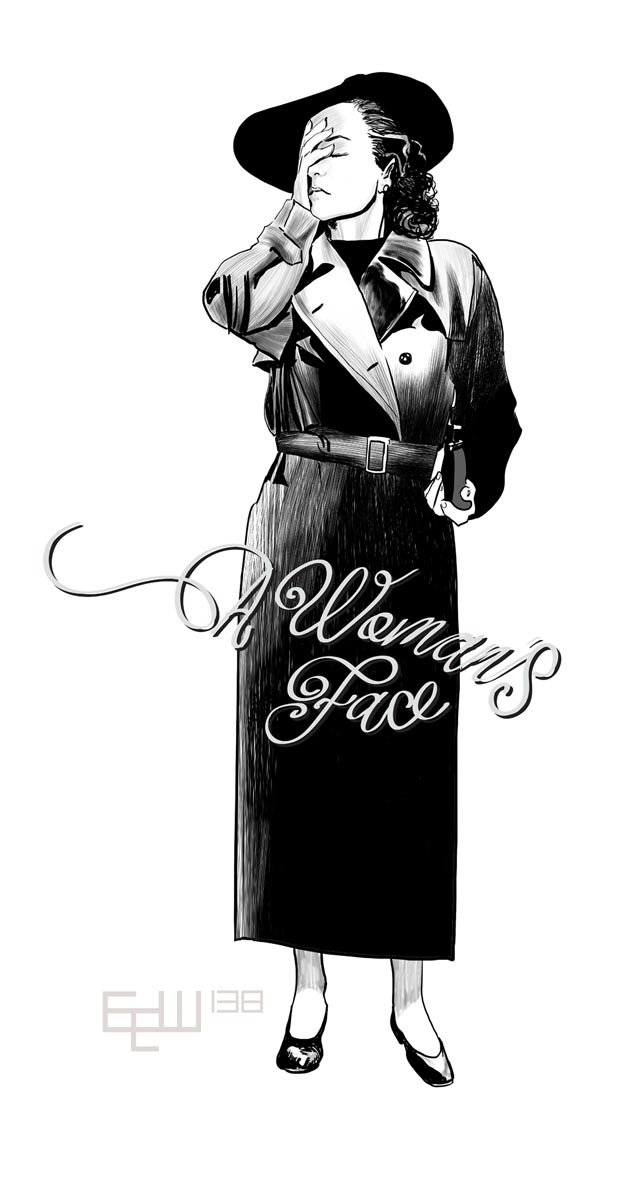 ---
October and the The Universal Monsters Challenge
"If you include the silent "Phantom of the Opera," there are 31 original Universal Monster Movies. There are 31 days in October. I'm doing it."
Article at the Greenville Sun
---
Films about isolation
...host Frank Stasio and film experts Marsha Gordon and Laura Boyes discuss the various forms isolation takes on screen and why ideas about being lost, bereft, and alone are so relevant in COVID culture.
47 minute audio discussion which includes thoughts on films like Cast Away and the 1957 sci-fi film The Incredible Shrinking Man at wunc.org
---
Five Soviet silent movie masterpieces
Article at Russia Beyond about Aelita (1924), Battleship Potemkin (1925), Mother (1927), Man with a Movie Camera (1929), and Earth (1930).
---
New book about classic era Character Actors
Celeste Holm Syndrome: On Character Actors from Hollywood's Golden Age
Book is by David Lazar - Comes out October 1, 2020.
Amazon - Celeste Holm Syndrome: On Character Actors from Hollywood's Golden Age
---
Updates
3 Days of the Condor page updated (art added)
Update to Mara Corday page (art added)
Boy on a Dolphin page updated (new, edited text)
---
Bedazzled - 1967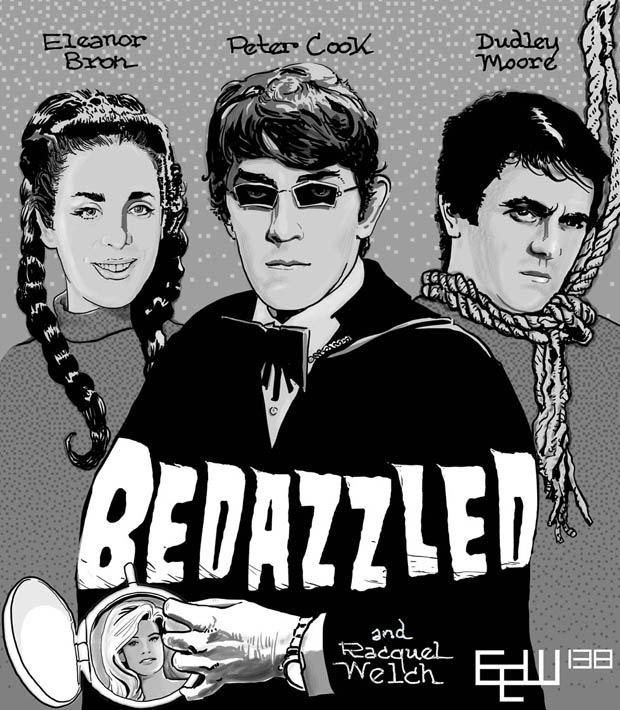 Stanley (Dudley Moore) is a hamburger-flipper at a fast food place called Wimpey's, working in silent anguish because he doesn't have the nerve to talk to the waitress (Eleanor Bron) that he is infatuated with. In despair, he attempts to hang himself in his tiny apartment, only for it to miserably fail, bringing down a water pipe, spraying liquid everywhere, when in walks George Spiggot (Peter Cook), dressed like a stage magician in black and red, with an offer to exchange Stanley's soul for seven wishes.
More Bedazzled 1967
---
Valerie Hobson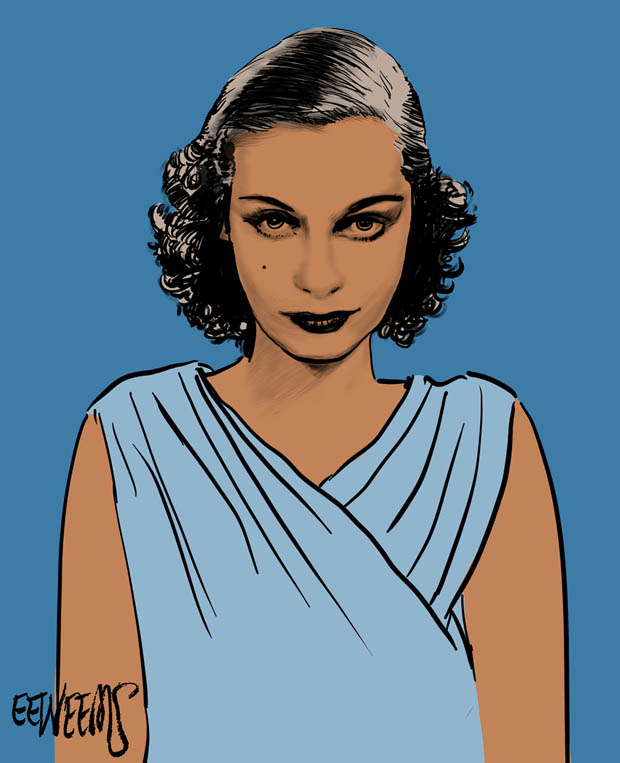 Valerie Hobson 1917 - 1998
---
Michael Lonsdale - 1931 - 2020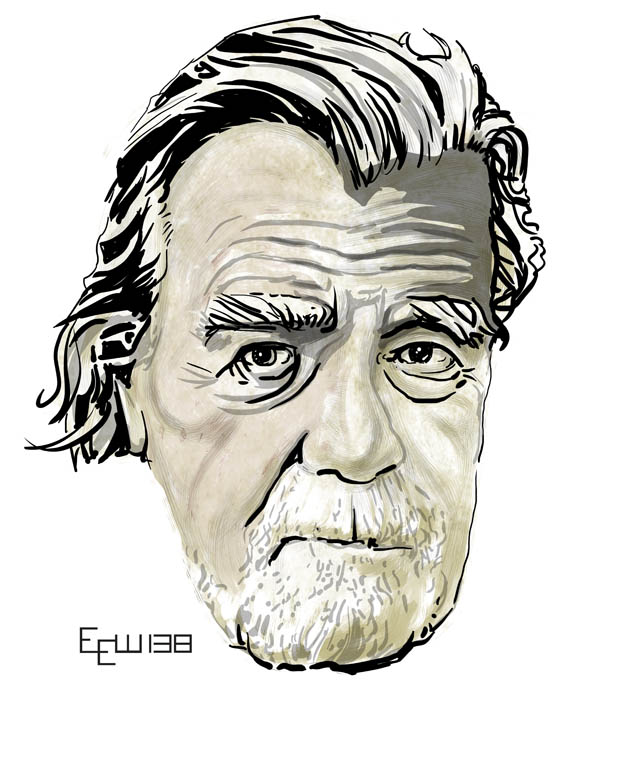 French actor Michael Lonsdale has passed away. He was featured in numerous French productions, but also appeared in a number of English-speaking films, such as Day of the Jackal (1973), Ronin (1998), Munich (2005), and Goya's Ghosts (2006).
---
John Wayne's The Conqueror
An unusual title in the John Wayne oeuvre - he plays the great Mongolian emperor Genghis Khan who gave Asia and Europe nightmares in the 11th century AD. The shooting for the Howard Hughes backed movie was in St. George, Utah, which was impacted by radioactive testing in the state of Nevada. Later, a large number of people from the shooting crew developed various kinds of cancer, mostly attributed to The Conqueror production.
Article about the film at Wide Open Country
---
Destry Rides Again - 1939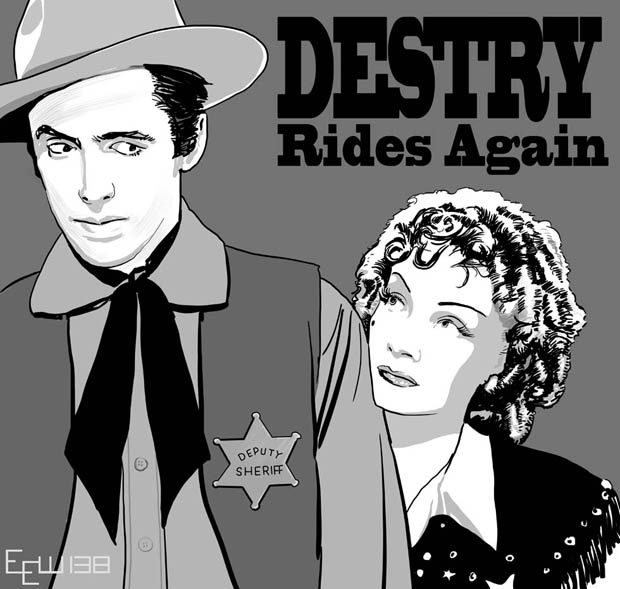 In 1939, Marlene Dietrich was in the box-office doghouse in Hollywood*, having made a string of money-losing films, and Jimmy Stewart was on the rise having become conspicuous as a male star up against stiff competition from the likes of Cary Grant, Clark Gable, Errol Flynn and James Cagney, among other star names that dominated 1939, the year usually called "Hollywood's best."
More on Destry Rides Again - 1939
---
Bela Lugosi obit
From the archives - Los Angeles obit for Bela Lugosi - August 17, 1956
---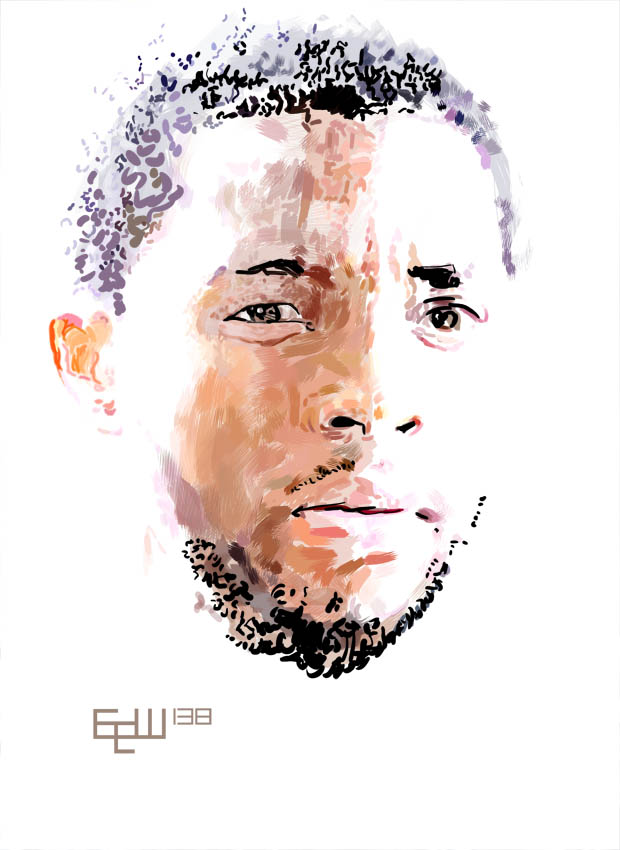 Chadwick Boseman - 1977-2020
---
Film Fest on water
At a time when most film festivals are being cancelled, this event in Sweden is being held on water to create "social distancing" that comes from the natural space created by boats. The Carl International Film Festival is in Karlskrona, Sweden.
Story at Forbes Magazine
---
Well, this is a classic movie era story that isn't often told
"Drew Barrymore says her grandfather John's corpse was stolen from the morgue by Errol Flynn and taken for a poker game after his death in 1942..."
Story at UK Daily Mail
---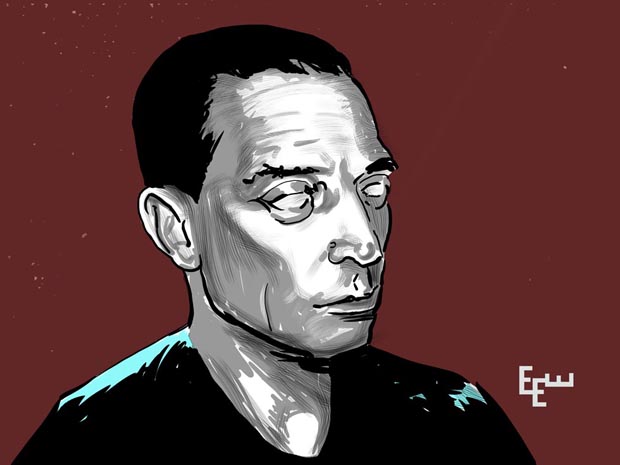 ---
Criterion's November classic film releases
Essential Fellini - 14 films from the Italian director's career, spanning from Variety Lights (1950) to Intervista (1987). Yes, it includes La Dolce Vita. Criterion page about the set. Releasing Nov 24, 2020.
The Gunfighter (1950) - Gregory Peck western with a portrayal of Johnny Ringo, trying to hang up his guns, but circumstances produce a different outcome. Page about the film at Criterion. Oct 20, 20202 release date.
Moonstruck (1987) - Director Norman Jewison about the calamity (and comedy) of Italian-Americans in New York City. Page about the release at Criterion. Comes out November 17, 2020.
Claudine (1974) - Directed by John Berry, story of a mother (Diahann Carroll) with six children and the struggle to make it in Harlem. Page at Criterion on the release. Comes out October 13, 2020.
The Naked City (1948) - Director Jules Dassin and the story of tough cops and criminality in New York City. Page at Criterion. Releases on Sept 8, 2020.
Brute Force (1947) Burt Lancaster in a rough prison drama, directed by Jules Dassin. Page at Criterion. Releases on Sept 8, 2020.
---
The Admirable Crichton - 1957
[aka Paradise Lagoon]
The adage that the servant becomes the master is quite true in the comedy of The Admirable Crichton, telling of how a group of aristocratic English become marooned on an uninhabited island in the Pacific South Seas. Without food, shelter or even much clothing (they left their sinking yacht in their pajamas), the family of the politcally progressive Lord Loam and his three daughters, along with a pair of suitors, become totally dependent upon their servants of Crichton the butler (Kenneth More) and the maid-servant-in-training Tweeny (Diane Cilento).
More The Admirable Crichton - 1957
---
Conversations with Classic Film Stars: Interviews from Hollywood's Golden Era (Screen Classics)
---

---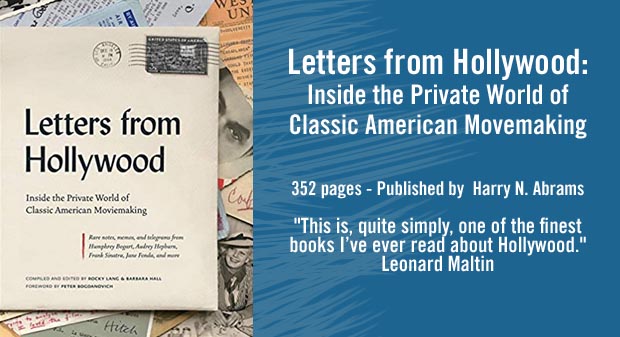 Letters from Hollywood: Inside the Private World of Classic American Movemaking
352 pages - Published by Harry N. Abrams
"This is, quite simply, one of the finest books I've ever read about Hollywood." Leonard Maltin
Reproduces in full color scores of entertaining and insightful pieces of correspondence from some of the most notable and talented film industry names of all time—from the silent era to the golden age, and up through the pre-email days of the 1970s. Annotated by the authors to provide backstories and further context. Greta Garbo, Alfred Hitchcock, Humphrey Bogart, Frank Sinatra, Katharine Hepburn, Marlon Brando, Elia Kazan, Cary Grant, Francis Ford Coppola, Tom Hanks, and Jane Fonda.
Letters from Hollywood: Inside the Private World of Classic American Movemaking
---
What's Recent
---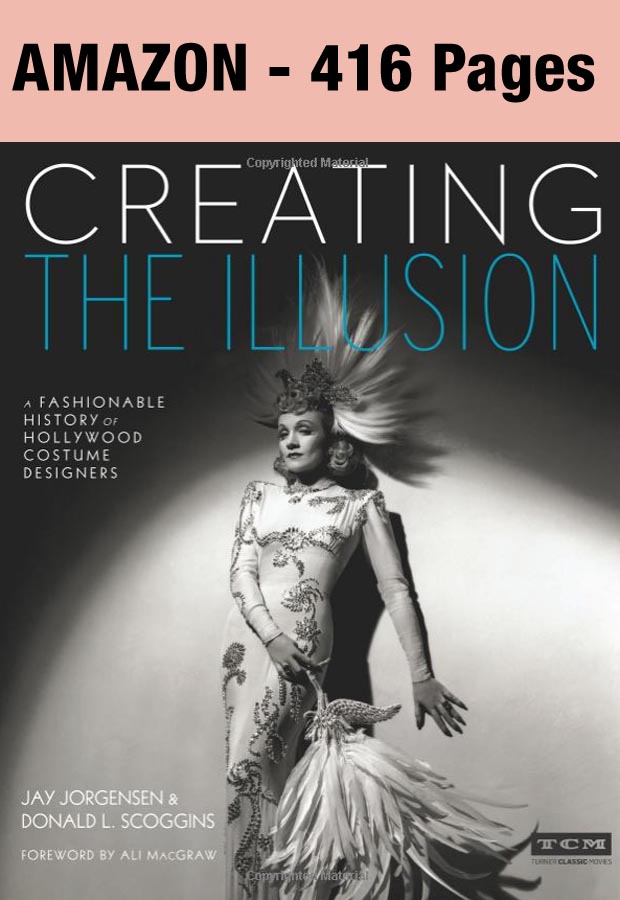 Creating the Illusion: A Fashionable History of Hollywood Costume Designers (Turner Classic Movies) - Amazon
---