CINEMAGRAPHE
LAST UPDATE October 14, 2021
Reviews of Classic Film, with artwork and news
---
Airport – 1970
The music (by Alfred Newman) that pummels its way through Airport's sound track feels like music suitable for a large-scale, grandiose war film. The aural environment of that other genre isn't too far from what Airport [1] is, though, because we see conflicts with humans vs the elements (in this case a lethal snow storm), humans vs machinery and equipment (a stuck Boeing 707), humans up against an unknown passenger carrying a bomb, and the emotional turmoil between the characters in the cast, and there's a lot of that.
The large ensemble of main characters gives us a panoply of marriages breaking up; management in-fighting (Burt Lancaster as airport manager Mel Bakersfield up against just about everybody above him in rank); a stewardess having an affair with a married pilot (Dean Martin and Jacqueline Bisset); an habitual airplane stowaway who runs rings around the airlines trying to stop her (Helen Hayes earning her second Oscar in the role of Ada Quonsett) [2]; Van Heflin as a despairing and desperate middle-aged man who fixes upon the idea of blowing up an airplane (with himself on it) after taking out a large flight insurance policy to finally show his soon to be widowed-wife that he can finally provide for her after a lifetime of job failures.
The movie is seeded with enough back stories to fuel an opera (or at least a soap opera) but there's also a soft technical exploration of how thousands of airplanes are able to criss-cross the skies of the world without crashing into each other, and how the workers inside an airport are able to manage the transportation of tens-of-thousands of people and their luggage on tight schedules without it all descending into chaos with every glitch.
Director George Seaton has a smooth visual narration style that lets us absorb what's happening at the airport while our ears are hearing the dialogue of the characters telling each other their private woes. Intertwined with the romances and angry disagreements of human beings under pressure, a dose of bad weather hits the fictitious "Lincoln Airport" and begins stranding planes on the runways. Since that is the very place that absolutely must stay clear to allow other airliners waiting to land to do so, Lancaster calls in George Kennedy (as Patroni), a genius mechanic who can figure out how to make impossible things happen.
Meanwhile, a local neighborhood group is demanding flight patterns get changed so that the big jets stop landing and launching near the tops of their houses, the stowaway gets caught but escapes, and Bakersfield (Lancaster) is fighting an off-and-on battle over the phone with his demanding wife (Dana Wynter) while trying to get the stranded 707 off the runway, and is in the progress of noticing his long-suffering assistant Jean Seberg more and more (and more).
With things getting out of hand at the airport and in the sky, pilot Dean Martin (as Capt. Vernon Demerest) learns the stewardess he's having the affair with is pregnant (and to keep things that much closer to our core character, Dean Martin's pilot is also Lancaster's brother-in-law, and they do not get along). While the pilot and the stewardess try to figure out what to do next, the pilot's wife (Barbara Hale) is rushing through the snow to see him at the airport.
Director Seaton also wrote the script (from the novel by Arthur Hailey) that the film uses to get all of these characters from one end of the story to the other end, and his ability to juggle all of this and keep it simple and plain for the audience is one of the highlights of the movie (or detrimental. Critic Gene Siskel said the movie "tells you everything twice").
The tragic saga of the bomber is played as pathos, and the dilemma of all these husbands who can't get along with their wives (except for Patroni. Apparently he's a genius in this area, too) is an element that dates the film to its time period and makes it sort've campy in retrospect for some audiences who've probably seen the jokes derived from this series (best example being the comedy Airplane! from 1980 by Jim Abrahams and David & Jerry Zucker).
As problems around Lincoln Airport begin to narrow and get solved (including Lancaster realizing his prickly wife isn't worth the struggle, and George Kennedy risking everything on using a solution everyone else says won't work) all of these previous troubles are eclipsed by the realization an unknown passenger on board a just departed 707 is carrying a bomb, which is where the talents of the stowaway, who snuck onboard this plane too, suddenly come into play.
Airport was a huge hit [3] when it came out [4] in 1970, and spawned a host of sequels and many imitators, and the template of mixing disaster with a menu of back stories shows up in the burgeoning genre thereafter, whether it's Jaws or the last film in the series, Airport '79 The Concorde.
Footnotes
1. Airport is called by some the beginning of the "disaster film" genre, though it already existed if films like Deluge (1933) and Hurricane (1937) count.
2. Helen Hayes' first Oscar was for the 1932 A Farewell to Arms
3. Burt Lancaster made millions off of profit sharing on the movie. On the other hand, his aesthetic judgement was that it was "a piece of junk."
4. With a reported production budget of $10 million, it went on to earn $128+ million, which adjusted for inflation would be well over one billion dollars in earnings in 2021. An average movie ticket in 1970 cost $1.50. When broadcast on TV in November 1973, it garnered the largest audience in TV history until Gone with the Wind beat it in 1976 [for more info about all of this, see the Wikipedia page here.).
---
Kino Lorber classic film releases coming
The Cheat – 1931 – Tallulah Bankhead, Irving Pichel, Harvey Stephens, Ann Andrews – Kino Page Blu Ray
Devil and the Deep – 1932 – Tallulah Bankhead, Gary Cooper, Cary Grant, Charles Laughton, Juliette Compton and Paul Porcasi – Kino Page Blu Ray
Vera Cruz – 1953 – Gary Cooper, Burt Lancaster, Charles Bronson, Ernest Borgnine, Cesar Romero – Kino Page for Blu Ray
The Last Sunset – 1961 – Rock Hudson, Kirk Douglas, Dorothy Malone, Joseph Cotton – Kino Page Blu Ray
The Spider Woman Strikes Back – 1946 – Gale Sondergaard, Rondo Hatton, Brend Joyce, Kirby Grant – Kino Page Blu Ray
Jet Pilot – 1957 – John Wayne, Janet Leigh, Jay C. Flippen – Kino Page Blu Ray
Revenge of the Shogun Women – 1977 – Ying Bai, Shirley Han, Shisuen Leong – Kino Page Blu Ray
---
Preserving Egypt's oldest films – Yahoo News
The place here is a museum for cinema, I have been collecting this for 50 years and I put everything I got here. I have movies, documentaries, movie posters, photographs and everything that belongs to Egyptian cinema."
---
Review
The Trouble with Cults: Kiss of the Vampire and The Black Cat
A travelling young couple getting stuck in a dangerous town with monsters nearby is a often used monster movie plot, and this particular situation is in Kiss of the Vampire and the similar The Black Cat from 1934. In the earlier film, a young couple (played by David Manners and Julie Bishop), after a bus crash, find themselves stranded at a large house also occupied by Bela Lugosi and Boris Karloff. These two famous Hollywood "boogey-men" play war veterans who are fighting a long-running feud between themselves using polite manners combined with treachery and henchmen, all against a background of a devil-cult that needs a young woman for a sacrifice (and it's Julie Bishop that gets selected for this unwanted honor).
In the 1963 Hammer Production Kiss of the Vampire, a young couple (Edward de Souza and Jennifer Daniel) are travelling in a primitive early model automobile in the countryside of Edwardian Bavaria, the vehicle conks out (no petrol) and they end up staying at a usually deserted (with good reason) nearby inn. A local group of vampires invite the couple to attend a costume party at their elegant, large home that is outfitted in typical over-stuffed but tasteful Hammer style, and the couple have no clue what they're getting into when they arrive and the husband is quickly made drunk and the young wife goes missing. We learn the vampires need to add another young woman to their blood cult, and they have selected Jennifer Daniel.
The 1934 Universal film relied on moody interactions between the half-mad Bela Lugosi in an unusual role as the "good guy" Dr. Vitus Werdegast going up against the completely mad Boris Karloff as cult leader (and art deco design devotee), the architect Hjalmar Poelzig. Edgar G. Ulmer's direction emphasizes Poelzig's home as a nest of twisting turns and secret rooms, with Lugosi and Karloff hinting at their character's long mutual history.
Werdegast's design for his large home is on top of a battlefield that is also a graveyard of dead soldiers and is threatened by unexploded mines still left in the ground. In a scene where we find out what is fueling the animosity between the two men, we visit a large sub-basement containing a sort of deco-crypt with Werdegast and Poelzig's wife (she was married to them both. It's kind of complicated) suspended in a large glass tube, her long hair swept upward as if the dead woman is perennially rising (or falling) into eternity, with the two widowed and love-sick men staring up at her like worshippers, that is, until they get back to their main business of trying to destroy each other.
Kiss of the Vampire doesn't dwell on any such story depth involving multi-relationship crisis, and is simply a case of a vampire cult, their blood-lust and their stealing a wife, "turning" her to their group's goals, that is, until the husband and an accomplice (Professor Zimmer played by Clifford Evans) pull the carpet out from under them with a rather ironic comeuppance. Acting is good and the story, such as it is, is told clearly. Nonetheless, some of the film is derivative of other Hammer films involving Peter Cushing as Van Helsing dealing with similar vampire problems, but in other ways Kiss of the Vampire is unique for creating more of the template that later Hammer films borrowed from (and creating even more clearly derived clichés that show up in Polanski's mock horror-comedy The Fearless Vampire Killers from 1967). Kiss of the Vampire has a steady, dignified pacing, good looking sets and it makes do with an unusual vampire fighting-ally that is apparently alcoholic, but just as dedicated and energetic as the nobler Van Helsing.
Both films only can end when the cult groups threatening the young lovers have been defeated, which they suitably are, and in both films it looks like the houses themselves where the evildoers dwell are defeated.
Kiss of the Vampire released September 11, 1963
The Black Cat released May 7, 1934
---

---
You will see Amazon links on this web site because I am an Amazon affiliate. I earn from qualifying purchases.
Amazon FreeTime Unlimited Free Trial
---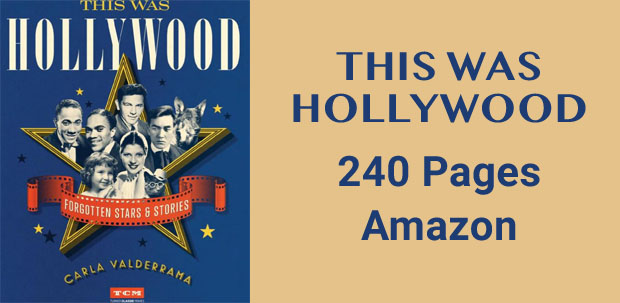 From former screen legends who have faded into obscurity to new revelations about the biggest movie stars, Valderrama unearths the most fascinating little-known tales from the birth of Hollywood through its Golden Age.
This Was Hollywood: Forgotten Stars and Stories (Turner Classic Movies)
---
What's Recent
---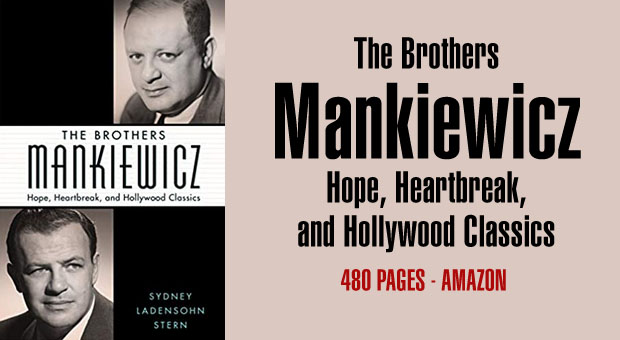 Winner of the 2020 Peter C. Rollins Book Award
Longlisted for the 2020 Moving Image Book Award by the Kraszna-Krausz Foundation
Named a 2019 Richard Wall Memorial Award Finalist by the Theatre Library Association
The Brothers Mankiewicz: Hope, Heartbreak, and Hollywood Classics (Hollywood Legends Series)