Shop Classic Film
Links to sources for your classic film library
---
---
Criterion bringing out a Citizen Kane disk including UHD 4K version in November
Criterion page about the Citizen Kane disk - here's the features:
New 4K digital restoration, with uncompressed monaural soundtrack
In the 4K UHD edition: One 4K UHD disc of the film presented in Dolby Vision HDR and three Blu-rays with the film and special features
Three audio commentaries: from 2021 featuring Orson Welles scholars James Naremore and Jonathan Rosenbaum; from 2002 featuring filmmaker Peter Bogdanovich; and from 2002 featuring film critic Roger Ebert
The Complete "Citizen Kane," (1991), a rarely seen feature-length BBC documentary
New interviews with critic Farran Smith Nehme and film scholar Racquel J. Gates
New video essay by Orson Welles scholar Robert Carringer
New program on the film's special effects by film scholars and effects experts Craig Barron and Ben Burtt
Interviews from 1990 with editor Robert Wise; actor Ruth Warrick; optical-effects designer Linwood Dunn; Bogdanovich; filmmakers Martin Scorsese, Henry Jaglom, Martin Ritt, and Frank Marshall; and cinematographers Allen Daviau, Gary Graver, and Vilmos Zsigmond
New documentary featuring archival interviews with Welles
Interviews with actor Joseph Cotten from 1966 and 1975
The Hearts of Age, a brief silent film made by Welles as a student in 1934
Television programs from 1979 and 1988 featuring appearances by Welles and Mercury Theatre producer John Houseman
Program featuring a 1996 interview with actor William Alland on his collaborations with Welles
Selection of The Mercury Theatre on the Air radio plays featuring many of the actors from Citizen Kane
Trailer
English subtitles for the deaf and hard of hearing
PLUS: Deluxe packaging, including a book with an essay by film critic Bilge Ebiri
---
Bringing Up Baby (The Criterion Collection) [Blu-ray]
---
Criterion releasing a high definition The Lady Eve in July 2020
Criterion had a nice DVD set nearly 20 years ago, but this 4K restoration should be a way to see Preston Sturges' comedy in the best possible light outside of a good print in a movie theatre.
The story is a tale of switched identities (like a lot of Sturges comedies, mistaken and faked identities crop up a lot) in which Barbara Stanwyck plays both the character Jean, a card shark "working the cruise lines" (with her "father" Charles Coburn) and Stanwyck also plays Jean's twin-sister Eve who wreaks funny revenge on Henry Fonda (as wealthy ale heir Charles Harrington) for spurning Jean.
With Stanwyck and Henry Fonda, Sturges' comedy is physically turned down a little bit more than in his other films. He liked to load up his "funny" with loud noises and pratfalls (not that Lady Eve doesn't have this in it, such as Fonda's misadventures at an evening party in which his outfits are continuously ruined, one after another), but with Stanwyck and Fonda there's softer bits of interchange amid the comedy, and whether this is Sturges in a slightly softer mode or just the result of the two lead actors dominating the proceedings (especially Stanwyck), it is hard to say, but The Lady Eve does stand a little bit apart from the other comedies in the Sturges' oeuvre. Incredibly, the same year Sturges made The Lady Eve, he also made Sullivan's Travels.
Here's the add-on features (copied from the Criterion Web Page here):
New 4K digital restoration, with uncompressed monaural soundtrack on the Blu-ray
Audio commentary from 2001 featuring film professor Marian Keane
Introduction from 2001 by filmmaker Peter Bogdanovich
Interview from 2020 with writer-director Preston Sturges's biographer and son Tom Sturges and friends
New video essay by film critic David Cairns
Costume designs by Edith Head
Lux Radio Theatre adaptation of the film from 1942 featuring Barbara Stanwyck and Ray Milland
Audio recording of "Up the Amazon," a song from an unproduced stage musical based on the film
English subtitles for the deaf and hard of hearing
PLUS: An essay by critic Geoffrey O'Brien and a 1946 profile of Preston Sturges from LIFE magazine
---
Source list for Classic film on disc
---
Bette Davis double release from Criterion
Criterion has two classic Bette Davis titles set up for Blu-Ray release in Novermber. All About Eve is listed as a 4K restoration, and Now, Voyager is "restored" 4K transfer.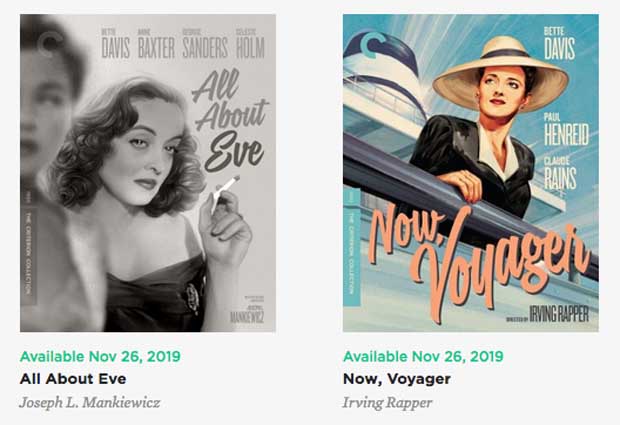 Criterion website page on All About Eve
Criterion web page on Now, Voyager
---
Easy Living Blu-ray from Criterion
One of the best of the 1930s screwball comedies with a script by Preston Sturges and featuring Jean Arthur. Arthur is Mary Smith, the recipient of a lot of good (or bad) luck all in one day. When financial super-businessman J.B. Ball (Edward Arnold) takes away his wifes fur coat and flings it off the top of their building, it lands on struggling Jean Arthur on her way to work in the street far below. This begins a chain of events that causes her to fall into a world of wealth and luxury, completely oblivious why all the gifts and attention are coming her way.
AMAZON: Easy Living [Blu-ray]
More on Easy Living
---
Criterion breaks forth with Godzilla for release #1000
Godzilla - The Showa Era Films - 15 titles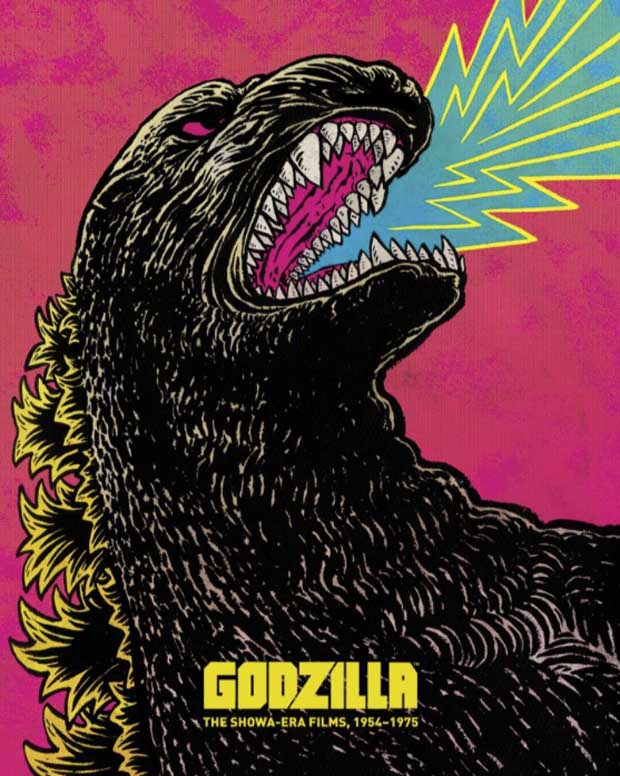 This is the lineup for their box set spine #1000 on Bluray:
Godzilla (1954)
Godzilla Raids Again (1955)
King Kong vs. Godzilla (1963)
Mothra vs. Godzilla (1964)
Ghidorah, the Three-Headed Monster (1964)
Invasion of Astro-Monster (1965)
Ebirah, Horror of the Deep (1966)
Son of Godzilla (1967)
Destroy All Monsters (1968)
All Monsters Attack (1969)
Godzilla vs. Hedorah (1971)
Godzilla vs. Gigan (1972)
Godzilla vs. Megalon (1973)
Godzilla vs. Mechagodzilla (1974)
Terror of Mechagodzilla (1975)
Here's Criterion's promo language:
"These fifteen films, all presented in high-definition digital transfers, are accompanied by a slew of supplemental material that brings the King of the Monsters to life in a giant deluxe hardcover book, with new essays and newly commissioned illustrations from sixteen artists; new and archival interviews with cast and crew members; and much, much more!

It's a colossal set, and we'd have it no other way for our 1000th release! We can't wait to share it with you when it roars into stores on Blu-ray on October 29."
See the Criterion Godzilla Showa website page
---
Criterion's September 2019 releases:
Chaplin's The Circus
See the list of extras for The Circus and other info on the 4K HD release at the Criterion Site. Releases Sept 24, 2019.
Magnificent Obsession
Rock Hudson and Jane Wyman in the 1954 production from director Douglas Sirk - this looks like an update of the Criterion DVD package from years ago to HD Bluray. Includes on disk (like the DVD 2 disk set) the 1935 version of the story by Director John M. Stahl with Robert Taylor and Irene Dunne. More info at the Criterion page, releases Aug 20, 2019.
Local Hero
The 1983 film with Burt Lancaster and Peter Riegert finally gets an HD release. The "extras" are a bit sparse, but beggers cannot be choosers - Criterion Page. Releases Sept 24, 2019.
---
2019
---
Popeye Cartoon Shorts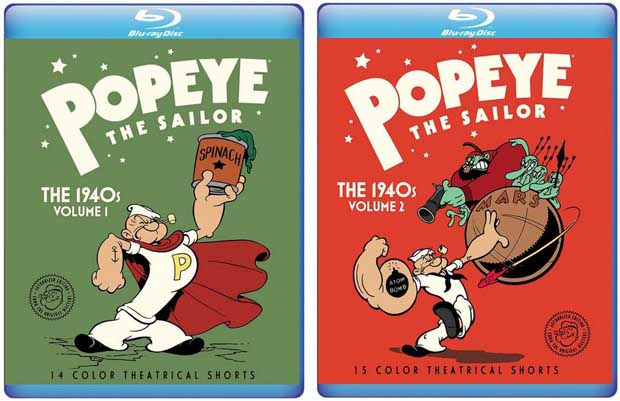 Warner Bros Archives disk Volume 1 featuring 14 shorts from 1943-1944
Warner Bros Archives disk Volume 2 - 15 shorts from 1946-1947
AMAZON: Popeye The Sailor: The 1940s Volume 1 [Blu-ray]
---
Criterion Swing Time on Bluray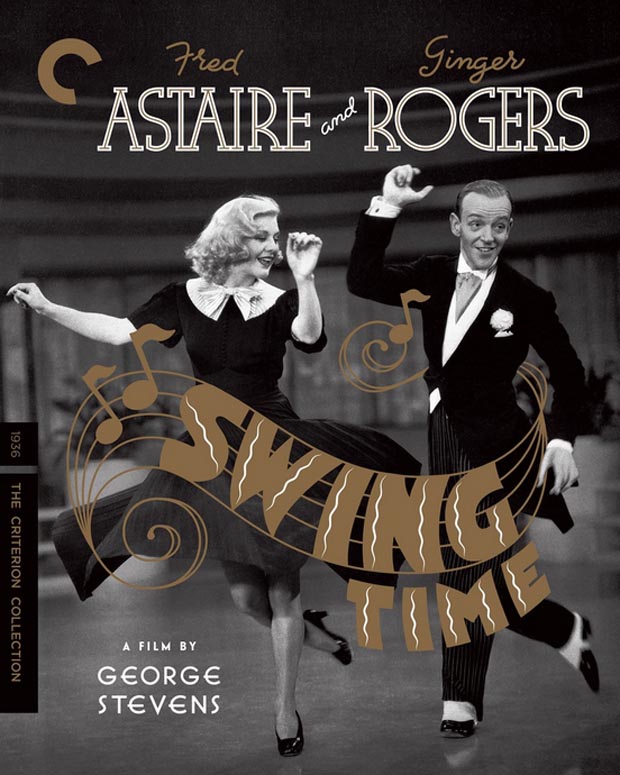 June 2019: One of the best (some say it is the best of the ten Astaire and Rogers films, usually fighting it out with Top Hat) restored for HD. Features listed by Criterion at their website:
New 2K digital restoration, with uncompressed monaural soundtrack on the Blu-ray
Audio commentary from 1986 featuring John Mueller, author of Astaire Dancing: The Musical Films
Archival interviews with performers Fred Astaire and Ginger Rogers and choreographer Hermes Pan
New interview with George Stevens Jr.
In Full Swing, a new program on the film's choreography and soundtrack featuring jazz and film critic Gary Giddins, dance critic Brian Seibert, and Dorothy Fields biographer Deborah Grace Winer
New interview with film scholar Mia Mask on the "Bojangles of Harlem" number
PLUS: An essay by critic Imogen Sara Smith
The AMAZON link - Swing Time Blu-ray
---
Hello, Frisco, Hello 1943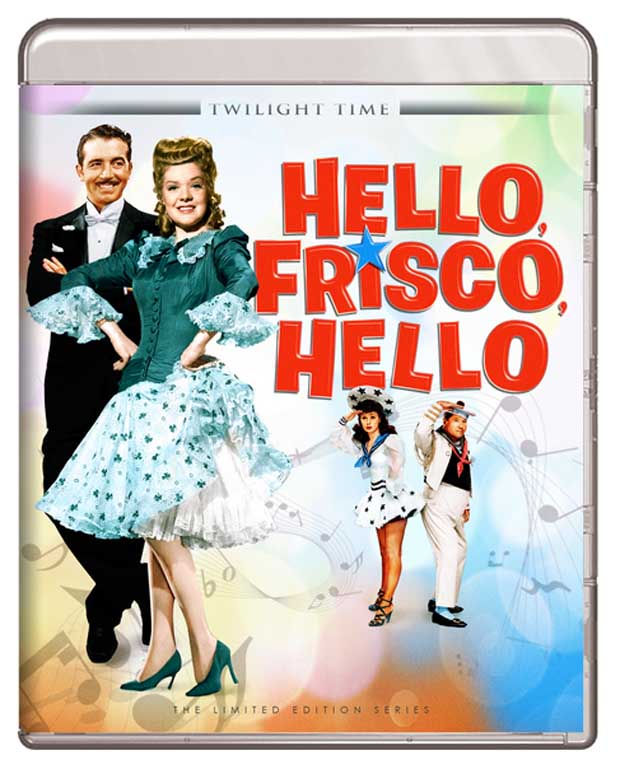 A new Twilight Time disk with Alice Faye and John Payne.
Special Features: Isolated Music Track / Hello Again: The Remaking of Alice Faye / Two Hello, Frisco, Hello Radio Programs / Original Theatrical Trailer
---
New Princess Bride Bluray disk out
Criterion has put out a "storybook" style packaging for their HD of the film with illustrated pages and a 'restored' 4K transfer to digital.
I remember this film playing endlessly in 1987 in second-run theaters, word-of-mouth-building up a repeat audience that has given it a fanbase that not too many films can still enjoy after 30 years.
Here's the extras that Criterion has packed onto the disk as published on their web site:
New 4K digital restoration, with 5.1 surround DTS-HD Master Audio soundtrack on the Blu-ray
Audio commentary from 1996 featuring director Rob Reiner, screenwriter William Goldman, producer Andrew Scheinman, and actors Billy Crystal and Peter Falk
Edited 1987 audiobook reading of Goldman's novel The Princess Bride by Reiner
New program about Goldman's screenplay
New program about Goldman's tapestry based on his novel
Archival interviews with Reiner, Goldman, and actors Crystal, Cary Elwes, Christopher Guest, Mandy Patinkin, Chris Sarandon, Fred Savage, and Robin Wright
New interview with art director Richard Holland
Programs about makeup, fencing, and fairy tales
On-set video diary filmed and narrated by Elwes
Five behind-the-scenes videos with commentaries from 1996 by Reiner, Scheinman, and Crystal
Trailer
PLUS: An essay by author Sloane Crosley and, for the Blu-ray edition, Goldman's introduction to his Princess Bride script from his collection Four Screenplays, in a lavishly illustrated, clothbound book
Here's the AMAZON Princess Bride Criterion
link for the item
---
2019
---
New Classic Film releases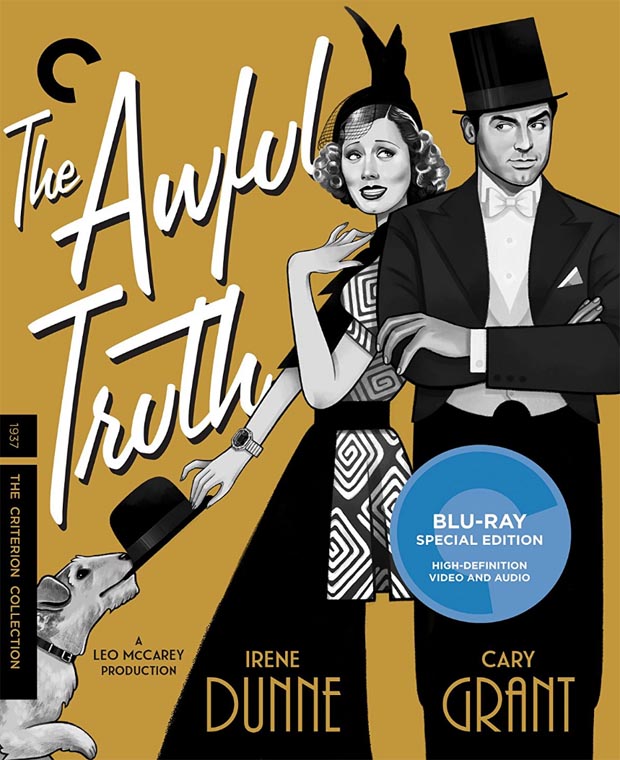 The Awful Truth - 1937
Irene Dunne and Cary Grant in a classic screwball comedy about how a perfectly good divorce can go completely wrong if the departing spouses can't stand for the other to move on. Grant and Dunne hilariously sabotage one another's efforts - film directed by Leo McCarey. New 4K digital transfer. - Releases in April 2018
AMAZON: The Awful Truth - Criterion Collection Blu-ray
Maigret and St Fiacre Case - 1959
Directed by Jean Delannoy - was released Dec 2017.
AMAZON: Maigret & St Fiacre Case
---
2018
---
Release Sept 18, 2018 from Criterion: My Man Godfrey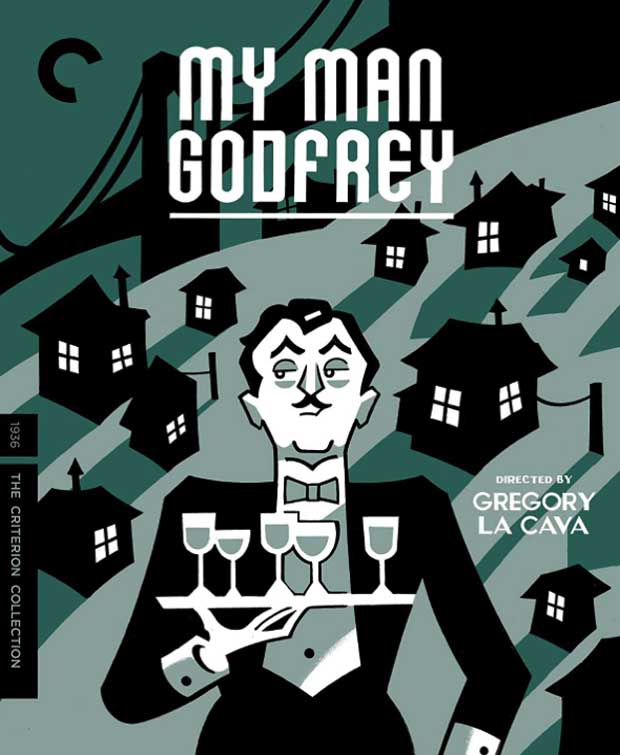 Screwball comedy in the 1930s rarely rose above the balance of humor and gentle pathos which is on display in My Mad Godfrey. Though ragged prints of the film have circulated on TV, VHS, DVDs and on the internet for decades, Criterion is releasing a "restoration" bluray which may be the best version of the film yet. The 2001 DVD included an audio commentary by Bob GIlpin which is not listed with the new Bluray release, on the other hand several new items have been added as supplements. Here's the list:
New 4K digital restoration, with uncompressed monaural soundtrack on the Blu-ray
New program featuring jazz and film critic Gary Giddins
New interview with critic Nick Pinkerton on director Gregory La Cava
Outtakes
Lux Radio Theatre adaptation of the film from 1938
Newsreels depicting Great Depression class divides
Trailer
PLUS: An essay by critic Farran Smith Nehme
Packaging cover by Seth
AMAZON: Criterion My Man Godfrey [Blu-ray]
The Criterion page about the release: criterion.com/films/653-my-man-godfrey
---
2018
---
New release from Criterion: Dietrich and Von Sternberg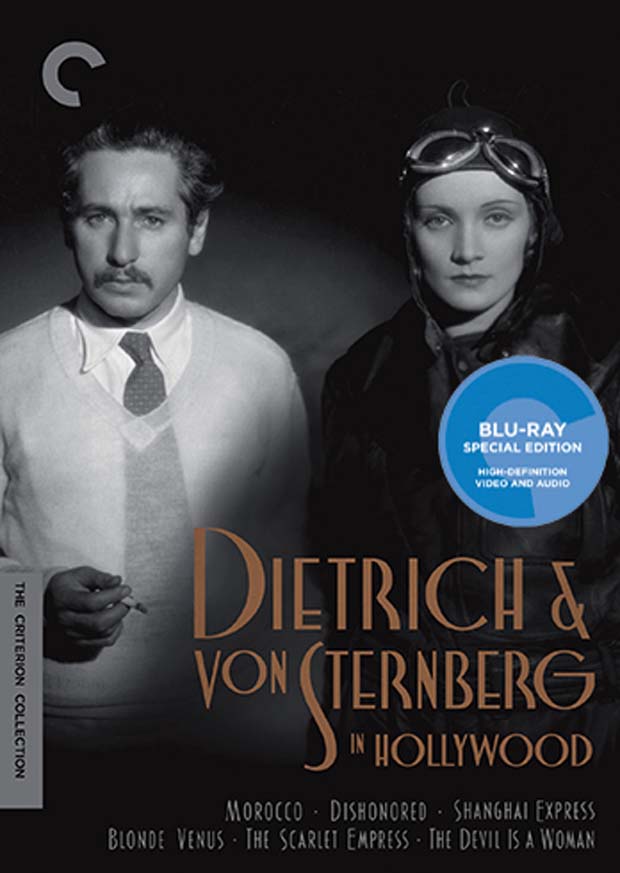 Excellent transfer to Bluray for this 6 disk set
AMAZON Bluray: 6 Disc Set: Dietrich and von Sternberg in Hollywood : Morocco, Dishonored, Shanghai Express, Blonde Venus, The Scarlet Empress, The Devil Is a Woman - The Criterion Collection - July 3, 2018
AMAZON Bluray: A Matter of Life and Death 1946 - The Criterion Collection - Blu-ray - July 24, 2018
AMAZON Bluray: Dragon Inn 1967 - The Criterion Collection
---
New Invasion of the Body Snatchers disc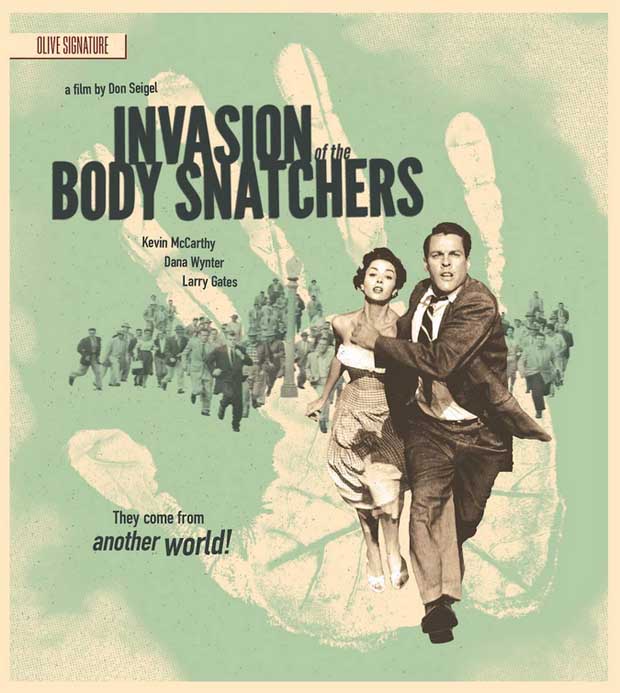 New bluray disc from Olive Films is a feature-packed improvement over the old bluray from 2012. The new feature list is:
New High-Definition digital restoration
Audio Commentary by film historian Richard Harland Smith
Audio Commentary by actors Kevin McCarthy and Dana Wynter, and filmmaker Joe Dante
"The Stranger in Your Lover's Eyes" – A two-part visual essay with actor and son of director Don Siegel, Kristoffer Tabori, reading from his father's book A Siegel Film
"The Fear is Real" – Filmmakers Larry Cohen and Joe Dante on the film's cultural significance
"I No Longer Belong: The Rise and Fall of Walter Wanger" – Film scholar and author Matthew Bernstein discusses the life and career of the film's producer
"Sleep No More: Invasion of the Body Snatchers Revisited" – An appreciation of the film featuring actors Kevin McCarthy and Dana Wynter, along with comments from film directors and fans, John Landis, Mick Garris, and Stuart Gordon
"The Fear and the Fiction: The Body Snatchers Phenomenon" – Kevin McCarthy and Dana Wynter, along with film directors John Landis, Mick Garris and Stuart Gordon, discuss the making of the film, its place in history, and its meaning
1985 archival interview with Kevin McCarthy hosted by Tom Hatten
"Return to Santa Mira" – An exploration of the film's locations
"What's In a Name?" – On the film's title
Gallery of rare documents detailing aspects of the film's production including the never-produced opening narration to have been read by Orson Welles
Essay by author and film programmer Kier-La Janisse
Original theatrical trailer
AMAZON: Invasion Of The Body Snatchers (Olive Signature) [Blu-ray]
---
---
What's Recent
---
---