The Paleface - 1948
Bob Hope and Jane Russell
The Paleface - released December 24, 1948
Jane Russell is the heroic Calamity Jane and Bob Hope is "Painless" Peter Potter, wild-west dentist. They team up in this western comedy chock-full of Hope's humor stylings. Russell provides the action (and wears the wardrobe - by Mary Kay Dodson - and Russell also sings the songs).
A bigger-budgetted sequel was made in 1952 with Russell and Bob Hope playing his own son in Son of Paleface.
---
---
Original Page Nov 21, 2015
---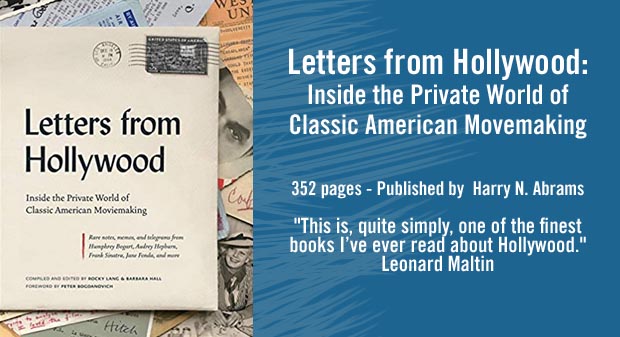 Letters from Hollywood: Inside the Private World of Classic American Movemaking
352 pages - Published by Harry N. Abrams
"This is, quite simply, one of the finest books I've ever read about Hollywood." Leonard Maltin
Reproduces in full color scores of entertaining and insightful pieces of correspondence from some of the most notable and talented film industry names of all time—from the silent era to the golden age, and up through the pre-email days of the 1970s. Annotated by the authors to provide backstories and further context. Greta Garbo, Alfred Hitchcock, Humphrey Bogart, Frank Sinatra, Katharine Hepburn, Marlon Brando, Elia Kazan, Cary Grant, Francis Ford Coppola, Tom Hanks, and Jane Fonda.
Letters from Hollywood: Inside the Private World of Classic American Movemaking
---
What's Recent
---