Archive 502
---
"Spanish" Dracula - 1931
Dracula - Released April 24, 1931. Directed George Melford and Enrique Tovar Avalos
Shot on the same Universal sets as the Bela Lugosi version from the same year, the "Spanish" Dracula has a varied reputation which has some claiming it is superior to the more famous Todd Browning film. George Melford's direction shifts the film to feature Renfield (Pablo Alvarez Rubio) more, and Rubio's presentation of the demented fly-eater gives him a showcase to display the raving dynamics of a madman, but interspersed with more subtle acting opportunities than Dwight Frye got in the English version. Rubio brings out Renfield's mental conflict (or more accurately, a spiritual conflict) that from scene to scene (or even the same scene) appears to be tearing him apart. When Melford ends his film, on the screen is the dead Renfield, with the young couple of Eva and Juan Harker walking up the staircase to leave Dracula's castle, and Melford uses that final image to cement his film differently than Browning's as being as much about Renfield's descent to doom as about the lovely young people getting out of the vampire's clutches.
Melford (and the uncredited Enrique Tovar Avalos) also move the camera around more and get the project further away from the theatre origins of the visual tale, and a comparison shows Browning's film to be a stuffier, stage-bound affair. Browning utilizes the set more for mood but Melford lets us see a great deal more of the art direction, though he simply is not a match for Browning's ability to present a spookier world.
Carlos Villarías as Count Dracula doesn't compare to Lugosi's otherworldly portrayal, and this is probably where Melford's direction falls away into artifice the most. Browning's film emphasizes Lugosi's turgid slow motion which flashes to unexpected speed at times (for example when he smashes the mirror in Helsing's hand that reveals he has no reflection). Villarias fills that same amount of space with a lot of grimacing and unintended humour keeps popping into the "Spanish" Dracula because of these overlong scenes of Villarias reacting in an exaggerated way. When Renfield's crucifix slips out from the folds of his jacket and Villarias' Dracula reacts with an expression that seems to indicate more that Renfield smells badly than that Dracula has an aversion to crucifixes, the film briefly skids into sheer bad-movie territory.
Lupita Tovar and Barry Norton as the young couple fighting Dracula's control are not that different from the English version, but Tovar seems like a stronger and more robust young woman and this ends up emphasizing the power of Dracula to control her more than the oddly porcelain presentation of Helen Chandler as Mina Harker in Browning's version.
Either way, both Dracula movies provide a basic metaphor of vampirism that can be taken on it's own terms, or viewed as a represenation of any number of other deadly problems (addiction, misogny, damnation, etc) and that is probably a big part of why classic films like these still retain such staying power.
An older description of the "Spanish" Dracula Film 1931
More Dracula vs Dracula
AMAZON: Dracula Legacy Collection Blu-ray - Dracula, Spanish Dracula, Dracula's Daughter, Son of Dracula, House of Frankenstein, House of Dracula and Abbott and Costello Meet Frankenstein
---
---
Tarzan and His Mate - 1934
Tarzan and His Mate - Released April 20, 1934. Directed by Cedric Gibbons (and Jack Conway and James McKay)
Trouble in the jungle when two English visitors try to get Jane to leave Africa for London, but she would rather stay with Tarzan. Meanwhile, the visitors have a scheme to loot the sacred elephant graveyard and make off with the ivory. Tarzan and his army of animals helps them understand why this is a terrible decision...
More Tarzan and His Mate - 1934
---
The Moon-Spinners - 1964
Hayley Mills gets caught up in espionage and vacation troubles as she travels with her Aunt (Joan Greenwood) on Crete. Film also features Eli Wallach and Irene Papas.
---
The Outer Limits
A box set of Season One 1963-1964 remastered for HD
Outer Limits (1963-64) Season 1 (32 Episodes) [Blu-ray]
---
Charles Laughton - The Beachcomber, 1938
The Beachcomber, 1938: Laughton is a vagabond Englishman drinking his way through his day as he lives aimlessly as a beachcomber on a Pacific Island. Local missionary/schoolteacher Elsa Lanchester sets her eyes on him as an improvement project and mayhem ensues. This 1938 film is a comedy with darker elements picked up from the Somerset Maugham short story ("The Vessel of Wrath") it is initially based upon. The film is a showcase for Lanchester and Laughton to careen across the screen, with him trying to escape his moral reform, and Lanchester zooming to his rescue, whether he wants it or not.
AMAZON: Beachcomber
---
X From Outer Space
Released in Japan in 1967 and then in USA in 1968, the "X from Outer Space" is Guilala, a gigantic monster which grows from space spores carried to earth by exploration ship AB Gamma. This giant reptile/chicken is the star of an odd film featuring the usual building-flattening, but also on hand is a funny love triangle between astronauts within an almost fairytale-like plot.
More X From Outer Space
More X From Outer Space
AMAZON DVD Set: When Horror Came to Shochiku (The X from Outer Space; Goke, Body Snatcher from Hell; The Living Skeleton; Genocide) Criterion Collection
---
Sweet Smell of Success - 1957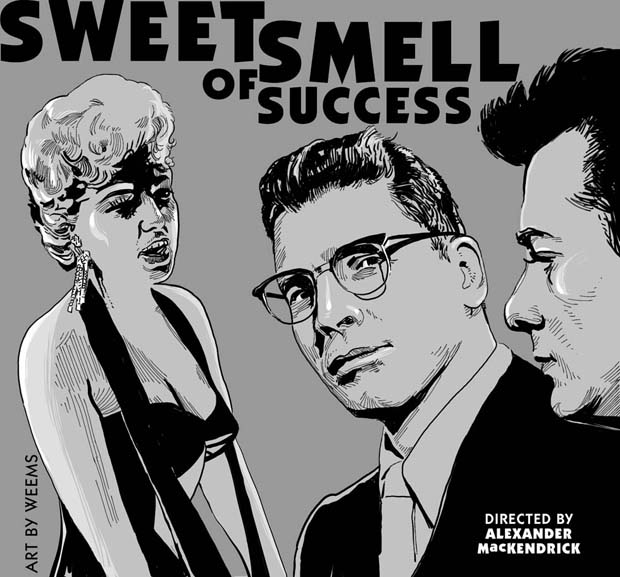 Sweet Smell of Success - Released July 4, 1957. Directed by Alexander Mackendrick
Sidney Falco (Tony Curtis) is a rat, an unethical freelance publicity agent that alternatingly seems slimy or sycophantically ingratiating depending on whether he thinks you can do anything for him or if you're just a waste of his time, like Rita, a poor cocktail waitress Sidney has "gotten into trouble" (Rita is played by Barbara Nichols).
Falco thinks he knows how things work in New York City, and he thinks he's only doing what has to be done to succeed, but he's up against a monstrous figure of an amoral magnitude worse (Burt Lancaster as powerful newspaper columnist J. J. Hunsecker), and as Sidney wheedles his way deeper into what he thinks are Hunsecker's generous good graces, he is steadily getting so far in over his head in a bizarre jealousy triangle between Hunsecker, his sister (!) and a well-meaning but naive jazz guitarist (Martin Milner) that there's no place for Falco to go but down.
To see more movie poster art
---

---

---
Starring Miss Barbara Stanwyck [Illustrated with 310 Photographs] - amazon.com
---
Sophia Loren: A Life in Pictures - 192 Pages - Amazon.com
---
---
What's Recent
---
---