Holiday Inn - 1942
Directed by Mark Sandrich.
Starring Bing Crosby, Fred Astaire, Walter Abel.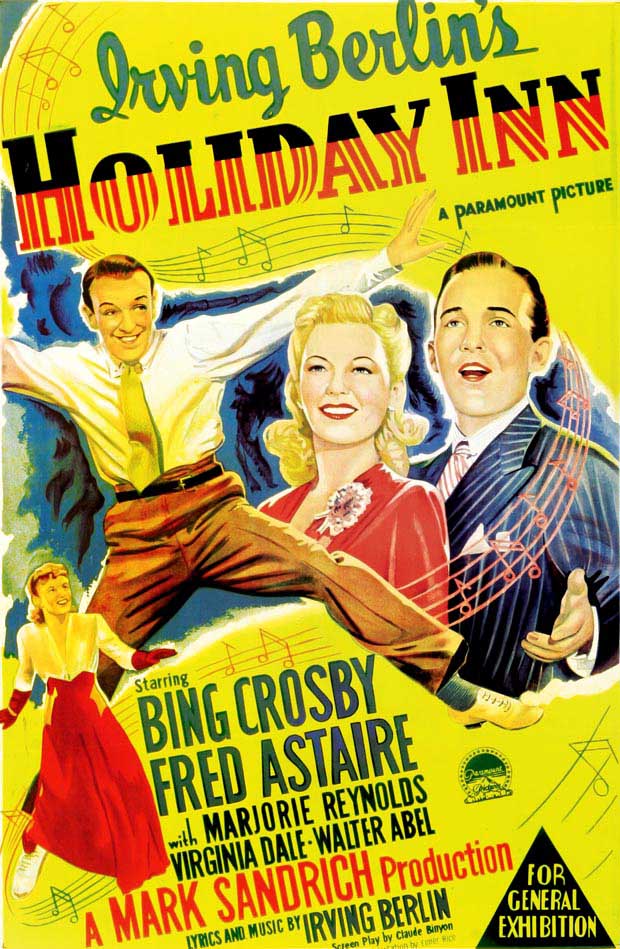 Holiday Inn - 1942
Holiday Inn - Released Aug 4, 1942. Directed by Mark Sandrich
Jim Hardy (Bing Crosby) : "Can't you see what we're walking out on? The grind. 365 days a year, when's the last time you had a day off?
Ted Hanover (Fred Astaire): I don't know. Maybe last year?
Jim Hardy: You ever hear of Thanksgiving, or Labor Day, or 4th of July?
Ted Hanover: Vaguely.
Jim Hardy: You know what they are, don't ya? They're holidays. Days of rest. There's lots of'em. They mark in red on the calendars so you can't miss'em. What happens in show business when a holiday comes along? You give an extra performance... Not for me, brother!
[After discovering his dancer girlfriend Lila won't be joining him on the eve of his showbiz retirement]
Jim Hardy: Well kids, I'm still going to rejoin the human race. Hope you get a lot of work... holidays included. Dance yourself to beautiful nervous breakdowns. You know where to look me up, Midville, Connecticut. Under a large shady tree, just being lazy (launches into Irving Berlin's song "Lazy.")
Though billed as a Christmas holiday film, Holiday Inn is actually about a whole assortment of American holidays, though Christmas (and the mega-hit from the soundtrack, White Christmas) is the highlight of the calendar cycle that Bing Crosby (as Jim Hardy) follows at his musical Inn in Connecticut. Fred Astaire (as Ted Hanover) is the 'hoofer' that continually barges into Hardy's operation, stealing Hardy's girlfriends (Marjorie Reynolds in the latter part of the film, and Virginia Dale at the beginning) and generally steals the spotlight from time to time as this film is chock-full of dancing and singing numbers that help to move the plot along.
The movie is also a comedy, with material from a raft of writers: Claude Binyon and Elmer Rice (official credits) and Ben Holmes, Bert Lawrence, Zion Myers, Francis Swann and a credit for the initial idea to Irving Berlin.
Berlin provides all of the songs, many, but not all, tied to American holidays:
I'll Capture Your Heart Singing
Lazy
You're Easy to Dance With
White Christmas
Happy Holiday
(Come To) Holiday Inn
Let's Start the New Year Right
Abraham
Be Careful, It's My Heart
I Can't Tell a Lie
Easter Parade
Let's Say It with Firecrackers
Song of Freedom
(I've Got) Plenty to Be Thankful For
Oh, How I Hate to Get Up in the Morning
Hollywood Medley
Theme Medley
The film is a sentimental tribute to both the feeling of family tied to American holidays, and more specifically about the ideal of leaving the 'rat race' to make a satisfying business of one's own, out in the country with fresh air, green trees, a large hearth and helpful, cheerful servants (Louise Beavers as Mamie).
Holiday Inn/White Christmas
This film is where the song "White Christmas" first appeared and began its ascension to (near) the top of the most well-known Christmas songs in the United States. Though not strictly a Christmas-movie (Holiday Inn covers other major American holidays, too) though the grand finale of the story is a climatic final Christmas section where we have the surreal spectacle of songsmith Jim Hardy (played by Bing Crosby) watching a Hollywood stage where a duplication of his 'Holiday Inn" from his farm in Connecticut (which is itself a Hollywood stage set, of course) is being filmed as a part of a Christmas movie, which thus makes it a Christmas movie within a Christmas movie.
Holiday Inn might be the most cohesive of the list of popular musicals based on Irving Berlin songs, even outdistancing musicals like Top Hat and Easter Parade, among others, since Berlin's songs have a dominance in Holiday Inn that overshadows the stars frequently and powers the story (however thin the story actually is) in a way these other films don't allow.
There are excruciating racial portrayals in the film (an extended minstrel segment) that are outrageous by 21st century standards, but were part and parcel of early 1900s vaudeville tradition and simply weren't out of place in a Hollywood movie of 1942.
The black face routine midway through the movie might seem insane, but give it a few minutes, it gets worse when Marjorie Reynolds appears in full "pickaninny" garb right out of a Ku Klux Klan nightmare.
Louis Beaver is on hand as "Mamie," but her sweet presence doesn't soften up Holiday Inn's veer into nuclear-powered stereotyping. If there is an "in-joke" about this black-face segment which made sense to racially-sensitive movie-goers of 1942, the transition to a post-WW2 world must have wiped it out.
The Plot of Holiday Inn
Bing Crosby is Jim Hardy, a stage entertainer who has left the limelight behind to run a farm in the New England countryside. He soon discovers his ideas of simple living and lazy days with easy work were illusions, landing him into a sanatorium.
On the rebound, he enlists former partners Fred Astaire (Ted Hanover) and love-interest/dancer Virginia Dale (Lila Dixon) to appear at his revamped "Holiday Inn," built out of his large farm house.
Shop girl Marjorie Reynolds (Linda Mason) has an ambition to be a professional entertainer, and she gets sent to the Inn and is soon performing there. Eventually she becomes the love interest so that Astaire and Crosby begin to cross-and-double-cross each other trying to win over the girl.
Chiefly a comedy with a light romance between Crosby/Reynolds, Astaire gets several solo showcases backed by extended Irving Berlin tunes, and of course Crosby gets to sit at a piano, crooning "White Christmas" for the first time on film: it wouldn't be the last (the story was remade in color as the musical White Christmas in 1954.)
The real star of the film are the Irving Berlin songs and Astaire's dancing, along with the humor provided by the script written by Claude Binyon, who is aided by a shelf of extra writing talent: Elmer Rice, Ben Holmes, Bert Lawrence, Zion Myers, Francis Swann.
---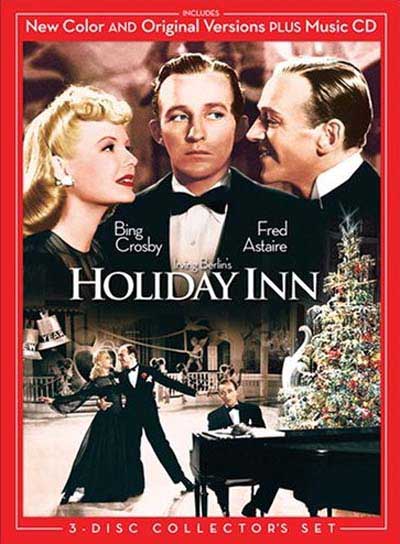 [Above] Contains original black and white, colored-version, and Irving Berlin Soundtrack CD
Holiday Inn 3-Disk DVD
Fred Astaire, Bing Crosby and Irving Berlin songs and music
DVD release from amazon.com
---
Description of the 3-Disk set which included a CD soundtrack:
Universal's description of the disk: "Includes Bonus Music Soundtrack CD featuring Bing Crosby's 'White Christmas" - Experience one of the most popular holiday movies of all-time like never before with the 3-disc Holiday Inn Collector's Set featuring a brand-new color version of the film and the complete CD soundtrack!
Screen legends Bing Crosby and Fred Astaire star as two talented pals who find themselves competing for the affections of the same lovely lady (Marjorie Reynolds) in this Academy Award-winning musical, filled with singing, dancing, comedy and romance.
Whether you are watching the original black & white masterpiece, discovering the new color version, or listening to the timeless Irving Berlin soundtrack featuring "White Christmas," the 3-disc Holiday Inn Collector's Set is the perfect way to enjoy the holiday season!
Starring: Bing Crosby, Fred Astaire, Virginia Dale, Marjorie Reynolds
Directed by: Mark Sandrich
---
Other Christmas film reviews:
The Shop Around the Corner - 1940
Ernest Saves Christmas - 1988
Holiday Inn - 1942
The Man Who Came to Dinner - 1942
Meet John Doe - 1941
---
THE ORIGINAL "WHITE CHRISTMAS" MOVIE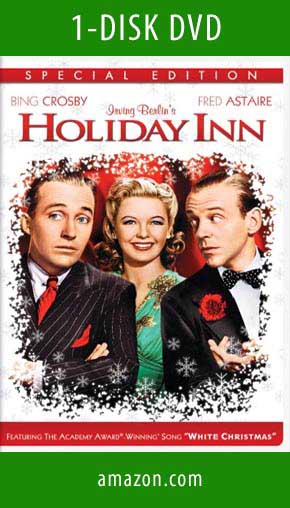 ---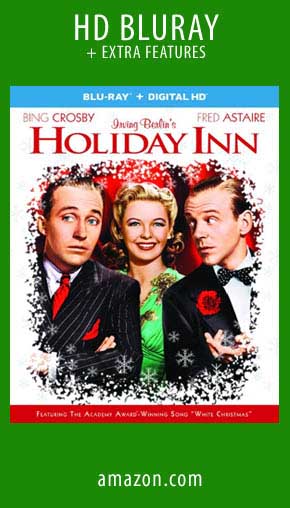 ---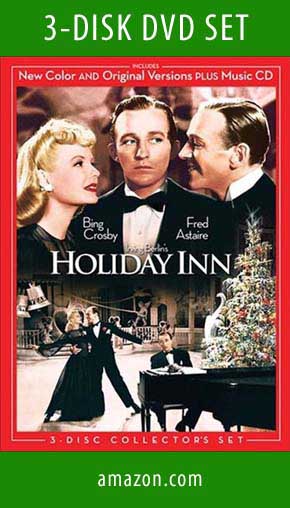 ---
---
What's Recent
---
---
---
Original Page Oct 7, 2008 | Updated Oct 2016