Boris Karloff
Born William Henry Pratt on November 23, 1887 in Camberwell, London. Died February 2, 1969, in Sussex, England. He once said "You could heave a brick out of the window and hit ten actors who could play my parts. I just happened to be on the right corner at the right time." He appeared in more than 80 films before his original role as the Frankenstein monster in the 1931 version directed by James Whale for Universal.
"I spent ten years in Hollywood without causing the slightest stir," Boris Karloff recalled in later years. "Then one day I was sitting in the commissary at Universal, having lunch, and looking rather well turned out, I thought, when a man sent a note over to my table, asking if I'd like to audition for the part of a monster."

Whale's companion David Lewis had suggested that he look at Karloff, who had recently made a striking gangster in The Criminal Code. Karloff, the former William Henry Pratt, sometimes drove a truck for a lumberyard between acting assignments. He had no illusions about the film industry owing him a livelihood, and no expectations whatsoever that his name would soon become a household word for horror. Whale thought Karloff's face had interesting possibilities; an amateur painter himself, the director sketched the actor, experimentally exaggerating the body ridges of Karloff's head. He showed his ideas to Jack P. Pierce, head of Universal's makeup department since 1926. Pierce had been responsible for Conrad Veidt's hideous grin in Universal's The Man Who Laughs (1929), based on the Victor Hugo nover, and had created the Lugosi makeup for the Florey screen test of Frankenstein."
Page 130, The Monster Show: A Cultural History
of Horror - Amazon
---
The Body Snatcher
The Body Snatcher - Released May 25, 1945. Directed by Robert Wise
Producer Val Lewton's best film with Boris, in which grave-robbing in Scotland becomes a duel of willpower between a compromised medical doctor (Henry Daniell) and a cabman (Karloff) who knows too much about how the research-medical field works.
---
Mask of Fu Manchu
This 1932 'talkie' is stilted with staid camera angles and staging, but the real time and effort of the production was put into Karloff's 'Yellow Menace' presence in which Fu Manchu (Karloff) plots to usurp world-power from the white world (essentially the British empire) unless a group of desperate Englishmen stop him.
The pulpy origins of the tale get side-swiped into a world of Hollywood glamour with first-rate art direction, make-up and cinematography devoted to Karloff, (and his evil daughter - played by Myrna Loy). A strange combination for this often maligned-story of dated (and demented) racial politics.
---
The Man They Could Not Hang
The Man They Could Not Hang - Released August 17, 1939. Directed by Nick Grinde
More on The Man They Could Not Hang
---
[Below: 2003 USPS 37 cent "makeup" stamp featuring Boris Karloff in the Frankenstein makeup.]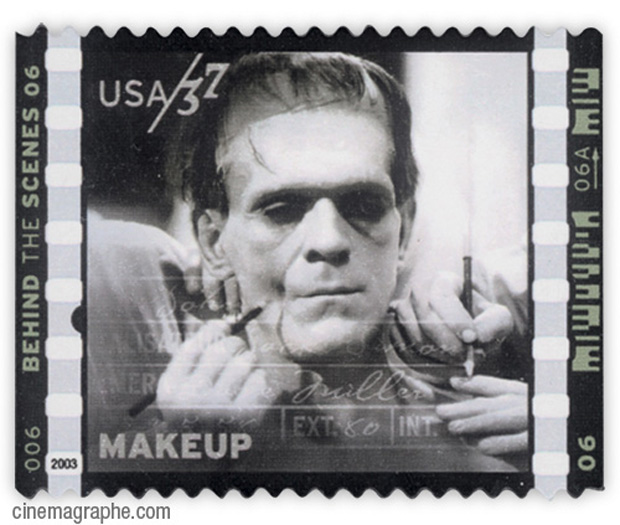 ---
Isle of the Dead, the 1944 Val Lewton film starring Karloff. The actor seriously hurt his back during filming (July 1944) and the production was suspended. After recovery, Lewton and Karloff completed the entire The Body Snatcher (also 1944) before working on the final scenes for Isle of the Dead in December 1944.]
---
Karloffian links:
October 2020: The Amazing Story of Horror Legend Boris Karloff at Grunge
Aug 3, 2020: Boris Karloff and the 1918 Pandemic - article at Times Herald Online on the young Karloff's stay in Vallejo during the Spanish Flu epidemic in California.
August 2018: The connection between Boris Karloff's Frankenstein and cosmetics pioneer Max Factor at Culture.pl.
October 2011: Things you didn't know about Boris Karloff - BBC on NYC's "Boris Karloff Weekend"
"Although he left England for Canada in 1909, he never gave up his British citizenship. He did, however, shed his name, perhaps to shield his family from the disdain they feared from having an actor in the family. Publicly, Karloff said that Pratt seemed like an unfortunate name for an actor, suggesting pratfalls."
Nicely done piece by Paul Hechinger with many quotations from Sara Karloff, Boris's daughter.
---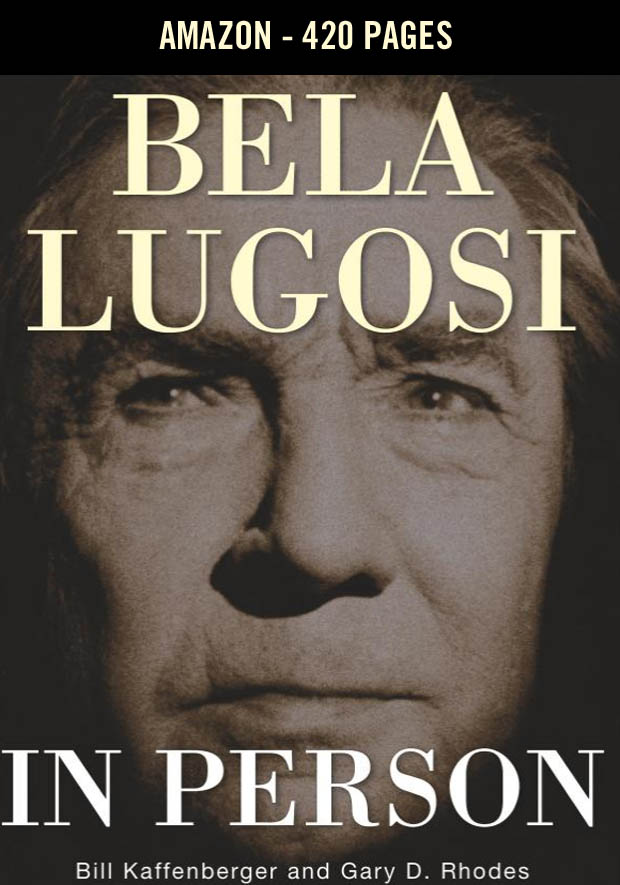 Amazon - Bela Lugosi in Person - 420 pages
Amazon - No Traveler Returns: The Lost Years of Bela Lugosi - 346 Pages
Amazon - Bela Lugosi and Boris Karloff: The Expanded Story of a Haunting Collaboration, with a Complete Filmography of Their Films Together - 701 Pages
---
Frankenstein Created Woman - 1967
Frankenstein meets the Wolfman - 1943
---
Original page May 18, 2009 | Updated October 2020
---
---
What's Recent
---
---