Myrna Loy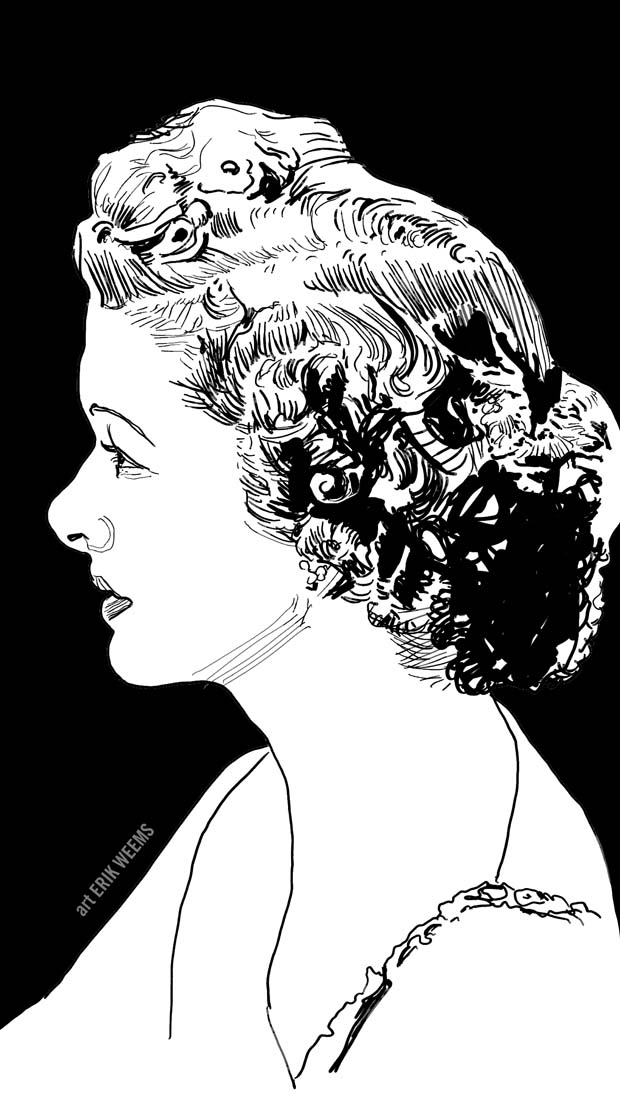 Born Myrna Adele Williams August 2, 1905, died Dec 14, 1993.
Myrna Loy
Before she became one of the most popular actresses of the 1930s, Myrna Loy played in many silent films in various small parts, usually cast as a dark exotic, for example in Don Juan (1926), Demille's first version of The Ten Commandments (1923), The Thief of Bagdad (1924) and in a 'talkie' as Fu Manchu's sinister daughter (with Boris Karloff) in The Mask of Fu Manchu (1932).
William Powell and Myrna Loy in the first The Thin Man movie (1934) was such a large success that is spawned five sequels, all with Powell and Loy. The first film was a unique creation from M-G-M because it contained both screwball comedy (especially in the spontaneity between Powell and Loy) and it was also a detective procedural about the solving of a murder. The mashup of these two genres (and screwball comedies were just getting on their feet in 1934) changed the trajectory of all the comedies that came after it, as many of the other studios studied the film (directed by W. S. Van Dyke) and began utilizing what it showed was possible.
In contrast to many of the other comediennes of the 1930s, Loy's characterizations often depended on what she held back, with short comments and only slightly modulated expressions to imbue her scenes with comedy, versus the more expressive, wilder actions and reactions of other comedy actresses of the 1930s. Even after the 1930s comedy styles went out of vogue, her restrained, graceful style made her compatible with just about any genre and film type that Hollywood had in vogue, whether in comedy or in drama.
---
Myrna Loy and Cary Grant - The Bachelor and the Bobby-Soxer, 1947
---
Myrna Loy: The Only Good Girl in Hollywood
424 Pages

"From the beginning, Myrna Loy's screen image conjured mystery, a sense of something withheld. "Who is she?" was a question posed in the first fan magazine article published about her in 1925. This first ever biography of the wry and sophisticated actress best known for her role as Nora Charles, wife to dapper detective William Powell in The Thin Man, offers an unprecedented picture of her life and an extraordinary movie career that spanned six decades. Opening with Loy's rough-and-tumble upbringing in Montana, the book takes us to Los Angeles in the 1920s, where Loy's striking looks caught the eye of Valentino, through the silent and early sound era to her films of the thirties, when Loy became a top box office draw, and to her robust post–World War II career. Throughout, Emily W. Leider illuminates the actress's friendships with luminaries such as Cary Grant, Clark Gable, and Joan Crawford and her collaborations with the likes of John Barrymore, David O. Selznick, Sam Goldwyn, and William Wyler, among many others. This highly engaging biography offers a fascinating slice of studio era history and gives us the first full picture of a very private woman who has often been overlooked despite her tremendous star power."
---
Original Page April 2014 | Updated Nov 2017
---
---
What's Recent
---
---