Archive 543
April 12, 2023
---
Review: Half Angel - 1951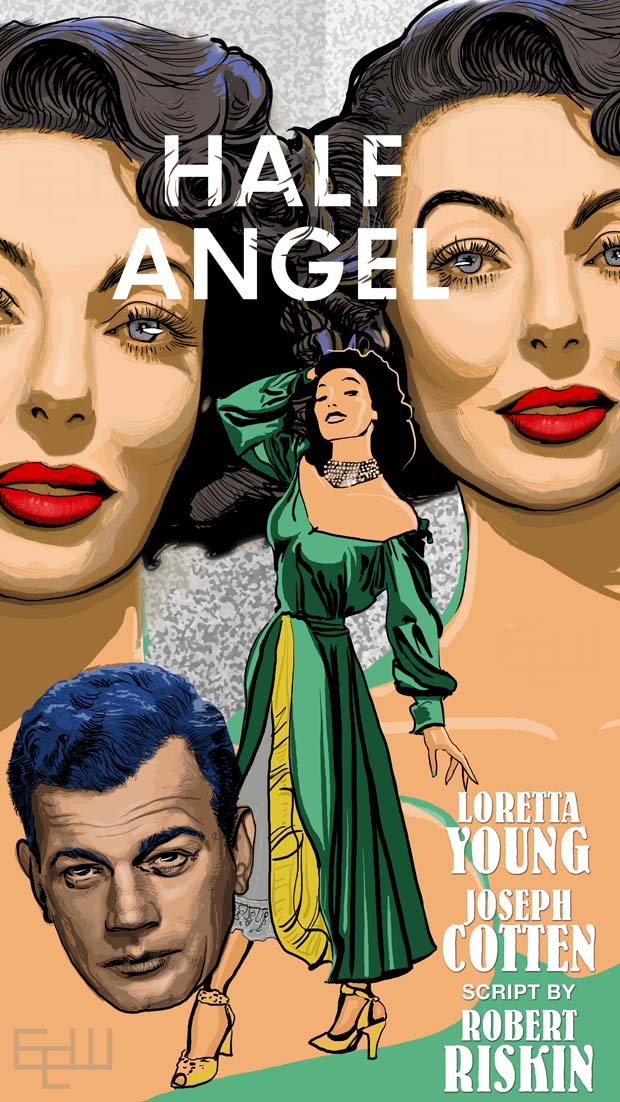 "It's not easy for me to get away, on account of the witch. The girl I live with. She's a monster. I have to wait until she's exhausted or asleep and even then she tries to stop me."
Loretta Young plays two roles and co-star Joseph Cotten gets along with one very well (to put it mildly) but only frightens and consternates the other. From a Robert Riskin script, Half Angel is sleepwalking-plus-amnesia with a light-comedy tone.
More about Half Angel 1951
---
UPDATE NOTE: Cinemagrahe has moved to a new server. The search feature is now operational again, though using a different search engine method that will look diffferent until we get a chance to "modernize" it a little for appearances sake.
---
---
Kino has a sale and it includes the three-film Anna May Wong Bluray set – Kinolorber
Dangerous To Know / Island Of Lost Men / King Of Chinatown
They've also got sale prices on their Stanwyck collection, Lombard, etc.
---
Review: The Milky Way - 1936
"When I was a little boy, I was kind of puny..."
Updated review: I watched the film a second time and have decided I was unfair to the respective qualities of the film, and that is reflected in the updated review below.
Adolphe Menjou is a familiar face to classic film fans, a thorough professional who frequently played snappily-dressed men with flexible morals. Menjou had an ace-film-actor's ability to speed up or slow down his acting style and dialogue delivery as if he was chained to tempo of the film itself, so it is odd to see him at first clashing with the rhythm of The Milky Way. But he's not the only one, it is if this Harold Lloyd tale of a quirky milkman who through a series of screwy circumstances ends up a boxing champion, at first hasn't got its rythmn worked out, though the opening scenes involving two drunk men from the pugilist trade harrassing a girl (Helen Mack) and then Harold Lloyd's milkman arrives to put a stop to it.
The Milky Way is adapted from a stage play, probablythis is where the early sections trouble comes from. There could be a different source of the trouble (Director Leo McCary is reported to have been ill through part of the production), so it takes a little time for the film to gel, and for the cast to function together instead of looking like extraneous visual confetti while Lloyd works through comedy routines that are frequently (at first) just solo bits.
The comedy genius that fueled the better known silent era comedies The Freshman, Safety Last and Speedy comes to the fore, though, and Lloyd in the guise of a goofy milkman then boxer opens up comedy possibilities and Lloyd starts taking advantage of them. His soon nationally famous boxer acts as an agent of satire on the hucksterism of sport promotion, the charitable sensibilities of the wealthy (with Marjorie Gateson as a society matron who is surprisingly quick on her feet after learning how to box the Lloyd-way) and there's even some fun poking at general melodrama with Lloyd provoked into an absurd internal emotional struggle over his possessing a supposed dual-personality at odds with itself, the friendly and meek milkman versus the "killer boxer" who is a ruthless tyrant of the ring (or so he thinks). An upcoming charity-bout brings this dilemma to the fore and seems to cost the Milkman his new girlfriend (Polly Pringle played by Dorothy Wilson). This makes for a hilarious moment where Menjou and Lloyd debate the dilemma of what the "killer" should do, with Menjou instructing Lloyd to imagine a crying baby that wants milk, and it then metamorphosizes into a thousand imaginary babies for Menjou and Lloyd to take care of as the hypothetical gets completely out of control.
By this point in the film, The Milky Way is operating like one of Lloyd's well-oiled comedies from the past, with funny interludes naturally leading one-to-another, and some humor that would have played more efficiently in the silent days (having to do with name-spellings, something easily communicated with title cards but not so effeciently with sound) about the boxer having a Jekyll-and-Hyde personality which becomes a running spelling joke with the diagnosis about the Milkman-Boxes becoming Chickle and Hyde, Jackel and Hyde, or Jiggle and Hyde, depending on who is talking about him.
Helen Mack, Verree Teasdale, and Dorothy Wilson plus the agile Marjorie Gateson are one side of the funny supporting cast, with gravel-voice Lionel Stander, William Gargan, and even a few scenes with Charles Lane making up the other side, plus an uncredited Anthony Quinn making his very first film appearance (he is easy to spot). Verree Teasdale (she was Menjou's wife until his death in 1963) dominates in the first half with acidic comedy one-liners (in fact a lot of them are the best lines in the movie) that is more polished than the usual earthy bleach-blonde delivery style of the 30s. Another plus is Mack (often under-used elsewhere) given a bit more room at the front end and back end of The Milky Way.
It looks like some real production money went into this film, with sizeable crowds of extras on screen and the distribution of lines through a pretty good-sized supporting cast. We don't really get that much boxing action in the course of the tale, but the final bout is a spectacle with a huge Madison Square Garden-looking place jammed with a crowd as Lloyd goes to face the guy he originally fought at the start of the film, but with this time with the odds very much against him.
---

---

---
---
What's Recent
---
---
---
Original Page October 26, 2022