Archive 524
June 2, 2021
---
Brandon, Vermont site for seven movie weekly silent film fest
June 2, 2021: Begins with Mark of Zorro – Story at WCAX
---
Review: Van Helsing 2004
Generally speaking, the 2004 Van Helsing is held to be a not very good movie. Saturated with special effects and action sequences, the simple story is a comic book-ish tale of a group of heroes (Helsing, his assistant Carl, the Frankenstein Monster, ace vampire-fighter Anna Valerious) going up against Count Dracula and his cohort of three deadly wives who can turn into bat like creatures, swooping skyward to frighten and hunt the local populace.
Despite the puzzle of why the film isn't as good as it ought to be, it is all the same enjoyable in a way few other movies are, or can be. For one, Van Helsing looks like an unashamed effort to take Forrest J. Ackerman's Famous Monsters of Filmland magazine onto the screen with the kind of special affects and sheer movement that wasn't technically possible in the old Universal monster rallies.
---
Charles Grodin - 1935 – 2021
Obits:
---
Amazon wants to buy M-G-M
Story at UK Guardian
---
Olympia Dukakis has died
Story at UK Guardian and Deadline Hollywood
---
Rotten Tomatoes has unearthed a 1941 review of Orson Welles' classic that single-handedly took down its decades-long perfect critics' score."
Story at Hollywood Reporter
To see more movie poster art
---
Short film on Boris Karloff
Author, TV writer, actor and comedian Charlie Higson has scooped the winning prize for Plymouth College of Art's Boris Karloff film challenge

...entrants were asked to submit a one-minute video taking inspiration from the life and work of English actor Boris Karloff, most famously known for his role as Frankenstein's monster in Frankenstein (1931) and later sequels.
Article about the short film at Plymouth Herald
---
Manhattan Melodrama, 1934 Gelatin Silver Print - Photo of Gable and Myrna Loy by Ted Allan at Staley-Wise Gallery Artsy
---
REVIEW
Calling Dr. Death - 1943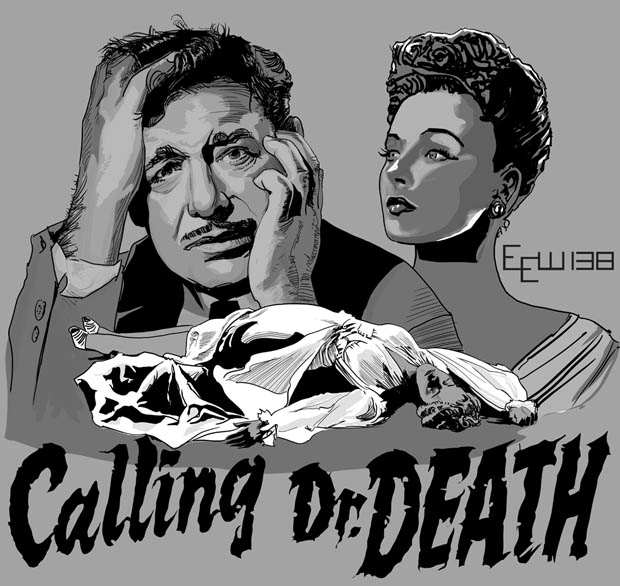 "Not murder, Doctor. You haven't the courage..."
Lon Chaney, Jr. is Dr. Mark Steele, a neurologist and hypnotist who spends a portion of this short film (63 minutes long) talking to himself within his mind in a hushed voice of soliloquy, arguing with himself whether he has somehow murdered his wife (Ramsay Ames) but just can't remember doing so. Police Investigator Gregg (J. Carrol Naish) at first is sure that Dr. Steele has done the deed and that the doctor's memory loss is a dodge to escape responsibility, but soon, Gregg also has his eyes on the rest of the cast (Patricia Morison and David Bruce in particular) and he makes a few comments that makes us wonder if even Gregg could have done the killing.
More reveiw of Calling Dr. Death 1943
---
Adding product placements into classic film?
So items can be digitally added to almost any movie or TV show. For example, advertisers could put new labels on the champagne bottles in Rick's Cafe in Casablanca, add different background neon advertising signs to Ocean's 11, or get Charlie Chaplin to promote a fizzy drink. And then a few weeks, months or years later the added products can be easily switched to different brands.
The technology to do so has arrived – story at BBC
---
Criterion Classic Movie Release News:
A Blu Ray edition of Bringing Up Baby is coming on July 6, 2021. Criterion Bringing Up Baby product page.
Criterion Blu Ray edition of the Barbara Stanwyck The Furies is now out (April 20) - Criterion The Furies product page and at Amazon The Furies (Criterion Collection) [Blu-ray]
---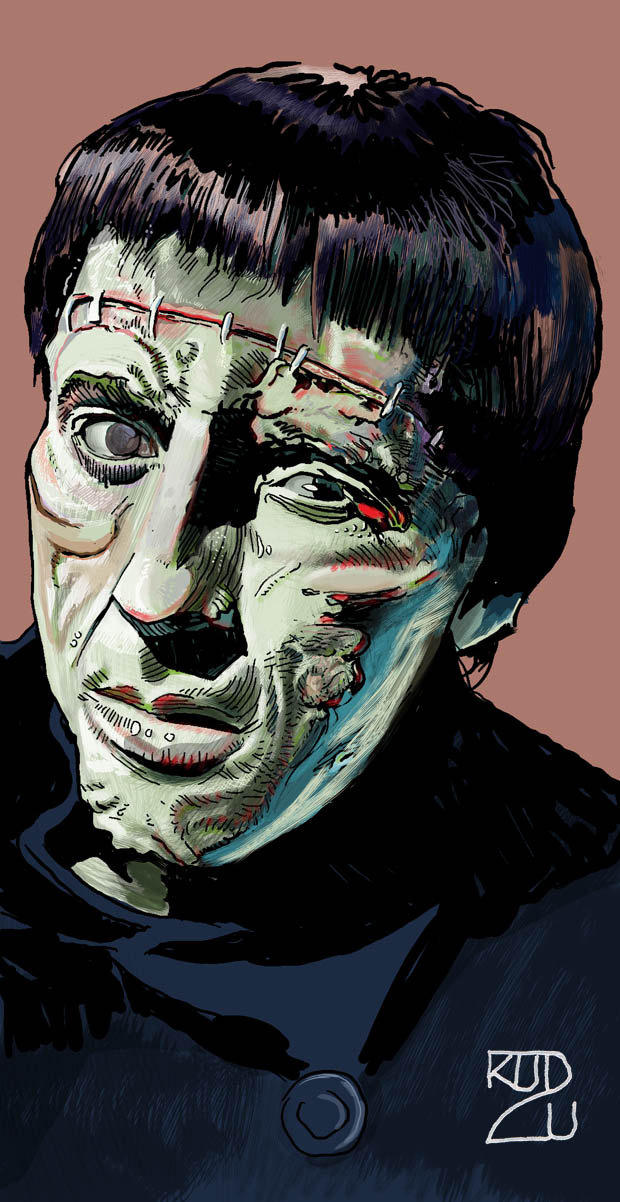 Horror of Frankenstein, Christopher Lee
---

---

---
---
What's Recent
---
---
---
Original Page July 9, 2021