Touch of Evil, 1958
Orson Welles final studio film is often called the ultimate "B Movie" but it's hardly that (look at the cast: you can't get those names with B-movie dollars). On the other hand it has a schlocky, pulp-noir feel around the edges that makes you think of other B-movie thrillers (and not to the detriment of Touch of Evil, either, as it is simply a superior work by any Hollywood movie standard, A-or-B. It's like Mozart showing Salieri how to better play Salieri's own tune, a key scene in Amadeus.)
Charlton Heston gives a solid performance as a Mexican detective. This casting is made into a joke in Tim Burton's Ed Wood film, but if you watch TOE you see Welles' getting work out of Heston that makes you wish Orson had helmed a few of those gigantic Heston epics of the 1960s. The Agony and the Ecstasy comes to mind, a film about a freelance artist - Michelangelo - trying desperately toget paid - something Orson Welles knew plenty about.
Janet Leigh is onscreen in TOE and you realize that in an era in which Hollywood was awash with Marilyn Monroe variations, Leigh is blond and full-figured but never even close to being a Monroe imitation. She's sharp and clear about what she is doing, and she is the other half of Welle's story, which is essentially about a guy trying to (literally) save his marriage and his wife (she needs saving, too, because a rather funny - but dangerous - Akim Tamiroff is trying to frame her. He wants to wreck the investigation being co-piloted by Heston's Mexican detective and Welles pudgy American detective.)
---


Above: The elaborate packaging of the new DVD release of Orson Welles' classic noir film
50th Anniversary Edition DVD




Touch of Evil

[1958]

Amazon.com has Touch Of Evil (50th Anniversary Edition DVD)
If you're a fan of this film, then you probably know there have been a number of different permutations of the film's content (at least three! The description at Wikipedia claims four), with the twice-edited original theatrical version (you know you've seen this one if you remember that bracing Henry Mancini's score that blasts away right from the beginning) and then there's the 1998 "Orson Welles' edit" which was pieced together by Walter Murch, guided by a 58-page memo Welles' wrote to Universal before the film's original release in 1958. There is also a 108 minute version that Universal discovered in their vaults in 1976 and made available with the dubious claim of being Welles' original cut (it wasn't - it was padded with scenes made by director Harry Keller).
Charlton Heston writes in his autobiography that he directed a few scenes because no one else was available. In fact it was on Heston's insistence that Welles even got the directorship, and both Heston and Welles' talked about other projects they might do together: nothing came of it, which is too bad, as Welles' used Heston to a much better advantage than is in many of the actor's other films. Janet Leigh's agent originally refused the request for her to be in the film, citing the low salary offered. It was only after Welles' had contacted Leigh personally that she even knew about the offer, and joined the cast for a chance to work with Welles and Heston.
Touch of Evil's production history is marked by strange decisions (Universal re-cutting Welles' original version and making the whole complicated plot harder to understand) and then there is Welles' own decision to go AWOL during post-production (didn't Orson learn anything from the Magnificent Amberson's debacle in the 1940s?)
Onscreen is Zsa Zsa Gabor (briefly), Leigh and Marlene Dietrich. Leigh's character is tough and seems angry throughout much of the film: I think many other actresses would have simply played the character as scared, because the character seems to be in constant danger. Dietrich is a somewhat disembodied Greek chorus that provides an overview during her few moments of film-time. Her character shouldn't know as much as she does, but because she knows the main character (Welles' as the grotesque corrupted police captain Hank Quinlan) she knows the whole story anyway. Dietrich apparently joined the cast at union wage minimum and without Universal execs even knowing about it until they saw Welles' rushes.
It is an unusual film, and though touted as the best B-movie noir ever made, it doesn't perfectly fit in any of those categories. With Heston, Leigh and Dietrich onboard, it's hardly a B-Movie; and it's original budget wasn't B-movie grade either. But because Universal had the idea to cut the film up and release it on a double-bill with the Hedy Lamar film "The Female Animal" it was certainly packaged as a B-Movie.
The DVD package Universal has released apparently had to run a gauntlet of legal objections put forth by Beatrice Welles, Orson's daughter. Originally meant to include a documentary and commentary, the DVD is shorn of both. But there are quite a few other features on the disks which make it the best, and most informative DVD release of the film yet.
Incidentally, the 1998 version of the film is shown widescreen: Welles' apparently wanted to go widescreen during the original filming, but instead was required by Universal to shoot the film for a full-screen dimension release. Releasing the 1998 re-cut as a widescreen seems odd, since Welles didn't intentionally shoot the film with it in mind.
- - - - - - - - - - - - - - - - - - - -
From Universal's promo text about the DVD release:
Touch of Evil 50th Anniversary Edition DVD (Anamorphic Widescreen)
Includes: Replication of Orson Welles' Legendary 58-Page Memo to the Studio

Experience director Orson Welles' masterpiece Touch of Evil like never before in an all-new 50th Anniversary Edition DVD! Starring Charlton Heston, Janet Leigh and Orson Welles himself, this exceptional film noir portrait of corruption and morally compromised obsessions tells the story of a crooked police chief who frames a Mexican youth as part of an intricate criminal plot.

Now for the first time ever, see all three versions of the film – the preview version, the theatrical version and the restored version based on Orson Welles' vision. The Touch of Evil 50th Anniversary Edition commemorates a true cinematic achievement and is an essential addition to the very movie lover's library!

Starring: Orson Welles, Charlton Heston, Janet Leigh, Marlene Dietrich, Zsa Zsa Gabor
Directed by: Orson Welles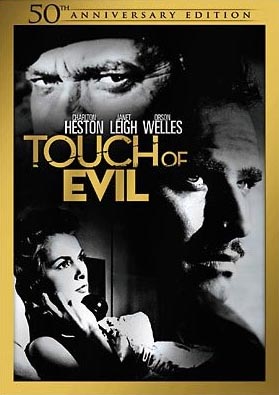 From the promo at amazon talking about this 50th anniversary DVD:
Considered by many to be the greatest B movie ever made, the original-release version of Orson Welles's film noir masterpiece Touch of Evil was, ironically, never intended as a B movie at all--it merely suffered that fate after it was taken away from writer-director Welles, then reedited and released in 1958 as the second half of a double feature.

... From its astonishing, miraculously choreographed opening shot (lasting over three minutes) to Marlene Dietrich's classic final line of dialogue, this sordid tale of murder and police corruption is like a valentine for the cinematic medium, with Welles as its love-struck suitor. As the corpulent cop who may be involved in a border-town murder, Welles faces opposition from a narcotics officer (Charlton Heston) whose wife (Janet Leigh) is abducted and held as the pawn in a struggle between Heston's quest for truth and Welles's control of carefully hidden secrets. The twisting plot is wildly entertaining (even though it's harder to follow in this original version), but even greater pleasure is found in the pulpy dialogue and the sheer exuberance of the dazzling directorial style. --Jeff Shannon
From The New Yorker review of the DVD release of Touch of Evil:
...At first glance, little has changed; the titles (and Henry Mancini's brassy theme) have disappeared from the celebrated opening shot, but from then on the basic thrust of this Mexican border tale (filmed in Venice, California) remains intact. We still have the manly Vargas (Charlton Heston) struggling to solve the case of the car bomb while his wife (Janet Leigh) feels the heat from a gang of local hoods; we are still thrown by the freakish cameos by Zsa Zsa Gabor and Mercedes McCambridge, and the horrific slaying-a kind of jazz strangulation-of the fleshly Grandi (Akim Tamiroff); and, of course, we still see Welles himself as police chief Hank Quinlan, looming over the action like a Falstaff gone to seed. If anything, the cuts and repairs make the work more fluid and less flamboyant; it was sometimes the studio, rather than Welles himself, who liked to go over the top. His scenes with brothel-keeper Marlene Dietrich have nothing to do with the plot and everything to do with the rotting heart of this amazing fable: the apotheosis of pulp. - Anthony Lane
Poster for the 1998 Theatrical Release of Murch's Edit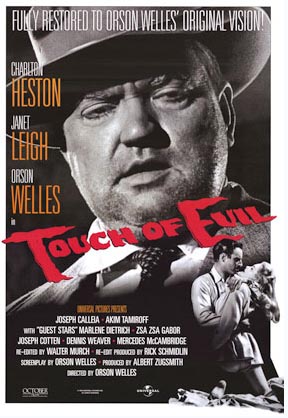 ---
Original Page 2008
---
What's Recent
---
Amazon: Harlow in Hollywood: The Blonde Bombshell in the Glamour Capital, 1928-1937