Stand In - 1937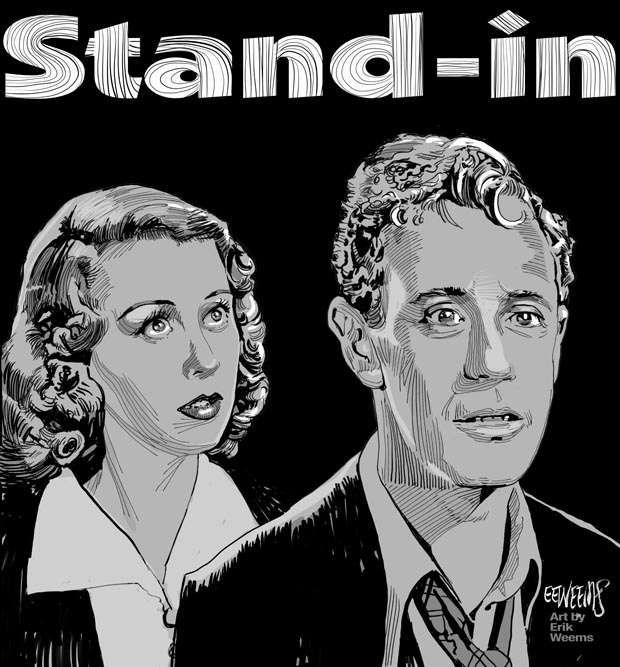 Stand-In - Released October 29, 1937. Directed by Tay Garnett
Inside-jokes about Hollywood proliferate in this mostly-comic story of an accountant (Leslie Howard) sent from New York City to a malfunctioning Hollywood movie studio ("Colossal") to straighten out their finances. He finds mismanagement and bizarre star behavior, most of which is dismissed by everyone as "that's the picture business."
Part of the problem at Colossal is a conspiracy between a few employees to push the studio to bankruptcy so that it can be sold for pennies on the dollar to investment conman Nassau (C. Henry Gordon). By the time Atterbury Dodd (Howard) has this figured out, his only allies to put a stop to the shenanigans are an ex-child star named Lester Plum (Joan Blondell) and a usually drunk movie producer named Quintain (Humphrey Bogart).
Dodd's mission is also to tame the studio's big-spending star director, a foreign-accented fellow (but quite American) named Koslofski (Alan Mowbray), who states the rules of Hollywood in a way any classic-movie fan could understand: "Great pictures are not made... they are remade!"
Blondell is no stranger to funny roles and Howard and Bogart get to decorate their characters with humor (more so than Blondell. She mostly, but not entirely, is playing everything straight). Howard particularly makes his character hyper-observant except when it comes to himself, this accountant can't quite recognize that Lester Plum has developed a crush on him which is mostly expressed through anger, frustration and judo-throws.
The Milquetoast potential boyfriend who has to find his manhood had already been used plenty of times in silent films and early talkies by 1937, but Howard dresses up Atterbury Dodd's plight slightly differently, with the man quickly-learning through humiliation and Plum's help how to out-think and out-fox the movie personalities who for the first half of the movie keep him spinning around so that he can't do his job (and find the corruption under his nose).
Jack Carson as Tom Potts plays a loud-talking and exaggerated American press agent, much like many other roles the high-decibel star had in his career. He is given a lot of room to yell and do physical comedy in Stand-In by director Tay Garnett who lets him go full hog in the role.
Stand-In often seems like it should be a top-ranked classic Hollywood comedy, but instead it is limited by the inability of the story to integrate together all the many side-characters (and their brief moments before the camera) and to get the plentiful spoofing and parodying to smoothly flow with the tale. The script (by Clarence Buddington Kelland) has moments of great dialogue, but then stretches of predictable plot-filling. Nonetheless, Howard, Blondell and Bogart are fun to watch and everybody on the screen seems to be having fun poking Hollywood movie-making in the nose.
Amazon: Stand-In Blue-Ray 1937
---
---
---
Another detailed description of The Stand-in from 2014
More Joan Blondell
---
AMAZON: Boris Karloff: A Gentleman's Life - 356 Page Biography
---
Original Page August 2014
---
---
What's Recent
---
---