Joan Blondell
Joan Blondell born Rose Joan Blondell on August 30, 1906, in New York City. Died December 25,1979 from leukemia in Santa Monica.
Filmography:
Joan Blondell Television Show appearances
---
Brief Bio of Joan Blondell
Her father was a vaudeville comic, and Joan was onstage at the age of 3. She was a member of a professional stock company at 17, and co-starred with James Cagney in the Broadway production of Penny Arcade in 1929. The play was filmed as Sinner's Holiday in 1930 by Warner Brothers, with both Cagney and Blondell in their stage roles.
Blondell went on to star with Cagney in ten more films, and though Cagney continued on to the first tier of Hollywood stardom, Blondell most often worked opposite leading men but rarely had to carry films on her own. She was considered a 'leading support' player to boost a male lead, though she also filled out girl trios for films like the Golddiggers series.
---
---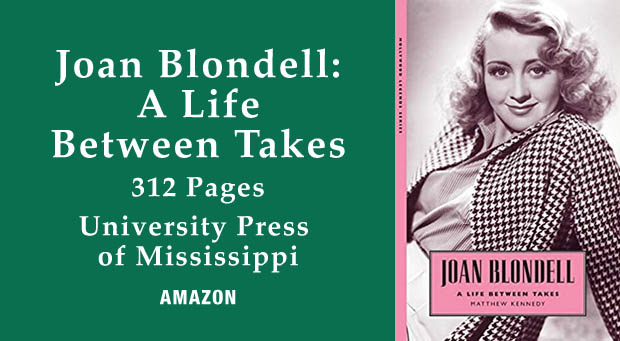 Joan Blondell: A Life between Takes - Amazon - 312 Pages
---
---
Blondell went independent in 1939, and had an Academy Award nomination for The Blue Veil in 1951. She made fewer films as time passed (like the Hepburn/Tracy Desk Set and Will Success Spoil Rock Hunter? in 1957, just two of the four films she did that year) and she had numerous roles on television (she also did dozens of radio programs).
She once said about Hollywood
"There`s a very fine line between under acting and not acting at all. And not acting is what a lot of actors are guilty of. It amazes me how some of these little numbers with dreamy looks and a dead pan are getting away with it. I`d hate to see them on stage with a dog show."
Blondell published a novel under her own name in 1972 from Delacorte Press, titled "Center Door Fancy." The book tells the (autobiographical) story of a woman brought up to work as an actress, though she has other goals of building a family and home instead.
"Blondell was no enigma to depression era audiences. She was honest, cynical, determined. She can take charge. In Blondie Johnson (1933) she plays not the gun moll of Chester Morris, lounging in a bed jacket while he pulls off a job, but the leader of the gang, the mastermind. (Both are apprehended, but they'll serve time, repent, and be united.) In Footlight Parade (1933), as a showman Cagney's secretary, she virtually runs the film, getting Cagney to hire Ruby Keeler out of the typing pool and onto the stage (whereupon Keller really does say, "Gee, Mr. Kent, that'd be swell."), forcing Cagney's crooked employers to pay him earnings they had been withholding, and protecting Cagney from gold digger Claire Dodd, incidentally getting off the film's zinger in telling Dodd, "As long as they have sidewalks, you've got a job!" At the film's end, when Cagney has pulled off a spectacular comeback, she cries, "You did it!" and he replies, "You mean we did it!" he's right."
From the book Movie Star, chapter 10 ("Fighters") by Ethan Mordden, St. Martins Press 1983. Available from amazon.com
---
---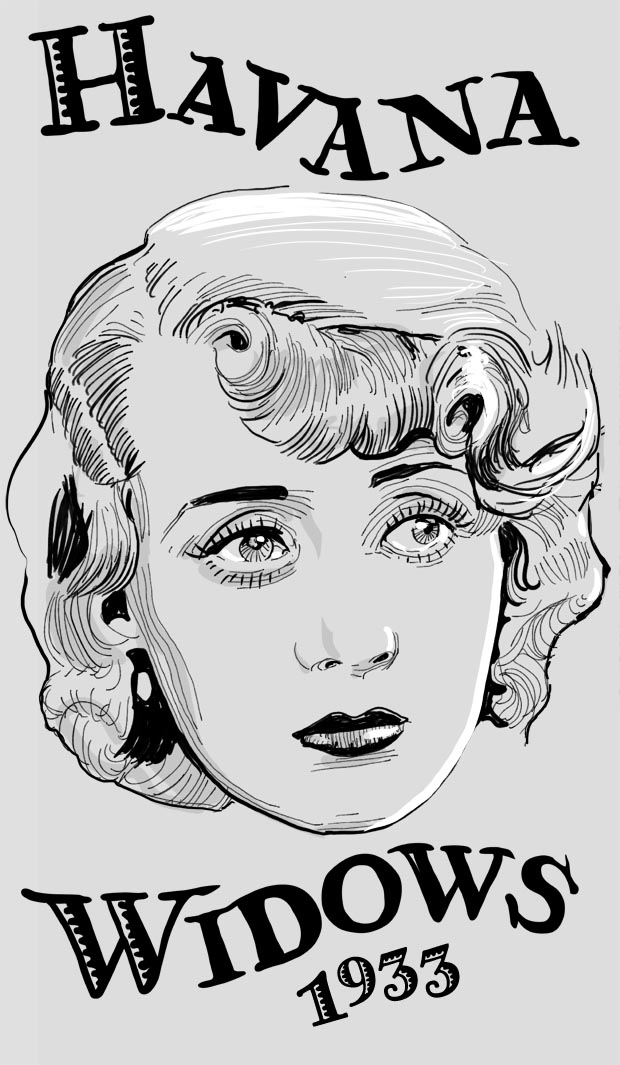 ---
"Blondell was never naive. When Warners tried to begin her buildup by changing her name, she balked. Always thinking of her family, she told the studio that her name was an established show business entity. (Blondell said Warners wanted to change her to "hold everything – Inez Holmes.") Knowing they were dealing with a professional who had been around, Warners gave her some latitude."

"Blondell's statements about her roles and her attitude... "I just sailed through things, took the scripts I was given, did what I was told. I couldn't afford to go on suspension. I was what they called a studio dame... I just showed off my big boobs and tiny waist and acted glib and flirty. I was the fizz on the soda."
From the book The Star Machine, by Jeanine Basinger, Alfred A Knopf publishers, 2007. Available from amazon.com
---
"Laughing and cracking wise, singing and dancing, rattling off dialogue a mile-a-minute, and batting those long-lashed baby blues, she was surely the most loveable leading lady ever seen on the Warner lot; and she was a survivor; returning to the studio in '72 to star in a TV series, "Banyon," she found that of the famous WB "stock company" that made movie history on the premises – Bogart, Cagney, Flynn, Davis et al. – she was the only one there..."
From the book Movie Stars of the '30s, by David Ragan, Prentice-Hall publishers, 1985.
---
Depression-era theatrical life
Blondell's semi-autobiographical novel, Center Door Fancy, describes the adventures (or misadventures) of a woman raised in a theatrical family that is constantly a few dollars away from starvation, and the harsh troubles that comes from being near the bottom of the acting trade (eventually the story tells of joining the motion picture industry, but the bulk of the book is about theater experience).
The brief excerpt below is a reflection on the few choices available when Blondell's character "Nora Marten" tries to survive in New York City:
"I worked at the bookstore for the next three weeks - full time.

"I want you under my nose," Mrs. Strong said, "And to see that you eat something."

The fourth week, I set out for the theatrical offices. I took the first job offered. The show was called My Girl Saturday, and I knew that the producer and cast had been arrested several times for lewd entertainment. They'd get short sentences, reams of publicity, then reopen to crowded, if bawdy, audiences.

The ingenue had run off with a broker and had to be replaced immediately, so I was sent over by a small-time agent, along with half a dozen coarse-looking girls. The readings were listened to impatiently by the producer, who was also the male comedy lead in the farce. He was surly and rude as the others tried out. "Get lost, babe," he'd snarl in the middle of their efforts. Watching from the wings, I wanted to hit him with something.

Then it was my turn. I took the script from the stage manager. I knew from listening to the others that I'd get the part. It just called for someone to look innocent and to feed his double-entendre jokes. I was a good straight man, if nothing else.

I began. Two "sides" later he asked, "What's your name?"

"Nora Marten."

"You got the job. Stay. We'll rehearse. You open day after tomorrow. Forty dollars. Quick study?"

"Yes."

"Well, come on. Let's get goin'."

I played the part for four miserable weeks, ashamed to be in the off-color play, to be around the ugly-tempered producer and the foul-mouthed cast; ashamed, to, in front of the audience - - mostly men in shirtsleeves who laughed raucously at the filthy lines.

There were terrible fights backstage between management and crew. And girls were constantly dropping out for abortions, drunkenness, or elopements.

At the beginning of the engagement the stage manager told me I had a picture in the New York Graphic. Excited, I bought a paper and waited till I was home, a bologna sandwich and a glass of milk in front of me, to read it. There it was - - my picture, all right, a big one, too - - the ones the Martens used in the act. Then I read the caption. "Nora Marten has replaced someone in the cast of My Girl Saturday. Who hasn't?"

I decided not to send my first New York clipping to my family."
Pages 170-171, from Center Door Fancy by Joan Blondell, Delacorte Press 1972.
AMAZON - Center Door Fancy by Joan Bondell
---
Joan Blondell Films:
---
Filmography:
Joan Blondell Television Show appearances
---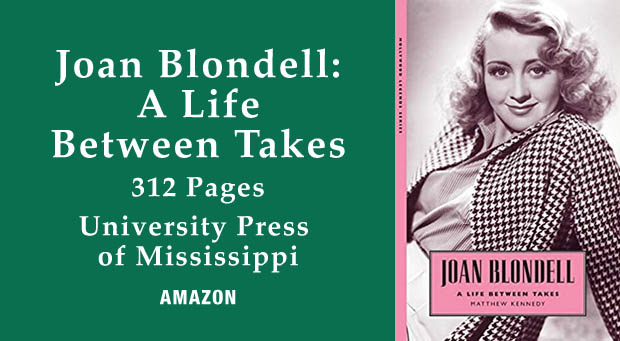 amazon.com: Joan Blondell Bio
A Life Between Takes - AMAZON
By Matthew Kennedy
300 pages: University of Mississippi Press
---
AMAZON: Boris Karloff: A Gentleman's Life - 356 Page Biography
---
---
What's Recent
---
---
---
Original page Dec 27, 2009 | Updated October 31, 2022