The Mummy - 1932
The Mummy - Released Dec 22, 1932. Directed by Karl Freund
Remade endlessly since 1932, The Mummy is the story of the vengeful Egyptian priest Imhotep who is condemned and put under wraps "forever" because of his undying love for Ankh-es-en-amon, the young woman that his infatuation pursues across centuries and puts him in conflict with both the ancient Egyptian gods and the ancient (and modern) Egyptian authorities.
Whereas Frankenstein was a monster film about science gone wrong, and Dracula about appetites with a vaguely demonic origin (and a vaguely Christian solution), The Mummy is an occultic tour of Hollywood's idea of what ancient Egyptian supernatural power was like without nary a mention of Hollywood's other Egyptian interest, Moses and the slaves (and the God of the slaves. Though the 1999 remake of The Mummy with Brandon Fraser does veer into this area briefly). In this original 1932 version, though, this problem with a rampaging mummy is specifically an Egyptian problem that manages not to include Egypt's dominant religion, Islam. It does show off a lot of highlly stylized and very well-done Hollywood production design.
---
---
Karloff is only wrapped up in the iconic bandages for a small portion of the movie, afterward Boris takes to the kind of well-dressed, delicate, carefully spoken and genteel aggression that he specialized in for so many other films. Zita Johann is Helen Grosvenor, daughter of an English diplomat who has the unwelcome chore of channeling the reincarnation of Ankh-es-en-amon and is consequently under Imhotep's (who in 1932 Egypt is going by the name Ardath Bey) obsessive gaze.
Edward Van Sloan is Van Helsing again (actually named Doctor Muller here) who knows the secrets of why Ardath Bey is hanging around the Cairo museum, lovingly peering down at the coffin of Ankh-es-en-amon. As the proper Englishmen (David Manners and Arthur Byron) jest and scoff at the reason there are bodies piling up (a mummy is on the loose), it will be the patient Van Sloan who pulls everyone's fat out of the fire, well, that and a suddenly weaponized ancient Egyptian idol.
Jack Pierce's makeup for Karloff is first-rate and has been imitated ever since. Director Freund continues the gothic mode of the original Universal monster movies and this too has been much imitated, especially in the vast list of Universal Mummy sequels. Not until Hammer's Chris Lee/Peter Cushing reboot in 1959 did the style of Freund's The Mummy get updated to a quicker, sleeker and more aggressive version, though one that lost all of Ardath Bey's subtle menace.
---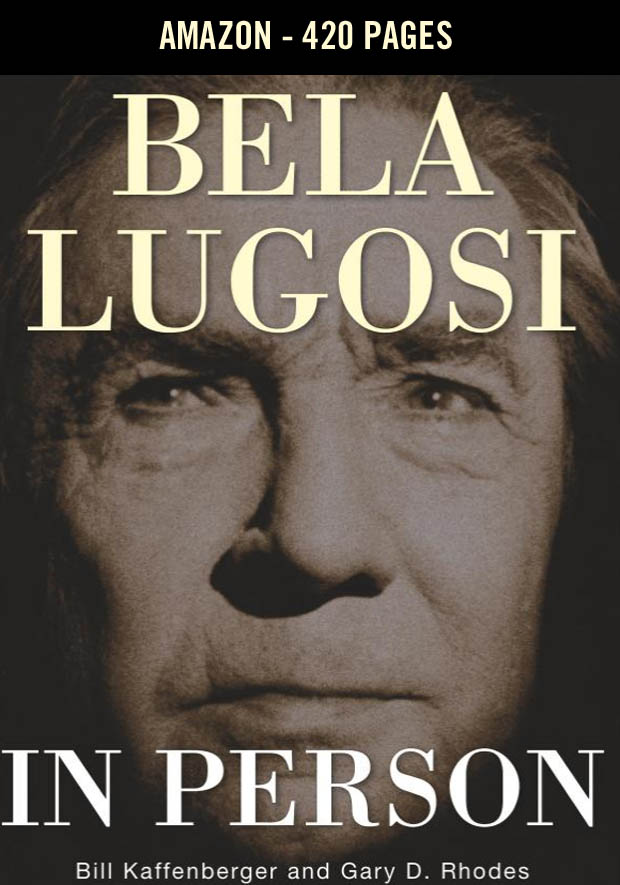 Amazon - Bela Lugosi in Person - 420 pages
Amazon - No Traveler Returns: The Lost Years of Bela Lugosi - 346 Pages
Amazon - Bela Lugosi and Boris Karloff: The Expanded Story of a Haunting Collaboration, with a Complete Filmography of Their Films Together - 701 Pages
---
Frankenstein Created Woman - 1967
Frankenstein meets the Wolfman - 1943
---
---
What's Recent
---
---
---
Original Page Jan 2018 | Updated APril 4, 2021