The Bachelor and the Bobby-Soxer 1947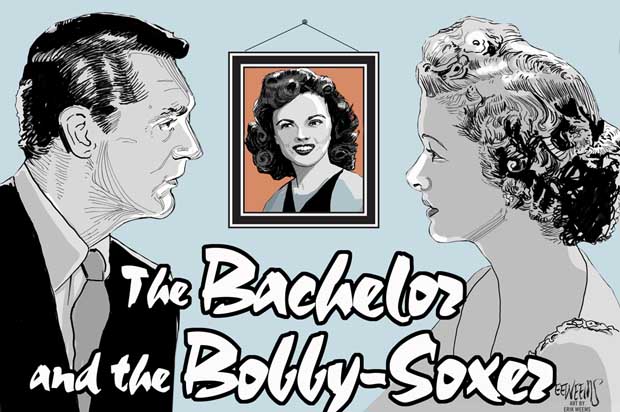 The Bachelor and the Bobby-Soxer - 1947
Cary Grant is an artist who gives a speech at a local high school, only to have Shirley Temple (as one of the students) decide she's old enough to pursue him romantically, which shortly lands Cary involuntarily into a hot legal mess and struggling to find a way into the good graces of the judge (played by Myrna Loy) who happens to also be Shirley's aunt.
This film is mildly related to the 1937 film Double Wedding which had a similar problem for the leads (in that case it was William Powell and Loy). However, Grant is not Powell. Cary has a similar set of ace comedic skills of the self-deprecating kind (which is like Powell), but Cary has a great deal more swagger and doesn't bother with Powell's focus on early 20th century gentleman manners. Instead, Grant exudes the kind of attitudes that are a harbinger of what the 1950s would feature in cultured (Hollywood) male behavior, the seedbed for what came in the 1960s. To put it more simply, the Powell film of the 30s looked down upon the young girls infatuation as irrational (i.e., funny) and unseemly, but the Cary Grant version tells us its irrational (also funny) and illegal.
Shirley Temple as the hormone-addled teenager gives a good performance. Myrna Loy is essentially playing the same character she handled in Double Wedding and does it with the usual comedic aplomb and her trademark humor featuring narrowing eyebrows.
Streaming HD – The Bachelor and the Bobby Soxer - Amazon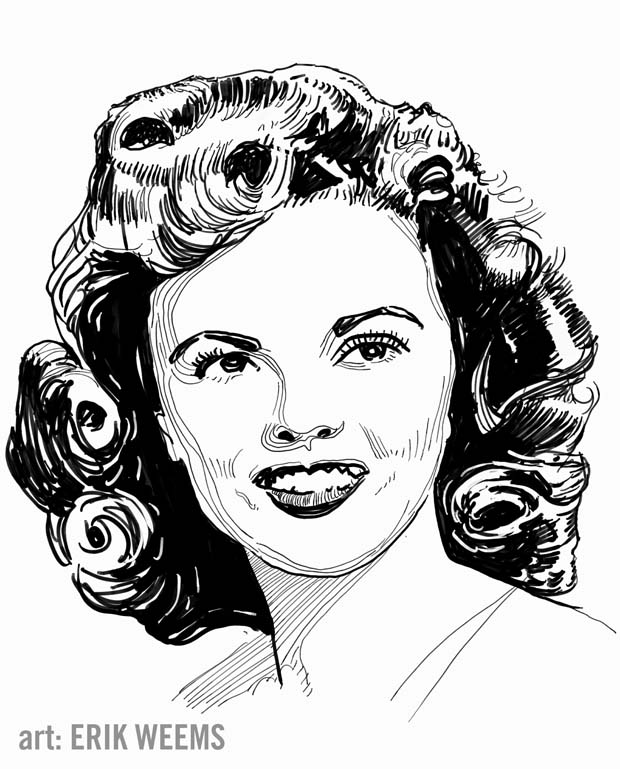 ---
Original page October 2018. Updated March 2020.
---
Myrna Loy: The Only Good Girl in Hollywood
424 Pages

"From the beginning, Myrna Loy's screen image conjured mystery, a sense of something withheld. "Who is she?" was a question posed in the first fan magazine article published about her in 1925. This first ever biography of the wry and sophisticated actress best known for her role as Nora Charles, wife to dapper detective William Powell in The Thin Man, offers an unprecedented picture of her life and an extraordinary movie career that spanned six decades. Opening with Loy's rough-and-tumble upbringing in Montana, the book takes us to Los Angeles in the 1920s, where Loy's striking looks caught the eye of Valentino, through the silent and early sound era to her films of the thirties, when Loy became a top box office draw, and to her robust post–World War II career. Throughout, Emily W. Leider illuminates the actress's friendships with luminaries such as Cary Grant, Clark Gable, and Joan Crawford and her collaborations with the likes of John Barrymore, David O. Selznick, Sam Goldwyn, and William Wyler, among many others. This highly engaging biography offers a fascinating slice of studio era history and gives us the first full picture of a very private woman who has often been overlooked despite her tremendous star power."
---
---
Original Page November 2018
---
---
AMAZON: Boris Karloff: A Gentleman's Life - 356 Page Biography
---
---
What's Recent
---
---