The Bachelor and the Bobby-Soxer 1947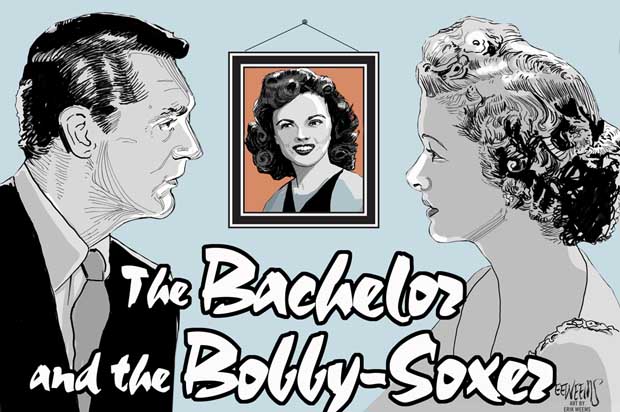 The Bachelor and the Bobby-Soxer - 1947
Cary Grant is an artist who gives a speech at a local high school, only to have Shirley Temple (as one of the students) decide she's old enough to pursue him romantically, which shortly lands Cary involuntarily into a hot legal mess and struggling to find a way into the good graces of the judge (played by Myrna Loy) who happens to also be Shirley's aunt. This film is mildly related to the 1937 film Double Wedding which had a similar problem for the leads (in that case it was William Powell and Loy), but Grant is not Powell. Cary has a similar set of ace comedic skills of the self-deprecating kind (which is like Powell), but Cary has a great deal more swagger and doesn't bother with Powell's focus on early 20th century gentleman manners, instead Grant exudes the kind of attitudes that are a harbinger of what the 1950's would feature in cultured (Hollywood) male behavior. Shirley Temple as the hormone-addled teenager gives a good performance. Myrna Loy is essentially playing the same character she handled in Double Wedding and does it with the usual comedic aplomb.
---
---
---
Original Page November 2018
---
---
AMAZON: Boris Karloff: A Gentleman's Life - 356 Page Biography
---
What's Recent
---
Amazon: Harlow in Hollywood: The Blonde Bombshell in the Glamour Capital, 1928-1937
---

Best. Movie. Year. Ever.
How 1999 Blew Up the Big Screen - Fight Club. The Matrix. Office Space. Election. The Blair Witch Project. The Sixth Sense. Being John Malkovich. Star Wars: The Phantom Menace. American Beauty. The Virgin Suicides. Boys Don't Cry. The Best Man. Three Kings. Magnolia. - 416 pages - AMAZON 2019