John Wayne
1907 - 1979
---
---
JOHN WAYNE
Born Marion Mitchell Morrison. Often called 'Duke Wayne.'
Born May 26, 1907 in Winterset, Iowa - Died on June 11, 1979
Good luck explaining the long popularity of John Wayne in American movies. Besides the longevity of his fame while alive, there's the posthumous fame that still causes box sets of Wayne movies (often his second tier films cobbled together from his early days in Hollywood) to land on the shelves of Wal-Mart and Target stores across America. Not bad considering Wayne's peak years are 5 or 6 decades ago and yet his name is enough to make news headlines still (for example, California government struggles over whether to strip his name from John Wayne Airport in Orange County, and whether to have - or not have - a "John Wayne Day" in 2019, all because of a 1971 interview in which Wayne made remarks highly objected to in the 21st century, and with good reason).
As a political entity, Wayne has become an odd Hollywood touchstone in which many actors are compelled to argue against the man, despite his being dead since 1978, and hardly capable of explaining or defending himself. But taking shots at 'The Duke' is an activity which clearly underlines Wayne's enduring influence.
Wayne's acting style was straight forward and a survey of his movies might make it look like Wayne played the same character, though with an endless variety of names and occupations (often cowboy). This character, moving from one Hollywood production after another, faced the same problems over and over and solved them usually the same way, with fists, guts and guns, with forays into humor and sharp one-liners. As a template for a film action hero, Wayne is inescapable not only in American film, but in international action cinema.
Teamed with director John Ford or Howard Hawks, the "John Wayne character" was featured in some very well done movies (Red River, The Searchers, The Quiet Man, etc), and Wayne's work in these is outstanding. As a bully father-figure (Red River), a racist on an impossible rescue mission (The Searchers) or as a worn out boxer trying to go home (the comedy The Quiet Man), Wayne moves through the center of each movie doing the action and wise-cracking that makes for the expected entertainment, but remarkably his characters barely change at all. This goes against the usual plot line "arc" in which the hero learns something dramatic which "changes everything" by the time the end titles appear.
But with Wayne's work, a slight change in the hero is all you get, because more so he simply conquers the story and plot, along with the rest of the cast, making the cinematic world conform to him as if destiny ordained it. That's the power of stardom in a film, and though many actors have been able to have that power a few times, or more rarely many times, Wayne had that for decade after decade (all told, Wayne has 178 acting credits).
---
---
Films
Sophia Loren and John Wayne - Legend of the Lost 1957
John Wayne and Geraldine Page - Hondo 1953
John Wayne and John Agar - Sands of Iwo Jima 1949
---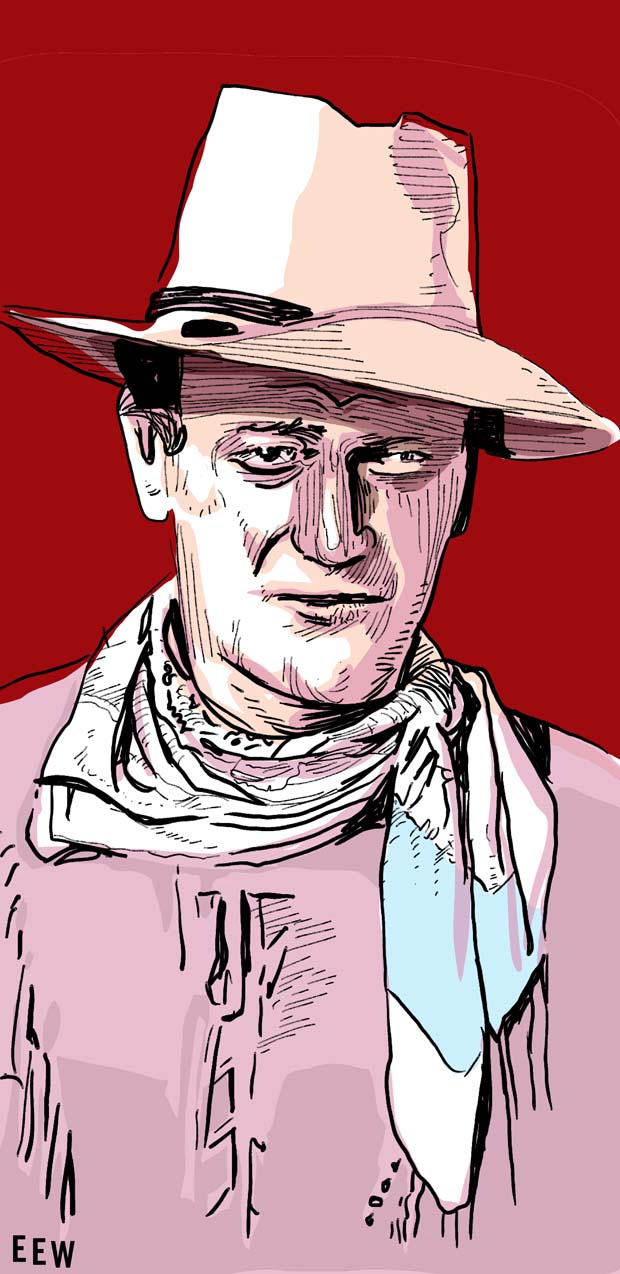 ---
Original Page Aug 21, 2015 | Updated September 2020
---
---
What's Recent
---
---