Fritz Lang
Famous German Innovator of Science Fiction, Noir and Psychological Cinema
Friedrich Christian Anton "Fritz" Lang
December 5, 1890 - August 2, 1976
Born in Vienna, Austria. Died in Beverly Hills, California, USA.
Fritz Lang is the stylistic father of science fiction movies and film noir, his epic Metropolis the template from which hundreds of later movies borrowed or simply imitated. Lang's other early films in both silent and "talkie" categories have had tremendous influences well beyond the films themselves.
Metropolis has the classic sci-fi elements of both a sleek future in which technology and design has created a paradise of anti-septic luxury for humans, but it also shows a dystopian subterranean world where other groups of humans are chained to the machines that keep them laboring in mute, animalistic toil. Their world is barren and brutal, contrasted to the splendor (and vapidness) of the world above.
Metropolis was one of the favorite films of Adolf Hitler (another film favorite of his was the Disney film Snow White). This alone seemed to disturb Lang, and he generally dismissed Metropolis later in life, preferring his Mabuse movies, the second one (Testament of Dr. Mabuse) so clearly anti-Nazi that Lang had to flee Germany in 1933.
1922 - Dr. Mabuse, der Spieler, directed by Fritz Lang. (Dr. Mabuse, the Gambler)
1933 - Das Testament des Dr. Mabuse, directed by Fritz Lang. (The Testament of Dr. Mabuse)
1960 - Die Tausend Augen des Dr. Mabuse, directed by Fritz Lang, produced by Artur Brauner. (The Thousand Eyes of Dr. Mabuse)
Lang had particular liking for his film M from 1931, which was his first sound picture. In the film M, which starred Peter Lorre, a serial child-killer causes both the police and criminals of Berlin to band together to stop him. M is a psychological film in which there is no mystery about the villain, we know who it is immediately. Tension and story is built up around how the killer is stopped (and claims that he wants to be stopped, Lorre's portrayal of the German killer the opposite of an American serial murderer who typically revels in the power of taking life. Lorre's murderer is helpless, pathetic, and full of impotent remorse).
---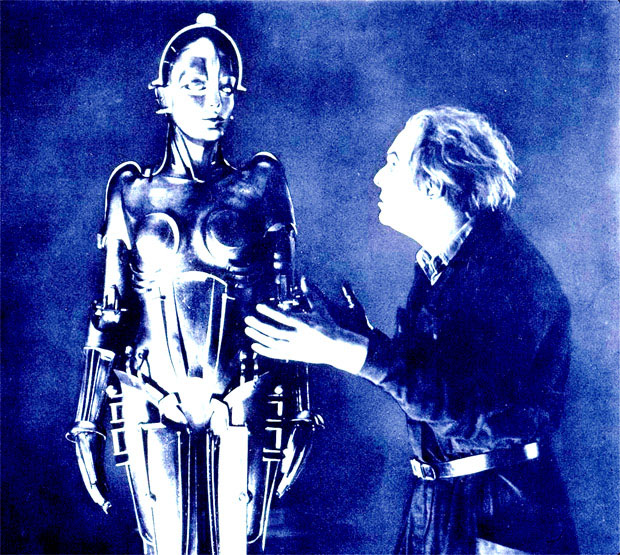 Metropolis - Rotwang the inventor and his creation. Fritz Lang film from 1927, Germany.
---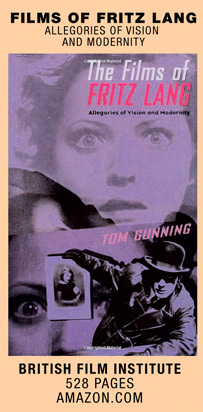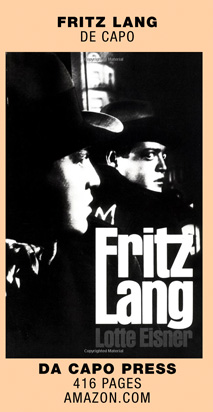 Hate, Murder, and Revenge
Lang said that his films often were specifically about humans fighting against fate, some preordained direction pushing or pulling them toward doom, and his themes are usually rounded out to three: hate, murder, and revenge. He also specialized in criticisms of power, whether political or mob power, as in his film Fury (1936), about lynching and vigilante mob justice. His Dr. Mabuse films probably have the clearest presentation of these ideas, as the actions of an insane criminal confined to an asylum doesn't stand in the way of his ideas penetrating both the criminal world and official institutions, his goal, as described by his doctor (who is completely under the spell of the Madman Mabuse):
"...he knew only a superman could bring order to this rotten world... only his genius could bring stability out of this chaos... his genius... his foresightedness could have brought us true democracy..."

"Mabuse's idea of 'true' democracy begins with his plan for a domination by terror in which actions are to be taken against banks and the national currency so that the monetary system will collapse...
From page 167, Kit Parker film catalog 1979, review of Das Testament Von Dr. Mabuse (aka Crimes of Dr. Mabuse) by G. Dane Wilsonne
"...I made a series about a criminal called Dr. Mabuse – he was a superman; here in America, Al Capone was not a superman. In a totalitarian state, or in a state governed by a dictator, an emperor or a king, this leader himself is, in a way, a superman; he can't do wrong – at least he couldn't in those days. So over there the hero in a motion picture should be a superman, whereas in a democracy he had to be Joe Doe."
From the book Who The Devil Made It, page 185, by Peter Bogdanovich, published by Borzai Book, Alfred Knopf, 1997.
In films like M, Testament of Dr. Mabuse, among others, Lang (along with cameramen Karl Freund, Fritz Arno Wagner, and Karl Vass) developed the stark black and white images and moody, shadowed world that came to inhabit the film noir movies from the 1940s and 50s.

---

---

Original Page Aug 3, 2012 | Updated July 2020

---

---

What's Recent

---

---