The Enigma of Deborah Kerr
Deborah Jane Kerr-Trimmer
Born September 30, 1921 in Helensburgh, Scotland
Died October 16, 2007 in Suffolk, England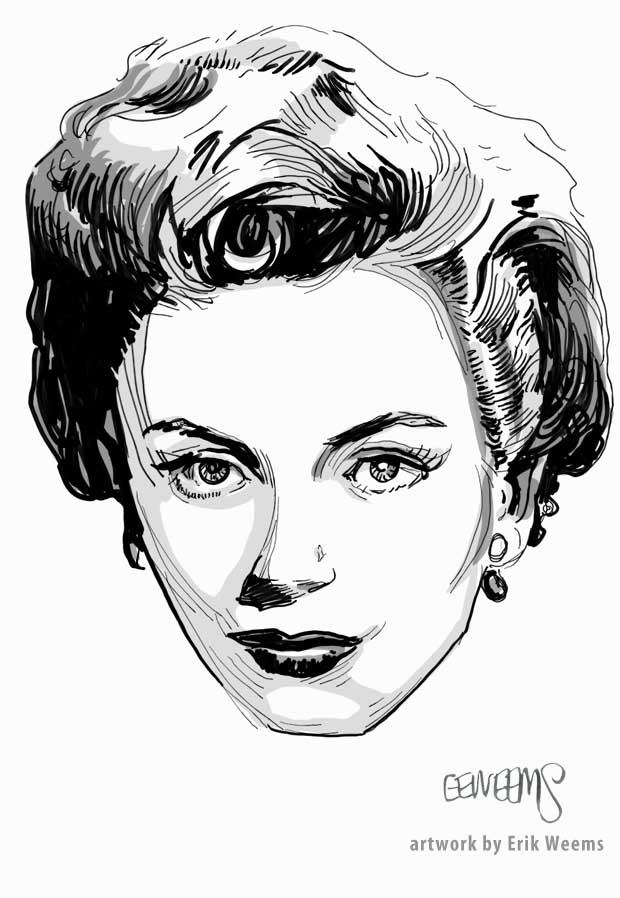 ---
May 2011: There is a new 3,000 word essay about the career of Deborah Kerr at Bright Lights Film Journal. The article is by Penelope Andrew and is a shorter version of an 8,000 word piece by that author.
---
Career of Deborah Kerr 1921 - 2007
The actress, best known for films like From Here To Eternity and The King and I, passed away in 2007 at the age of 86. She had six Oscar nominations over the years, and received an honorary Oscar in 1993. She was awarded a CBE: "Commanders Badge Order of the British Empire" in 1998.
Academy Award Nominations:
1949 - Edward, My Son
1953 - From Here to Eternity
1956 - The King and I
1957 - Heaven Knows, Mr. Allison
1958 - Separate Tables
1960 - The Sundowners
1994 - Lifetime Achievement Award - Honorary Oscar
New York Film Critics Awards:
1947 - Black Narcisus
1957 - Heaven Knows Mr. Allison
1960 - The Sundowners
Golden Globe Award:
1956 - The King And I
[nominated 1949 - Edward, My Son]
[nominated 1957 - Heaven Knows, Mr. Allison]
[nominated 1958 - Separate Tables]
BAFTA - British Academy of Film and Television Arts:
1991 - Fellowship Award
[1955 -nominated for The End of the Affair]
[1956 - nominated for Tea and Sympathy]
[1961 - nominated for The Sundowners]
[1964 - nominated for The Chalk Garden]
Deborah Kerr (pronounced "car") was married to Anthony Bartley (1945-1959) and then writer Peter Viertel (1960-2007).
Television Production credits for Deborah Kerr:
1973 - A Song at Twilight
1982 - Witness for the Prosecution
1983 - A Woman of Substance
1985 - Reunion at Fairborough
1986 - Hold the Dream
One of her personal quotes about Hollywood as reported on the IMDB page for Kerr:
"All the most successful people these seem to be neurotic. Perhaps we should stop being sorry for them and start being sorry for me - for being so confounded normal."
---
DEBORAH KERR OBITUARY NOTICES
Roger Ebert at the Chicago Sun-Times here:
"Deborah Kerr, the flame-tressed beauty who was one of the most luminous stars of her time, has died at age 86. A victim of Parkinson's disease, she died Tuesday in Suffolk, England, where she had moved from her longtime home in Switzerland to be near her daughters and grandchildren.

...Originally trained as a dancer with the Sadler's Wells company, she began appearing in British films in 1940, and caught the eye of Michael Powell, the leading British director of the time, who said in his autobiography that he was always in love with her. In his great film "The Life and Death of Colonel Blimp" (1943), she appears three times in three different characters in the life of the colonel, who ages from a hero into a figure of fun for younger officers."
San Francisco Chronicle article by Mick LaSalle here:
"... She was vulnerable without being weak, sensual without being lewd and beautiful without being anyone's toy.

Just in her bearing, in her manner, she made the case for personal decorum as a form of giving - as a caring act of openness to another person's feelings. Kerr had a sincere intensity of focus that could not be faked, and it made her one of the screen's great listeners. When we think of Yul Brynner in "The King and I," for example, we think of him as seen through Kerr's eyes.

She will be most remembered for "From Here to Eternity" (1953), for that single scene - or perhaps that single production still - of her kissing Burt Lancaster on a Hawaiian beach as the waves roll over them. What is it about that image that still has meaning 54 years later? Movie magic is hard to dissect, and often not worth dissecting, but one point is worth noting: She's on top. And while the prettiness of the moment might in fact come from Lancaster - he never looked better in his life - the power of the moment comes from Kerr."
Ben Hoyle at the UK Times Online here:
"She was "an artist of impeccable grace and beauty, a dedicated actress whose motion picture career has always stood for perfection, discipline and elegance", according to the citation for the honorary Academy Award that she won in 1994.

She died on Tuesday in Suffolk, her agent said. "Her family was with her at the time. She had suffered from Parkinson's disease for some time and had just had her 86th birthday. She just slipped away."

Francesca Schrapnel, Kerr's daughter, added: "Although she had many great roles over the years, she didn't necessarily have a favourite herself."
Peer Bradshaw at the Sydney Morning Herald here:
"Her death is another broken link with Hollywood's golden age - an age that appreciated the elegance and style of British performers who could modify their stage training for a relaxed intimacy with the camera. She was the joint holder of the record for the most unrewarded best actress Oscar nominations: six.

There was, incidentally, never any uncertainty in the US about how her surname should be pronounced. The 1940s MGM campaign slogan was: "Deborah Kerr. It rhymes with star."

Her long career showed her to be capable of sensuality, but perhaps more prominently, intelligence and refinement of feeling, a beautifully calibrated responsiveness to the emotions being generated everywhere in the movie of which she was a part. But passion always bubbled under the cool exterior."
The Sydney Morning Herald also has an eight image photo gallery of Kerr here.
New York Times article [here] by Douglas Martin:
"Louis B. Mayer, boss of Metro-Goldwyn-Mayer, famously decreed that Miss Kerr's last name rhymed with star, and she more than lived up to the billing with big roles in memorable pictures like "The King and I" (1956), "An Affair to Remember" (1957) and "The Sundowners" (1960).

In more than four decades as a major Hollywood actor, Miss Kerr, who had red-gold hair and blue-green eyes, was nominated for six Academy Awards without winning. In 1994 she received an honorary Oscar for her lifetime of work. The citation called her an "artist of impeccable grace and beauty."

Her influence persisted after she retired from big-screen movies in 1969 and moved to Switzerland and Spain, appearing only in occasional stage and television roles.... "
The NY Times has a nine-image slide show that can be viewed online here.
---
The Enigma of Deborah Kerr
Deborah Kerr was a versatile performer who did not fit the mold of the typical Hollywood actress in the era she came to prominence. Whether as the blunt, aggressive (and damaged) Karen Holmes in From Here to Eternity (1953), or the mousy, repressed Sibyl from Separate Tables (1959), her acting ability impressed upon me the idea she was like the role she portrayed, but these two roles are as radically different as one might get in mid-century Hollywood. Sibyl cannot stand up to her dominating mother who is systemically destroying her identity in Separate Tables, and she seems to be physically smaller than everyone else on the screen. Yet, in From Here to Eternity, she goes toe-to-toe with (the very tall!) Burt Lancaster's leering, conflicted Army sergeant, she's as dangerous and as edgy as he is, ready for violence or any chance for a short, sharp retort.
As wide a variance as that is, she seemed to play most every spot inbetween for Hollywood films. For example, the Robert Mitchum starring Heaven Knows, Mr. Allison, in which he is an infatuated marine and she a nun, both trapped on a Japanese held island in the Pacific during World War II. Well, of course he is infatuated, this is Deborah Kerr, after all, but because this is Deborah Kerr, his infatuation has exactly no place to go (except, I guess, to eliminating the Japanese soldiers on the island, one by one). This is the same Kerr who made Yul Brynner's King of Siam yield more than a few times to Kerr's rigid, form-before-everything English school teacher in The King and I.
Supposedly she quit Hollywood because she felt filmland's product had become too violent and sexually explicit. This would be in the late 1960s, her last film there The Arrangement (1969) something which I have not seen, but was savaged by film critics.
Perhaps it was also just a good time to get out of a business that was changing so quickly, and was providing less and less character-driven work for multi-faceted artists like her. She then moved on to Broadway for the role of Nancy in Edward Albee's Pulitzer-winning play called Seascape.
Kerr did appear in a handful of 1980s TV-movie productions (IMDB career profile here) which appear to be primarily British pieces.
I particularly liked Kerr in the before-mentioned Tables and Eternity, but also in the genial adventure King Solomon's Mines (1950), a classic Hollywood blockbuster event movie with Stewart Granger. She starts off the tale as the prim-and-proper Victorian stereotype she has often been labeled within general Hollywood history, but in the course of the film she cuts her hair, has her wardrobe torn to ribbons, and has to fight her way to the goal alongside Granger's character Allan Quatermain. It's a fun, beautifully filmed action yarn made all the more interesting because it captures Kerr in Technicolor, red flaming Scots hair and all.
---
Books on Deborah Kerr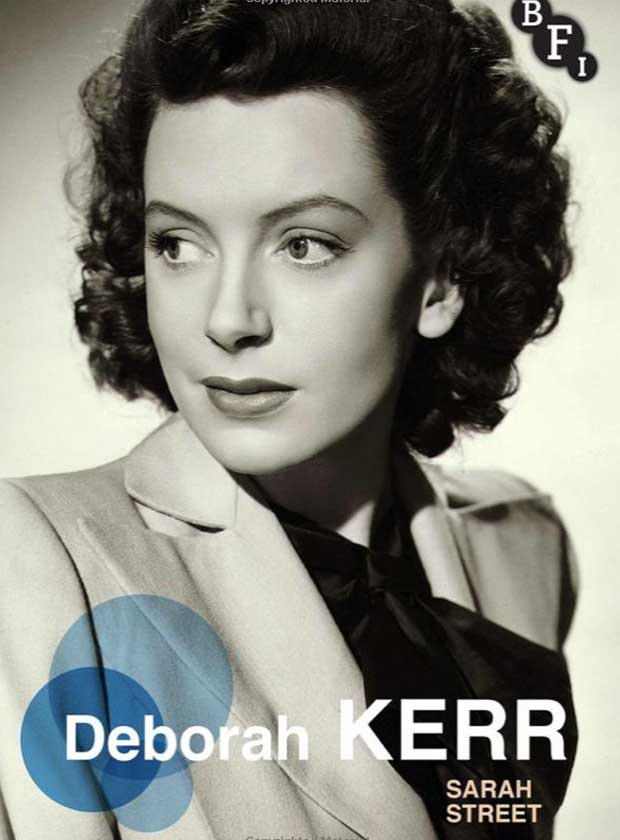 British Film Institute 2018 Series Deborah Kerr 150 Pages
---
September 2010: A new 224 page biography from Michelangelo Capua on Deborah Kerr. Available from amazon.com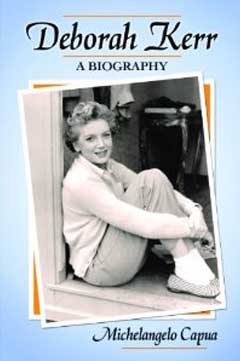 ---
There was a 1978 biography book written about Kerr by Eric Braun. I have not seen this book myself. Used copies at amazon.com start at almost $40.00.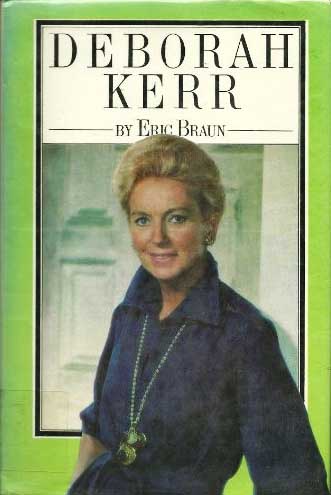 ---
Links
Wikipedia biography page here.
Extensive Answers.com bio page
Filmreference.com has a nice, long set of facts and a short (praising) opinion piece
---
Original Page October 2007, updated May 2011 | Oct 2018
---
---
What's Recent
---
---