Elsa Lanchester
Elsa Sullivan Lanchester - Born Oct 2, 1928, Died Dec 26, 1986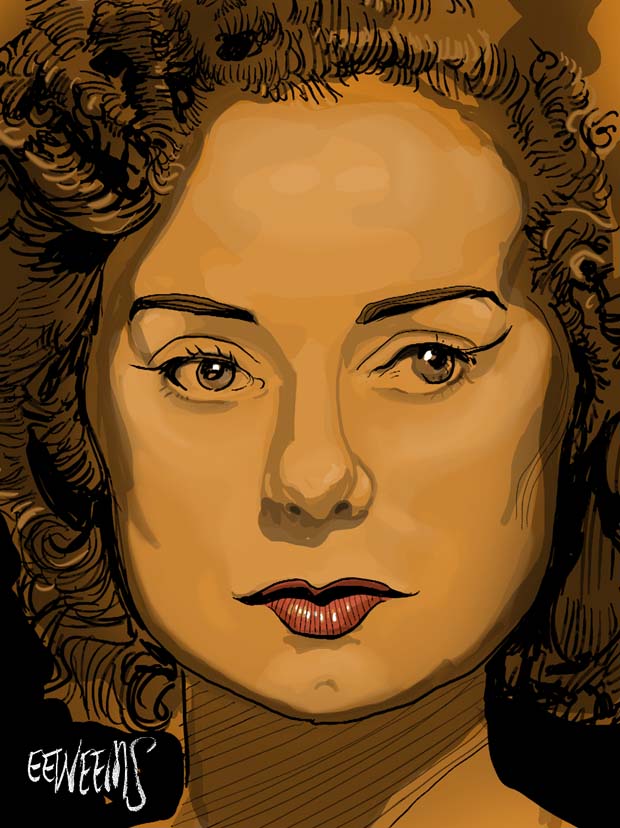 FrankenElsa
Bride of Frankenstein - Released April 19, 1935. Directed by James Whale
Elsa Lanchester, with the famous stack of black hair with lightning bolts on either side, is said in the film histories to be designed by Universal Studios craftsmen in a visual arrangment derived from ancient Egyptian imagery of Queen Nefertiti. Though only given minimal screentime, Lanchester's character of 'the Bride' is given a buildup more or less all through the film, which ironically is what is happening to the character as the plot progresses: she's literally being built.
When she's finally unwrapped (at first, before her face is revealed, she looks like she'd be more suitable as a bride for Karloff's The Mummy than for Karloff's Frankenstein monster) it is still a startlingly bizarre vision that either heightens the fright factor of this seven-decade old movie, or if one is less inclined toward scares of circa 1935, and instead is tuning into director Whale's broad sense of humor, Elsa makes that fit, too, as her character audibly sounds like a hissing cat, and moves like a twitching carrion bird, except when she is reaching for Colin Clive (then she seems quite human). Whale's humor can be direct in his films (usually through caricature), but in this case Elsa is simply abnormal and beyond a reference to anything except what the character is: a woman built on demand by two scientists who have botched the job. It is Karloff's monster that gives the judgement on the entire effort "we belong dead."
---
Beachcomber, 1938
The Beachcomber - Released December 25, 1938. Directed by Erich Pommer
Elsa Lanchester provides a harsh (at first) portrait of an evangelical busybody (Martha Jones) that is "taking all the fun out of life" (according to Charles Laughton as 'Ginger Ted') but as the tale progresses on this Pacific isle we get a different wrinkle or two: she's actually trying to save the world from the fate she saw in her family background. That's a melodramatic blip in the story but it explains a lot, and though the comedy rules most of the motion picture story, when we finally get a little peek into "Ginger Teds" background, and then the whole 92 wrestlling match between the two personalities makes perfect, funny sense.
---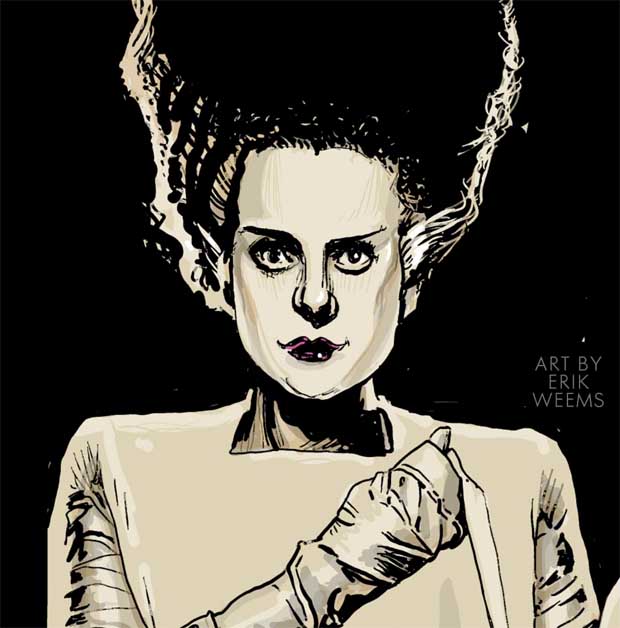 More Bride of Frankenstein 1935
---
Elsa Lanchester, Herself - Hardcover: 327 pages Publisher: St Martins Pr; 1st edition (March 1983) amazon.com
---
Original Page July 9, 2015
---
---
What's Recent
---
---