Archive 513
---
Gone with the Wind tops Amazon's sales charts after publicity about the film getting pulled from lineup from HBO Max streaming service
June 9, 2020
Fears that old films will start "being erased" may cause a gold rush on controversial movies. I guess the news about the HBO move prompted anyone who had wanted to buy their own physical copy of the film to move fast and do it with a concern the option may no longer be available in the future.
HBO says they plan to add some new material to explain the objectional content, perhaps as a leader into the film, so this would indicate the "erasing" of GWTW isn't really the goal.
A bit of irony is that Gone with the Wind features Hattie MacDaniel who won the first Academy Award for an African-American for her role in the film. Olivia de Havilland, who starred in the film (as Melanie), is still alive at the age of 106.
Story at Variety
---
---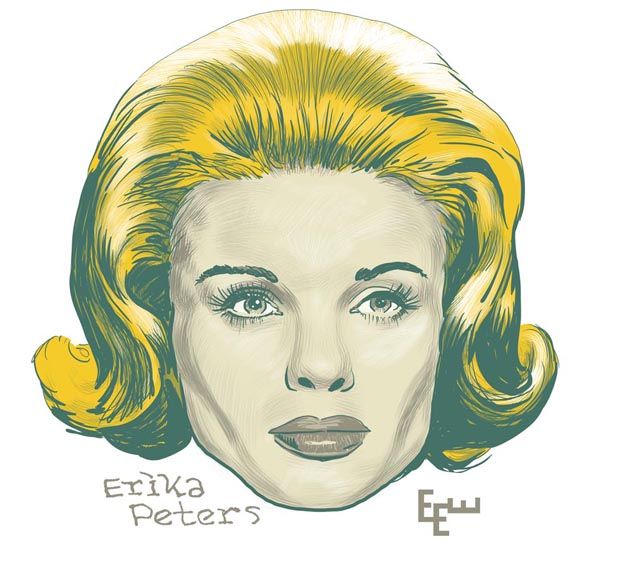 Erika Peters - Born 1935
More Erika Peters
---
Shout Factory is re-releasing their Vincent Price Collection Volume I set in September
This was a Bluray 6-film set which was pulled suddenly during the original issue in 2013 (copyright issues) and since then unopened and used copies of the set have been selling on eBay (and elsewhere) for $300, $400, and more (though since the announcement of this reissue, prices have dropped).
Shout Factory page on the Vincent Price Collection Volume I re-issue
Set includes these films:
The Pit and the Pendulum, 1961
The Abdominable Dr. Phibes, 1971
The Masque of Red Death, 1964 (original theotrical version, and an extended version)
The Haunted Palace, 1963
The Fall of the House of Usher, 1960
Witchfinder General, 1968
---
Jean Harlow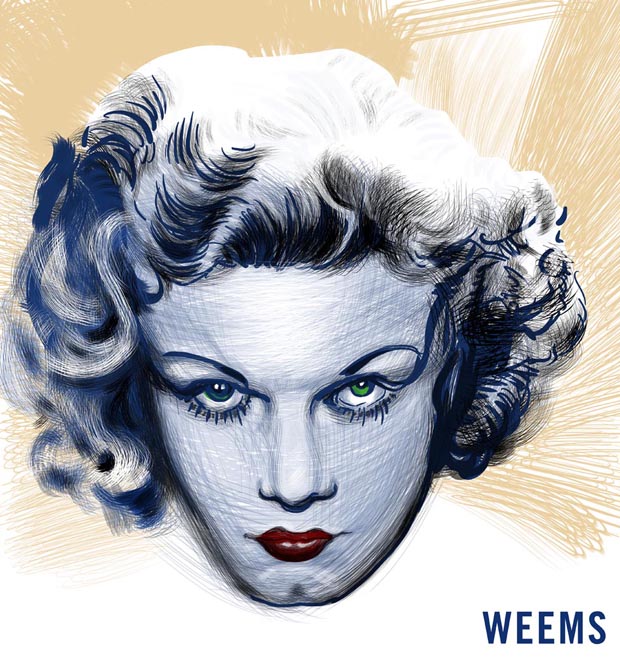 ---
---
Hazel Court
---
New Yorker: "Classic movies to watch with your kids"
The writer (Richard Brody) describes a series of movies watched with young children. He spends time making judgements about what's on screen (such that a viewing of a single film require two evenings to explain negatives about past stereotypes, for example). That films should be watched with explanations is probably part and parcel of a healthy family life, and is the obvious duty of a parent extolling their beliefs. On the other hand it sounds like it turns films into teaching tools on current accepted contemporary mores (well, New Yorker style contemporary mores), but I guess that's unavoidable within the context.
Some of the films:
Modern Times : "...we talked with our daughters about strikes and their breakers, about the desperate poverty of the Depression years."
I wouldn't go to Chaplin for depression-era teaching. I'd go to Our Gang shorts. But Modern Times is a fantastic film and it transcends American culture of that or any era: I saw it playing a theatre in Greece. Poverty and desperation (and comedy) is trans-continental.
Some Like It Hot: "...Monroe... stars as a member of the all-women's jazz band that Jack Lemmon and Tony Curtis join, in drag, as male musicians fleeing Mafia hit men, was a multilayered delight..."
I think Marilyn Monroe parses easily for kids since her make-up, dresses and presentation in a film is often quite cartoonish, the natural purview of children. Actually, I'd go further, for a lot of young people, some Marilyn Monroe films probably operate in a way unknown even to the people who wrote and directed them, such is the power Monroe has to be in a film and outside of it (or beyond it) simultaneously, something only a limited number of actors have possessed since George Melies got things rolling.
Billy Wilder is a film genius, but I'm probably one of the few classic-film era fans who has objections to Some Like It Hot. Wilder, either out of deliberate decision or maybe out of just not knowing what to do with Monroe, seems to often frame her as almost an animal in this movie, not a character, the camera treating her in ways it simply doesn't treat the other characters (who are otherwise just as gigantically cartoonish as she is). I thought this film was hilarious when I was a teenager, but as I've gotten older and older, the film gets harder to watch.
Tony Curtis aping Cary Grant is quite funny.
Some of the other films in the New Yorker article:
The Last Laugh
The Chaser (Harry Langdon)
Marnie
Monkey Business
Dragonwyck
Singin' in the Rain
Playtime
The Gang's All Here
Goodbye Charlie
The Pajama Game
---
The new HBO Max streaming service has a long list of classic Warner films, along with a big chunk of Criterion-catalog films. See the quite-long list of English language classic and foreign-classic movies at The Verge
---

---

---
Starring Miss Barbara Stanwyck [Illustrated with 310 Photographs] - amazon.com
---
Sophia Loren: A Life in Pictures - 192 Pages - Amazon.com
---
---
What's Recent
---
---
---
Original Page Dec 2018 | Updated Nov 2019