Universal Anniversary Box Set of 25 Movies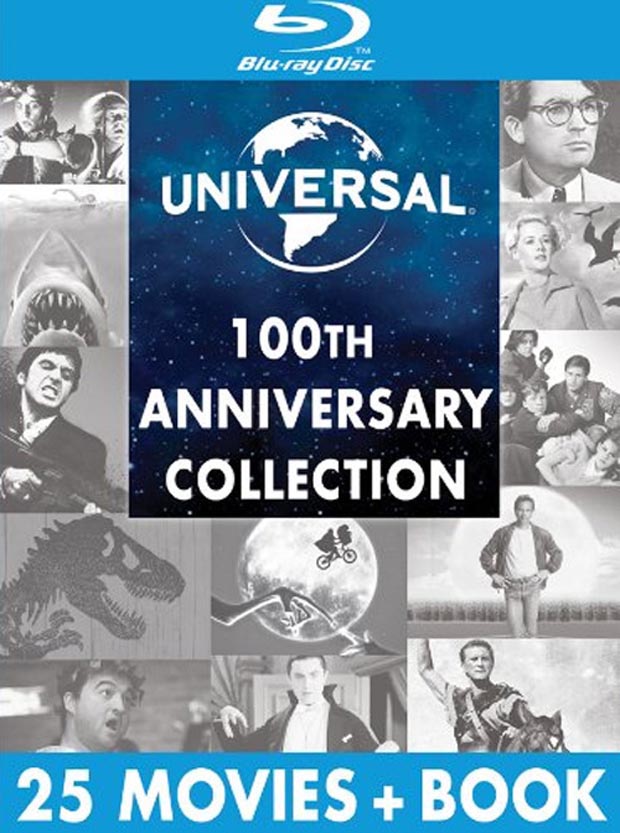 Box set contains books on Universal's History and these remastered movies on Blu-ray disks:
All Quiet on the Western Front (1930)
Dracula (1931)
Dracula Spanish (1931) (Blu-ray Collection only)
Buck Privates (1941)
Pillow Talk (1959)
Spartacus (1960)
To Kill a Mockingbird (1962)
The Birds (1963)
American Graffiti (1973)
The Sting (1973)
Jaws (1975)
National Lampoon's Animal House (1978)
E.T. The Extra-Terrestrial (1982)
Scarface (1983)
The Breakfast Club (1985)
Back to the Future (1985)
Out of Africa (1985)
Field of Dreams (1989)
Do the Right Thing (1989)
Jurassic Park (1993)
Schindler's List (1993) (DVD Collection only)
Apollo 13 (1995)
The Fast and the Furious (2001)
The Bourne Identity (2002)
Mamma Mia! The Movie (2008)
Despicable Me (2010)
Amazon wants to sell you a set of these Universal disks online here. It is a not a cheap set!
Here's the Official You Tube video:
---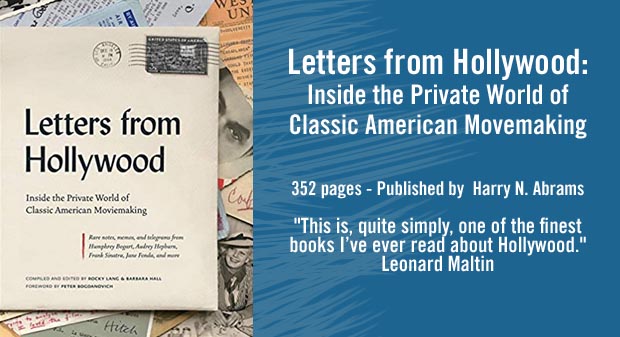 Letters from Hollywood: Inside the Private World of Classic American Movemaking
352 pages - Published by Harry N. Abrams
"This is, quite simply, one of the finest books I've ever read about Hollywood." Leonard Maltin
Reproduces in full color scores of entertaining and insightful pieces of correspondence from some of the most notable and talented film industry names of all time—from the silent era to the golden age, and up through the pre-email days of the 1970s. Annotated by the authors to provide backstories and further context. Greta Garbo, Alfred Hitchcock, Humphrey Bogart, Frank Sinatra, Katharine Hepburn, Marlon Brando, Elia Kazan, Cary Grant, Francis Ford Coppola, Tom Hanks, and Jane Fonda.
Letters from Hollywood: Inside the Private World of Classic American Movemaking
---
What's Recent
---