Trapeze, 1956
Acrobats in love under the big top
Gina Lollobrigida and Tony Curtis, 1956
From the film Trapeze (Trapezio in Europe) directed by Carol Reed. Starred Burt Lancaster, Tony Curtis and Gina Lollobrigida
A true "high-wire" act
Trapeze is a well-done "under the big top" tale about circus life. Lancaster is on hand as an older, veteran trapeze artist (Mike Ribble) with an injury that has sidelined him, so he trains hungry newcomer Tino Orsini (Tony Curtis) who has to prove he is worthy to learn the master's skills. Lola (Gina Lollobrigida) is the talented 'tumbler' who comes between the two men in a love triangle that threatens to destroy the respect and friendship between Lancaster and Curtis' characters.
Lancaster is in familiar territory here as he had actual circus experience before his Hollywood career (skills that went on display in various other films, too, particularly the 1952 The Crimson Pirate which featured a great many of his acrobatic stunts).
Lollobrigida is the alternatively scheming and then loyal acrobat who has been trying to claw her way out of the sideshows. At first she is willing to manipulate and use Curtis (something she cannot accomplish with Lancaster who recognizes her ambition). Curtis is occupied with learning how to do the dreaded triple somersault, the very trick that crippled Lancaster's character. In between, the two men are occupied with watching Lollobrigida.
This is a 1950's movie melodrama with a love story that gets claustrophobic and heavy, more or less in the same way many a 1950s melodrama gets heavy. Director Carol Reed keeps the story moving in all other departments, though, and the atmosphere and details about circus life are fascinating. Not counting the predictable love drama which dulls the story at times, the film is otherwise first-rate throughout.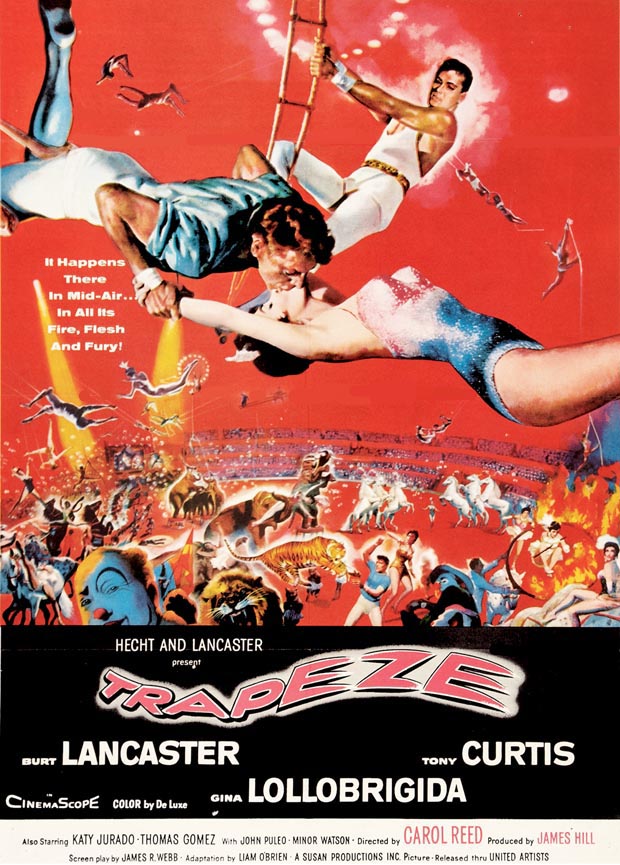 The three leads are handsome and energetic, with Lancaster dominating with his grumpy, I've-seen-it-all circus pro. The young Gina Lollobrigida does more with her part besides playing the beautiful grand prize, for she has goals of her own beyond just capturing one of these men.
The Sweet Smell of Trapeze
Tony Curtis' character here is earnest and dedicated, which is the same thing that can be said about his role as Sidney Falco, the publicity promoter in the next film he made with Lancaster in 1957 (The Sweet Smell of Success), the huge difference being Tino Orsini is an honest man, and Falco is nose-deep in sleaze and lies. Yet both characters are sidemen to Burt Lancaster (J. J. Hunsecker in the later film), and it is interesting that in this way Trapeze and Sweet Smell of Success are opposite sides of, maybe not the same coin, but very similar coins.
Director Reed knows how to stage this film so that it looks gigantic when the performers are in front of a circus audience, but it becomes a smaller, private tale when the three leads are working out who is going to love who, betray who, and forgive who.
Reed's packaging of this movie is half the fun, and Burt Lancaster, Tony Curtis, and Gina Lollobrigida are the other half in this visually pleasing film.
---
Original Page May 2014
---
---
What's Recent
---
---