The Falcon in Hollywood - 1944
Veda Ann Borg and Tom Conway investigate murder on a Hollywood movie set.
---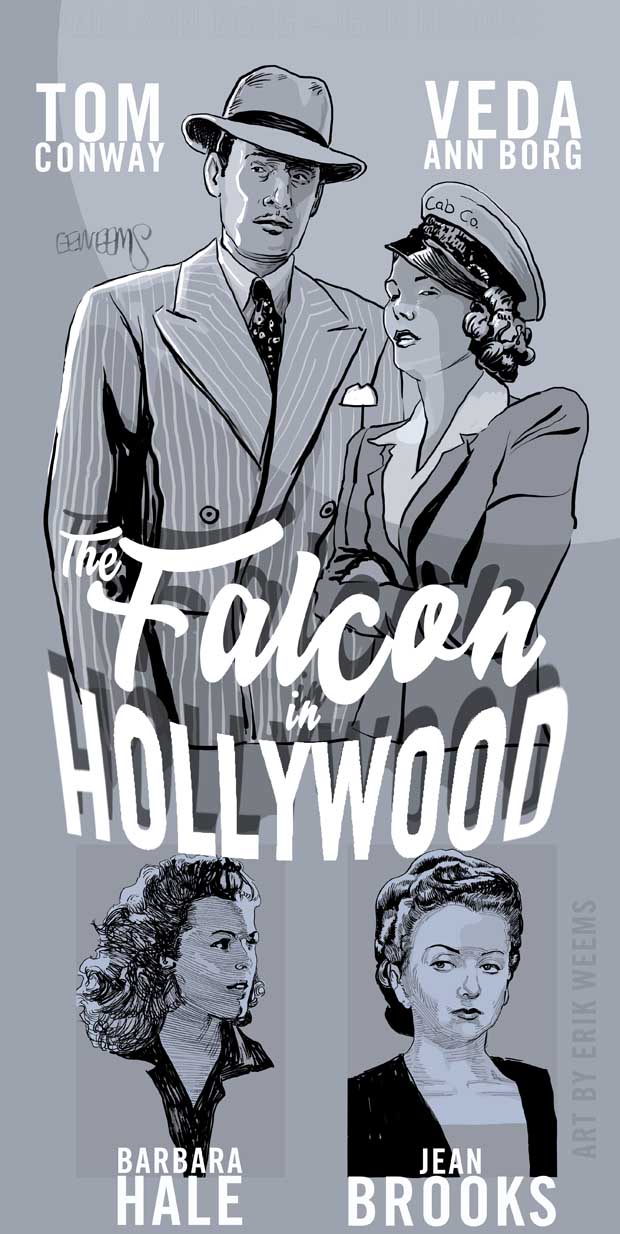 The Falcon in Hollwood - Released December 8, 1944. Directed by Gordon Douglas.
Tom Lawrence (aka "The Falcon," played by Tom Conway) is trying to enjoy a brief vacation in Los Angeles when he gets pulled into a murder case involving a troubled Hollywood film production. Veda Ann Borg is a sometimes Hollywood stunt driver and a full time cab driver (who drives like a stunt driver, much to the consternation of a frightened Falcon) who helps him along the way. Jean Brooks and Barbara Hale appear as helpful Hollywood pros who may or may not be involved in the dead bodies that keep being discovered.
The Falcon series from RKO (16 films in total) was produced from 1941 to 1949. Four of the films starred George Sanders (as Gay Lawrence), and ten featured Tom Conway (as Gay's brother Tom Lawrence). The last three in the series starred John Calvert.
The relaxed tone of the series gives it a unique quality, and there are a number of "inside jokes" which pop up from time to time. For example, George Sanders (the earlier, original "Falcon") makes an uncredited appearance during a sequence in The Falcon in Hollywood as various extras and crew members file into the movie studio where much of this entry in the series takes place. George walks past the camera, making a sidelong glance at the audience and then at his actual brother Tom Conway who is behind him. Conway took over the job as "The Falcon" from Sanders back in 1942 in The Falcon's Brother. Here's how to decode the inside joke: George Sanders and Tom Conway were actual brothers, both originally named "Sanders." They came to Hollywood and then flipped a coin to decide who got to keep the real name and who had to get a pseudonym. This strategy was to prevent confusion with casting directors: Tom lost the coin toss.
---
Original page Nov 2018 | Updated Jan 2019
---
---
What's Recent
---
---