Roger Ebert
June 18, 1942 - April 4, 2013
---
Roger Ebert has died, age 70, from cancer
The only film critic to (yet) win a Pulitzer Prize, Ebert was a movie critic for the Chicago Sun-Times for 46 years, was famous for his TV show with fellow critic Gene Siskel ("Sneak Previews"), and bridged the trend from print film criticism to his own digital mini-kingdom within the online Chicago Sun Times newspaper domain.
The author of many books (mostly collections of his film criticism) Ebert could help a film make it by the weight of his advocacy ("thumbs up"), and could also severely hurt a film's box office by his "thumbs down."
After Siskel died, Ebert continued on with "Ebert & Roeper" which continued with the same rating system that had become a legal trademark.
Ebert was also quite wealthy, having benefited from his early backing of Google, and from being well-connected within the Chicago media world.
From the Chicago Sun-Times online obit:
"Roger Joseph Ebert was born in Urbana on June 18, 1942, the son of Walter and Annabel Ebert. His father was an electrician at the University of Illinois, his mother, a bookkeeper. It was a liberal household" Ebert remembers his parents praying for the success of Harry Truman in the election of 1948. As a child, he published a mimeographed neighborhood newspaper, and a stamp collectors' newspaper in elementary school.

In high school, he was, as he later wrote, "demented in [his] zeal for school activities," joining the swim team, acting in plays, founding the Science Fiction Club, co-hosting Urbana High School's Saturday morning radio program, co-editing the newspaper, being elected senior class president.

He began his professional writing career at 15, as a sportswriter covering the high school beat for the News-Gazette in Champaign-Urbana.

Ebert went on to the University of Illinois, where he published a weekly journal of politics and opinion as a freshman and served as editor of the Daily Illini his senior year. He graduated in 1964, and studied in South Africa on a Rotary Scholarship.

While still in Urbana, he began free-lancing for the Sun-Times and the Chicago Daily News."
---
---
Roger Ebert's Top Films of the Year
1960s
1967: Bonnie and Clyde
1968: The Battle of Algiers
1969: Z
1970s
1970: Five Easy Pieces
1971: The Last Picture Show
1972: The Godfather
1973: Cries and Whispers
1974: Scenes from a Marriage
1975: Nashville
1976: Small Change
1977: 3 Women
1978: An Unmarried Woman
1979: Apocalypse Now
1980s
1980: The Black Stallion
1981: My Dinner with Andre
1982: Sophie's Choice
1983: The Right Stuff
1984: Amadeus
1985: The Color Purple
1986: Platoon
1987: House of Games
1988: Mississippi Burning
1989: Do the Right Thing
1990s
1990: Goodfellas
1991: JFK
1992: Malcolm X
1993: Schindler's List
1994: Hoop Dreams
1995: Leaving Las Vegas
1996: Fargo
1997: Eve's Bayou
1998: Dark City
1999: Being John Malkovich
2000s
2000: Almost Famous
2001: Monster's Ball
2002: Minority Report
2003: Monster
2004: Million Dollar Baby
2005: Crash
2006: Pan's Labyrinth
2007: Juno
2008: Synecdoche, New York
2009: The Hurt Locker
2010: The Social Network
2011: A Separation
2012: Argo
---
Original page April 2013
---
You will see Amazon links on this web site because I am an Amazon affiliate. I earn from qualifying purchases.
---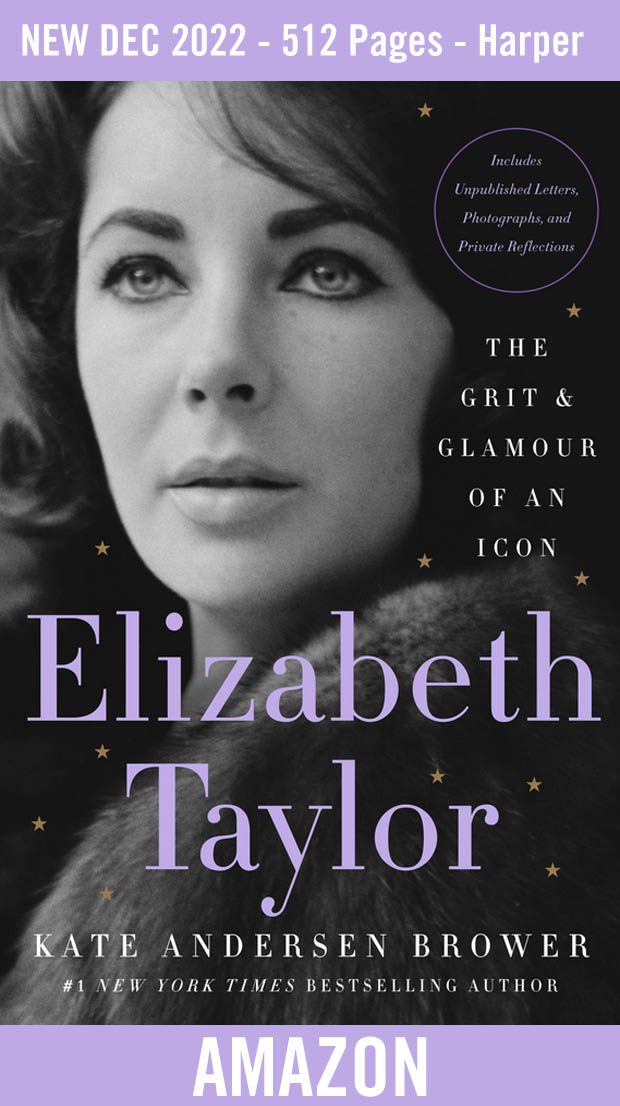 Elizabeth Taylor: The Grit & Glamour of an Icon - 512 Pages
"A dazzling portrait of an incredible woman. Elizabeth's life was more captivating than any film could ever be."— Demi Moore
"Brower's book takes the reader into the private world of the most famous celebrity of the 20th century. Elizabeth's heart, mind, and passion come vividly alive on each page. We see her as a woman who struggled and ultimately survived to rewrite the playbook on celebrity and power. I never wanted it to end!" — Brooke Shields
"Brower is quickly becoming a brand-name Washington writer because of her ability to deliver juicy tidbits and insider information while steering her books toward a mainstream audience without sacrificing historical credibility." — Christian Science Monitor on TEAM OF FIVE
Amazon Link to order Elizabeth Taylor: The Grit & Glamour of an Icon Hardcover
Audio Book version - Elizabeth Taylor: The Grit & Glamour of an Icon
[This is an affiliate Amazon link which may provide a commission earned for this site. If that happens, we'll probably buy an old movie on Blu Ray with the proceeds.]
---
What's Recent
---
---