Pursuit - 1935
Pursuit - Released August 9, 1935. Directed by Edwin Marin.
Professional pilot Mitchell (Chester Morris) is broke and desperate for a flying fee. He reluctantly teams with Child Protection agent Maxine (Sally Eilers) to move a young boy from the United States to Mexico. The mother, caught up in a contentious custody trial, is in danger of losing legal guardianship and is under the watchful eyes of detectives so she can't do the task herself. Everything proceeds to go wrong on the simple airplane trip (the plane doesn't even get off the ground before it's been crashed), and soon Mitchell is driving a fleeing auto with Maxine and the child, trying to outfox pursuers and get to the Mexico border in one piece.
Though paced like a high-speed action-drama, the movie veers frequently into comedy and there is a lot of mugging for the camera between Chester Morris, Henry Travers (an interfering hotelier) and Scotty Beckett (the kid).
What scenes that are given to Sally Eiler shows her providing more than a good match for Chester Morris' frantic efforts at eluding capture and overcoming obstacles.
(Mitchell talking to the kid about the fee he is being paid to drive to Mexico)

Kid: If it was my birthday when we got to Mexico, would you give me just a little of the money?

Mitchell: How much?

Kid: A thousand dollars.

Mitchell: I'll give you a punch in the nose.

Kid: Half-a-thousand?

Mitchell: Eight lollypops.

Kid: Ten dollars and a white dog.

Mitchell: A white dog.

Kid: And nine lollypops.

Mitchell: [long pause] Okay.
The film parodies some of the situations that were in the 1934 Academy Award winner It Happened One Night, and borrows a little bit from Hitchcock's The 39 Steps, too.
---
Original Page August 2016
---
---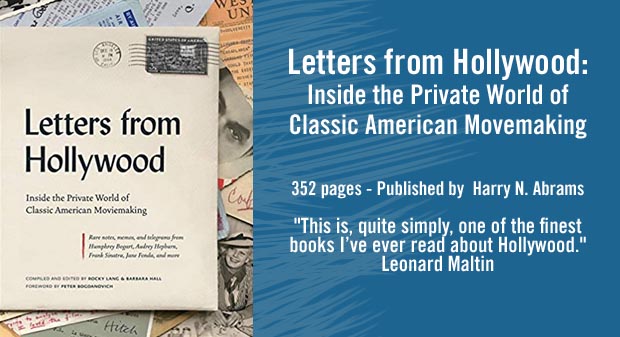 Letters from Hollywood: Inside the Private World of Classic American Movemaking
352 pages - Published by Harry N. Abrams
"This is, quite simply, one of the finest books I've ever read about Hollywood." Leonard Maltin
Reproduces in full color scores of entertaining and insightful pieces of correspondence from some of the most notable and talented film industry names of all time—from the silent era to the golden age, and up through the pre-email days of the 1970s. Annotated by the authors to provide backstories and further context. Greta Garbo, Alfred Hitchcock, Humphrey Bogart, Frank Sinatra, Katharine Hepburn, Marlon Brando, Elia Kazan, Cary Grant, Francis Ford Coppola, Tom Hanks, and Jane Fonda.
Letters from Hollywood: Inside the Private World of Classic American Movemaking
---
What's Recent
---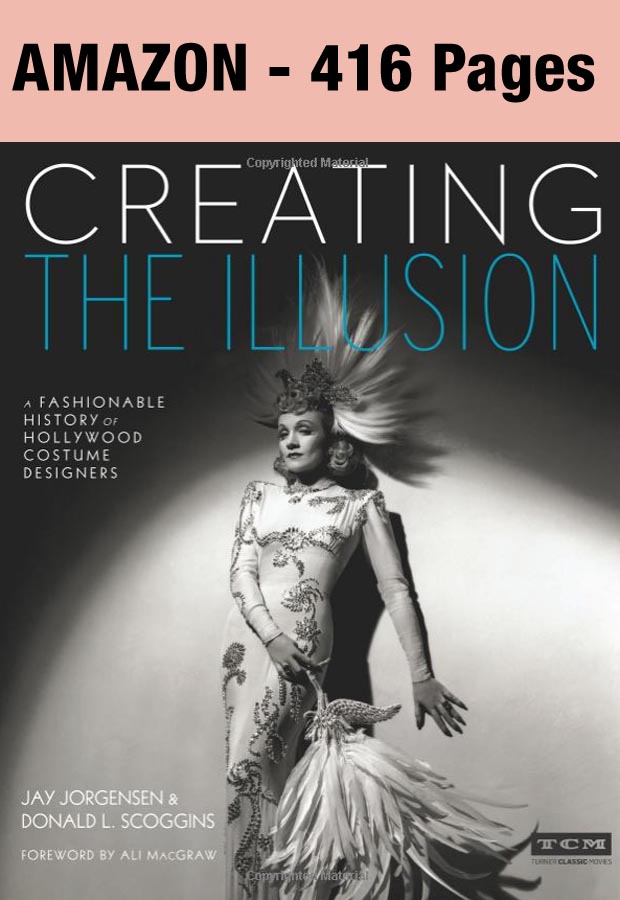 Creating the Illusion: A Fashionable History of Hollywood Costume Designers (Turner Classic Movies) - Amazon
---