Review: Picnic 1955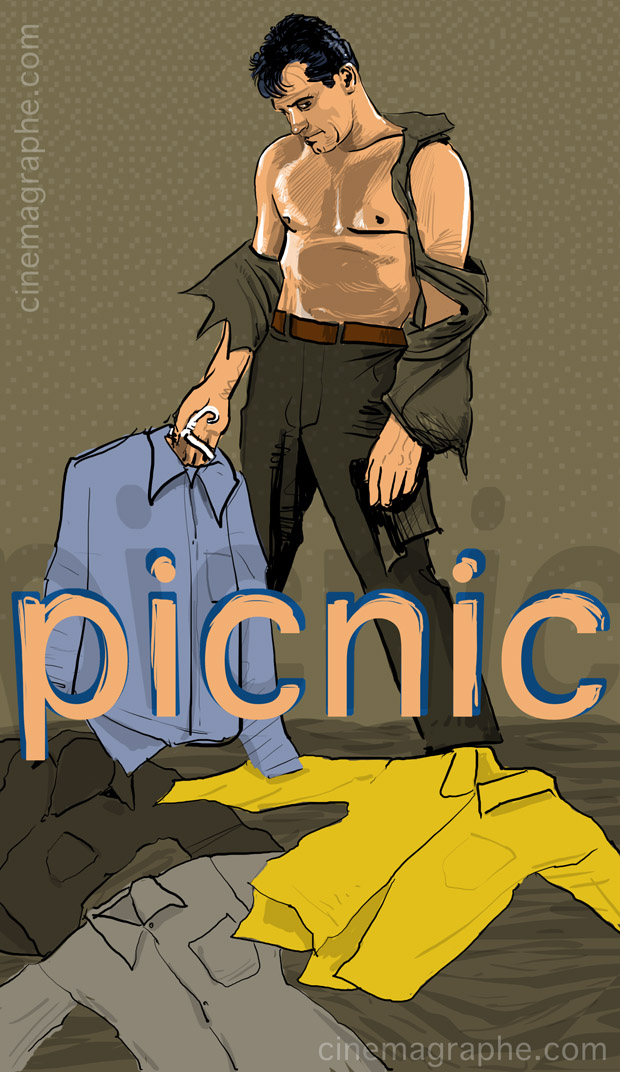 Picnic - Released December 1955. Directed by Joshua Logan.
William Holden struggles to hold onto hope, his dignity and a fully functioning shirt through the course of the 1955 Picnic, a rapid-moving melodrama that compacts its story into a twenty-four hour period over a Labor Day holiday.
Although set in the mid-fifties and based on a 1953 Pulitzer Prize winning play by William Inge, the 1955 Technicolor and Cinemascope Picnic doesn't seem securely set in that decade. No mention is made in the on screen tale of World War II or the much closer Korean War, and the train-hopping main character of Hal (played by William Holden) could be any number of temporary "hobo" movie stars plucked from a 1930s film. Although there is more to the character than is evident at first, the initial impression is that he is the same 30's stereotype seen in older movies, a handsome fellow struggling with unemployment, bad luck, and the double-edged magnetic ability to attract women to him, causing trouble that multiplies the longer it is happening.
Filmed on location in Kansas, Picnic has a picturesque Americana quality in its visuals that looks like the era in which it was filmed because of the fashions, cars and the gleaming, sparkling clean gigantic grain elevators lined up one after another. They look like steel sentinels or idols towering over the flat space around them, to which farmers bring their harvested foods for storage, processing and transport across the country. These modern giant-sized marvels are the property of the Benson family, the people that rail-riding Hal has come to see, hoping for a job. He went to college, without graduating, with the son of the family, played by Cliff Robertson as Alan Benson.

But the houses in the area could be set pieces for a film from the depression era, or even before that, with muddy yards and rain drainage ditches along the unpaved roads, and numerous ragged out buildings, with tin barrels behind each house used for burning off trash. Only women seem to live within these structures, men only evident by their absence.

Desperation is infecting the broad cast of female characters. Rosiland Russell is an "old maid" school teacher renting a room in the home of Flo Owens (played by Betty Field), a woman with two daughters and a burning ambition to get the older and prettier one married off to the highly interested Alan Benson as soon as possible. The urgency of the situation is shown to us by Betty Field providing a sort of set-piece soliloquy to the daughter (played by Kim Novak) about the wonders of a life where there's no dawn-til-dark drudgery and financial worries are not constantly nagging, and a permanent, stable husband is both a partner in life but more importantly an asset that makes the future tenable without apprehension. Each of the items in this grocery list of desire are out of the reach for Betty Field's past-her-prime older woman who we learn was once a young beauty, too, with the same potential, but married a man who eventually fled, leaving her to face hardship alone with two daughters.

The boarder played by Rosiland Russell is in a similar position, viewing the future with dread. She's been dating a small time businessman named Howard (played by Arthur O'Connell) for years and they're getting no closer to the altar despite Howard periodically pledging nuptials. He keeps pushing it away because he's getting into his, he claims, "busy season" at his store, a place across town and "over the river" that he lives above in a bachelor apartment. Later in the film as the pressure for matrimony builds to a peak, he will struggle to imagine the apartment as changeable enough to accommodate another person, can't actually do it, and then sets himself up to where it doesn't matter if he can imagine it or not.

The arrival of William Holden starts a catalytic reaction in this unstable situation for all the characters combined, culminating in the tumultuous "picnic" over the Labor Day holiday which forces everyone to reveal what they're really pursuing and what they'll actually settle for, a kind of "harvest" for each person.

The cast works well together and though Picnic is hyper-attenuated emotionally in the style of many 1950s melodramas, what begins as a straight-forward Hollywood story in which a handsome guy surrounded by women sends hearts a flutter and chaos ensues, turns itself over and shows its belly, which is the crushing feeling of failure that follows Hal wherever he goes, plus a family history that's loaded with dissolution and rejection, and there's also a semblance that Hal has difficulty parsing the world around him with any speed and his own physical beauty has made him a target for exploitation. This projection of a dark underside to being handsome and charming brings Hal into parallel with Kim Novak's character of Madge Owens who is valued entirely for her physical architecture and longs to be seen as a person. The rapid attraction and understanding between Hal and Madge ruptures the contained world of Picnic.

The film was quite successful in its original release and spawned imitation and parody, in particular the shirt-ripping scene which reveals Holden's (shaved) chest yet again after going shirtless almost immediately at the beginning of the movie when tending an ash-can for the Owen's neighbor Helen Potts (Verna Felton), again in a pool-diving sequence which seems to astound the high school girls that are the friends of Madge's younger sister Millie (played by a young Susan Strasberg).
Millie is given idiosyncratic character traits and an ambition that she blurts out in frustration,"I'm going to move to New York and write a novel that will shock this whole town!" It's Theodora Goes Wild but with a straight face and the background frustrations of the All-American pressure for success, position, money and conformity.
---
---
What's Recent
---
---
---
Original Page September 6, 2022