Paul Newman 1925-2008
Paul Newman
Paul Leonard Newman
Born January 26, 1925 in Shaker Heights, Ohio
Died September 26, 2008 Westport Connecticut
Paul Newman 1925 - 2008
Paul Newman was probably best know for two things; his five-decade long career in roles for Hollywood films (beginning with The Silver Chalice in 1954), and for his 'Newman's Own' food product line which donates all post-tax profits to charities (estimated at approximately $250 million USD by 2008 - the website for the company is here. On the site is the line: "Paul occasionally referred to Newman's Own as the "joke that got out of control" and would express astonishment at its success.")
Having smoked heavily for much of his life, Paul Newman was diagnosed with lung cancer at some point in 2006, and went through chemotherapy (See the John Christoffersen article at CBS online, Associated Press. report from June 11, 2008). Newman finally abandoned the effort and chose to die at his home in Westport, Connecticut. He passed away on September 26, 2008 and his body was cremated at a private ceremony in Connecticut on Monday, Sept 29, 2008. He was 83 years old.
---
Paul Newman Obituary Announcements
From the New York Times Obit notice from September 28, 2008:
"Paul Newman, one of the last of the great 20th-century movie stars, died Friday at his home in Westport, Conn. He was 83.

The cause was cancer, said Jeff Sanderson of Chasen & Company, Mr. Newman's publicists.

If Marlon Brando and James Dean defined the defiant American male as a sullen rebel, Paul Newman recreated him as a likable renegade, a strikingly handsome figure of animal high spirits and blue-eyed candor..."
---
From the October 2, 2008 Time Magazine appreciation on Paul Newman written by Robert Redford:
"...We played lots of pranks on each other. I used to race cars, and after he took this rare Porsche I owned for a drive, he began to get into racing. He had incredible reflexes, and he got really good, but he talked so much about it that I got sick of it. So I had a beaten-up Porsche shell delivered to his porch for his 50th birthday. He never said anything, but not long after, I found a crate of molten metal delivered to the living room of my (rented) house. It dented the floor. I then had it turned into a really ugly sculpture and dropped into his garden. To this day, neither one of us has ever mentioned it."
---
Original Page October 2008, updated June 2011
---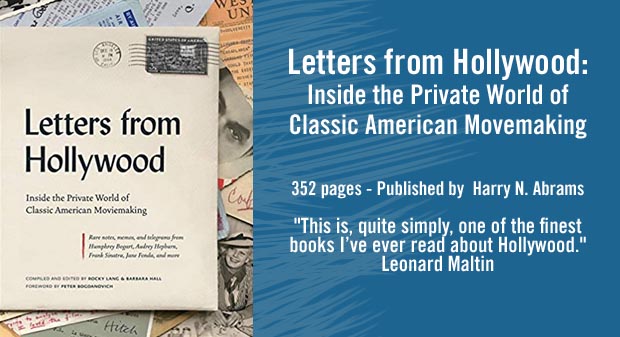 Letters from Hollywood: Inside the Private World of Classic American Movemaking
352 pages - Published by Harry N. Abrams
"This is, quite simply, one of the finest books I've ever read about Hollywood." Leonard Maltin
Reproduces in full color scores of entertaining and insightful pieces of correspondence from some of the most notable and talented film industry names of all time—from the silent era to the golden age, and up through the pre-email days of the 1970s. Annotated by the authors to provide backstories and further context. Greta Garbo, Alfred Hitchcock, Humphrey Bogart, Frank Sinatra, Katharine Hepburn, Marlon Brando, Elia Kazan, Cary Grant, Francis Ford Coppola, Tom Hanks, and Jane Fonda.
Letters from Hollywood: Inside the Private World of Classic American Movemaking
---
What's Recent
---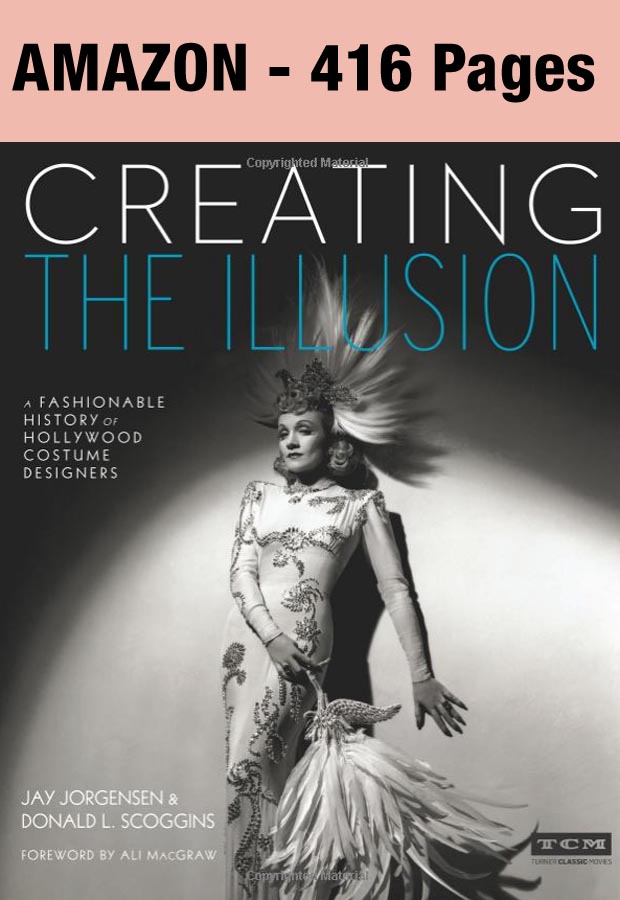 Creating the Illusion: A Fashionable History of Hollywood Costume Designers (Turner Classic Movies) - Amazon
---