Our Man in Havana - 1960
---
---
Our Man in Havana - 1960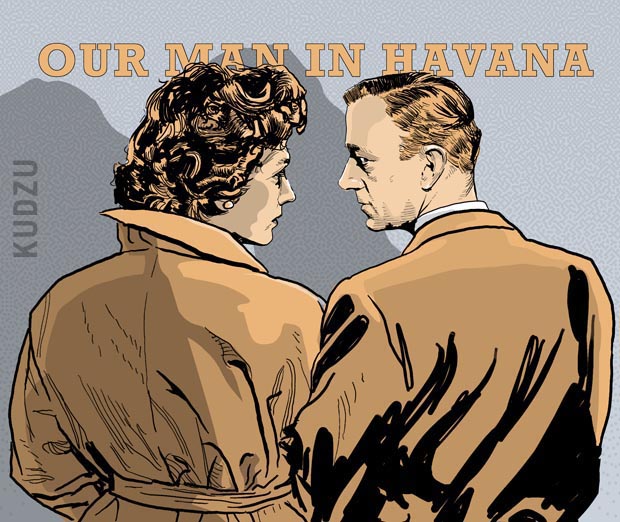 Our Man in Havana - 1960 (released in the UK Dec 30, 1959)
Jim Wormold runs a vacuum cleaner shop in Havana, Cuba, and he's got a problem: his daughter, who he adores, wants a pet horse, a rather expensive proposition to fulfill with vacuum cleaner sales. Even more challenging for Wormold is that she's suddenly older and has become beautiful, and that's attracted the attention of the local police chief (played by Ernie Kovaks) who has his eye on her for his future Mrs. Police Chief. Wormold wants to get her out of Cuba entirely and into a school in Switzerland, but the horse and the foreign school both look well out of his reach when unexpectedly he's given an offer to help the British Secret Service to set up a network of spies.
He (Alec Guinness) takes on the work under protest, stating emphatically he has no idea about how to set up a spy network, but all of this is brushed aside by the cane-toting Noel Coward, code name "Hawthorne," who is his UK government contact. "Aren't you willing to serve your country?" Hawthorne asks, and that seems to be enough a credential to set Guinness on his way.
With extra money coming in, Wormold can now get the daughter a horse ("Sarafina") and a membership at an expensive and exclusive Cuban country club, but soon the British are pressuring "our man in Havana" to produce intelligence reports. Coached by fellow expatriate Dr. Hasselbacher (Burl Ives), Wormold is encouraged by him to fake intel since that would endanger no one, so he commences to drawing a large, bizarre weapon system that is under construction in the Cuban hills. When this "intelligence" is sent to London, panic sets in about this unknown and potentially lethal super weapon being built in the Caribbean, which they only note in passing has a certain similarity to vacuum cleaner parts.
Director Carol Reed layers in some editorial about Batista-era Cuba and creates comedic (and sad) side-stories in the background of this otherwise straight-forward spy movie. Havana is shown as a place of peasants, beggars, bars, lovers, brothels, and the wealthy, but mostly we get chaotic streets of busy people while "The Red Vulture" (Ernie Kovak's police chief) cruises along looking for trouble. Jo Morrow is the smiling (or pouting) daughter Milly, and Maureen O'Hara as the new secretary Beatrice Severn who is sent in an emergency rush from London to help Wormold "run" his network of spies. What they don't know is that the individuals Wormold has under his command are all made up (sometimes concocted from a newspaper adventure strip Wormold reads), a cast that solidifies into reality when Wormold has to pretend to Beatrice that they really do exist, pointing out varied real individuals across the strata of Havana society, while voicing a convenient cover story of why all of them "pretend" to not know him.
Our Man in Havana isn't a perfect movie, and there are some editing lapses which indicate some second-thoughts about the plot occurred in post-production. But the care Reed took in preparing the background of our visual story is evident throughout, the cinematography handsome, and Guinness and the rest of the cast give good, steady performances. Often they are called upon to keep the same straight face as they pass through a comedic scene and into a serious one (and as the tale progresses, a dark tension tries to spread over the story, and this is where Burl Ives excels, despite his meagre use of a Hollywood German-accent, as the desperate Dr. Hasselbacher). There's some physical comedy and Kovaks gives us a controlled, and controlling, corrupt (and possibly crazy) Captain Segura who nonetheless has a sad, goofy charm to him. "He just sings sad songs about flowers, and death, and one about a bull," says Milly.
The screenplay (by Graham Greene from his novel of the same title) delivers irony and humour. For awhile he keeps the vacuum cleaner salesman one step ahead of his scheme, but then the scheme has taken on a life of its own in the streets of Havana, producing unintended, dangerous results. When Wormold's ruse finally unravels and he's got to face the music in London, that's where he really learns how the spy game is played.
---
---
---
Original Page December 2019
---
---
What's Recent
---
---