Move Over, Darling (1963) vs. My Favorite Wife (1940)
Comparing the original and the remake.
Doris Day stars in this remake of My Favorite Wife (1940), with Day in the Irene Dunne role, and James Garner taking over the Cary Grant position in a story about a widower getting remarried on the same day his (presumed dead) wife reappears after five years on a Pacific island following a plane crash.
This newer version of the story works out some of the details that the earlier version didn't clarify (how, for example, did the 'dead' wife get along with her fellow survivor Steve Burkett, played in the '63 version by Chuck O'Conner, on the island for five years? The 1940 version left the issue slightly vague and more amicable, this version has Day finally tossing a narcissistic O'Conner to the ground, her patience with the man, after five years, very much gone).
In the 1940's version Gail Patrick played the newest wife who becomes understandably confused as the behavior of her new husband escalates crazily upon learning the news of his dead wife's resurrection, a fine point the new wife doesn't know about for a good majority of the story. In this 1963 telling, Polly Bergen is the new wife and portrays her as a rather neurotic character, becoming more laughably neurotic as the tale proceeds, whereas Patrick created humor in the story simply by standing there, frustrated, a perfectly beautiful new wife who, unbeknownst to her, has become suddenly and completely "off-limits."
James Garner in the lead in the 1963 version is a man overwhelmed with an issue he can't easily solve and he can't bring himself to explain the very simple legal (and emotional) problem to the new wife. The time delay is harder to believe this time around because Garner doesn't exude the distracted confusion of Cary Grant. Grant played a number of comedy characters as peculiar men who get caught up in an inner-turmoil they don't explain to other cast members (for example, Grant as Prof. Huxley from Bringing Up Baby) because they are so self-absorbed with the problem they're not engaging the rest of the world like a normal human being, apparently because they're struggling to explain it to them self, first, and not getting anywhere very fast. Garner seems more like he is simply running away from the problem while his character's knowledgeable mother (played by Thelma Ritter) tries to pull strings to bring about a proper conclusion.
The 1940 film was more of an adult comedy that doesn't dwell too much on the impact of the situation onto the children involved, and the 1963 version, though more frank about the sexual implications, centers the ending and resolution completely on the re-integration of a family, featuring two young daughters who seem to spend the whole length of Move Over, Darling in a swimming pool.
Doris Day as a mother alienated from her earlier life by five years "abroad" has more physical energy than Irene Dunne, and in general Move Over, Darling, shifts toward that style of physical comedy popular in the 1960s which had comedy characters running from room to room and yelling their (hopefully) funny lines (an activity featured on a lot of the movie posters of that decade, with the stars part of an ensemble of quick-footed and athletic figures).
Whatever sophistication the screwball My Favorite Wife has isn't really transferred to Move Over, Darling, and more's the pity. Doris Day provides the comic energy she excelled at in her comedy career with many other films, but Move Over, Darling isn't as tightly paced when she's not on the screen and in general the film seems compromised by trying to strike a pose as a family film which doesn't gel with the borrowed material of the earlier film.
---
AMAZON STREAMING: Mr. Hobbs Takes A Vacation - 1962
---
Starring Miss Barbara Stanwyck [Illustrated with 310 Photographs] - amazon.com
---
Sophia Loren: A Life in Pictures - 192 Pages - Amazon.com
---
You will see Amazon links on this web site because I am an Amazon affiliate. I earn from qualifying purchases.
---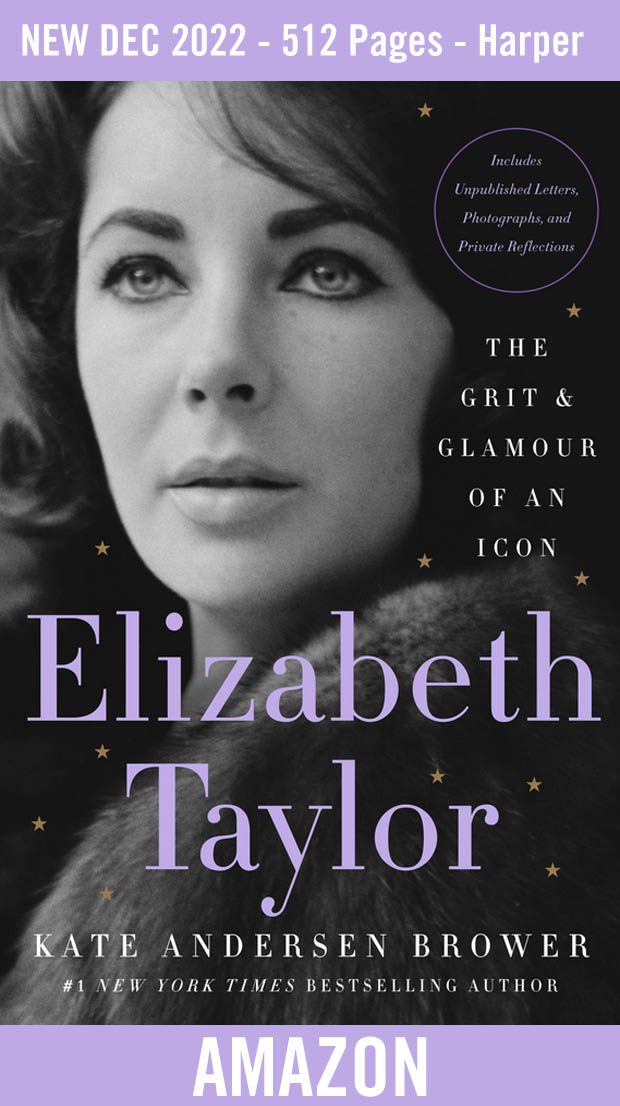 Elizabeth Taylor: The Grit & Glamour of an Icon - 512 Pages
"A dazzling portrait of an incredible woman. Elizabeth's life was more captivating than any film could ever be."— Demi Moore
"Brower's book takes the reader into the private world of the most famous celebrity of the 20th century. Elizabeth's heart, mind, and passion come vividly alive on each page. We see her as a woman who struggled and ultimately survived to rewrite the playbook on celebrity and power. I never wanted it to end!" — Brooke Shields
"Brower is quickly becoming a brand-name Washington writer because of her ability to deliver juicy tidbits and insider information while steering her books toward a mainstream audience without sacrificing historical credibility." — Christian Science Monitor on TEAM OF FIVE
Amazon Link to order Elizabeth Taylor: The Grit & Glamour of an Icon Hardcover
Audio Book version - Elizabeth Taylor: The Grit & Glamour of an Icon
[This is an affiliate Amazon link which may provide a commission earned for this site. If that happens, we'll probably buy an old movie on Blu Ray with the proceeds.]
---
What's Recent
---
---
---
Original page September 2022