Jean Harlow
Jean Harlow 1911 - 1937
Born as Harlean Harlow Carpenter on March 3, 1911 in Kansas CIty, Kansas, USA. Died of kidney failure, age 26, on June 7, 1937, in Los Angeles, California, USA.
HOWARD HUGHES
Howard Hughes signed Harlow in 1929 (for $100 per week) during the re-filming of scenes for the air-combat movie Hell's Angels (the original actress, Greta Nissen, was replaced by Harlow because of Nissen's Norwegian accent, another casualty of the transition of silent films to 'talkies'). The released movie was successful and gained Harlow a great deal of fame .
Hughes then loaned Harlow's contract out and she quickly made a number of other films, for example The Secret Six, Iron Man, and The Public Enemy. Her popularity continued to increase quickly, and her bleached colored hair-style began to be imitated. Though she disliked publicity appearances, Hughes sent her out on tour as a way to fight the poor critical reviews she had been receiving from critics. These events increased her popularity and she was soon attending continuous sold-out personal appearances, prompting Hughes to extend the tours.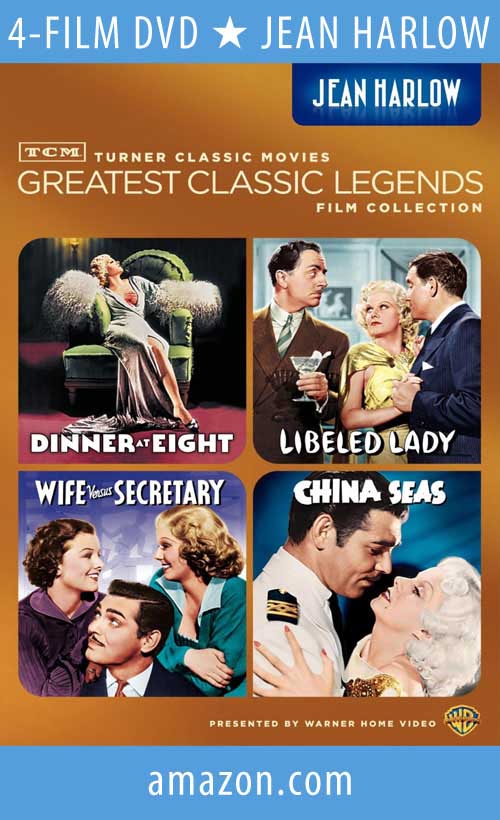 PAUL BERN
Harlow's boyfriend, MGM producer Paul Bern, tried to get Louis Mayer at M-G-M to buy-out Harlow's contract, but Mayer didn't want Harlow's 'low' image associated with his stable of carefully cultivated stars at his studio. However, Irving Thalberg eventually saw the advantages to having Harlow at M-G-M, and purchased the Harlow contract for $30,000 from Hughes.
The immediate effect of this was Harlow's withdrawal from pre-production on King Kong (Harlow was replaced by Fay Wray).
The spate of films that followed at M-G-M were hits that all contributed to Harlow's continued rise as one of the most popular (and profitable) stars in Hollywood. She married Bern, who then killed himself two months after (September 5, 1932), an event which has spawned many alternative theories about his death; that Harlow shot him; that Bern's estranged 'common-law' wife shot him; that he killed himself because of a homosexual past. The official explanation is suicide, buttressed by a suicide note.
---
---
Career
The almost-scandal had no effect on Harlow's popularity, and the film she was working on at the time of Bern's death (Red Dust, with Clark Gable) was a huge success. Her comedic skills were recognized and M-G-M began shaping stories that would take advantage of these abilities which set her far apart from an army of bleach-blonde competitors that were then beginning to fill movie screens.
Her health began to falter in 1936, and the (unrecognized) symptoms of kidney trouble began to appear, with severe sunburns, water-retention, 'greyed' skin, and low immune system that made her susceptible to frequent colds and flues.
During the filming of Saratoga in 1937, Harlow's condition worsened dramatically, and the matter was wrongly diagnosed as another bout of flu. Boyfriend William Powell (who had starred with her in Libeled Lady) finally forced her to go to the Good Samaritan Hospital in Los Angeles, and doctors realized that diagnoses of flu and gall-bladder infection masked a much more severe problem. On June 6, 1937, Harlow soon slipped into a coma. On the morning of June 7, she died, the cause of death categorized as cerebral edema.
China Seas 1935 - With Clark Gable and Wallace Beery
---
AMAZON: Boris Karloff: A Gentleman's Life - 356 Page Biography
---
Original Page Feb 2013 | Updated Jan 2014
---
---
What's Recent
---
---