Elizabeth Taylor 1932-2011
Elizabeth Taylor, AKA "Dame Elizabeth Rosemond "Liz" Taylor" born on February 27, 1931 in London, England. Won Best Actress Oscars for Who's Afraid of Virginia Woolf (1966) and Butterfield 8 (1960). Nominated for Best Actress 1957 for Raintree County, 1958 for Cat On A Hot Tin Roof, and 1959 for Suddenly, Last Summer. Died March 23, 2011.
She began working in Hollywood at the age of 10 (There's One Born Every Minute, 1942), and became an immediate star after National Velvet (1944). She grew up within the studio system, but her gossip-column fame easily transcended Hollywood celebrity once the studios crumbled into freelance companies during the early 1960s, and copious newsprint attention was paid to her yearly until her death. She died of congestive heart failure at the age of 79.
---
Elizabeth Taylor obit at Salon "the most fleshly of actresses"
Written by Dana Stevens, this quick overview at salon.com of Taylor's life and films makes several good succinct points, also provides a trove of good links to other Elizabeth Taylor items that are on the internet.
"In a tribute to Taylor that aired on Turner Classic Movies, Paul Newman called her a "functional voluptuary." It wasn't just in roles like Cleopatra, or the debutante Angela Vickers in A Place in the Sun (1951), a woman so unattainably desirable she drives Montgomery Clift's character to murder that Taylor had something of the odalisque about her. Long after she had stopped being a box-office draw, Taylor remained a gossip-magazine blockbuster, not just for her beauty and wealth ....all starlets have that... but for her extravagant and freely displayed appetites: for food, drink, sex, husbands, jewels, pets. The Kalizma, the yacht she owned with Richard Burton and lived on for long stretches, was overrun with unhousebroken Pekingeses and, in one journalist's memorable retelling, a small, terrified African primate known as a bush baby."
---
Giant
Giant: Elizabeth Taylor, Rock Hudson, James Dean - A larger-than-life narrative of the making of the classic film - 336 pages - St. Martin's Press 2018 - AMAZON
In this compelling and impeccably researched narrative history of the making of the film, Don Graham chronicles the stories of the stars and Director Stevens, whose trauma in World War II intensified his ambition to make films that would tell the story of America
---
The death announcement at the UK Daily Mail mentions the reputed Elizabeth Taylor diary or actual completed autobiography that may exist for posthumous publication:
"She kept handwritten diaries through much of her life and was said to have discussed a deal to publish them as an explosive memoir following her death.

Doctors were said to be hopeful that she could return to her Bel Air mansion just days before her long-term congestive heart problem took a dramatic turn for the worse.

Her death comes exactly 53 years after she was widowed when third husband, film producer Michael Todd, died in a plane crash.

Dame Elizabeth turned 79 on February 27 but celebrated with her friends and family a month early as ten days later she was admitted to hospital to undergo surgery to repair a leaky heart valve.

...Dame Elizabeth had struggled with her health for a number of years - and towards the end of her life was confined to a wheelchair.

She broke her back at least five times, had three bouts of pneumonia of which one, in 1961, required a tracheotomy, and another, in 1990, nearly killed her.

There were two hip-replacement operations and surgery to remove a benign golf ball-sized brain tumour, plus two stays at the Betty Ford clinic. "
---
[obit notice at Time Magazine News Feed online.]
"Hollywood movie legend Elizabeth Taylor has died at Cedars-Sinai Hospital in Los Angeles of congestive heart failure, her publicist announced on Wednesday. She was 79."
---
Elizabeth Taylor Films
In Suddenly, Last Summer [1959], Taylor is in a lunatic asylum where she's been hidden to keep her from "babbling" about what happened to Cousin Sebastian, the faceless lecher who used his mother Violet Venable (Katherine Hepburn) and then cousin Catherine Holly (Taylor) to attract young men. Read the review here.
---
Elizabeth Taylor White Diamonds, Perfume for Women, Daytime Wear Scent, 3.3 oz
---
Amazon: Elizabeth Taylor: A Private Life for Public Consumption
---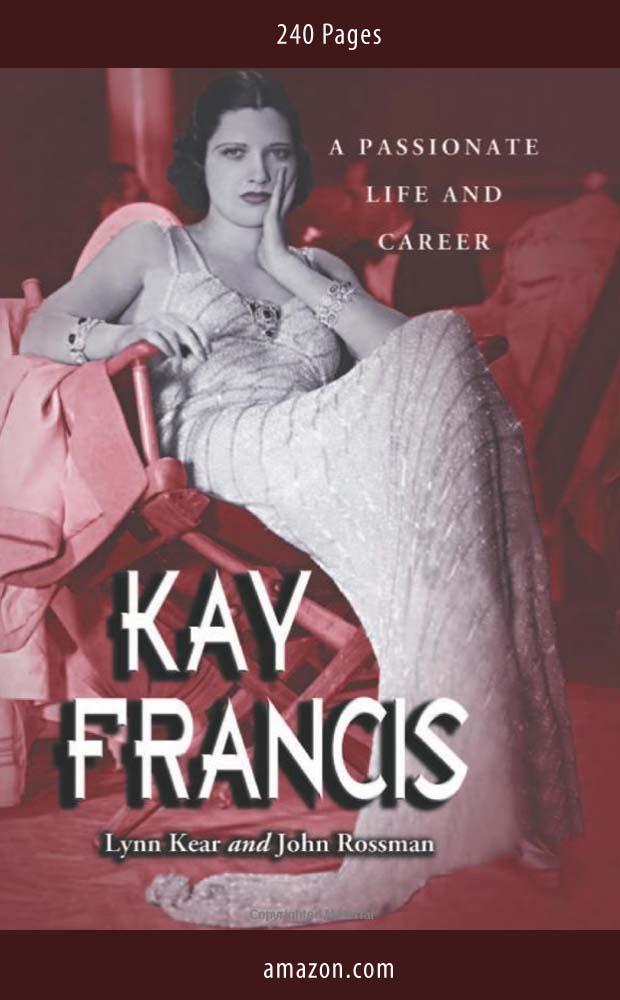 Kay Francis: A Passionate Life and Career
---
Original Page September 2009, updated Sept 2021
---
---
What's Recent
---
---