Edna May Oliver
Edna May Oliver - Born November 9, 1883 - November 9, 1942
With memorable, non-standard movie star looks and an array of expressions that made her doubly effective when coupled with good dialogue, Edna May Oliver was often cast as a strong supporting character who was a spinster, nanny, school teacher or older companion. But besides just being a character in a film cast, Oliver was often employed to help create laugh-breaks in a movie and often to add a not-so-subtle sense of the absurd. Many times it can sound like certain minor lines on the fringes of a film were written into a story just for Oliver to say them in her particular way.
Her roles could include physically attacking bad guys/women in some films (Tale of Two Cities, David Copperfield), or she could be the sole dissenting opinion about some other person's character (and would then later be proved right, for example in Ladies of the Jury, 1932.)
Oliver also was the lead in several B-movies, for example the Hildegard Withers films The Penguin Pool Murder 1932, Murder On The Blackboard 1934 and Murder On A Honeymoon 1935. In this part she played an observant and intelligent adjunct to the police during investigations, and usually proving to be far smarter than the uniformed men around her, ascribing her success to getting the police to follow her ideas as being not unlike the character's role of being a school teacher and having to guide children.
Oliver appeared in 49 films, her best known roles probably being the protective (and lethal) Miss Pross in the 1935 Tale of Two Cities, Aunt March in Little Women (1933) and the protective (and zany) Aunt Betsy in David Copperfield (1935).
She was the arrogant Lady Catherine De Bourgh in 1940's Pride and Prejudice, creating the first cinematic version of the Jane Austen character.
Oliver was one of the best character actors in the studio system. She represented the prototypical spinster, a sharp-tongued, sharp-witted, and sharp-elbowed living terror. For American audiences, that made her lovable. She sassed and complained and pricked and bullied. She was the spinster who sees the truth and proclaimed it loudly. Oliver, born in 1883, had a long and successful stage career as well as a top-ranked movie life. She was a strong and consistent presence, easily adapting her type to any genre, any mood, any period. - Page 458, The Star Machine, by Jeanine Basinger, 2007 The Star Machine - Amazon
---
---
---
You will see Amazon links on this web site because I am an Amazon affiliate. I earn from qualifying purchases.
---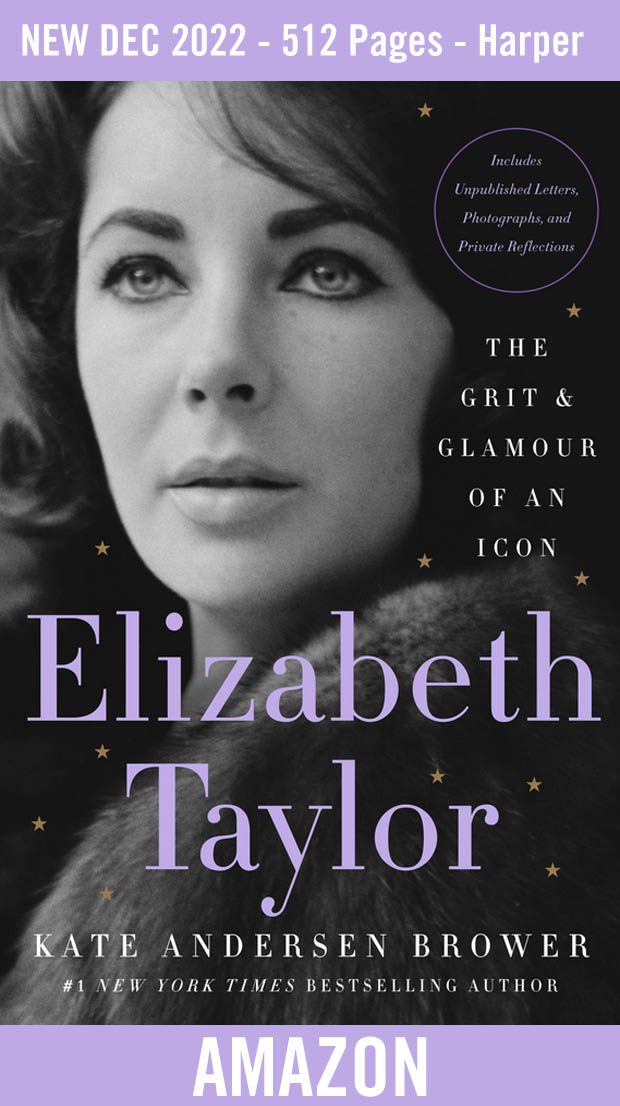 Elizabeth Taylor: The Grit & Glamour of an Icon - 512 Pages
"A dazzling portrait of an incredible woman. Elizabeth's life was more captivating than any film could ever be."— Demi Moore
"Brower's book takes the reader into the private world of the most famous celebrity of the 20th century. Elizabeth's heart, mind, and passion come vividly alive on each page. We see her as a woman who struggled and ultimately survived to rewrite the playbook on celebrity and power. I never wanted it to end!" — Brooke Shields
"Brower is quickly becoming a brand-name Washington writer because of her ability to deliver juicy tidbits and insider information while steering her books toward a mainstream audience without sacrificing historical credibility." — Christian Science Monitor on TEAM OF FIVE
Amazon Link to order Elizabeth Taylor: The Grit & Glamour of an Icon Hardcover
Audio Book version - Elizabeth Taylor: The Grit & Glamour of an Icon
[This is an affiliate Amazon link which may provide a commission earned for this site. If that happens, we'll probably buy an old movie on Blu Ray with the proceeds.]
---
What's Recent
---
---
---
Original page from March 2014 | Updated April 10, 2021