Dracula has Risen from the Grave
Dracula has Risen from the Grave - Released Feb 6, 1969 USA (Nov 7, 1968 in UK). Directed by Freddie Francis
This Dracula franchise effort from Hammer Films has Christopher Lee back under the cloak and wreaking mayhem at familiar Pinewood Studios, with Veronica Carlson the main target and Freddie Francis directing.
The main thrust of Dracula has Risen from the Grave visual exploitation is that we get to look at Veronica Carlson's shoulder blades and Chris Lee's fangs and bloodshot eyes. The story in Dracula has Risen from the Grave has the irony of atheist Paul (Veronica Carlson's boyfriend in the tale) and the Monsignor (who brings on Dracula's vow of revenge because he has blocked the entrance to his castle with an enormous crucifix) brought together together from opposite sides of the philosophical tracks to battle a dangerous supernatural foe.
It's unclear if the budget of Dracula has Risen from the Grave doesn't allow for Dracula to have more than one entrance to his castle, so when the Monsignor places a giant crucifix into the door which locks the vampire out, or if the mostly non-talking Count is just taking revenge for his wounded dignity as a feudal lord.
Barbara Ewing is onscreen from out of Hammer's troops of beer-hall waitresses ("Zena") and she becomes the usual cannon-fodder for the big screen monster. Zena takes up with Dracula, but then she falls victim after his eyes fall upon Veronica Carlson, with Zena asking several times the rather reasonable question "What do you need her for? You got me!" a logical query that finally gets her killed at the teeth of her new, lethal boyfriend.
As with most Hammer films after their initial bloom of invention during the 1950s, this 1969 movie is plagued by a messy story which is a hash of previously used plot lines and predictable climaxes (besides borrowing from the earlier Hammer Dracula films, there are onscreen references to The Cabinet of Dr Caligari, among other images).
Rupert Davies (as "The Monsignor") is perfectly fine and Barry Andrews (as Paul, the atheist university student) is a little stiff, but it is interesting having the two get over their differences and to fight Dracula, whose plan to terrorize the world (and to achieve his rather vague revenge on the Monsignor) consists of riding about in his black hearse-like carriage, and hiding in his coffin in the basement of the beer-hall where Zena and Paul live. Because of the flawed historical recreation in Dracula has Risen from the Grave, this is both visually 1969 and the middle ages of England, with Paul accoutered with a curly mod hairstyle that is quite the hirsute evolution over previous Chris Lee Dracula movies.
The skimpy dialogue and poor story in Dracula has Risen from the Grave is buttressed by Freddie Francis' direction of what story there is, and the usual top-notch Hammer art direction and good cinematography from Arthur Grant is on the screen. The music from James Bernard is also well done. A lot of care is put into a few scenes, particularly the lighting on Veronica Carlson who seems to be the main special effect in this film besides Christopher Lee's work as the mostly silent and fearsome Count.
Lee is a scary Dracula, half-animalistic monster and the other half a weirdly misogynistic womanizer who is either staring at the ladies with clear brown (and sometimes bloodshot) eyes, and the rest of the time he is slapping them around. The psychology of this Hammer film is a reflection of the era in which it was made (1969 England) and the standard vampire paradoxes about blood, addiction, sex and religion, get wrapped around each other. As with a standard monster film, the main message seems to be everything can get you killed except for love.
Dracula in Dracula has Risen from the Grave will of course be conquered and the young lovers will triumph, but Christopher Lee will bounce back in cape for several more Hammer Dracula films (and a few non-Hammer) and will work through the same set of tropes all over again. Whatever Dracula is trying to achieve, it always seems rather short-lived, but Christopher Lee certainly gives it whatever energy and verve it has.
---
You will see Amazon links on this web site because I am an Amazon affiliate. I earn from qualifying purchases.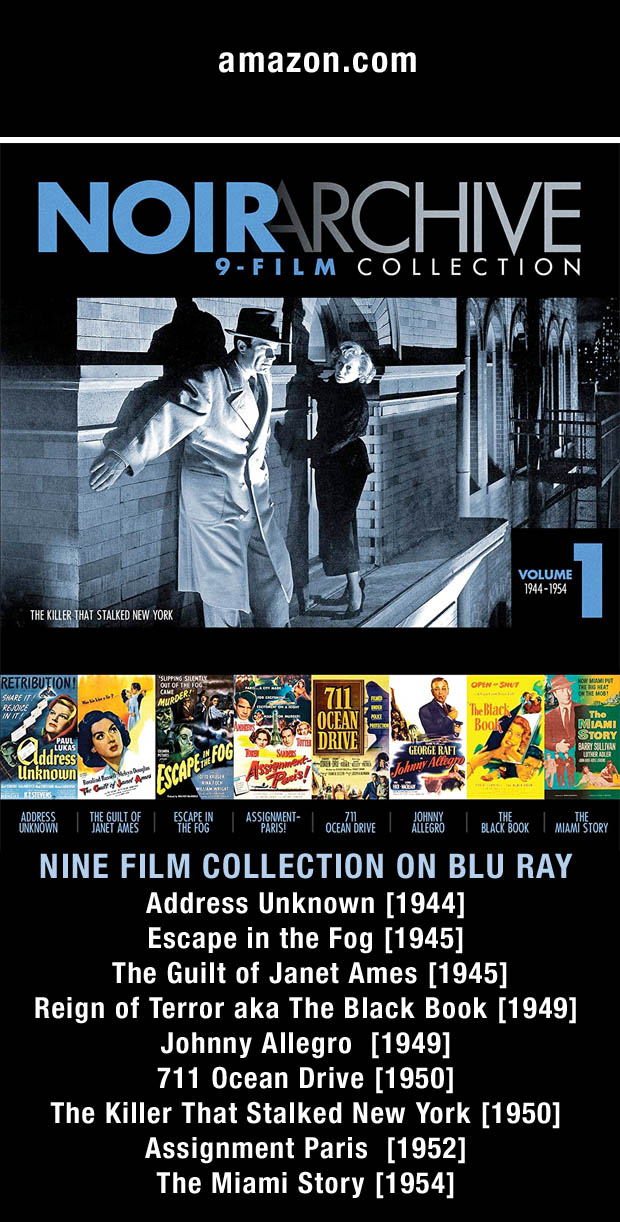 Noir Archive Volume 1: 1944-1954 (9 Movie Collection) [Blu-ray]
---
---
---
---
What's Recent
---
---
---
Original Page May 18, 2015 | Updated April 18, 2022