Anna May Wong
1905-1961
Actress Anna May Wong was born Wong Liu Tsong* in Los Angeles on January 3, 1905 (although some published records claim her birth is 1907)**. Her father Wong Sam Sing was a successful laundry-operator, and was himself a second generation Chinese immigrant with fluent English speaking skills (Anna herself was bilingual and attended English speaking public schools during the week and Chinese-language schools on weekends in Los Angeles). Besides Anna, there were six other children, and they lived in various mixed-race neighborhoods in the area.
She appeared in early movies as an extra without credit that were being made in the burgeoning movie productions of Los Angeles. Determined to appear in film roles, she concocted her own stage name of "Anna May Wong" and had to overcome conflict with her parents who did not approve of her ambition to appear on screen, resulting in her missing school while she surreptitiously pursued film work without their consent. Usually her first listed Hollywood role is the Alla Nazimova film The Red Lantern*** (released May 4, 1919). Dedicated to pursuing an acting career, she quit school in 1922 at the age of 17.
The early techninolor film Toll of the Sea (1922) featured Wong, and a year later director Tod Browning cast her in an important part with dialogue as Rose Li in the silent opium-trafficking epic Drifting (1923). Reviews of the film attacked the production for unreality and the unlikeability of the cast of characters, with the exception of Anna May Wong's performance, which was singled out by some reviewers as the best thing in the film.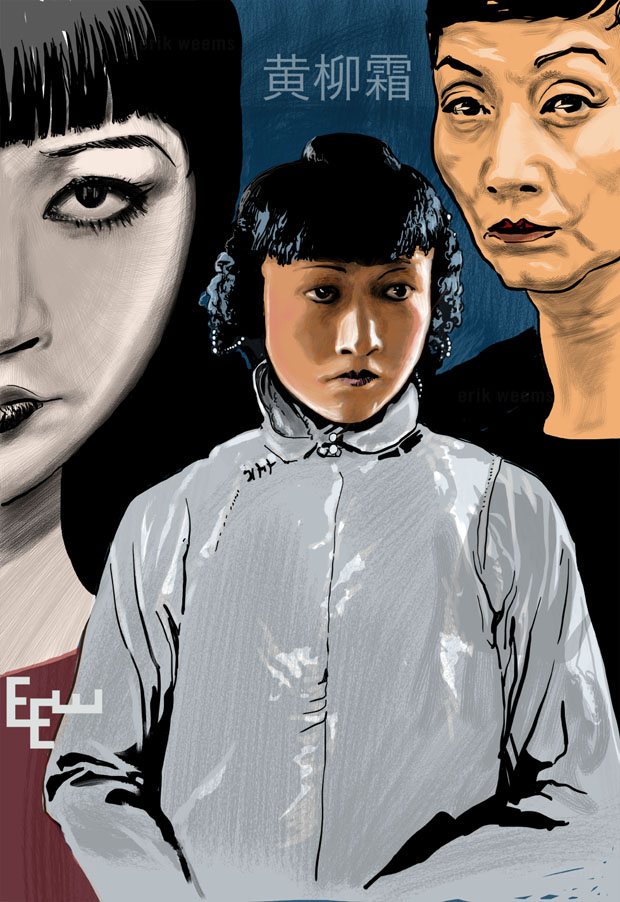 In 1924 she was in the very successful Douglas Fairbanks film The Thief of Bagdad which increased her Hollywood visibility multi fold. She was soon considered both an international film star and a fashion plate for her cutting edge "flapper style" attire. In 1925 she took part in a cross-country vaudeville tour featuring other Hollywood celebrities.
While film roles continued, Wong's industrious pursuit of opportunity expanded her efforts into Europe and she travelled between the two continents for parts, pushing the boundaries of what was possible in the still chaotic production system of making movies (which was in the process of being tamed by the "Thalberg method").
She is often called the "first Chinese-American movie star" though not the first "Asian film star,"**** Wong is one of the silent-to-talkie actresses who successfully made the transition to sound (her speaking voice was clearly enunciated and matched her equally even and often understated acting style).
Her career has received intense study and evaluation (or re-evaluation) by film historians seeking to document the role of Asian actors in American Cinema, with many book bios being written (see list below). As Wong had a long and varied career from silent film up to 1961 American television, and was one of the few minority actors to achieve full "star" status, she has become a beacon for academics, film writers, and the subject of film revivals.
As with a small number of Hollywood actors who flourished early in the lifespan of the art form, and then became one of the hundreds of "forgotten stars," Wong has been one of those rare silent-to-talkies era actors who have generated a whole new fan base by having their films appear on television and through streaming on the internet. Whatever it was that made Anna May Wong standout in 1918, and the 20s, 30s, etc., makes her standout all over again in this new century (this is a phenomenon that is also presented through the revival of interest in 30s star Kay Francis).
Her final credit was in an appearance in 1961 for the television program The Barbara Stanwyck Show (Season 1, Episode 17) for "Dragon by the Tail," directed by Jacques Tourneur and broadcast by NBC on January 30, 1961.
Anna May Wong - born January 3, 1905 in Los Angeles, California. Died February 2, 1961 (age 56) in Santa Monica, California, USA.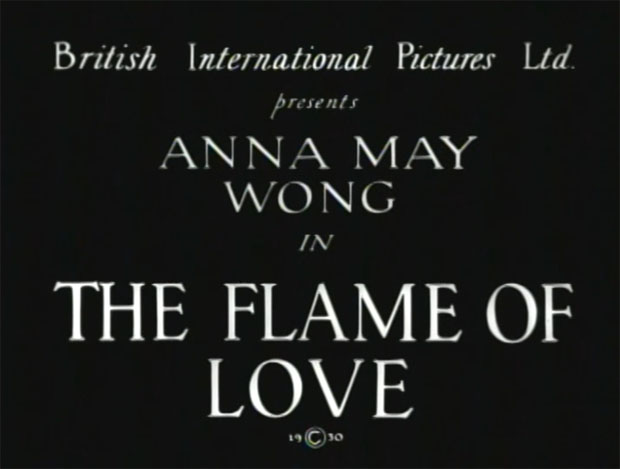 Resources:
Online video
Many of Wong's films are available on the internet in various forms. Below is a list:
Piccadilly 1929 - online rental from the British Film Institute
The Flame of Love 1930 (Anna May Wong's first 'talkie" - and not only that, she performs in all three language versions of the title, speaking (and singing) in English, German and French. Complete film at the Internet Archive. Released October 31, 1930 in USA.
Limehouse Blues [aka East End Chant] 1934 - at the Internet Archive - Stars George Raft, Jean Parker, and Anna May Wong.
Amazon Video Links:
Amazon - Shanghai Express, 1932
- Anna May Wong along with Marlene Dietrich in a Josef von Sternberg directed movie.
Amazon - The Barbara Stanwyck Show - Volume 1 & 2
Anna May Wong appears in Season One, Episode "0" titled Hong Kong and Little Joe broadcast in 1960, and then appeared again in Episode 17 of Season 1: Dragon by the Tail
Amazon - Tiger Bay, 1934
- Anna May Wong stars in this film in which she runs a nightclub in a rough area in South America.
Books about Anna May Wong
Amazon - Anna May Wong: From Laundryman's Daughter to Hollywood Legend
304 Pages, Palgrave Macmillan; 1st Edition - January 3, 2004
Amazon - Shining Star: The Anna May Wong Story
32 page paperback, Lee & Low Books; Reprint Edition (April 1, 2016)
Amazon - Anna May Wong: Performing the Modern (Asian American History & Cultu)
262 Pages, Temple University Press; 1st Edition (April 9, 2019)
Amazon - The Story of Movie Star Anna May Wong
64 page childrens book, Lee & Low Books (January 8, 2019)
Amazon - Anna May Wong: A Complete Guide to Her Film, Stage, Radio and Television Work
189 Pages, McFarland & Company; Reprint Edition (August 17, 2010)
Amazon - The Tool of the Sea: The Life and Times of Anna May Wong
e-book edition, BookCaps Study Guides (September 21, 2014)
Amazon - Anna May Wong: Hollywood Legend
194 pages, CreateSpace Independent Publishing Platform (May 15, 2018)
Amazon - Perpetually Cool: The Many Lives of Anna May Wong (1905-1961) (The Scarecrow Filmmakers Series)
320 pages, Scarecrow Press (January 1, 2007)
---
("A celebration of Anna May Wong in six films" i.e., The Toll of the Sea (1922), The Thief of Bagdad (1924), Piccadilly (1929), Shanghai Express (1932), Java Head (1934), Daughter of Shanghai (1937)
---
---
What's Recent
---
---