CINEMAGRAPHE
---
---
The Parent Trap - 1961
The Parent Trap - Released June 21, 1961. Directed by David Swift
Two hardworking Haley Mills star in The Parent Trap, along with Maureen O'Hara as a wise mother who figures out what the two little conspirators are up to, and Brian Keith as their father who never exactly understands, and consequently gets outsmarted. It's for his own benefit, as he has got himself mixed up with professional husband-hunting conniver Vicky (Joanna Bridges) and must be rescued.
More on The Parent Trap
---
Criterion June Release
Criterion is putting out a 2K High Definition bluray in June of Bergman's The Virgin Spring from 1960 which takes place in a Medieval setting (as Seventh Seal does).
Criterion page on The Virgin Spring release
---
Mary Philbin and who directed Phantom of the Opera?
Mary Philbin and Lon Chaney in the original version of the Gaston L. A. Leroux novel of manic love (and opera) that Universal wrestled with over several years, eventually completing two different versions, one released in 1925, and then a "sound" version released (with many new scenes and a revamped story) in 1929.
More Mary Philbin and who directed Phantom of the Opera?
---
Louis Wolheim
Part of what makes a story "work" in a movie is the physical architecture of the cast. If all the male (or female) leads look similar, for example, the visual story gets blurry. That, of course, was never an issue with Louis Wolheim on the screen.
Louis Wolheim: Born March 28, 1880, NYC - Died February 18, 1931 in LA
---
Horsefeathers 1932
Of the classic Marx Brothers movies made before they signed with M-G-M and had Irving Thalberg remold them into a smoother, just as funny, but a less threatening comedy troupe, Horsefeathers is apparently the most dangerous (in 1930s terms) since it shows the most chopped-up editing done to it after release.
Their more famous film Duck Soup is overtly subversive, if making fun of politics, America (i.e., "Freedonia"), patriotism and warfare is subversive, but copies of that film seem to be completely whole.
Not so with the Thelma Todd co-starring Horsefeathers, which has noticeable jumps, breaks, and truncated scenes. It's a luney farce in which the brothers (all four) are trying to get her attention while the serious matter of college football interferes and frames the tale. Of all the Marx Bros early films, this one seems to be the one most sabotaged by the Hayes codes during re-release, and though the movie mocks academia and football, it seems unlikely that's where the trouble was. More likely it was Thelma Todd, though what exactly was chopped out is hard to say, but she seems to always be in the scenes that are the most malformed.
More Horsefeathers
AMAZON BLURAY: The Marx Brothers Silver Screen Collection (The Cocoanuts / Animal Crackers / Monkey Business / Horse Feathers / Duck Soup)
---
His Kind of Woman
His Kind of Woman - Released Aug 29, 1951. Directed by John Farrow (and Richard Fleischer)
AMAZON STREAMING & DVD: His Kind of Woman
---
Robot Monster 1953
Robot Monster - released June 23, 1953. Directed by Phil Tucker
Legendary low-budget film (shot for a reported $16,000) which then grossed to over a million dollars in box office. Usually listed as one of the "awful" but funny sci-fi films of the 1950s, the story itself actually has a logical (and clever) structure, and Elmer Bernstein's music is not the average sci-fi soundtrack.
AMAZON: Robot Monster
---
Fast Reviews:
Darkest Hour - 2017 - Gary Oldman as Prime Minister Winston Churchill facing off against the continued triumphs of Hitler over Europe and the spirit of appeasement (and surrender) haunting his own "war cabinet" as Britain searches for hope against the NAZI onslaught. Despite a great deal of the story moving forward through dialogue, a lot of tension is built up by director Joe Wright with the script being sometimes heroic and sometimes funny showing how hard it is to lead a country under threat.
Murder on the Orient Express - 2017 - A handsome and nicely visual tale that sandwiches in more than just one Agatha Christie story, but more or less sticks to the fundamentals of Inspector Poirot (Kenneth Branaugh) and Poirot's amazing moustache as they solve the murder of a thug (Johnny Depp) that had been annoying the other passengers (particularly Michelle Pfeiffer, Judi Dench, and Penelope Cruz). There are suspects galore on board the speeding train as it moves from Constantinople and into Europe. The only flaw I found was that the dialogue can't stay true to it's 1934 era and bounces like a time traveler into concerns and verbiage that is strictly 2017.
Bloodfather - 2016 - Mel Gibson as an ex-con tattoo artist working from a small trailer in the desert where he maintains a fragile world where he stays clean and sober. His missing teenage daughter suddenly comes back into his life with a host of gangsters hot on her trail, and the tale soon morphs into a desperate road trip where the two try to stay alive and to utilize friends and allies from out of the dad's violent past. Gibson and the daughter (Erin Moriarty) are good together, but director Jean-Francois Richet lets the story turn into an episodic and segmented series of gun fights which impinges a great deal on the emotional story that's underway.
Frankenstein - 1931 - The original monster movie that spawned a thousand imitators has a hard time getting going until Colin Clive (as Victor Frankenstein) gets onto the screen as a brilliant and arrogant unhinged doctor on the cusp of figuring out how to "create life" and thus "know what it feels like to be God." Clive and the monster (Boris Karloff) are the best things about this very linear and straightforward film (in this way much different from the 1935 sequel) which also features James Whale's frequently inventive direction. The restored high definition copy of the film not only lets us inspect Clive and Karloff's faces in detail, but betrays the sound stage environment of the production, with obvious muddied audio echoes and sometimes clearly seen matte painting layering on the walls.
AMAZON STREAMING or BUY: Darkest Hour
AMAZON STREAMING or BUY: Murder on the Orient Express
AMAZON STREAMING or BUY: Blood Father
AMAZON STREAMING or BUY: Frankenstein - 1931
---
Warner Archive is moving to Filmstruck
When I had to choose between either Filmstruck or Warner Archive last year, I went with Warner Archive. They have such a jumble of good and bad titles from all across the whole spectrum of Hollywood eras it appealed to me more than the obviously superior, but also "already seen" library of titles at Filmstruck. Now it looks like that anyone who followed this logical path to a decision will be rewarded:
(from Warners Feb 27, 2018) "We are excited to announce that we will be partnering with FilmStruck, an affiliated service, to deliver the most comprehensive and exclusive library of classic films available anywhere. Beginning February 26, FilmStruck will be your new home for streaming iconic Hollywood classics, art house, indie, foreign and cult films from Turner Classic Movies (TCM) in collaboration with the Criterion Collection.

After April 26, 2018, we will no longer support subscribers on the Warner Archive platform; however, all current subscriptions will be honored on FilmStruck.

Currently, you have an annual Warner Archive subscription. To provide you with the most consistent service, we have arranged for FilmStruck to honor your subscription through the remainder of your subscription period. With this package, you will have access to the same films you enjoyed from the Warner Archive, along with FilmStruck's constantly refreshed library of films."
There is already overlap between the two services (for example, Val Lewton films show up under both systems), but the coming combination in April looks like a real evolution in classic moviedom streaming possibilities.
---
Hips, Hips, Hooray - 1934
Hips Hips Hooray - Released February 2, 1934. Directed by Mark Sandrich
You can see why the production code was just around the corner with Hips, Hips, Hooray! rolling into theatres in early 1934 (the code landed in the fall of the same year). This tale, which is mostly a connected series of comical sketches by Bert Wheeler and Robert Woolsey (with Thelma Todd and Dorothy Lee along), is partially about two goofy street corner salesmen trying to unload a bag of flavored lipsticks who get caught up in the accidental theft of an identically-shaped bag full of securities. The other part of the film is director Mark Sandrich and the gag writers* filling the farce with bevies of young women in 1930's-style underwear while apparently selling bathroom accessories, other girls in strange rubber-looking usherette costumes in garters and stockings, and the many secretaries populating the film (much of the story takes place in skyscraper offices) are all young and attractive and subject to slightly double-entendre wisecracks. It's more than a little gratuitous and the film ends up seeming like a cleaned-up version of a dirty vaudeville act (the villain of the piece is George Meeker as Mr. Beauchamp who leers at the girls about as much as, I guess, the audience is supposed to, judging by the way the gooseflesh is presented).
In between all of this is a song sung by Ruth Etting (who gets a starring position in the credits but only appears for a few minutes) singing "Keep Doin' What You're Doin'" which was originally meant for the Marx Brothers' Duck Soup. Wheeler and Woolsey get funny and inventive episodes in which they demonstrate how two men can bed, cook and dress themselves from out of an automobile, making coffee using the radiator, the wheels to press pants, etc. A long pool-room episode features trick shots that get more and more preposterous as the scene rolls along.

Thelma Todd as Amelia Frisby
Thelma Todd (as Amelia Frisby, the owner of "Maiden America Products") appears throughout the film as a secondary character. She is sometimes the familiar platinum-blonde Thelma we've seen in so many other early 30's films (she died in Dec 1935), but at other times in Hips, Hips, Hooray! she is black-haired, though in one dressing room scene the dark hair is obviously a wig and somewhat crookedly fastened to her head.

Dorothy Lee as Daisy
Dorothy Lee is the "love interest" that Bert Wheeler pursues in the story, and she isn't called upon to do much more than to provide a perfect smile and a lovelorn look when things aren't working out, though she does have a scene in which she hangs from a chandelier when Wheeler and Woolsey run rampant through a businessman's office suite.
The dancing numbers are by Dave Gould and Hips, Hips, Hooray! is larded with a lot of gorgeous art deco design work (by Carroll Clark and Van Nest Polglase) with costumes by Walter Plunkett.
*Script by Bert Kalmar, Harry Ruby, Edward Kaufman

Robert Woolsey and Thelma Todd
AMAZON: Wheeler and Woolsey - RKO Comedy Classics Collection DVD Set
---
Borzage's Moonrise
Criterion has Moonrise releasing on Blu-ray disk on May 8, 2018.
AMAZON - Moonrise (The Criterion Collection) [Blu-ray]
---
New Classic Film releases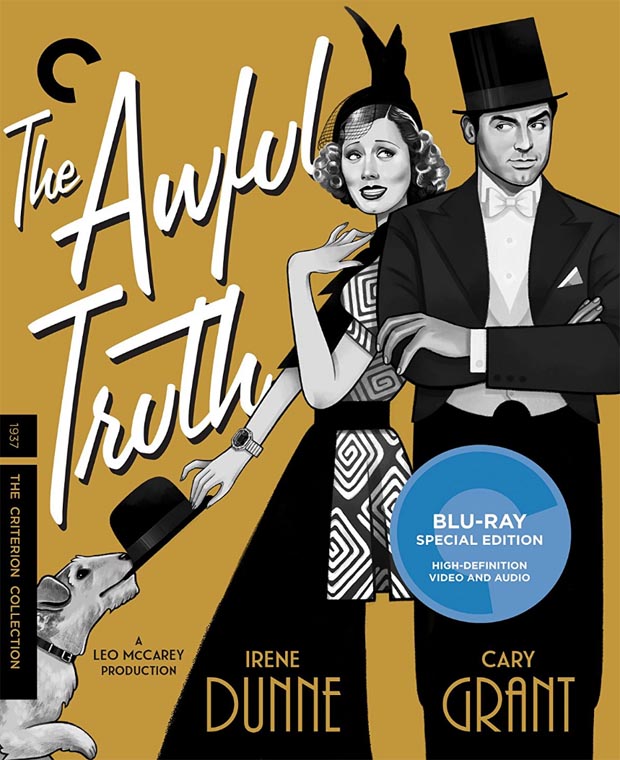 The Awful Truth - 1937
Irene Dunne and Cary Grant in a classic screwball comedy about how a perfectly good divorce can go completely wrong if the departing spouses can't stand for the other to move on. Grant and Dunne hilariously sabotage one another's efforts - film directed by Leo McCarey. New 4K digital transfer. - Releases in April 2018
AMAZON: The Awful Truth - Criterion Collection Blu-ray
Maigret and St Fiacre Case - 1959
Directed by Jean Delannoy - was released Dec 2017.
AMAZON: Maigret & St Fiacre Case
---
More than a Miracle - 1967
More than a Miracle (aka C'era una volta) - Released Oct 19, 1967. Directed by Francesco Rosi
Sophia Loren is in a peasant dress for most of this faery tale in which a neapolitan farm girl (Loren) is helped by a consortium of old women who meet in the woods (and appear to be witches) to plan the winning of the affections of a hot-headed Spanish prince (Omar Sharif) who is under pressure from the Spanish court and his family to find a wife and get married, pronto. The old women have Loren slated for that job, and like faery godmothers who step in when the going gets rough, they're dedicated to seeing the mission through to the end. This is important since it will seem Loren has failed completely during a crucial "dish washing contest" to determine who will win the Prince's hand in marriage.
Besides the witches, a flying priest (mostly he just hovers about fifty feet in the air) assists Loren in her quest for the love of this man so high above her station. She does her best, in between angry fits, to follow the instructions from her various benefactors. In one funny sequence Omar is paralysed into a squatting position while he is munching on mutton by Loren's malfunctioning "spell", and unable to move anything but his eyes he is then carried about in this ridiculous position.
The film doesn't always mix together the faery tale and the modern (for 1967) love story between the two unequals very well. When Omar's character occasionally uses violence (for example gives Loren a sharp slap across the face) it's a jarring moment far different from the goofy tone maintained elsewhere in the story (script by Tonino Guerra, Raffaele La Capria, Giuseppe Patroni Griffi, and Giambattista Basile).
Costuming is first rate and imaginative, the jousting and scenery is interesting and gorgeous. The tale is a bit predictable but the humor about the faery tale proceedings helps considerably.
More than a Miracle is streaming in HD at Warner Archive.
AMAZON Streaming: More than a Miracle
Amazon Soundtrack Vinyl - More Than A Miracle 1967
---
Tramp Tramp Tramp - 1926
Tramp Tramp Tramp - Released March 21, 1926 - Directed by Harry Edwards
Harry Langdon (as Harry Logan) is caught up in a cross country walking race, hoping to win the grand prize of $25,000 in order to save his father's deep-in-debt business. Joan Crawford (as Betty Burton) represents her family's shoe business which is sponsoring the race.
More - Tramp, Tramp, Tramp 1926
---
Criterion March 2018 coming releases
Dec 15, 2017: Another batch of classic films are coming with the Criterion treatment, with some new titles announced today. [Hey, Criterion, how about a Criterion effort on Capra's Meet John Doe?]
Partial list:
The Passion of Joan of Arc - 1928 - Director Carl Dreyer

The Age of Innocence - 1993 - Director Martin Scorsese

King of Jazz - 1930- Director John Murray Anderson

An Actor's Revenge- 1963 - Director Kon Ichikawa - Releases Feb 20

Westfront 1918 - 1930- Director G.W. Pabst- releases Jan 30, 2018
The Criterion web site is here
---
Robby the Robot
The robot star of the 1956 film Forbidden Planet sold for a record setting $5.38 million at a Bonhams Auction in November. This makes Robby the #1 costliest movie prop, topping a sale of Marilyn Monroe's Seven Year Itch dress which sold for $4.6 million (also with Bonhams) in June 2011.
---
Two on a Guillotine - 1965
Two on A Guillotine - Released January 13, 1965. Directed by William Conrad
There are moments when Two on a Guillotine seems like it is going to swerve directly into AIP International or even Hammer monster movie territory, but it doesn't follow through and instead veers back toward something safer like a romantic comedy crossed with a touch of The Ghost and Mr. Chicken.
Director William Conrad is the driver here, and there are occasional camera angles and scenes which remind me of Mario Brava (briefly), Hitchcock and House on Haunted Hill, and there is a nightmare-section that is an Edgar Allan Poe style montage about premature burial that has Connie Stevens waking up sweaty and screaming. But even with this fuel, Two on a Guillotine isn't really horror movie grade (except possibly for children) and the script by John Kneubuhl and Henry Slesar doesn't commit to any one destination and ends up stranded in between them all. Not that Two on a Guillotine doesn't try to prove its bone fides as a scarey movie right away with a gory prologue in which Connie is pierced with a sword (it's only part of a magician's act) and this fakiness is a metaphor for the whole film. As the reels unspool, Two on a Guillotine will strike some viewers as straight-up camp (it never goes as far as Hillbillies in a Haunted House, though.) Inserted scenes featuring a white magician's bunny that is played for goofy cuteness and unfunny laughter adds to the dysfunctional road map.
Most of the story takes place with Dean Jones (as a reporter) and Connie in an old mansion Connie's character (as Cassie Duquesne) inherits from her dead magician father (played by Cesar Romero) who she has spent most of her life estranged from. This is painful for her, but probably a good thing, dad apparently accidentally cut off the head of Cassie's mother Melinda Duquesne while doing an act in his show using an ornate giant guillotine. The cast seems to believe Mrs. Duquesne simply vanished, but Virginia Gregg (as a longtime assistant to the magician) knows the truth. Left out of the Magician's will, she starts hanging around the mansion with a belief that Mr. Duquesne will rise from the dead.
The well done black and white cinematography (by Sam Leavitt) provides us with scenes of grim visual horror-movie familiarity, and Cesar Romero plays for real pathos when he shows up again late in the story (just as the magician's will predicted) and he is convinced the daughter (played by Connie) is in fact the mother (who was also played by Connie in other scenes). Virginia Gregg attacks her scenes with complete dedication as if we're watching a melancholy film like Whatever Happened to Baby Jane? but none of this momentum lasts as right through the middle of it all comes the brightly smiling Connie Stevens and Dean Jones, bantering with each other and untouched by the craziness surrounding them.
The individual parts of Two on a Guillotine are professionally done, but it never gels into what it is pretending to be, a horror movie about secrets, madness and a murderous guillotine. It's as if we started off headed for the Bate's Motel, but ended up at Disneyworld. Connie and Dean Jones somehow exist within two different movies at the same time, happily going off together as the credits roll, leaving the dead bodies and insanity far, far behind in the rear view mirror.
Amazon Two On A Guillotine
---
New Classic film releases to Bluray - DVD
The Man Who Died Twice - 1958
Rod Cameron and Vera Ralston
Amazon [KINO] The Man Who Died Twice
The Philadelphia Story - 1940
Diorected by George Cukor - Katherine Hepburn, Cary Grant, Jimmy Stewart
AMAZON [Criterion] The Philadelphia Story
Jabberwocky - 1977
Directed by Terry Gilliam
AMAZON [Criterion] Jabberwocky
Cop-Out 1967 (aka "stranger in the House")
James Mason and Geraldine Chaplin
AMAZON [KINO] Cop-Out - aka Stranger in the House
The High Commissioner 1968 (aka Nobody Runs Forever)
Rod Taylor, Christopher Plummer, Lilli Palmer
AMAZON [KINO] The High Commissioner - aka Nobody Runs Forever
Since You Went Away - 1944
Claudette Colbert, Jennifer Jones, Joseph Cotten, Shirley Temple, Lionel Barrymore, Robert Walker, Monty Woolley, Hattie McDaniel, Agnes Moorehead, Guy Madison,Keenan Wynn, Craig Stevens
AMAZON [KINO] Since You Went Away (Roadshow Edition) [Blu-ray]
Le Samourai - 1967
Directed by Jean-Pierre Melville
AMAZON [Criterion] Le samouraï