CINEMAGRAPHE
---
Magnificent Obsession - 1954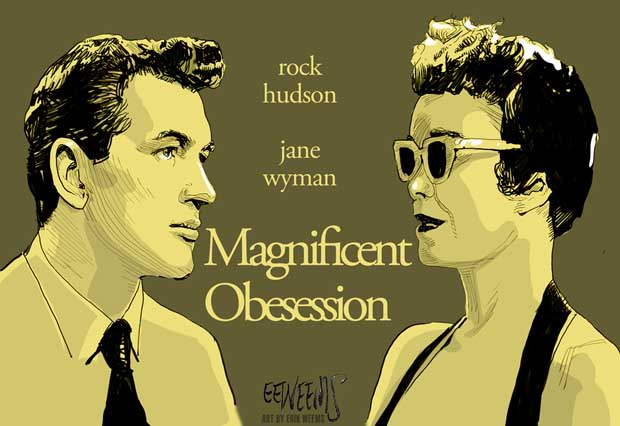 Directed by Douglas Sirk
Magnificent Obsession is the kind of 1950s melodrama that can be liked in spite of itself, or disliked and perhaps mocked on account of its emotional razzmatazz presented in that heightened form that flourished in the 50's. In films like On the Balcony, Rebel Without a Cause and in Tennessee Williams' films, the emotive powers of the actors are enlarged by the camera and made to fill out the screen like a special effect. These unique movies showcase the emotional lives of the characters in a similar way that superhero movies burnish and emphasize the muscles of costumed men and women, and in the story the heroes must bounce back from defeat suffered in the first act so that they can finally find the secret to triumphing in the third.
Defeat is how Magnificent Obsession begins when self-absorbed, arrogant rich boy Bob Merrick (Hudson) is given a key to resolving his guilt when he indirectly causes the death of a beloved local doctor and then falls for and is rejected by the widow (Wyman) who he consequently causes to go blind when she tries to avoid him by getting out of a taxi into oncoming traffic and is struck by a car. What is that key to resolving the double load of guilt Merrick is carrying? Serving humankind (which he is warned will become an obsession once he "aligns himself" to this way of life) and so he thinks his self-sacrificing will mean specifically serving the widow Jane Wyman. In order to do so he assumes a duplicate identity of Rob Robinson who the now blinded Wyman won't recognize as the detestable Merrick.
Magnificent Obsession has many fine scenes that are well directed, staged perfectly and Wyman and Hudson (along with child actor Judy Nugent) get to have a low-key oasis with a series of lake scenes in the middle of the movie. These perform as a break from the roller-coaster before and what's coming next. But the (almost) sadistic plot is lurking, and it will separate the lovers and make a reunion seem impossible.
Ultimately events leave Wyman trapped in her darkness and Merrick far away working himself into old age as a doctor at a hospital, surrounded by other doctors who sound like the younger Merrick. By now grey-templed, Merrick is talking like our story's original wise-man Randolph, played by Otto Kruger, who passed along the 'secret' of selfless service when Merrick was desperately looking for a way back to his feet. The only incongruity with this is that Otto appears later in the movie and looks the same as he did 90 minutes earlier, only Hudson has changed. And that's all to the good since the earlier Hudson of the movie seemed to be on an emotional amphetamines whether trying to "live it up" or trying to resolve his humiliation as the magnet for disaster. The story (adapted from the 1935 movie of the same name and the source novel by Lloyd Davis) is almost a story about selfless sacrifice the same way that the sound track continually keys up a melody line that is almost Beethoven's Ode to Joy.
AMAZON: Magnificent Obsession (The Criterion Collection)
---
Criterion His Girl Friday Bluray
This is easily the cleanest print of the Howard Hawk's movie I've ever seen, with nice delicate light greys and smooth grain. In days of yore beat-up copies of His Girl Friday filled in the schedule on PBS stations and late night indy TV channels. Jumpy, ragged prints with terrible sound and extreme high contrast made the movie a bit of an endurance test in order to listen to Rosalind Russell and Cary Grant trade rapid-fire wise-cracks (many overlapping in the Hawksian style). The bizarre striped outfit Russell wears through the beginning of the movie used to merge into a moire pattern, but there's none of that on this Criterion disk (which also includes a second film, the 1931 The Front Page, which is the "straight" original version of His Girl Friday).
If you're unfamiliar, Russell plays Cary Grant's retired journalist ex-wife, dropping by his newspaper to tidy up some old business before she marries an insurance salesman played by Ralph Bellamy. Determined to win the woman back (and whether he wants her more for her journalistic talent or out of pure love it's hard to say) Grant's character commences to concoct an endless series of ruses to keep her involved with the newspaper, ultimately leading her to the death watch on a condemned cop-murderer at the city prison. This doesn't sound like the backdrop for a screwball comedy, but that's what it is, with many inside jokes: Cary Grant at one point mentions someone named Archibald Leach - - which happens to be Grant's birth name. At another point, in trying to identify what the insurance salesman looks like so a prostitute Grant is sending to stall him and keep him away from Russell, he simply says "he looks like that movie actor, Ralph Bellamy."
AMAZON: His Girl Friday (The Criterion Collection) [Blu-ray]
---
New Princess Bride Bluray disk out
Criterion has put out a "storybook" style packaging for their HD of the film with illustrated pages and a 'restored' 4K transfer to digital.
I remember this film playing endlessly in 1987 in second-run theaters, word-of-mouth-building up a repeat audience that has given it a fanbase that not too many films can still enjoy after 30 years.
Here's the extras that Criterion has packed onto the disk as published on their web site:
New 4K digital restoration, with 5.1 surround DTS-HD Master Audio soundtrack on the Blu-ray
Audio commentary from 1996 featuring director Rob Reiner, screenwriter William Goldman, producer Andrew Scheinman, and actors Billy Crystal and Peter Falk
Edited 1987 audiobook reading of Goldman's novel The Princess Bride by Reiner
New program about Goldman's screenplay
New program about Goldman's tapestry based on his novel
Archival interviews with Reiner, Goldman, and actors Crystal, Cary Elwes, Christopher Guest, Mandy Patinkin, Chris Sarandon, Fred Savage, and Robin Wright
New interview with art director Richard Holland
Programs about makeup, fencing, and fairy tales
On-set video diary filmed and narrated by Elwes
Five behind-the-scenes videos with commentaries from 1996 by Reiner, Scheinman, and Crystal
Trailer
PLUS: An essay by author Sloane Crosley and, for the Blu-ray edition, Goldman's introduction to his Princess Bride script from his collection Four Screenplays, in a lavishly illustrated, clothbound book
Here's the AMAZON Princess Bride Criterion
link for the item
---
Quick Reviews
Cry Havoc - 1943 - Nurses and various refugees gather at a military support camp in the Philippines during the Japanese conquest of the South Pacific during World War II. While the American lines begin to crumble the ladies have to figure out what they're going to do and what has happened to the men they care about. Margaret Sullavan, Joan Blondell and Ann Sothern bicker and fight with each other but the ladies (and there's quite a few more than just these three) pool together their resources and emotional strengths as their situation looks increasingly doomed. Not as dark as the earlier nurse war drama So Proudly We Hail which came out three months earlier, but the two films share a common core story that enduring defeat is better than not being able to endure it. Cry Havoc looks to be unique in that men are rarely seen in the film at all unless they are about to die, and otherwise living males are made known only by off screen voices or through communications equipment, making Cry Havoc an "all girl show."
The More the Merrier - 1943 - Jean Arthur has space to rent at her apartment in wartime Washington DC (she feels it's her patriotic duty) where immense overcrowding is taking place, with lines of potential renters showing up wherever a vacancy sign appears. Charles Coburn has to outfox Arthur in order to get her extra space since she is only willing to rent to a woman. Once Coburn has accomplished getting the spare room, out of sympathy for a homeless aeronautical engineer (Joel McCrea) who is sleeping in the park, he then sub-rents his small space to him. The comedy of the tale works in several directions at once, with Coburn playing faery godfather to the incubating romance between his two unwilling cotenants, the dilemma of three adults trying to live together in a small space, and the general trouble of wartime Washington DC, crowded with people and sudden changes due to the federal government management of the war effort. The More the Merrier is in the vein of screwball comedies of the 1930s (and because of the cast is related somewhat to the earlier Jean Arthur film The Devil and Mrs. Jones) but with a sense of reality seeping in around the edges because of the war. Arthur and Coburn are a well-oiled comedy team, and the slightly sarcastic McCrea fits right in as the third wheel.
Venom - 2018 - A superhero movie without superheroes, only super villains, and paranoia. Tom Hardy plays a malfunctioning investigative reporter (named Eddie Brock) who learns of a rather serious breach of medical ethics at Life Foundation, a San Francisco "research facility" that actually functions as a large toy laboratory for amoral super genius Carlton Drake (Riz Ahmed). When alien life forms of throbbing, wiggling goo called "symbiotes' being studied at Drake's lab attach to a human volunteer, the two separate beings go through a synthesis, becoming a combo human being/alien (think demon possession but by other means, or Dr. Jekyll and Mr. Hyde) and then mayhem ensues. Venom is heavily doctored in the now-traditional mode of CGI superhero films, and the design work and effects are well done, but the script is a menu of sci-fi and comic book cliches. Tom Hardy does a stumbling, mumbling portrait of a man not quite in charge of himself who is benefitted greatly by having an often funny, and surprising ethical, alien whispering into his brain, and on occasion, taking over his body, turning it into an enormous muscular, overly-toothed, black-suited anti-hero. Though Venom is modeled on other Marvel hero movies, this film was made by Columbia Pictures only in assocaition with Marvel. The difference is that Columbia greenlit a script far crazier than the rational, nailed down tics of Disney's Marveldom. What Venom lacks in internal consistency it somewhat compensates with unexpected and sometimes absurd turns that makes it a movie Marvel/Disney could never have made, despite (mostly) looking like a Marvel film.
---
Stagecoach - 1939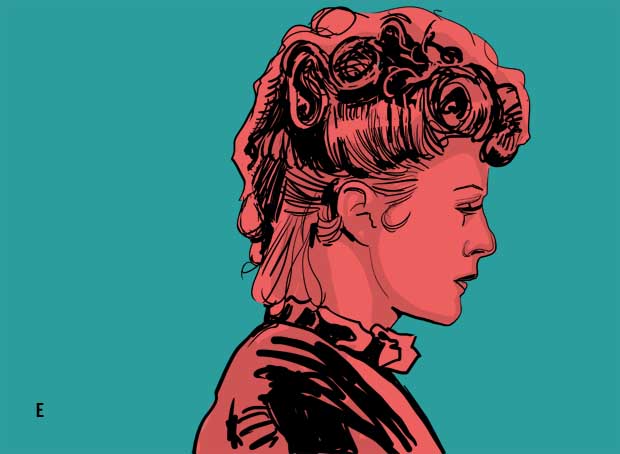 Stagecoach - Released March 2, 1939. Directed by John Ford
Claire Trevor as Dallas in John Ford's genre-changing Stagecoach plays a part that is part the stereotype saloon girl of a thousand Cowboy movies (big heart, good looks, availability), except Ford's story (by Ernest Haycox and Dudley Nichols) allows the audience to get a lot closer to the facts that were usually vague in classic oaters: she's a prostitute. Or, at least, was a prostitute. Ford never shows any bona fides for the character's career, a strategy which certainly helps along his alternative track of getting the movie audience to like Dallas, which Claire Trevor makes it easy to do.
Ford's script seems to have helped itself to material from Maupassant's short story Boule de suif and that informs the tale with Maupassant's tensions, hypocrisy and ironies of a long-distance stagecoach ride with a selection of society all bottled up together (Val Lewton used Boule de suif whole hog in his 1944 film, Mademoiselle Fifi). This group doesn't really get along with each other until the threat of massacre provides focus that their petty prejudices might not be all the important.
You can see that Ford's sympathies lie the strongest on Caire Trevor. He has sympathy for all the characters right across the board, though, as Ford pities the drunk Doctor, the unreconstructed Confederate, a young pregnant girl, John Wayne's Ringo Kid, etc. The only character left in the wind is the thieving banker (played by Berton Churchill) who Ford puts on the screen in one scene with just his backside to the camera for a prolonged sequence, the wind blowing his coat-tails up, as if Ford is saying "look at this man, isn't he an ass?" The native Americans get Ford's nod, too, briefly, though not anywhere as on the scale of his later films.
Ford's strongest plea for empathy is for the suffering Dallas who is helpful and kind to every person on the trip, and has to endure endless slights because, well, she's a prostitute mixing with decent society. She is looking for someway out of her profession, and Ford (and John Wayne's Ringo Kid) will supply the exit ramp. First, though, Ringo Kid has to survive to the end of the movie, and Ford tries hard to make it seem as though that is not an assured proposition.
---
Lon Chaney Jr., Ghost of Frankenstein
Ghost of Frankenstein - released March 13, 1942. Directed by Erle C. Kenton
Revived again (with Lon Chaney Jr. doing the honors) and again taken under Ygor's wing (Bela Lugosi returns as the hunchbacked lab assistant), the two set out for a better environment when it is clear the local villagers don't want them around. They travel to Frankenstein's other son's (Ludwig Frankenstein) home town and set up shop. When it becomes clear a new brain is going to be needed, Ygor is first in line to volunteer, with an obvious relish, envisioning a future in which his brain could direct the actions of a gigantic, powerful body. This, of course, was not in the best interests of anybody (not even Ygor, as things were to turn out) but Ygor's scheming pays off and soon he gets his wish, though it comes with a price, and that is explored in the next Frankenstein sequel, Frankenstein Meets the Wolfman (1943).
The Ghost of Frankenstein / Son of Frankenstein - Double Feature - Amazon DVD
---
The Creature Walks Among Us - 1956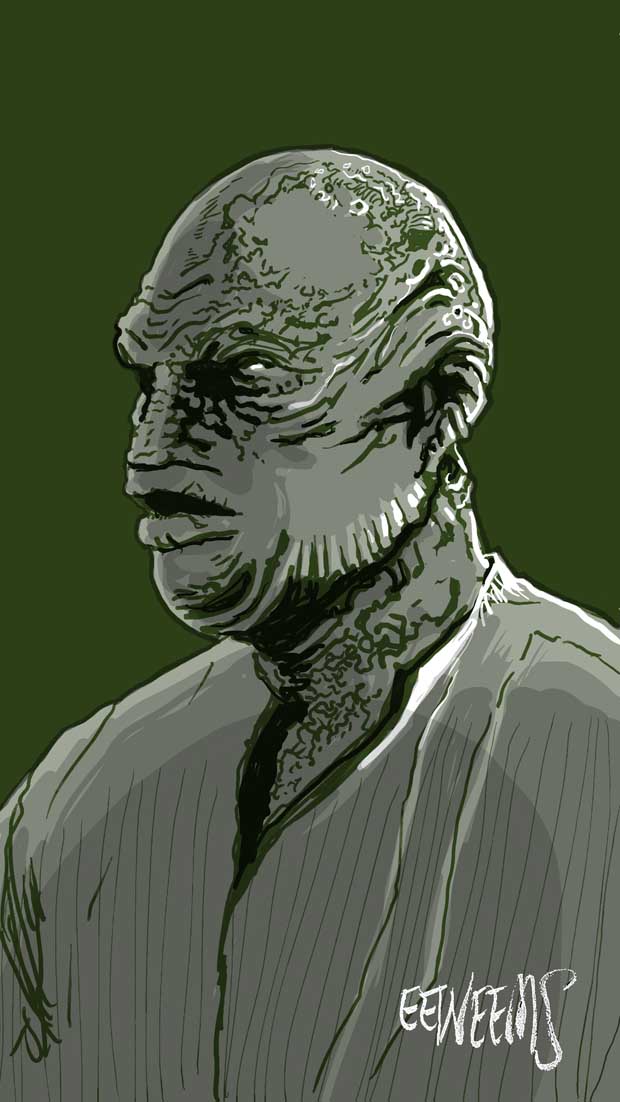 The Creature is back for the third and final time as (again) a captured specimen used by wrong-headed scientists wishing to manipulate nature. With Jeff Morrow, Leigh Snowden and Rex Reason. More The Creature Walks Among Us.
---
Quick Reviews:
The Male Animal - 1942 - Henry Fonda is a professor at Midwestern University in Michigan, and he and his wife (played by Olivia de Havilland) run into unexpected problems in both their marriage and his career when a former college football hero (Jack Carson) comes back to town for the "big homecoming game." Based on a stage play, the movie starts off very wordy, with de Havilland and Hattie McDaniel trading a lot of dialogue, but before the movie bogs down completely in wordplay, Jack Carson appears (he's the ex-football champ) and the tale picks up speed as we learn he's also the wife's ex-boyfriend. Now mild-mannered Henry Fonda has to confront something that can't be solved by analyzing a book, and he's coming up short. Eugene Pallette is the head of the university trustees who puts immense pressure on Fonda's professor to not read a controversial piece in his English class, and now Fonda is facing not only the dissolution of his marriage (mostly coming about through his poor reading of his wife's mood and his own propensity to reacting only intellectually to life) but also the professor has to either abandon his plan to read the piece (and his personal integrity) or he will possibly blow up his whole academic career. Jack Carson's input saves this movie from melodrama and helps Fonda and de Havilland pull out their comic chops for several series of funny sequences. Pallette and Carson as football-mad adults adds to the screwball nature of the tale.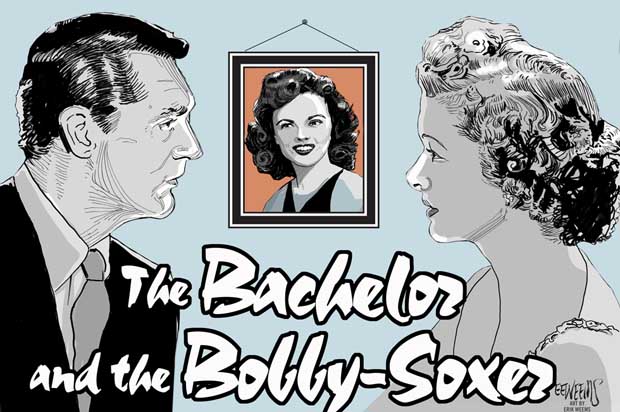 The Bachelor and the Bobby-Soxer - 1947 - Cary Grant is an artist who gives a speech at a local high school, only to have Shirley Temple (as one of the students) decide she's old enough to pursue him romantically, which shortly lands Cary involuntarily into a hot legal mess and struggling to find a way into the good graces of the judge (played by Myrna Loy) who happens to also be Shirley's aunt. This film is mildly related to the 1937 film Double Wedding which had a similar problem for the leads (in that case it was William Powell and Loy), but Grant is not Powell. Cary has a similar set of ace comedic skills of the self-deprecating kind (which is like Powell), but Cary has a great deal more swagger and doesn't bother with Powell's focus on early 20th century gentleman manners, instead Grant exudes the kind of attitudes that are a harbinger of what the 1950's would feature in cultured (Hollywood) male behavior. Shirley Temple as the hormone-addled teenager gives a good performance. Myrna Loy is essentially playing the same character she handled in Double Wedding and does it with the usual comedic aplomb.
---
The Hideous Sun Demon - 1958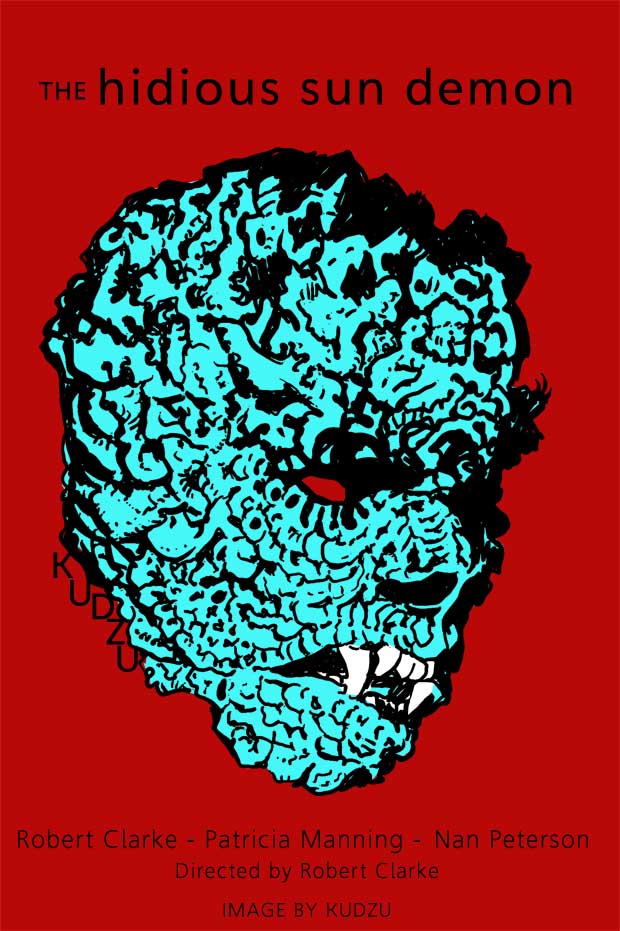 The Hideous Sun Demon - 1958 - Low budget monster effort starring Robert Clarke. He is a tormented nuclear scientist who discovers after a lab accident involving isotopes that he alters into a violent lizard-man when exposed to sun light. Needless to say, this is problematic for he and his would-be girlfriend (Patricia Manning). Consequently a good portion of this tale takes place at a night, conveniently at a night club where the scientist watches the pretty lounge singer (played by Nan Peterson) and the pair take off to swim and sleep overnight at the local beach, which turns into a disaster when the sun comes up. Star Robert Clarke also directs the film and keeps it moving as the lizard-man/scientist struggles to keep his sanity and to defeat the gangster boyfriend who keeps a proprietary eye on the lounge singer. While The Hideous Sun Demon seems to only mimic the usual 1950s science-gone-wrong films that had come before, it also throws in a piece of King Kong for a poetic finis, and contains a certain energetic get-up-and-go that helps compensate for the thin budget.
---
New Invasion of the Body Snatchers disc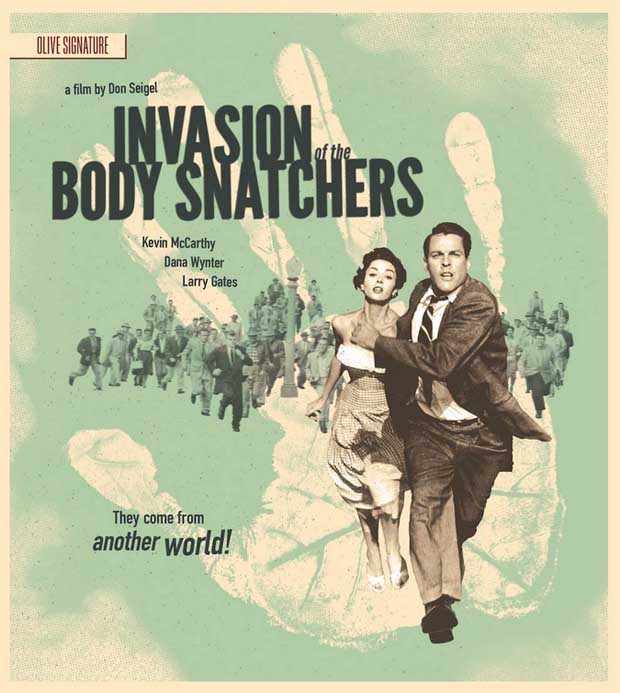 New bluray disc from Olive Films is a feature-packed improvement over the old bluray from 2012. The new feature list is:
New High-Definition digital restoration
Audio Commentary by film historian Richard Harland Smith
Audio Commentary by actors Kevin McCarthy and Dana Wynter, and filmmaker Joe Dante
"The Stranger in Your Lover's Eyes" – A two-part visual essay with actor and son of director Don Siegel, Kristoffer Tabori, reading from his father's book A Siegel Film
"The Fear is Real" – Filmmakers Larry Cohen and Joe Dante on the film's cultural significance
"I No Longer Belong: The Rise and Fall of Walter Wanger" – Film scholar and author Matthew Bernstein discusses the life and career of the film's producer
"Sleep No More: Invasion of the Body Snatchers Revisited" – An appreciation of the film featuring actors Kevin McCarthy and Dana Wynter, along with comments from film directors and fans, John Landis, Mick Garris, and Stuart Gordon
"The Fear and the Fiction: The Body Snatchers Phenomenon" – Kevin McCarthy and Dana Wynter, along with film directors John Landis, Mick Garris and Stuart Gordon, discuss the making of the film, its place in history, and its meaning
1985 archival interview with Kevin McCarthy hosted by Tom Hatten
"Return to Santa Mira" – An exploration of the film's locations
"What's In a Name?" – On the film's title
Gallery of rare documents detailing aspects of the film's production including the never-produced opening narration to have been read by Orson Welles
Essay by author and film programmer Kier-La Janisse
Original theatrical trailer
AMAZON: Invasion Of The Body Snatchers (Olive Signature) [Blu-ray]
---
New Capra disc coming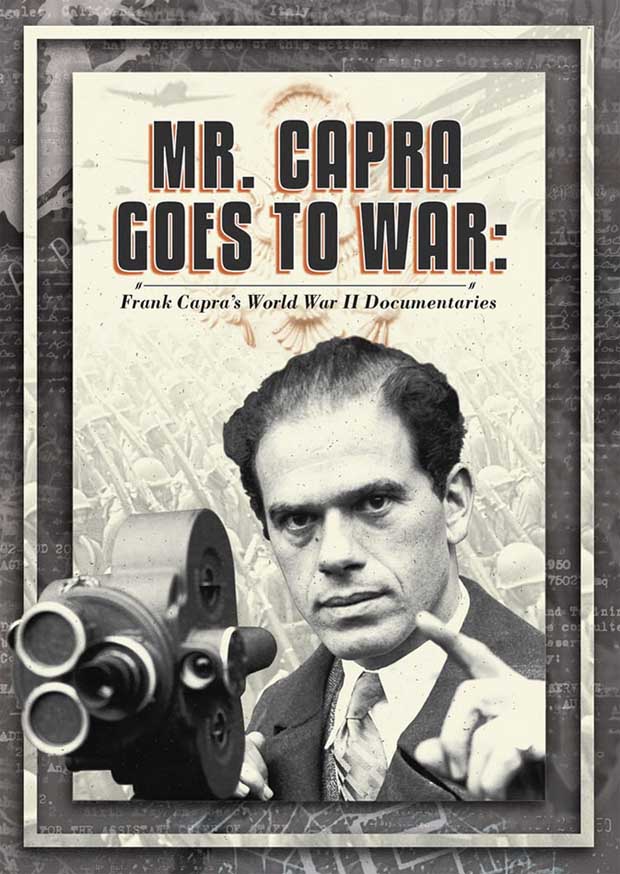 Olive Films has a new documentary disc Mr. Capra Goes to War coming November 6. On the disc are Capra's World War II documentariues Tunisian Victory, Prelude to War, The Battle of Russia, The Negro Soldier, Your Job in Germany. The disc also features ace Capra biographer Joseph McBride who discusses the film series in a feature piece and then also contributes introductions to each individual film. 310 minutes.
I didn't see any indication in the descriptions if restoration work was on done on the films. Ragged versions of the Why We Fight series has been showing up since the very beginning of the home video revolution: I bought cheap VHS versions from the Wal-Mart bins around 1988. Equally cheap versions in inexpensive DVD sets (like the Victory at Sea series, Why We Fight seems to either be easy to license or easy to rip off).
AMAZON: Mr. Capra Goes To War: Frank Capras World War II [Blu-ray]
Link to Olive Films
Joseph McBride's Capra bio Frank Capra: The Catastrophe of Success [AMAZON]
---
The Adventures of Hajji Baba - 1954
Twilight Time has released a HD Bluray disk of the film starring John Derek and Elaine Stewart
---
New Criterion titles
Some of the coming new Criterion Collection Blurays:
NOVEMBER 2018:
The Magnificent Ambersons - 1942 - Orson Welles famous dark film about American nostalgia in which RKO slashed out forty minutes and reshot the ending. AMAZON: The Magnificent Ambersons (The Criterion Collection) [Blu-ray]
DECEMBER 2018:
Forty Guns - 1957 - Sam Fuller directs Barbara Stanwyck as a cowgirl boss over forty hired gunman. AMAZON: Forty Guns (The Criterion Collection)
Panique - 1946 - Michel Simon stars as an eccentric Parisian who is wrongly fingered as a murderer. Directed by Julien Duvivier. AMAZON: Panique (The Criterion Collection)
JANUARY 2019:
In the Heat of the Night - 1967 - Sidney Poitier and Rod Stieger. Southern racism troubles a lonely sheriff trying to sort out a murder while accompanied by a vacationing African-American detective who shocks the local white and black populace. AMAZON: In the Heat of the Night (The Criterion Collection) [Blu-ray]
Notorious - 1946 - Hitchcock directs Cary Grant and Ingrid Bergman. She's a jaded society girl who becomes a spy, and he's her contact who is conflictedabout her with combinations of disgust, admiration and love. AMAZON: Notorious (The Criterion Collection) [Blu-ray]
---
Review: Beauty and the Beast - 1946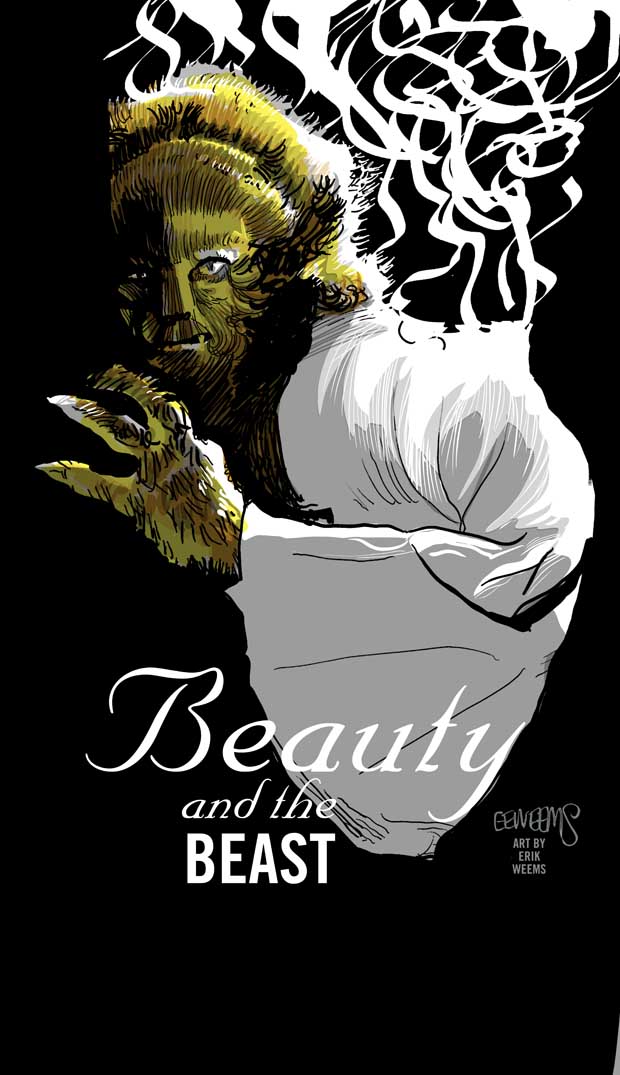 Jean Cocteau's (french) tale of the beautiful Belle who conquers the heart of a wrathful beast who rules a faery tale castle where she is imprisoned. Dreamlike imagery and optical effects benefit this phantasy film which is much more than the cartoon imitations that have followed in it's wake.
More Beauty and the Beast 1946
---
Re-released book on Kay Francis
McFarland Books has reprinted the 2008 The Complete Kay Francis Career Record - All Film, Stage, Radio and Television Appearances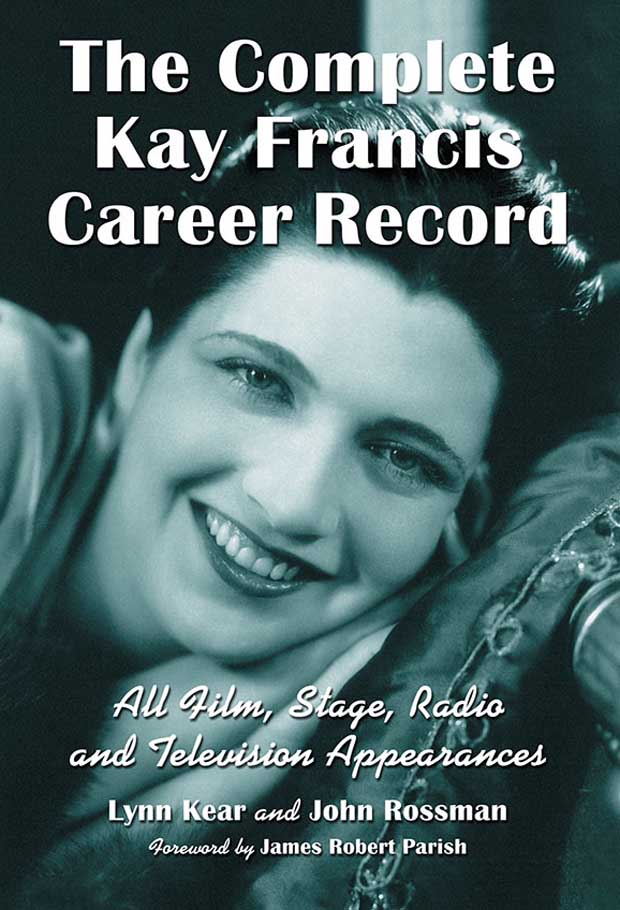 Amazon page for Kindle, Hardback and paperback versions The Complete Kay Francis Career Record: All Film, Stage, Radio and Television Appearances
McFarland web site page. From the description:
"... the definitive guide to the film, stage, radio and television career of Kay Francis, one of the most glamorous stars from the golden age of Hollywood. For each film, the authors provide a thorough synopsis plus cast and crew information (including biographies), opening dates, production notes, behind-the-scenes details, and reviews. In addition, information is provided on her stage, radio, and television appearances, and a section is devoted to collecting Kay Francis memorabilia, including such items as cigarette cards, sheet music and soundtracks. Also covered is the stage and vaudeville career of Kay Francis' mother, Katherine Clinton. A brief biography of Kay Francis is provided, along with an insightful foreword by film scholar James Robert Parish. Truly a treasure trove for Kay Francis fans and anyone interested in classic filmmaking in the 1930s and 1940s, the book includes more than 130 illustrations, many of them rare."
---
Review: The Falcon in Hollwood - 1944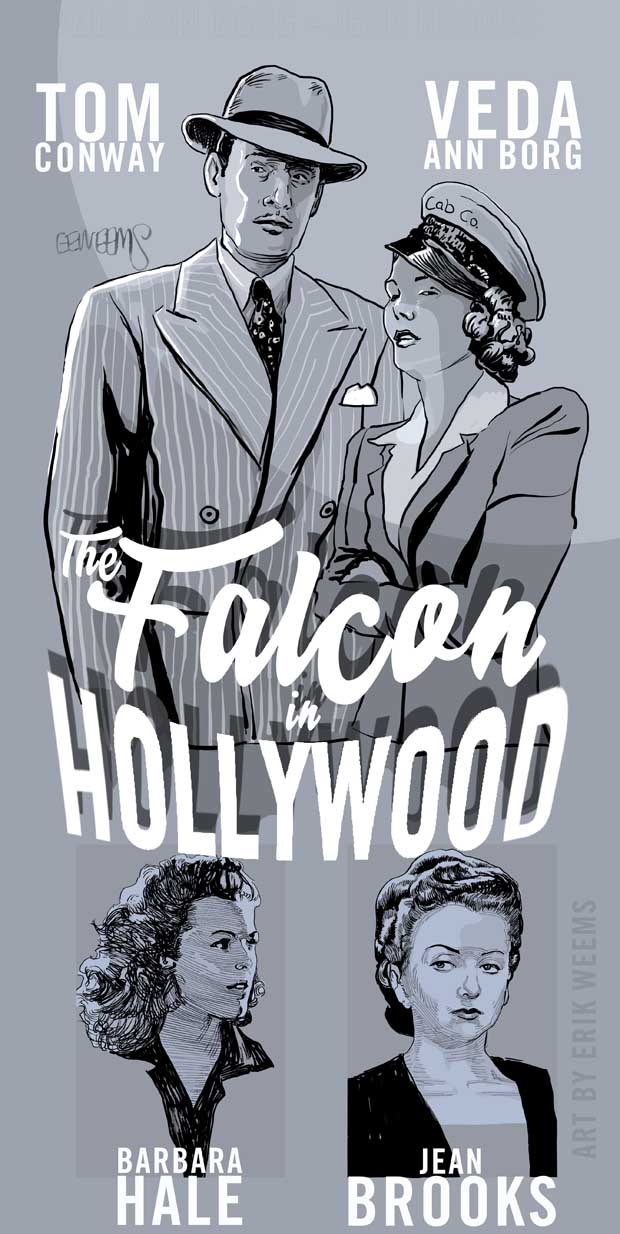 Tom Lawrence (aka "The Falcon," played by Tom Conway) is trying to enjoy a brief vacation in Los Angeles when he gets pulled into a murder case involving a troubled Hollywood film production. Veda Ann Borg is a sometimes Hollywood stunt driver and a full time cab driver (who drives like it's a stunt, much to the consternation of a frightened Falcon) who helps him along the way. Jean Brooks and Barbara Hale appear as helpful Hollywood pros who may or may not be involved in the dead bodies that keep being discovered.
The Falcon series from RKO (16 films in total) was produced from 1941 to 1949. Four of the films starred George Sanders (as Gay Lawrence), and ten featured Tom Conway (as Gay's brother Tom Lawrence). The last three in the series starred John Calvert).
The relaxed tone of the series gives it a unique quality, and there are a number of "inside jokes" which pop up from time to time. For example, George Sanders makes an uncredited appearance during a sequence in The Falcon in Hollywood as various extras and crew members file into the movie studio (where much of this entry in the series takes place), and George walks past the camera, making a sidelong glance at the audience and then at his actual brother Tom Conway who is behind him. Conway took over the job as "The Falcon" from Sanders back in 1942 in The Falcon's Brother. (George Sanders and Tom Conway actually were brothers, both originally named "Sanders." They flipped a coin to decide who got to keep their real name and who had to get a pseudonym. This was to prevent confusion with casting directors: Tom lost the coin toss.)
---
Quick Reviews:
Pot O' Gold - 1941 - Stars Jimmy Stewart and Paulette Goddard. This comedy/romance movie looks and sounds like imitation Frank Capra (particularly his version of You Can't Take It With You). Based on a radio series, Pot O' Gold is plagued by an episodic, variety-show structure and the kind of physical comedy that better suited a 15 minute comedy short. Goddard and Stewart do well with what they do but the film story, dialogue and structure is working against them. On the plus side, Pot O' Gold has a lot of music (well done and recorded) and particularly features the music band Horace Heidt and his Musical Knights.
Peppermint - 2018 - Jennifer Garner is a mother who survives a drive-by assassination that kills her daughter and husband. When she is able to pick out the culprits in a police line up, corrupt attorneys and judges begin working at the behest of a Los Angeles drug gang to make sure she will be discredited. Partly a toned-down reversion of Death Wish with a healthy dollop of superhero thrown in, Peppermint is a phantasy movie about revenge (or, if you agree with the viewpoint of the main character, Justice) in which an unstoppable grieving mother with a mission against evil people both inside and outside of "the system" cannot help but be triumphed over by the end titles. Garner is the earnest revenge-artist and John Ortiz is a Los Angeles detective with a sense of what's really going on, not just with the avenging "soccer mom," but with the duplicity within his own department.
---
Madame Peacock - 1924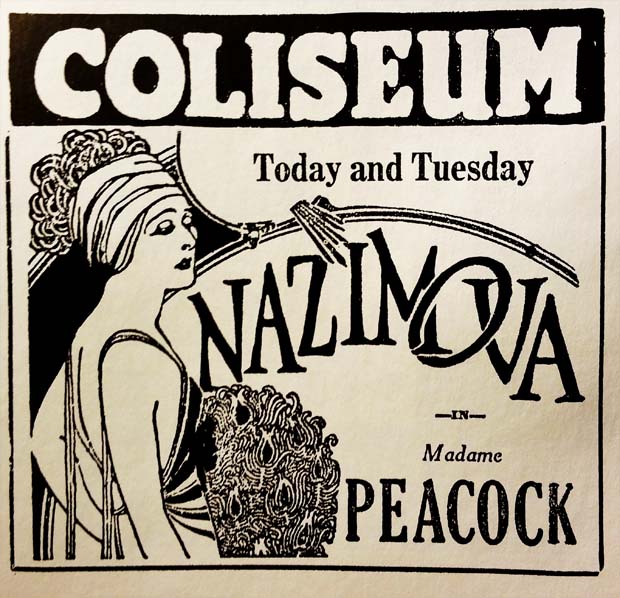 Madame Peacock - released Oct 24, 1920. Starring Alla Nazimova.
Madame Peacock is one of the thousands of "lost films" from the silent era. In it, Nazimova played both mother and daughter, in which she abandons her child and gains fame working in the theatre, and then later, the grown daughter (also Nazimova) becomes an actress and achieves greater popularity, ultimately replacing the mother (still Nazimova) in stardom.
At this point in her career, Nazimova was aged 41, and released four films in 1920, three of which she produced (Madame Peacock, The Heart of a Child, Stronger Than Death) and two films which she also scripted (Billions, Madame Peacock). In total, her career has 23 film acting credits, seven producer credits, four writing credits, and two directing credits, one being her most famous silent movie: Salome, which is officially credited to Charles Bryant. Stories about the filming of Salome insist that Nazimova actually directed the movie, but Bryant was coached to "play" the director (saying "Action" when required) on set as Nazimova had been under criticism for her productions for having "done too much" in their making.
---
New Bluray Release
Black Widow - 1954
Directed by Nunnally Johnson
Stars: Ginger Rogers, Van Heflin, Gene Tierney, George Raft, Peggy Ann Garner, Reginald Gardiner, Otto Kruger
Disc includes the feature film and Isolated Music Track / Audio Commentary with Film Historian Alan K. Rode / Ginger Rogers at Twentieth Century Fox / Gene Tierney: Final Curtain for a Noir Icon / Original Theatrical Trailer
AMAZON: Black Widow Bluray 1954
---
Review: The Emperor's Candlesticks - 1937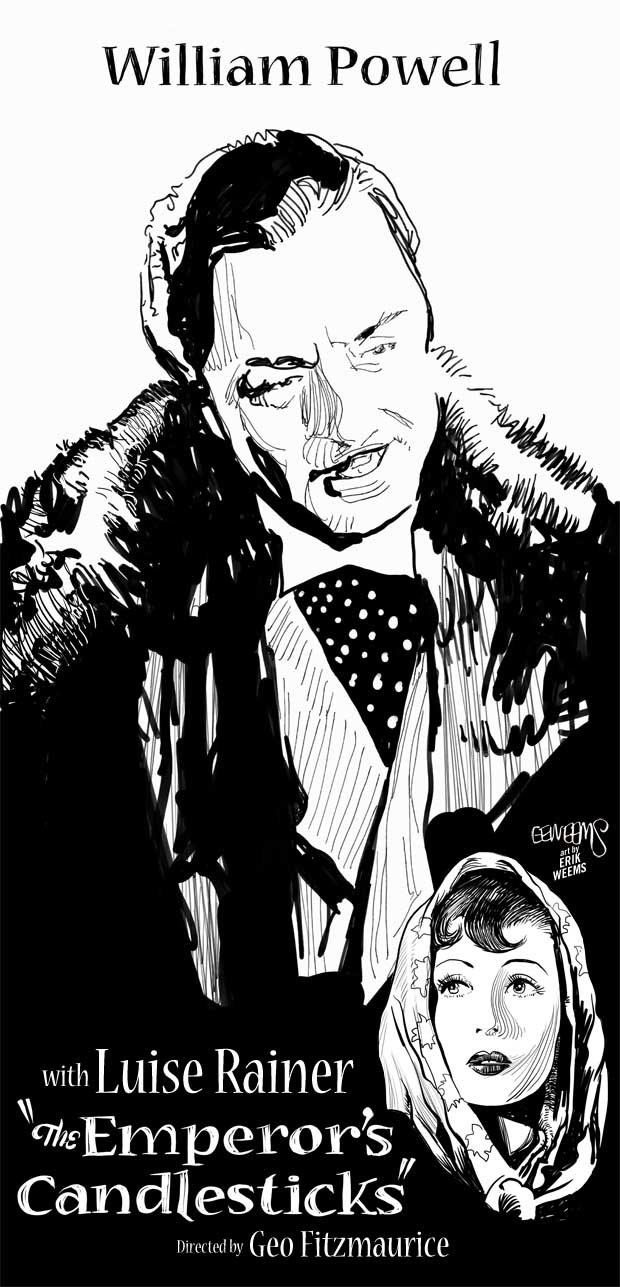 Though visually an effort in romance for the two leads (William Powell and Luis Rainer), The Emperor's Candlesticks is also supposed to be an espionage thriller. Competing spies from very opposite sides (Poland vs. Russia) discover a yen and admiration for each other, a complicating factor that story writer Baroness Emmuska Orczy uses to good effect (Orczy is more famous for authoring the frequently filmed The Scarlet Pimpernel). The Hollywood version of The Emperor's Candlesticks doesn't stress the tension between Poland and Russia except at a few key points, instead concentrating on the way love overcomes emnity (and can provide light comedy), a nice theme, but in hindsight not very clairvoyant - two years following this movie's release, Russia invaded Poland.
Luis Rainer (Countess Olga Mironova) is an intelligent and clever spy who takes pity on Powell (Baron Stephan Wolensky), and visa-versa, as the two race across Europe on separate missions to deliver a pair of candlesticks to the Russian Tzar - - inside the candlesticks are hidden coded messages that will matter in the life and death of the Tzar's son Grand Duke Peter (played by Robert Young) who is being held hostage to pressure the Russian king to release Maria Orlich's (Maureen O'Sullivan) father, a Polish radical who is imprisoned and slated to be executed by the Tzar's highly feared secret police. The love story between O'Sullivan and Young's characters is a side romance centered primarily around an elaborate grand masque ball given in Vienna, and the M-G-M art department delivers a grandious vision of turn of the century European opulance as the waltz music plays and the two junior love birds flit about in costumes - - this turns out to be a ruse, though, and political realities rearrange the fun into a life-or-death struggle over candlesticks.
But the real story is about Powell and Rainer. The irony of the romance between these two spies is that one (Rainer) is carrying a message that is a death sentence for the other spy (Powell) who is carrying a message that, if delivered, will show that the first spy (Rainer) has failed a different important task and would subsequently be punished for this with death by the only emphasized villains of the tale: the Tzar's secret police.
---