CINEMAGRAPHE
---
---
Hips, Hips, Hooray - 1934
Hips Hips Hooray - Released February 2, 1934. Directed by Mark Sandrich
You can see why the production code was just around the corner with Hips, Hips, Hooray! rolling into theatres in early 1934 (the code landed in the fall of the same year). This tale, which is mostly a connected series of comical sketches by Bert Wheeler and Robert Woolsey (with Thelma Todd and Dorothy Lee along), is partially about two goofy street corner salesmen trying to unload a bag of flavored lipsticks who get caught up in the accidental theft of an identically-shaped bag full of securities. The other part of the film is director Mark Sandrich and the gag writers* filling the farce with bevies of young women in 1930's-style underwear while apparently selling bathroom accessories, other girls in strange rubber-looking usherette costumes in garters and stockings, and the many secretaries populating the film (much of the story takes place in skyscraper offices) are all young and attractive and subject to slightly double-entendre wisecracks. It's more than a little gratuitous and the film ends up seeming like a cleaned-up version of a dirty vaudeville act (the villain of the piece is George Meeker as Mr. Beauchamp who leers at the girls about as much as, I guess, the audience is supposed to, judging by the way the gooseflesh is presented).
In between all of this is a song sung by Ruth Etting (who gets a starring position in the credits but only appears for a few minutes) singing "Keep Doin' What You're Doin'" which was originally meant for the Marx Brothers' Duck Soup. Wheeler and Woolsey get funny and inventive episodes in which they demonstrate how two men can bed, cook and dress themselves from out of an automobile, making coffee using the radiator, the wheels to press pants, etc. A long pool-room episode features trick shots that get more and more preposterous as the scene rolls along.

Thelma Todd as Amelia Frisby
Thelma Todd (as Amelia Frisby, the owner of "Maiden America Products") appears throughout the film as a secondary character. She is sometimes the familiar platinum-blonde Thelma we've seen in so many other early 30's films (she died in Dec 1935), but at other times in Hips, Hips, Hooray! she is black-haired, though in one dressing room scene the dark hair is obviously a wig and somewhat crookedly fastened to her head.

Dorothy Lee as Daisy
Dorothy Lee is the "love interest" that Bert Wheeler pursues in the story, and she isn't called upon to do much more than to provide a perfect smile and a lovelorn look when things aren't working out, though she does have a scene in which she hangs from a chandelier when Wheeler and Woolsey run rampant through a businessman's office suite.
The dancing numbers are by Dave Gould and Hips, Hips, Hooray! is larded with a lot of gorgeous art deco design work (by Carroll Clark and Van Nest Polglase) with costumes by Walter Plunkett.
*Script by Bert Kalmar, Harry Ruby, Edward Kaufman

Robert Woolsey and Thelma Todd
AMAZON: Wheeler and Woolsey - RKO Comedy Classics Collection DVD Set
---
Borzage's Moonrise
Criterion has Moonrise releasing on Blu-ray disk on May 8, 2018.
AMAZON - Moonrise (The Criterion Collection) [Blu-ray]
---
New Classic Film releases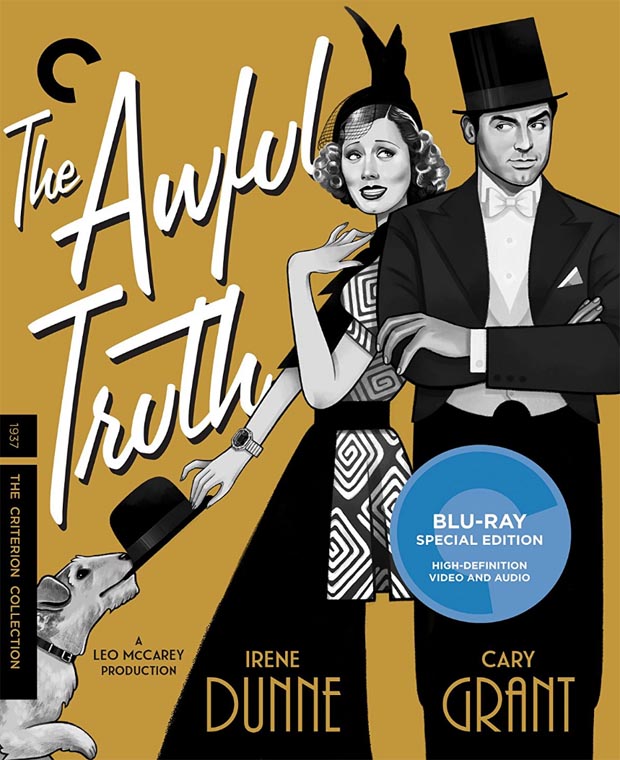 The Awful Truth - 1937
Irene Dunne and Cary Grant in a classic screwball comedy about how a perfectly good divorce can go completely wrong if the departing spouses can't stand for the other to move on. Grant and Dunne hilariously sabotage one another's efforts - film directed by Leo McCarey. New 4K digital transfer. - Releases in April 2018
AMAZON: The Awful Truth - Criterion Collection Blu-ray
Maigret and St Fiacre Case - 1959
Directed by Jean Delannoy - was released Dec 2017.
AMAZON: Maigret & St Fiacre Case
---
More than a Miracle - 1967
More than a Miracle (aka C'era una volta) - Released Oct 19, 1967. Directed by Francesco Rosi
Sophia Loren is in a peasant dress for most of this faery tale in which a neapolitan farm girl (Loren) is helped by a consortium of old women who meet in the woods (and appear to be witches) to plan the winning of the affections of a hot-headed Spanish prince (Omar Sharif) who is under pressure from the Spanish court and his family to find a wife and get married, pronto. The old women have Loren slated for that job, and like faery godmothers who step in when the going gets rough, they're dedicated to seeing the mission through to the end. This is important since it will seem Loren has failed completely during a crucial "dish washing contest" to determine who will win the Prince's hand in marriage.
Besides the witches, a flying priest (mostly he just hovers about fifty feet in the air) assists Loren in her quest for the love of this man so high above her station. She does her best, in between angry fits, to follow the instructions from her various benefactors. In one funny sequence Omar is paralysed into a squatting position while he is munching on mutton by Loren's malfunctioning "spell", and unable to move anything but his eyes he is then carried about in this ridiculous position.
The film doesn't always mix together the faery tale and the modern (for 1967) love story between the two unequals very well. When Omar's character occasionally uses violence (for example gives Loren a sharp slap across the face) it's a jarring moment far different from the goofy tone maintained elsewhere in the story (script by Tonino Guerra, Raffaele La Capria, Giuseppe Patroni Griffi, and Giambattista Basile).
Costuming is first rate and imaginative, the jousting and scenery is interesting and gorgeous. The tale is a bit predictable but the humor about the faery tale proceedings helps considerably.
More than a Miracle is streaming in HD at Warner Archive.
AMAZON Streaming: More than a Miracle
Amazon Soundtrack Vinyl - More Than A Miracle 1967
---
Tramp Tramp Tramp - 1926
Tramp Tramp Tramp - Released March 21, 1926 - Directed by Harry Edwards
Harry Langdon (as Harry Logan) is caught up in a cross country walking race, hoping to win the grand prize of $25,000 in order to save his father's deep-in-debt business. Joan Crawford (as Betty Burton) represents her family's shoe business which is sponsoring the race.
More - Tramp, Tramp, Tramp 1926
---
Criterion March 2018 coming releases
Dec 15, 2017: Another batch of classic films are coming with the Criterion treatment, with some new titles announced today. [Hey, Criterion, how about a Criterion effort on Capra's Meet John Doe?]
Partial list:
The Passion of Joan of Arc - 1928 - Director Carl Dreyer

The Age of Innocence - 1993 - Director Martin Scorsese

King of Jazz - 1930- Director John Murray Anderson

An Actor's Revenge- 1963 - Director Kon Ichikawa - Releases Feb 20

Westfront 1918 - 1930- Director G.W. Pabst- releases Jan 30, 2018
The Criterion web site is here
---
Barricade - 1950
Barricade - Released March 24, 1950. Directed by Peter Godfrey
(Film is sometimes titled in the plural 'Barricades' in advertising.)
If you've seen the 1941 The Sea Wolf then Barricade will seem more than a little familiar. Both are adaptations of Jack London's novel about a sea captain with a Nietzschean streak of superman egomania who brutalizes the men working for him (mostly convicts and degenerates) because he is superior (or so he says) to them both intellectually and in a way he counts as even more important: he has informers, enforcers and weapons, treating his employees as if they were convicts at a particularly vicious prison farm.
Barricade moves London's tale from an ocean-going ship to an isolated mining establishment 90 miles from civilization, with Raymond Massey as "Boss Kruger" (instead of 'Wolf Larsen' as in the other film), and Ruth Roman as Judith Burns, an on-the-run prison escapee who ends up at Kruger's mining operation. Two more outsiders show up, Dane Clark as a legally-compromised cowhand named Don Peters who is recruited to work at Kruger's mine, and also a obsequious Robert Douglas as the limping and anti-violent Aubrey Milburn. After arriving at Kruger's mine, Milburn ends up as a kitchen-assistant (since Kruger accesses he's not good for much else) where he is tormented by the vicious cook called 'Tippy' played by George Stern.
Milburn is also an educated man who becomes the only person Kruger feels like he can talk to on something like his own level (he is delighted when Milburn recognizes the oil portrait of Richard III, in a Shakespearean pose, on the wall of Kruger's home). The two have short conversational duals over Kruger's philosophy about the right of power to rule in any fashion it sees fit, with Douglas letting Massey have all the space on the screen to play his side rather flamboyantly with a smug lack of self-awareness and dripping with condescension. Douglas plays his part as reserved and calm as a disinterested attorney arguing his side in a not particularly dramatic court case. Part of this is because Milburn is secretly a lawyer, and is only masquerading as something else to hide his true identity, which comes to the fore later when Boss Kruger's nephew shows up with a gang of cowboys. They intend to seize the mine in revenge for Kruger having murdered his brother for possession of the operation sometime before our film's story began.
The 1941 The Sea Wolf is the better film, and the dynamics of a threatening environment for this battle of whether might-makes-right certainly works better aboard a ship surrounded by ocean (and storms) than Kruger's mining camp with a mostly unseen expanse of dessert (one section does give us a view of the dangerous world outside when Ruth Roman and Dane Clark briefly escape the place only to discover the precious water they're carrying to enable the 90 mile trip has been salted by Kruger, forcing them to turn back).
Barricade's script by William Sackheim which moves London's novel onto land works for the most part, but some elements do not cinematically function as well, for example when actor Morgan Farley as an alcoholic Christian called "The Judge" commits suicide anti-dramatically by rolling down a hill instead of leaping to his death from a tall mainmast, like Gene Lockhart as Dr. Prescott did in the 1941 film. Director Godfrey works some of the scenes in Barricade as if it is a stage play, depending more on camera angles than the actual drama of a mining camp in the middle of nowhere.
Raymond Massey intones the dialogue of an intelligent man brimming with enthusiasm about the power of his intellect and the force of will to rule over other (frequently willing) people, but the limited budget and the emphasis on building up a romantic sub-story between Ruth Roman (who spends a lot of the film knocked out in a bed) and Dane Clark sabotages this in places. This divided story scheme holds the film back, as does the narrow visuals, but Barricade is something unusual and experimental, it looks like a run-of-the-mill "oater" but it certainly is not.
---
Robby the Robot
The robot star of the 1956 film Forbidden Planet sold for a record setting $5.38 million at a Bonhams Auction in November. This makes Robby the #1 costliest movie prop, topping a sale of Marilyn Monroe's Seven Year Itch dress which sold for $4.6 million (also with Bonhams) in June 2011.
---
Two on a Guillotine - 1965
Two on A Guillotine - Released January 13, 1965. Directed by William Conrad
There are moments when Two on a Guillotine seems like it is going to swerve directly into AIP International or even Hammer monster movie territory, but it doesn't follow through and instead veers back toward something safer like a romantic comedy crossed with a touch of The Ghost and Mr. Chicken.
Director William Conrad is the driver here, and there are occasional camera angles and scenes which remind me of Mario Brava (briefly), Hitchcock and House on Haunted Hill, and there is a nightmare-section that is an Edgar Allan Poe style montage about premature burial that has Connie Stevens waking up sweaty and screaming. But even with this fuel, Two on a Guillotine isn't really horror movie grade (except possibly for children) and the script by John Kneubuhl and Henry Slesar doesn't commit to any one destination and ends up stranded in between them all. Not that Two on a Guillotine doesn't try to prove its bone fides as a scarey movie right away with a gory prologue in which Connie is pierced with a sword (it's only part of a magician's act) and this fakiness is a metaphor for the whole film. As the reels unspool, Two on a Guillotine will strike some viewers as straight-up camp (it never goes as far as Hillbillies in a Haunted House, though.) Inserted scenes featuring a white magician's bunny that is played for goofy cuteness and unfunny laughter adds to the dysfunctional road map.
Most of the story takes place with Dean Jones (as a reporter) and Connie in an old mansion Connie's character (as Cassie Duquesne) inherits from her dead magician father (played by Cesar Romero) who she has spent most of her life estranged from. This is painful for her, but probably a good thing, dad apparently accidentally cut off the head of Cassie's mother Melinda Duquesne while doing an act in his show using an ornate giant guillotine. The cast seems to believe Mrs. Duquesne simply vanished, but Virginia Gregg (as a longtime assistant to the magician) knows the truth. Left out of the Magician's will, she starts hanging around the mansion with a belief that Mr. Duquesne will rise from the dead.
The well done black and white cinematography (by Sam Leavitt) provides us with scenes of grim visual horror-movie familiarity, and Cesar Romero plays for real pathos when he shows up again late in the story (just as the magician's will predicted) and he is convinced the daughter (played by Connie) is in fact the mother (who was also played by Connie in other scenes). Virginia Gregg attacks her scenes with complete dedication as if we're watching a melancholy film like Whatever Happened to Baby Jane? but none of this momentum lasts as right through the middle of it all comes the brightly smiling Connie Stevens and Dean Jones, bantering with each other and untouched by the craziness surrounding them.
The individual parts of Two on a Guillotine are professionally done, but it never gels into what it is pretending to be, a horror movie about secrets, madness and a murderous guillotine. It's as if we started off headed for the Bate's Motel, but ended up at Disneyworld. Connie and Dean Jones somehow exist within two different movies at the same time, happily going off together as the credits roll, leaving the dead bodies and insanity far, far behind in the rear view mirror.
Amazon Two On A Guillotine
---
New Classic film releases to Bluray - DVD
The Man Who Died Twice - 1958
Rod Cameron and Vera Ralston
Amazon [KINO] The Man Who Died Twice
The Philadelphia Story - 1940
Diorected by George Cukor - Katherine Hepburn, Cary Grant, Jimmy Stewart
AMAZON [Criterion] The Philadelphia Story
Jabberwocky - 1977
Directed by Terry Gilliam
AMAZON [Criterion] Jabberwocky
Cop-Out 1967 (aka "stranger in the House")
James Mason and Geraldine Chaplin
AMAZON [KINO] Cop-Out - aka Stranger in the House
The High Commissioner 1968 (aka Nobody Runs Forever)
Rod Taylor, Christopher Plummer, Lilli Palmer
AMAZON [KINO] The High Commissioner - aka Nobody Runs Forever
Since You Went Away - 1944
Claudette Colbert, Jennifer Jones, Joseph Cotten, Shirley Temple, Lionel Barrymore, Robert Walker, Monty Woolley, Hattie McDaniel, Agnes Moorehead, Guy Madison,Keenan Wynn, Craig Stevens
AMAZON [KINO] Since You Went Away (Roadshow Edition) [Blu-ray]
Le Samourai - 1967
Directed by Jean-Pierre Melville
AMAZON [Criterion] Le samouraï
---
The Frisco Kid - 1935
The Frisco Kid - Released November 30, 1935 - Directed by Lloyd Bacon
James Cagney throws punches and concocts shady business ideas fast in this 77 minute mini-epic of 18th century lawlessness in San Francisco. Most of the conflict is between the denizens of the area called the "Barbary Coast" and the regular citizens and leaders of the less corrupt areas of the city. The contest between the two groups is to determine how the rapidly growing city (a gold rush is going on at this time) will make its money and run its government.
Cagney (as Bat Morgan) is a sailor who gets mugged by a gang of local shanghai specialists who intend to sell him off to a merchant ship off the coast that is needing crew for a trip to China. Bat outsmarts them and ends up selling their leader to the merchant craft instead. Befriended by Solly, a Yiddish tailor (George E. Stone) who takes him in off the street after he gets beaten up badly, the two form an odd duo who take on corrupt San Francisco on its own terms, with the tailor (Solly) being a good influence trying to steer Bat toward the straight and narrow (Solly also provides some Yiddish proverbs along the way). Solly isn't very effective as Bat is determined to gain wealth and prestige whatever the cost, though by following his own code which relies more on organizing and controlling the criminal enterprises in the red light district instead of promulgating them.
Meanwhile, as Bat rises up through the ranks of Frisco's crookeddom, he is smitten with a proper lady (Margaret Lindsay) who is connected with the best families in the city and is dedicated to doing what is right via the newspaper she owns, just as her father was doing before being murdered for his outspoken opposition against local perfidity.
As Solly says:
"Don't forget, Bat, when you first came here you were just a plain sailor. Now you work in a dive on Pacific Street. And ...she's a real lady."
Not too long after saying this Solly takes a bullet when an assassination attempt is made on Bat by competing bad guys. Grief-stricken (and angry), Bat is then at the cemetery overseeing a monument stone being put up to his dead friend (with a very bold Mogen David right on the front) when he meets up with Jean Barrat (Lindsay) who is at her father's grave.
The pair build up a fledgling infatuation between them which has Bat occasionally doing secretive favors for his love ideal. But his good deeds aren't enough to stop the coming armed confrontation between San Francisco's corrupt powers and the citizen groups which form a vigilante army, complete with rifles and bayonets, determined to put an end to the lawlessness in their midst once and for all.
Bat runs out of time to make a choice between which side he is really on when Jean's crusading newspaper editor (Donald Wood) is murdered, and by this point she's not going to cut Bat anymore slack for his wishy-washy morality, and excoriates him in person and flatly states she now hates him, then dismisses him roundly with a promise to never see or speak to him again.
Bat returns to his crime kingdom with an insurmountable problem on his hands: how to limit the coming bloodshed and to finally live up to the standards he has been staring at from afar. He makes an attempt to send his fellow criminals out of town by warning them they'll all be killed or jailed by the avenging vigilante army, but it's too little and too late. When Bat gets rounded up with other Barbary Coast 'businessmen" and put to trial by a mob jury, he is sentenced to hanging. Will Jean Barrat step in to try and save her former lover and hated enemy?
Director Bacon keeps the story rolling at a breathless rate, and the tale covers a lot of ground with its limited run time. The story moves like a fever dream in which Bat Morgan yearns for riches and power and then starts attaining it by being a criminal Horatio Alger, but he has a nagging ethical issue because as much as he says the world is run by "kicks in the face" he is hamstrung by the fact that the only people he admires and loves are the humble and gentle tailor Solly and the prim and proper Jean Barrat. The script by Warren Duff and Seton Miller doesn't have much space to work out any of this realistically, and the movie and delivery of the main dilemmas are all rolled up in Cagney's energetic performance, which he ably provides.