CINEMAGRAPHE
---
The Adventures of Hajji Baba - 1954
Twilight Time has released a HD Bluray disk of the film starring John Derek and Elaine Stewart
---
New Criterion titles
Some of the coming new Criterion Collection Blurays:
NOVEMBER 2018:
The Magnificent Ambersons - 1942 - Orson Welles famous dark film about American nostalgia in which RKO slashed out forty minutes and reshot the ending. AMAZON: The Magnificent Ambersons (The Criterion Collection) [Blu-ray]
DECEMBER 2018:
Forty Guns - 1957 - Sam Fuller directs Barbara Stanwyck as a cowgirl boss over forty hired gunman. AMAZON: Forty Guns (The Criterion Collection)
Panique - 1946 - Michel Simon stars as an eccentric Parisian who is wrongly fingered as a murderer. Directed by Julien Duvivier. AMAZON: Panique (The Criterion Collection)
JANUARY 2019:
In the Heat of the Night - 1967 - Sidney Poitier and Rod Stieger. Southern racism troubles a lonely sheriff trying to sort out a murder while accompanied by a vacationing African-American detective who shocks the local white and black populace. AMAZON: In the Heat of the Night (The Criterion Collection) [Blu-ray]
Notorious - 1946 - Hitchcock directs Cary Grant and Ingrid Bergman. She's a jaded society girl who becomes a spy, and he's her contact who is conflictedabout her with combinations of disgust, admiration and love. AMAZON: Notorious (The Criterion Collection) [Blu-ray]
---
Beauty and the Beast - 1946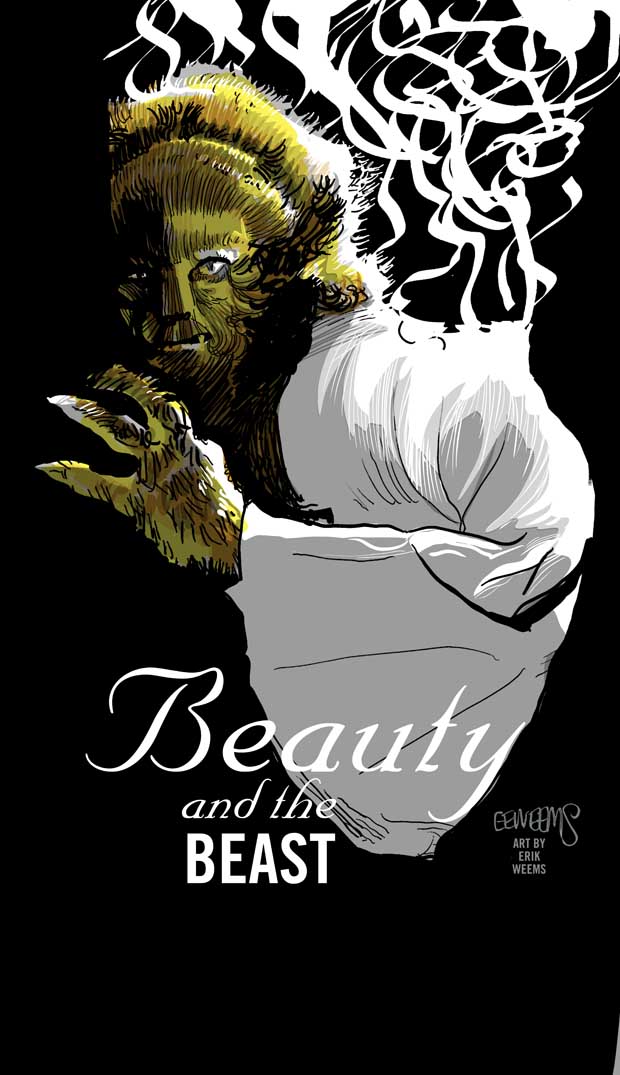 Jean Cocteau's (french) tale of the beautiful Belle who conquers the heart of a wrathful beast who rules a faery tale castle where she is imprisoned. Dreamlike imagery and optical effects benefit this phantasy film which is much more than the cartoon imitations that have followed in it's wake.
More Beauty and the Beast 1946
---
Re-released book on Kay Francis
McFarland Books has reprinted the 2008 The Complete Kay Francis Career Record - All Film, Stage, Radio and Television Appearances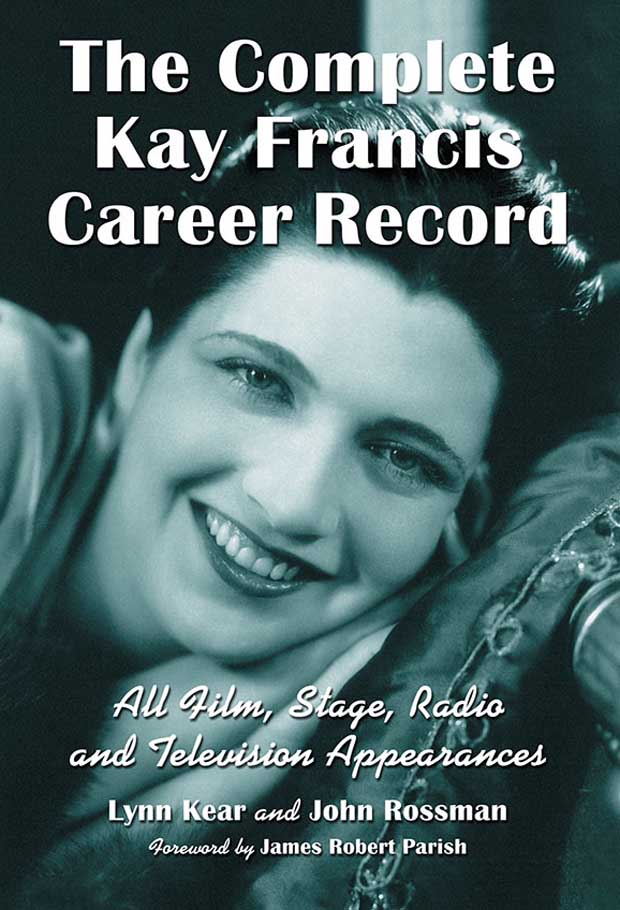 Amazon page for Kindle, Hardback and paperback versions The Complete Kay Francis Career Record: All Film, Stage, Radio and Television Appearances
McFarland web site page. From the description:
"... the definitive guide to the film, stage, radio and television career of Kay Francis, one of the most glamorous stars from the golden age of Hollywood. For each film, the authors provide a thorough synopsis plus cast and crew information (including biographies), opening dates, production notes, behind-the-scenes details, and reviews. In addition, information is provided on her stage, radio, and television appearances, and a section is devoted to collecting Kay Francis memorabilia, including such items as cigarette cards, sheet music and soundtracks. Also covered is the stage and vaudeville career of Kay Francis' mother, Katherine Clinton. A brief biography of Kay Francis is provided, along with an insightful foreword by film scholar James Robert Parish. Truly a treasure trove for Kay Francis fans and anyone interested in classic filmmaking in the 1930s and 1940s, the book includes more than 130 illustrations, many of them rare."
---
The Falcon in Hollwood - 1944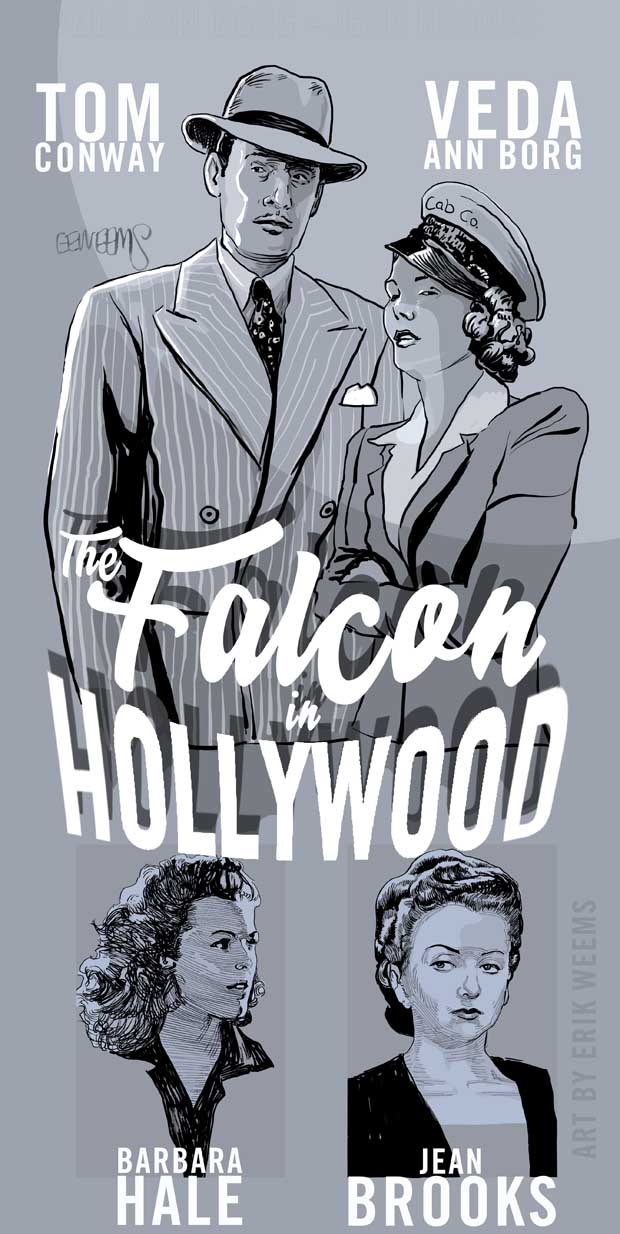 Tom Lawrence (aka "The Falcon," played by Tom Conway) is trying to enjoy a brief vacation in Los Angeles when he gets pulled into a murder case involving a troubled Hollywood film production. Veda Ann Borg is a sometimes Hollywood stunt driver and a full time cab driver (who drives like it's a stunt, much to the consternation of a frightened Falcon) who helps him along the way. Jean Brooks and Barbara Hale appear as helpful Hollywood pros who may or may not be involved in the dead bodies that keep being discovered.
The Falcon series from RKO (16 films in total) was produced from 1941 to 1949. Four of the films starred George Sanders (as Gay Lawrence), and ten featured Tom Conway (as Gay's brother Tom Lawrence). The last three in the series starred John Calvert).
The relaxed tone of the series gives it a unique quality, and there are a number of "inside jokes" which pop up from time to time. For example, George Sanders makes an uncredited appearance during a sequence in The Falcon in Hollywood as various extras and crew members file into the movie studio (where much of this entry in the series takes place), and George walks past the camera, making a sidelong glance at the audience and then at his actual brother Tom Conway who is behind him. Conway took over the job as "The Falcon" from Sanders back in 1942 in The Falcon's Brother. (George Sanders and Tom Conway actually were brothers, both originally named "Sanders." They flipped a coin to decide who got to keep their real name and who had to get a pseudonym. This was to prevent confusion with casting directors: Tom lost the coin toss.)
---
Quick Reviews:
Pot O' Gold - 1941 - Stars Jimmy Stewart and Paulette Goddard. This comedy/romance movie looks and sounds like imitation Frank Capra (particularly his version of You Can't Take It With You). Based on a radio series, Pot O' Gold is plagued by an episodic, variety-show structure and the kind of physical comedy that better suited a 15 minute comedy short. Goddard and Stewart do well with what they do but the film story, dialogue and structure is working against them. On the plus side, Pot O' Gold has a lot of music (well done and recorded) and particularly features the music band Horace Heidt and his Musical Knights.
Peppermint - 2018 - Jennifer Garner is a mother who survives a drive-by assassination that kills her daughter and husband. When she is able to pick out the culprits in a police line up, corrupt attorneys and judges begin working at the behest of a Los Angeles drug gang to make sure she will be discredited. Partly a toned-down reversion of Death Wish with a healthy dollop of superhero thrown in, Peppermint is a phantasy movie about revenge (or, if you agree with the viewpoint of the main character, Justice) in which an unstoppable grieving mother with a mission against evil people both inside and outside of "the system" cannot help but be triumphed over by the end titles. Garner is the earnest revenge-artist and John Ortiz is a Los Angeles detective with a sense of what's really going on, not just with the avenging "soccer mom," but with the duplicity within his own department.
The Hideous Sun Demon - 1958 - Low budget monster effort starring Robert Clarke. He is a tormented nuclear scientist who discovers after a lab accident involving isotopes that he alters into a violent lizard-man when exposed to sun light. Needless to say, this is problematic for he and his would-be girlfriend (Patricia Manning). Consequently a good portion of this tale takes place at a night, conveniently at a night club where the scientist watches the pretty lounge singer (played by Nan Peterson) and the pair take off to swim and sleep overnight at the local beach, which turns into a disaster when the sun comes up. Star Robert Clarke also directs the film and keeps it moving as the lizard-man/scientist struggles to keep his sanity and to defeat the gangster boyfriend who keeps a proprietary eye on the lounge singer. While The Hideous Sun Demon seems to only mimic the usual 1950s science-gone-wrong films that had come before, it also throws in a piece of King Kong for a poetic finis.
---
Madame Peacock - 1924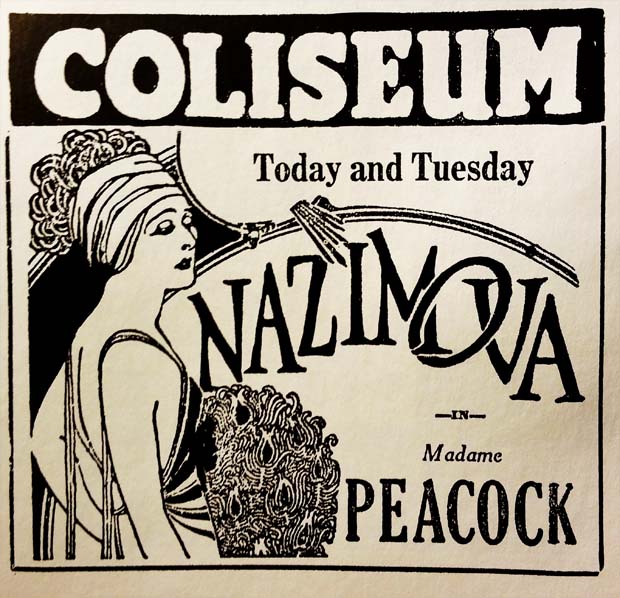 Madame Peacock - released Oct 24, 1920. Starring Alla Nazimova.
Madame Peacock is one of the thousands of "lost films" from the silent era. In it, Nazimova played both mother and daughter, in which she abandons her child and gains fame working in the theatre, and then later, the grown daughter (also Nazimova) becomes an actress and achieves greater popularity, ultimately replacing the mother (still Nazimova) in stardom.
At this point in her career, Nazimova was aged 41, and released four films in 1920, three of which she produced (Madame Peacock, The Heart of a Child, Stronger Than Death) and two films which she also scripted (Billions, Madame Peacock). In total, her career has 23 film acting credits, seven producer credits, four writing credits, and two directing credits, one being her most famous silent movie: Salome, which is officially credited to Charles Bryant. Stories about the filming of Salome insist that Nazimova actually directed the movie, but Bryant was coached to "play" the director (saying "Action" when required) on set as Nazimova had been under criticism for her productions for having "done too much" in their making.
---
New Bluray Release
Black Widow - 1954
Directed by Nunnally Johnson
Stars: Ginger Rogers, Van Heflin, Gene Tierney, George Raft, Peggy Ann Garner, Reginald Gardiner, Otto Kruger
Disc includes the feature film and Isolated Music Track / Audio Commentary with Film Historian Alan K. Rode / Ginger Rogers at Twentieth Century Fox / Gene Tierney: Final Curtain for a Noir Icon / Original Theatrical Trailer
AMAZON: Black Widow Bluray 1954
---
The Emperor's Candlesticks - 1937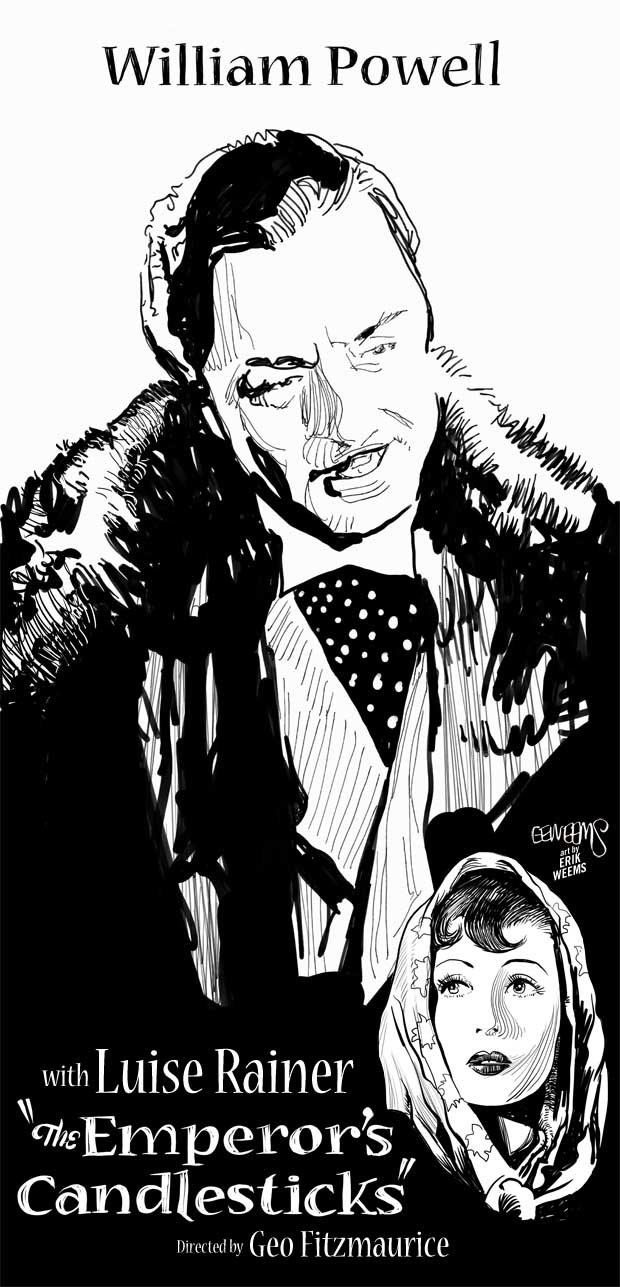 Though visually an effort in romance for the two leads (William Powell and Luis Rainer), The Emperor's Candlesticks is also supposed to be an espionage thriller. Competing spies from very opposite sides (Poland vs. Russia) discover a yen and admiration for each other, a complicating factor that story writer Baroness Emmuska Orczy uses to good effect (Orczy is more famous for authoring the frequently filmed The Scarlet Pimpernel). The Hollywood version of The Emperor's Candlesticks doesn't stress the tension between Poland and Russia except at a few key points, instead concentrating on the way love overcomes emnity (and can provide light comedy), a nice theme, but in hindsight not very clairvoyant - two years following this movie's release, Russia invaded Poland.
Luis Rainer (Countess Olga Mironova) is an intelligent and clever spy who takes pity on Powell (Baron Stephan Wolensky), and visa-versa, as the two race across Europe on separate missions to deliver a pair of candlesticks to the Russian Tzar - - inside the candlesticks are hidden coded messages that will matter in the life and death of the Tzar's son Grand Duke Peter (played by Robert Young) who is being held hostage to pressure the Russian king to release Maria Orlich's (Maureen O'Sullivan) father, a Polish radical who is imprisoned and slated to be executed by the Tzar's highly feared secret police. The love story between O'Sullivan and Young's characters is a side romance centered primarily around an elaborate grand masque ball given in Vienna, and the M-G-M art department delivers a grandious vision of turn of the century European opulance as the waltz music plays and the two junior love birds flit about in costumes - - this turns out to be a ruse, though, and political realities rearrange the fun into a life-or-death struggle over candlesticks.
But the real story is about Powell and Rainer. The irony of the romance between these two spies is that one (Rainer) is carrying a message that is a death sentence for the other spy (Powell) who is carrying a message that, if delivered, will show that the first spy (Rainer) has failed a different important task and would subsequently be punished for this with death by the only emphasized villains of the tale: the Tzar's secret police.
---