CINEMAGRAPHE
---
Hondo - 1953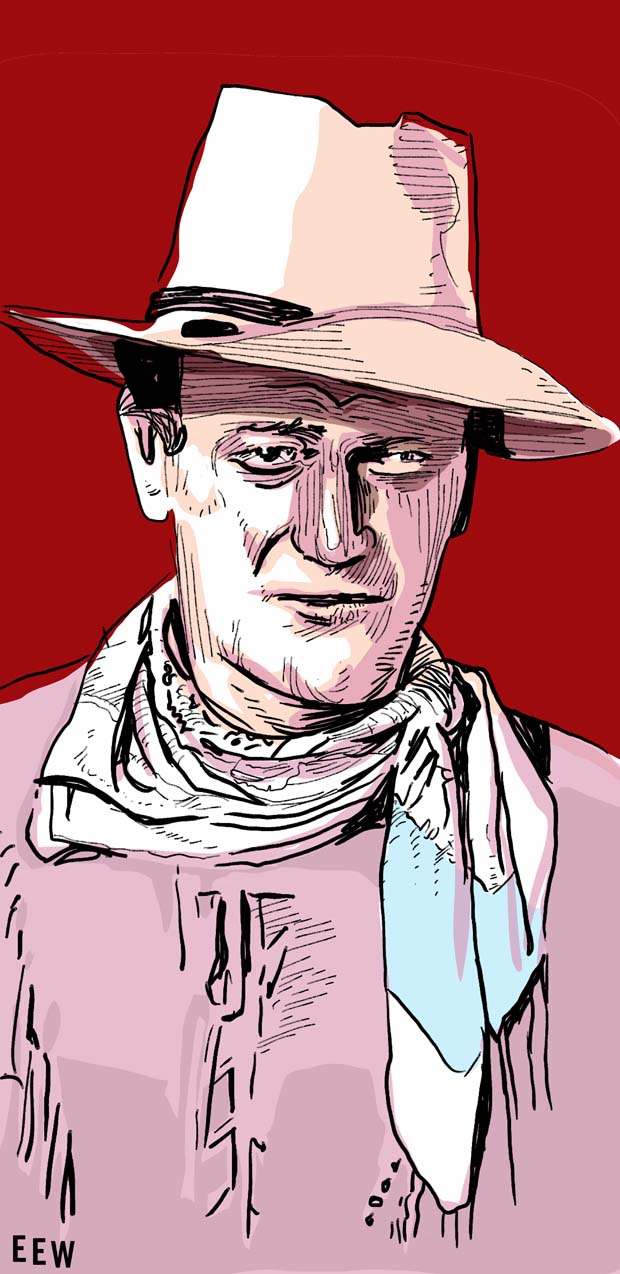 Hondo - Released November 27, 1953 - Directed by John Farrow (and some by John Ford)
Wayne plays a character (Hondo Lane) who is something of the antithesis of racist Ethan Edwards, the character he played in the 1956 The Searchers, which is the better movie but only by virtue of the masterful John Ford direction (who also, incidentally, helped out with the last part of filming on this movie because Farrow had to leave the set for another project when Hondo ran over schedule). Each film is a rumination on the dilemma of violent men (with varying degrees of reluctance), and clashing cultures, fighting over the American Western landscape where it is always a cinematic 1870 (particularly Hondo. Ward Bond is on hand, of course, and struggles with remembering the calendar date of whether it is 1869 or 1870. He decides it is 1870).
Hondo is given a good presentation from director Farrow, though the gimmick of 3D filming (which is how the film was originally released) intrudes in places with various characters thrusting toward the camera much in the same way the Creature from the Black Lagoon thrust toward the camera in that other famous 3D movie.
Like the Black Lagoon, the local area where maybe/maybe-not-widow Angie Lowe (Geraldine Page) lives only looks peaceful and serene for a short time until trouble is stirred up. In the past, Hondo lived with the Apache for five years and understands how the current wave of rising tension between Vittoria, the Apache chief, and the local white settlers has reached a lethal pitch. As he tells Angie after stumbling upon her farm after losing his horse, there's no word in the Apache language for "lie," which is what the treaty between the settlers and the natives has become because the US government has broken the agreement.
Based on the Louis L'amour novel, Hondo shows it's literary origins with a kind of dialogue that doesn't show up in other Wayne movies. Not only do we steadily get more layers of personality for the main characters as the film progresses, which is what any decent screenplay does, but the dialogue serves the purpose of also educating us about the tribal customs of the Apache. Aside from the novelistic plot and dialogue, Farrow (and I guess, John Ford) pack in a lot of action sequences which would not be out of place in any other dozen well-made Western films of the 1950s.
Good stunt work and a lot of dust getting kicked up by speeding horses, also one of the more unusual dog companions for a hero, makes Hondo simultaneously both a well-done western and something of an apologia for the Apache. At the end, when Wayne and Page tear out of the territory for California, it's not to escape the Apache, but the gossip of the white people.
---
Miss Pinkerton
1932 - featuring Joan Blondell and George Brent
"I'm tired and I'm bored. I think I'll donate my pink and white body to science and commit suicide," says Nurse Blondell after pulling a long shift at the hospital, one of many such shifts without let up. She then suddenly gets reassigned to do a nursing job for the local police, but not before director Lloyd Bacon makes sure we get to watch Blondell undress and put on a negligee, which seems to have been a required visual rite-of-passage for these kind of pre-code films.
George Brent is on hand (as Police Inspector Patten) and lets Blondell's character know that "you're really working for police headquarters." He starts calling her 'Miss Pinkerton' as she starts finding clues about what's really going on in the enormous old house where she is assigned to care for an elderly lady. They are surrounded in the home by sinister servants and family, and the apparent murder of a young man of the family who was inexplicably murdered in the home, which has conveniently saved everyone from poverty because of the large life insurance policy he took out just before becoming dead. Blondell tries to sort out the mess and Brent pops in and out.
Blondell and Brent present their particular acting speciality with rough skill, but director Bacon doesn't help matters much as most of the other actors deliver their lines flat and as if they're reading them off cards or just suddenly remembering them, with small pauses interrupting some of the lines. This is either from severe under-rehearsal or just the problem of early "talkie" films struggling to work out how to handle recorded dialogue, though by 1932 most production crews had worked it out. But, alas, not here. Miss Pinkerton suffers from the "old haunted house" story line, and the clumsy acting. Bacon does use a lot of inventive camera angles, though often enough its for purposes that add nothing to the story, such as shooting up at characters from between their legs, as if the audience is a nodding baby. Maybe much of the 1932 audience was nodding, since Miss Pinkerton just isn't quite able to put all its pieces together properly.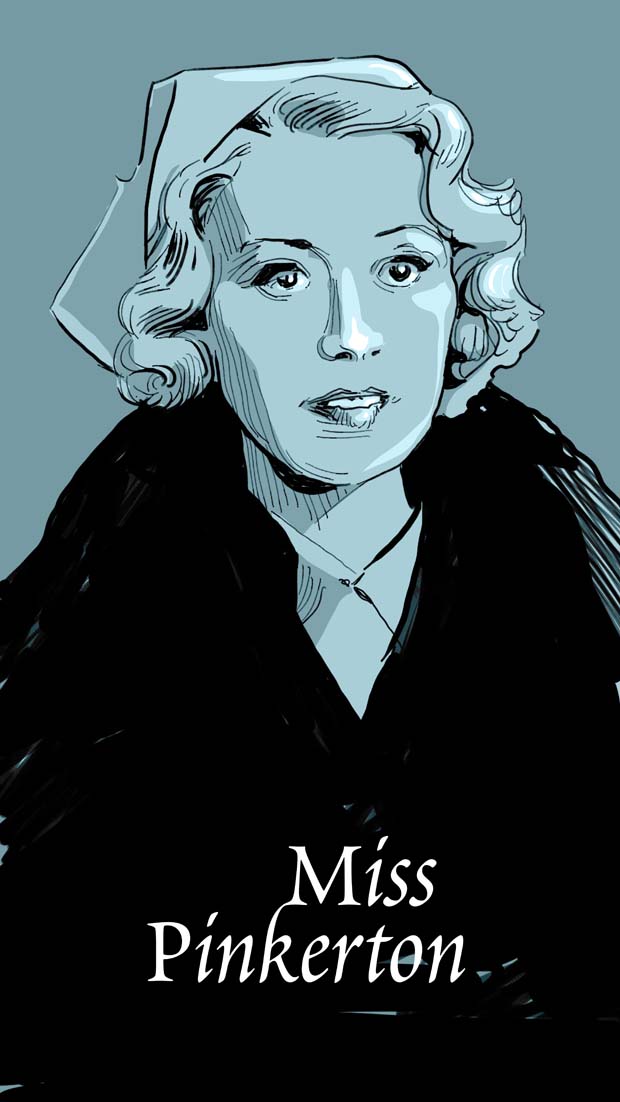 ---
Julie Adams - 1926-2019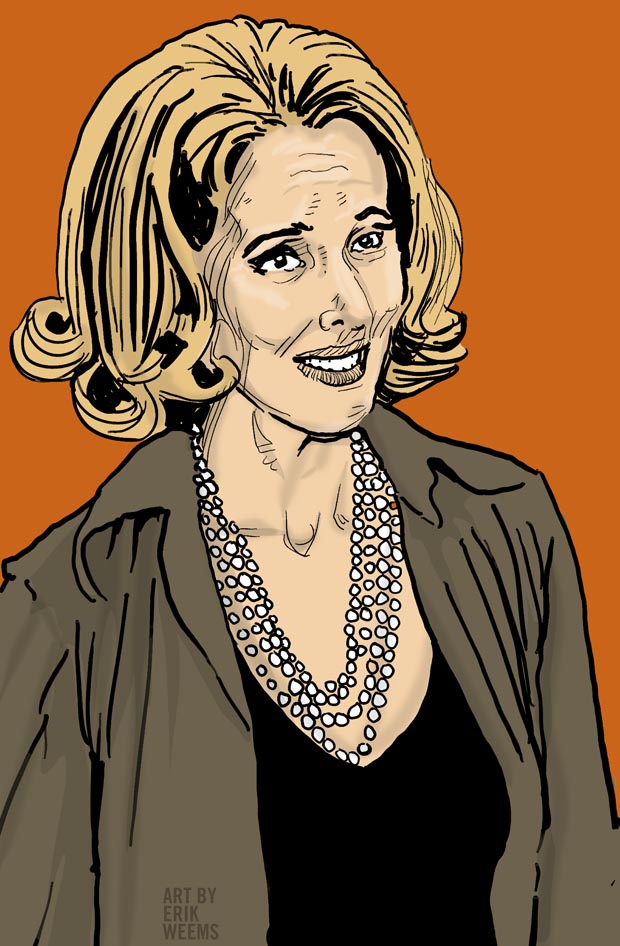 Julie Adams (aka Julia Adams)
Julie Adams, aged 92, has died. Her career contained a large gamut of film types - historical costume dramas, westerns (many), five movies with Rock Hudson, an Elvis film, a John Wayne film, a Jimmy Stewart film (and a TV series with Stewart), comedies, and of course one horror movie: The Creature from the Black Lagoon, which, in Hollywood terms, is "immortal," and has so far not suffered a reboot, though the rumour of one being almost on Universal's schedule pops up every few years. How they're going to repeat the kinetic and iconic match of the original creature with Julie (then Julia) is a difficulty that highlights how important Adams was to that original films success.
Her role as Kay Lawrence, the focus of the Creature's attention (he's obviously got a crush on her after she goes for a swim in his lagoon) overshadowed a great deal of Adams' later career by virtue of it's original popularity which was bolstered with regular reissues of the film through theatres and its playing on TV.
Adams herself had an ambivalent attitude toward the movie, though in interviews she demonstrates an ability to point out the aspects of it which she enjoyed, and to recount happy memories of how it was filmed. Yet she is also up front about her negative reception of the role when it was foisted on her by Universal, and how refusing it would have meant trouble in her contract, and there seems to be an underlying desire in all of this that her acting work, which is certainly professional and varied, would be accepted on its own merits and not forever linked to "the girl in the white swimsuit from Creature from the Black Lagoon."
In a way, this situation mirrors so many of the well known monster movie actors: Karloff, Lugosi, Price., etc., who all wanted recognition for their skill that was bigger than the fame they got from horror movies. That Adams got into that situation with only one film is a testimony to the way a movie imprints on the American imagination when the right images are projected on the screen.
Adams also did a lot of television, and appeared on a long list of popular programs well into her 80th year: Perry Mason, 77 Sunset Strip, Surfside 6, Hawaiian Eye, Mod Squad, Mannix, Police Woman, Incredible Hulk, Lost, and many others. She generally appeared on the small screen as earnest and intelligent, and this was probably a victory for a starlet who started off as a beauty pageant winner (Miss Little Rock Arkansas, 1946) and who Universal promoted as a star whose legs they insured for a $125,000, that were 'the most perfectly symmetrical in the world.' Beautiful actresses are often expendable in Hollywood, but Adams wasn't.
---
Our Man in Havana - 1960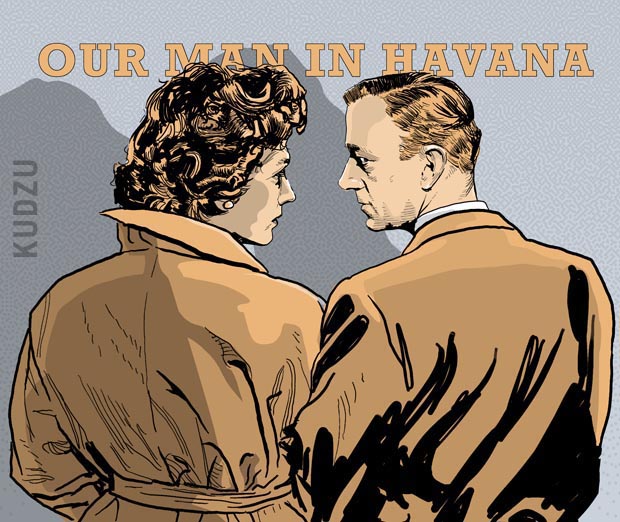 Our Man in Havana - 1960 (released in the UK Dec 30, 1959)
Jim Wormold runs a vacuum cleaner shop in Havana, Cuba, and he's got a problem: his daughter, who he adores, wants a pet horse, a rather expensive proposition to fulfill with vacuum cleaner sales. Even more challenging for Wormold is that she's suddenly older and has become beautiful, and that's attracted the attention of the local police chief (played by Ernie Kovaks) who has his eye on her for his future Mrs. Police Chief. Wormold wants to get her out of Cuba entirely and into a school in Switzerland, but the horse and the foreign school both look well out of his reach when unexpectedly he's given an offer to help the British Secret Service to set up a network of spies.
He (Alec Guinness) takes on the work under protest, stating emphatically he has no idea about how to set up a spy network, but all of this is brushed aside by the cane-toting Noel Coward, code name "Hawthorne," who is his UK government contact. "Aren't you willing to serve your country?" Hawthorne asks, and that seems to be enough a credential to set Guinness on his way.
With extra money coming in, Wormold can now get the daughter a horse ("Sarafina") and a membership at an expensive and exclusive Cuban country club, but soon the British are pressuring "our man in Havana" to produce intelligence reports. Coached by fellow expatriate Dr. Hasselbacher (Burl Ives), Wormold is encouraged by him to fake intel since that would endanger no one, so he commences to drawing a large, bizarre weapon system that is under construction in the Cuban hills. When this "intelligence" is sent to London, panic sets in about this unknown and potentially lethal super weapon being built in the Caribbean, which they only note in passing has a certain similarity to vacuum cleaner parts.
Director Carol Reed layers in some editorial about Batista-era Cuba and creates comedic (and sad) side-stories in the background of this otherwise straight-forward spy movie. Havana is shown as a place of peasants, beggars, bars, lovers, brothels, and the wealthy, but mostly we get chaotic streets of busy people while "The Red Vulture" (Ernie Kovak's police chief) cruises along looking for trouble. Jo Morrow is the smiling (or pouting) daughter Milly, and Maureen O'Hara as the new secretary Beatrice Severn who is sent in an emergency rush from London to help Wormold "run" his network of spies. What they don't know is that the individuals Wormold has under his command are all made up (sometimes concocted from a newspaper adventure strip Wormold reads), a cast that solidifies into reality when Wormold has to pretend to Beatrice that they really do exist, pointing out varied real individuals across the strata of Havana society, while voicing a convenient cover story of why all of them "pretend" to not know him.
Our Man in Havana isn't a perfect movie, and there are some editing lapses which indicate some second-thoughts about the plot occurred in post-production. But the care Reed took in preparing the background of our visual story is evident throughout, the cinematography handsome, and Guinness and the rest of the cast give good, steady performances. Often they are called upon to keep the same straight face as they pass through a comedic scene and into a serious one (and as the tale progresses, a dark tension tries to spread over the story, and this is where Burl Ives excels, despite his meagre use of a Hollywood German-accent, as the desperate Dr. Hasselbacher). There's some physical comedy and Kovaks gives us a controlled, and controlling, corrupt (and possibly crazy) Captain Segura who nonetheless has a sad, goofy charm to him. "He just sings sad songs about flowers, and death, and one about a bull," says Milly.
The screenplay (by Graham Greene from his novel of the same title) delivers irony and humour. For awhile he keeps the vacuum cleaner salesman one step ahead of his scheme, but then the scheme has taken on a life of its own in the streets of Havana, producing unintended, dangerous results. When Wormold's ruse finally unravels and he's got to face the music in London, that's where he really learns how the spy game is played.
---
Criterion coming back to streaming with "The Criterion Channel"
Jan 30, 2019: Filmstruck, the streaming partnership between TCM and Criterion, went offline last year, but Criterion is returning in April 2019 with a new streaming service offering discounts for early-bird subscribers. No idea yet on how much of their library of titles they'll be offering.
More info at Screen Crush
---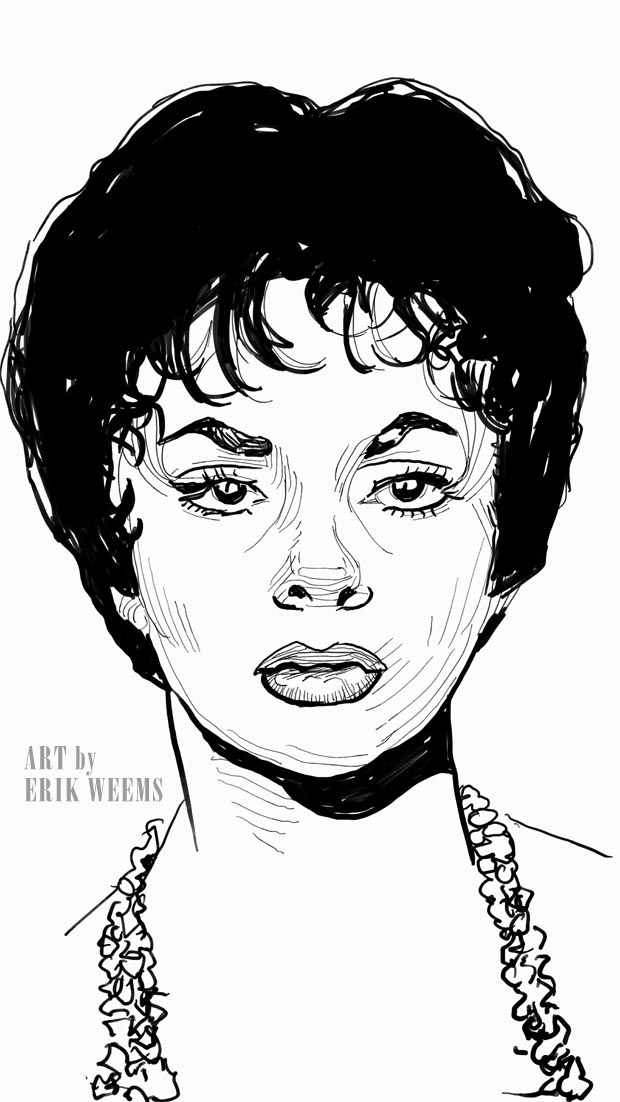 Gina Lollobrigida
---
New classic film releases from Twilight Time
The Twilight Time company has new HDs, available for pre-order on Jan 9th. Frequently the copy run for their titles are low and so the risk of a sell-out is possible (I bought a copy of their HD Those Magnificent Men in Their Flying Machines and years later it goes for $150+ on ebay due to the scarcity.)
For pre-order:
Beat the Devil - they list this as a 1080P HD release, which should make it superior to the flood of badly transferred low res versions that have been banging around since the days of VHS tape. John Huston made this 1953 film on the fly in Italy with Bogart, Lollobrigida, Peter Lorre (and others) and the scripting shows it, but the dialogue is funny and the whole cast seems to be enjoying making an elaborate, extended practical joke dressed up as an adventure film. An ensemble of funny minor characters fill out the tale.
Untamed - 1955 adventure and romance film with Tyrone Power and Susan Hayward.
Yanks - 1979 drama with Richard Gere, Vanessa Redgrave, William Devane
---
Two Arabian Knights - 1927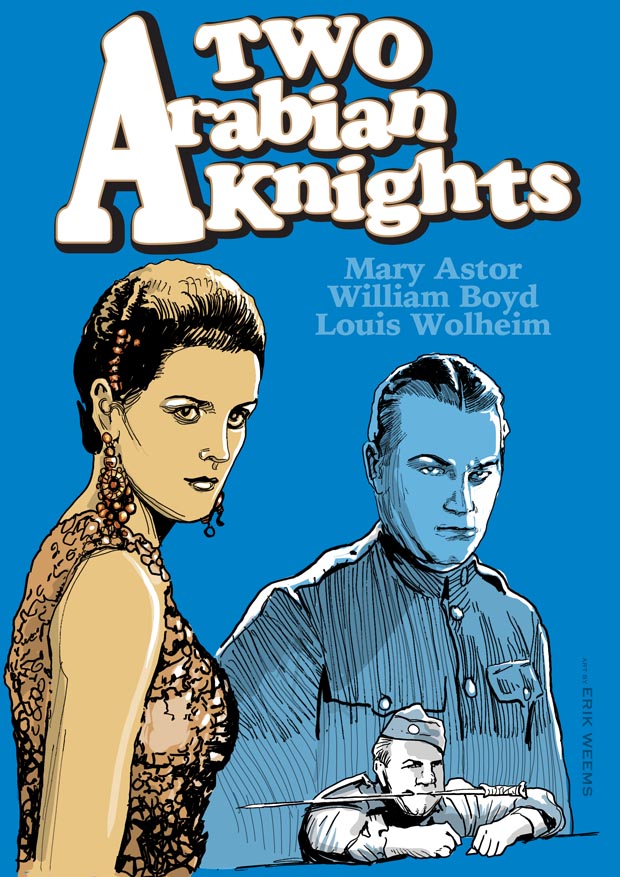 Two Arabian Knights - Released Sept 23, 1927. Dir. Lewis Milestone
Is the term "rollicking adventure story" out of vogue? Because that's what this 1927 silent film is, with two American doughboys (William Boyd and Louis Wolheim) in a World War I German POW camp, finally escaping, getting mistaken for Arabs and being shipped to Turkey where they get embroiled in saving a young native woman (Mary Astor) from a forced marriage.
Of course Turks aren't Arabs or visa versa, and how these two Americans could be mistaken for Arabs doesn't make a lot of sense, regardless that they're wrapped up in long white terry cloth shower robes and accidentally get into line with kandoora robe-dressed Arab prisoners. Somehow that fools the movie's Germans and that combined with some fast moves gets the two heroes out of wartime Europe.
Lewis Milestone keeps the story moving pretty quick. The antagonism (and loyalty) between Wolheim and Boyd's characters who are either busy bickering or saving each others skin makes for a great deal of comedy. When they're finally on the job of saving Mirza (Mary Astor), Milestone tightens the screws on the tension with some clever fighting, running for their lives, and dueling.
There's not a lot of multicultural respect in Two Arabian Knights by the two heroes in a foreign land, nor by the eastern villains towards them, referring to them as "dogs". Wolheim, with his battered nose and bulldog face, and the boyish and smirking Boyd, are perfectly romanticized versions of ideal Americans, one wanted in the states for criminality and the other with a habitual problem with authority, neither daunted by the odds against them, which in "real life" would probably make them idiots, but here it just makes them fearless rescuers.
Mirza might be a veiled Turkish princess, but she's also somehow an American girl in exotic sparkly outfits, quite receptive to the idea of personal freedom, and ready to spirit out of the mess she's in with her double-dealing, sinister suitor who tries to overcome our heroes with tricks versus fighting fair, which turns out to be his last mistake.
---
Destination Wedding - 2018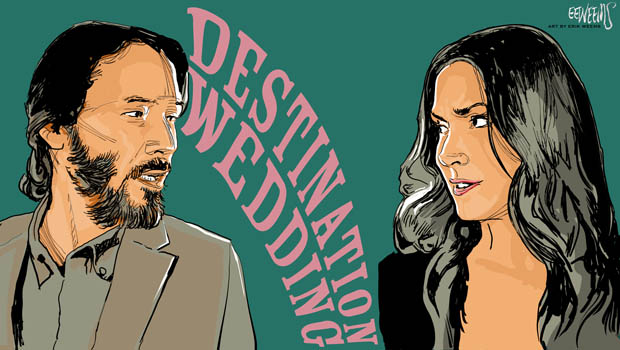 Destination Wedding - released Aug 31, 2018. Directed by Victor Levin
Keanu Reeves and Winona Ryder banter back and forth for 90 minutes and are saddled with the dubious job (from the Victor Levin screenplay) of being unlikable. Their witty dialogue is soaked in miserable observations about themselves and other people as the two are unexpectedly put together during the proceedings at a "destination wedding" in California wine country. Though there are numerous people in the background, no one has any lines except these two (not counting a hispanic maid we hear briefly from outside of a hotel door), and while the nuptials and ceremony are taking place, the dialogue never stops with our two main characters as they fight their mutual attraction and their agreed upon abhorrence of the human race. This is a hard film to categorize as it is a black comedy but doesn't contain any meaningful element of death (like a black comedy), nor is it a "chick flick" or "date film" since those can certainly contain grim elements of melancholy and self doubt, but not for the entire movie.
An interesting moment of victory for love (which takes a continual beating throughout the story) is that we know it has triumphed when the character played by Keanu Reeves finally shuts up.
---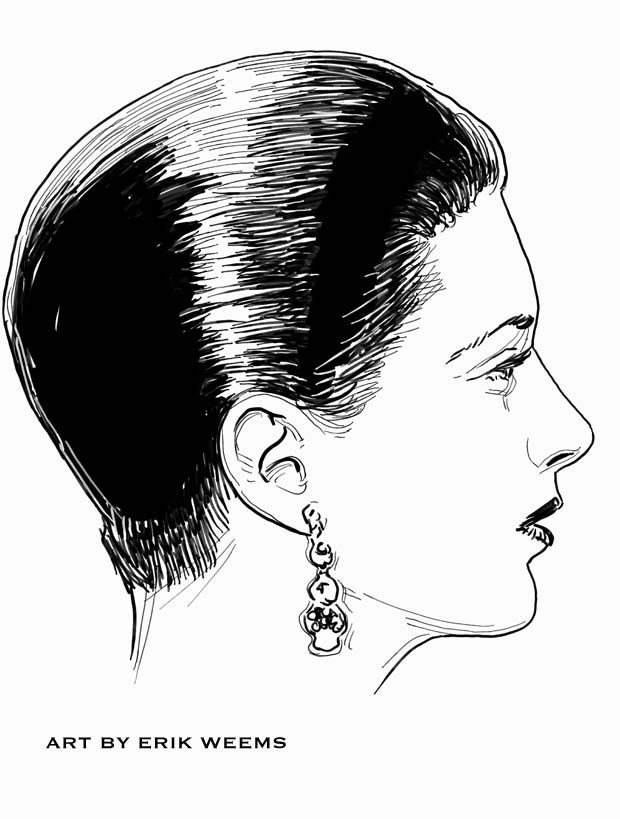 Kay Francis
---
Classic Film Wishes for 2019
List of films Cinemagraphe wishes would be remastered and made available on HD / Bluray discs for classic film fans in 2019.
Local Hero - This 1983 film with Burt Lancaster and Peter Riegert is a comedy from director Bill Forsyth about a Texas oil deal negotiator sent to a small Scottish village in order to buy up the entire town to make way for a sea coast refinery. Instead, he falls in love with the location and the people and begins feeling extremely relunctant to close the deal. A unique comedy full of unexpected contrasts, rabbits, a mermaid, and a Mark Knopfler soundtrack.
The Beachcomber - A 1938 British comedy with Charles Laughton and Elsa Lanchester, long available in ragged form on the internet with poor audio. The story has a derelict "beach bum" (Laughton) on a Dutch island in the South Seas suddenly becoming the improvement project of a fearless busybody missionary woman (Lanchester). The two fight tooth and nail and then land together into the middle of a cholera epidemic (and unexpected mutual attraction.)
Antigone - The 1961 Greek film of a woman (Antigone, played by Irene Pappas) up against the system (her uncle Creon is king of Thebes, and the two don't get a long). It's a wordy presentation of the Sophocles play, but Pappas and Manos Katrakis as Creon are great. Available on DVD and on streaming services in slightly worn form. A remastered, HD version on disk would be welcome. (For that matter, how about a whole set of classic Greek cinema: Antigone, The Woman in Black, Phaedra and the famous Zorba with Anthony Quinn to help give it market traction?)
The Valet / The Closet / The Dinner Game - Francis Veber French comedies, available with English subtitles on DVD, but a genuine HD set would be appreciated. And throw Les Comperes onto it.
The Warlord - 1965 film with Chuck Heston as a reluctant 11th century knight trying to deal with the local village peasant population (they don't like him much) from his fortified tower overlooking the coast of Normandy. Supposedly there is an original cut of the film by director Franklin Schaffner that emphasizes the realism of the historical setting, versus the more glamorous studio cut which added in battle scenes and chopped out story. Either one in HD for USA region bluray players would be welcome.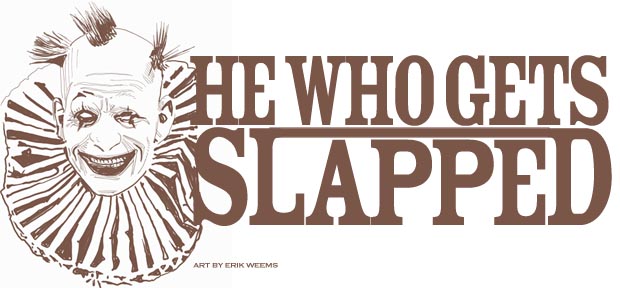 He Who Gets Slapped - 1924 silent with Lon Chaney. Chaney's Laugh, Clown, Laugh from 1928 is the better known and appreciated circus movie, but this vicious 1924 silent (and first effort from the newly formed M-G-M) has a sharper story and stays within Chaney's character type of the avenger that no one saw coming (that is, referring to the story cast, not the audience. We can see what's coming from a mile off).
The Scarlet Pimpernel - 1934 - Leslie Howard as the archetype of the hero with a dual identity hiding in plain sight as a milksop (think Batman/Bruce Wayne, among other modern heroes). DVDs and streaming services make a low-res version The Scarlet Pimpernel available, but why not a HD on disc? (For that matter, how about a whole Leslie Howard set in HD: Scarlet Pimpernel, Pygmalion, Stand-In, It's Love I'm After, Of Human Bondage and Petrified Forest?)
Cleopatra - 1963 - The Elizabeth Taylor film called the "most expensive movie ever made" and already widely available in HD in something close to the original premiere version (read more about that here) but is also said to have generated an early 8.5 hour version that is said to still exist.
The Incredible Shrinking Man - 1957 sci-fi film that is one of the best of that decade (which was flooded with sci-fi cinema). Available in HD through streaming services and for purchase, but not on HD disc.
Meet John Doe - Capra's orphaned 1941 "masterpiece" movie with Stanwyck and Gary Cooper. The Library of Congress seems to have the only valid, quality print of the film. Beat-up versions float around the internet and the streaming services.
Ball of Fire - 1941 - Stanwyck and Gary Cooper again, this time in a Howard Hawk's comedy about an encyclopedia team led by Professor Cooper who decide to engage the modern world in order to update their data, and they end up with "Sugerpuss O'Shea" (Stanwyck) in their laps, a burlesque singer hiding from the police. Essentially, this is a screwball retelling of Snow White and the Seven Dwarves, with the 6'3" Cooper as head dwarf, and Stanwyck as the Snow White which wakes up the professor with a kiss (or as it is called in this slang-soaked movie, "yum-yum"). The Charles Brackett and Billy Wilder screenplay accomplishes the stunt of combining 1941 nightclub hipsters (Gene Krupa makes an appearance on the drums) with old professors sitting around singing the complete 1869 "Sweet Genevieve" to each other. A high quality DVD was issued in 2014, but there's no HD.
---
They Shall Not Grow Old - 2018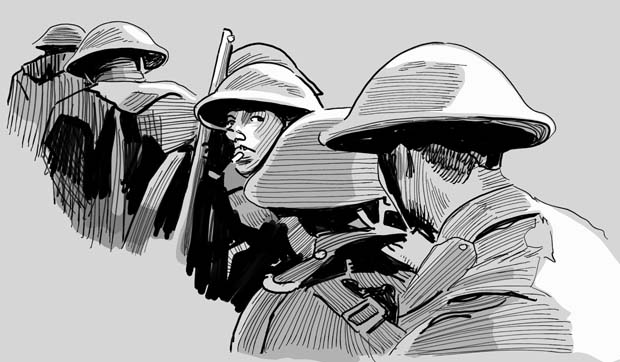 Peter Jackson's documentary on World War I using remastered original footage from 1914-1918 supplied by the Imperial War Museum in London is an impressive storytelling feat. Using the comments of actual WWI veterans audibly superimposed to correspond with the images on the screen, a narrative slowly comes together showing how the typical British soldier dealt with training, transfer to the fields of France, and then bursting into a long colorized section, what the experience of trench warfare, shelling and mustard gas was like. The many voices, from recordings made during the 1950s and 1960s, simply state the reactions the soldiers had, what they thought during crucial moments, and how the slaughter affected them.
The narrow focus of the documentary leaves out a great deal of history about the war, never specifically recalling certain battles, strategies, leaders, politics, cultural events, or even what countries were involved other than Germany vs. the British, though a little side trip is made to recount how the British (and captured Germans) felt about the Prussians (did not like them) and what was the feeling toward Bavarians (admired them). The Scots soldiers are easy to identify (they're in kilts) but otherwise we might be looking at men from England, Wales, New Zealand, India, Canada, or even America at any given moment.
This exploration of what the fighting soldier experienced without consideration of all the rest that drives forward the machinery of war limits any understanding of the event except in human terms of the cost (with over one million casualties, the cost was immense). Jackson does extend the story a little past the 1918 armistice marking the end of hostilities to provide a brief look at the coldness or indifference that awaited returning soldiers to the UK who were often ignored and even treated with outright discrimination as they tried to integrate back into the workforce. No mention is made of the disastrous collapse in Germany in the wake of 1918, probably because this would inevitably be a narrative thread pointing the way toward Hitler and the desire for getting even after the badly thought-out treaty of Versaille, each big stories themselves and hard to define in a brief way.
Jackson's team reworked the old footage using CGI to radically improve the image quality and to rebuild elements that were heavily damaged. After the end credits of the documentary stopped (I saw the movie at a Fathom Events screening at a Regal Theatre), Jackson appeared on screen to give a tour of how the documentary was made and the decisions they faced as they put it together from the old film and audio recordings.
Why the colorization of the footage during the warfare section of the piece? Jackson says he needed to make the story acceptable to 21st century audiences who have certain expectations, plus he felt he knew for certain that if color film had been available during the 1914-1918 war, these 20th century cameramen without hesitation would have used color over black and white. The superiority of color to show depth of field isn't mentioned by Jackson, but it is obvious on the screen as masses of soldiers move across vast battlefields, the distances and sizes of those battles are much clearer to comprehend through color. The stark images of dead soldiers and the general carnage of trench fighting is also made clearer through color. Jackson shows off some of his collection of World War I artifacts and how they were used to accurately pinpoint the correct colors for uniforms and equipment. Modern photography of France was used to accurately recreate the coloring of grass fields and roadways, such as the famous "Sunken Road" of the Battle of the Somme in 1916.
The only area the documentary that was lacking was in not allowing a fuller telling of the human reaction of the soldiers, which is an irony considering the focus. Only a bare demonstration of religion is made in They Shall Not Grow Old, yet we know historically the war was perceived by many as a religious war between the Allies as righteous defenders (or avengers) of Christendom and the Germans led by Antichrists bent upon Apocalypse. Perhaps it's just as well that Jackson avoided these propaganda images, however much embraced at the time, yet I would have wanted to know the reaction of the soldiers in the trenches, did the experience make them more religious in their faiths, or less? Did they leave the battlefield atheists, or more in awe of their god (or gods)? Did these events in the lives of these predominantly young men lead to the radical politics of the 1920s (and beyond), or conservatism? Jackson gives us a view of the sex lives of the men (brothel stories in French towns are related to us as an important part of the narration) yet politics and religion are absent, as if these people in the midst of war had no deeper feelings than survival instincts, frustration and shock at the whirlwind of destruction all around them, something I find as lacking normal human circumspection.
Complaints aside, Jackson's work in They Shall Not Grow Old enlarges how old footage can be used through the magic of CGI in telling documentary stories. The narrative structure is unique and powerfully expresses a sense of what that war was like at a gut level, and the voices lend a humanity and sense of identity with an assemblage of accents and speaking styles. The added in singing, bagpipes and whistling also builds up the sheer humanity of the proceedings. Jackson used clever film techniques to bridge the limitations of the old silent film scraps, and it is clear from the after credits section that he holds a deep personal fixation on the war (a person doesn't collect World War One artillery and uniforms on a whim), and this passion for doing the job justice comes through.
---
My Man Godfrey - 1936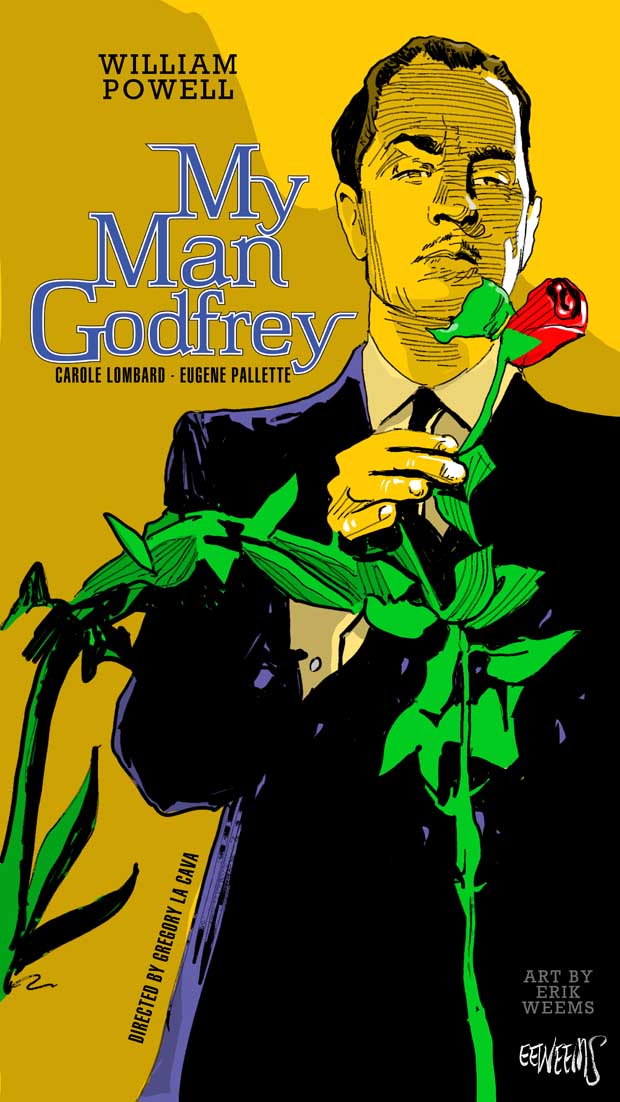 My Man Godfrey - Released September 6, 1936. Directed by Gregory La Cava
Probably the gold standard in screwball comedies, My Man Godfrey contains just about every element usually associated with the genre: the "insane" rich, depression-era poverty, and the travails of getting and holding a job.
A rich vein of warm humanity powers this story of a bitter, upper-class son of Boston privilege (Powell, not so dapper with whiskers and ragged clothing) who ends up a bum living on a trash heap with other bums, gets adopted by a screwy young woman (Carole Lombard) who wants a "protege" like any proper wealthy woman of her class, and so he is brought in as the butler for her whole family.
---
---
End of the line for Filmstruck
It was a classy service for streaming classic film and arthouse/fringe material. The team up between TCM and Criterion Collection wasn't exactly Powell and Loy, but maybe it was at least Martin and Lewis, which means, quality was there under the glossy surface and contradicting elements.
I received a "free" Filmstruck subscription because Warner Archive streaming service went under, and that was their consolation prize given out for the months of WA I was to not receive. I thought I was getting a fantastic deal at the time, because the announcement of this arrangement made me think I was getting the crazy mix of quality, junk and obscurity that made Warner Archive so much fun, combined with Filmstruck's "officially" recognized library of high quality (the announcement claimed that the same titles at WA would show up over at Filmstruck). But that's not how it worked out, with only a blip of the titles finally appearing at Filmstruck.
Warner says they are working on a plan for a new service, but not one that will be a closed genre like classic film. Criterion Collection plans a new streaming service of their own that will be all about them and their library. I do not know what TCM is going to do besides stay a standard cable service.
The dilemma I see for classic film is the one which haunts the other niche cultural alleyways of society, such as comic books and jazz, which is that there just isn't enough paying customers to make running each industry particularly smooth. On top of that is the obsessive behavior of the fan who wishes to own the physical objects of the niche, such as "slabbed" comic books, original jazz vinyl, and the highest quality possible HD of whatever film print still survives for a favored classic movie. This clashes with what streaming is: a disposable digital world where images wash across screens like ocean waves, a new one on its way while the last one disappears, entertainment so temporary that it hardly barely the tenants of fandom, which is more like the big rock on a beach, promising permanency, as the waves come and go.
Additional link:
Forbes - Kristen Lopez on the ending of Filmstruck
---
---
Being There - 1979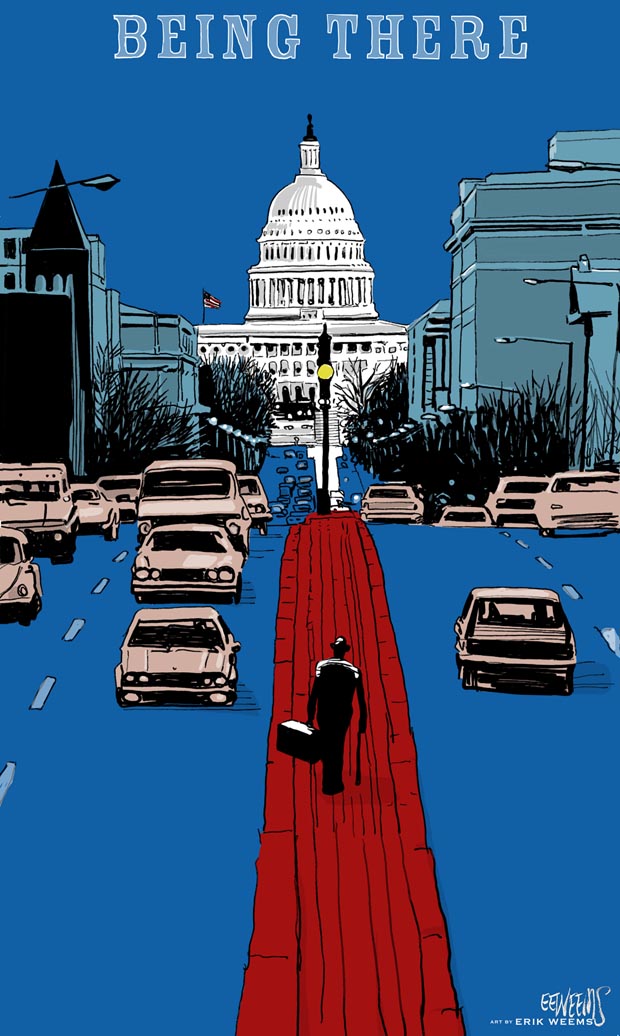 Being There - Released December 20, 1979. Directed by Hal Ashby
Born and raised in a house in downtown Washington DC, never seeing the outside world except via television, Chance (Peters Sellers) is evicted and seems to face an uncertain future. A series of circumstances pushes him into the center of political and financial power in America, a world he can only understand and explain through terms related to gardening, his only area of knowledge and skill. Interpreted as metaphorical ideas about everything from the meaning of life to how to solve economic problems, he is hailed as a genius.
More Being There
---
Coming from Criterion Feb 2019
To Sleep with Anger
Danny Glover in a 1990 film directed by Charles Burnett
The Criterion page on the Bluray release
---
Greta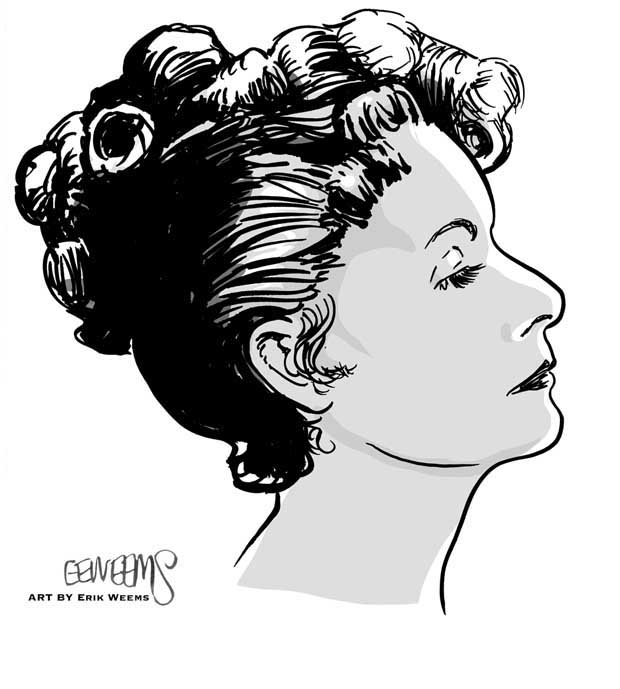 ---
Rita Hayworth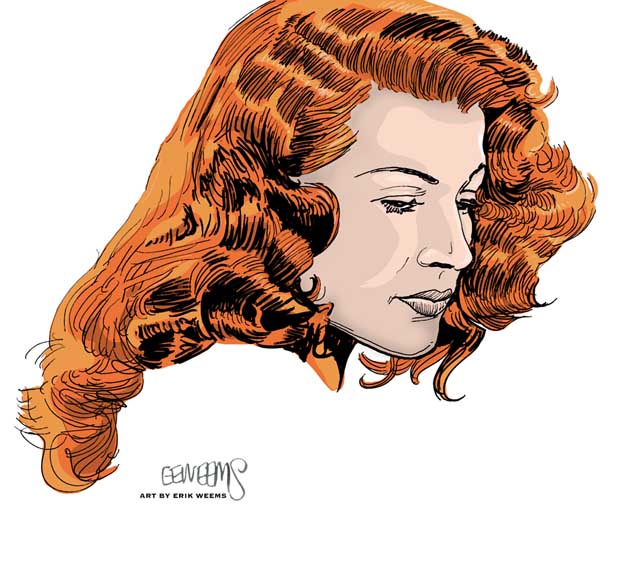 ---
The Shrimp - 1930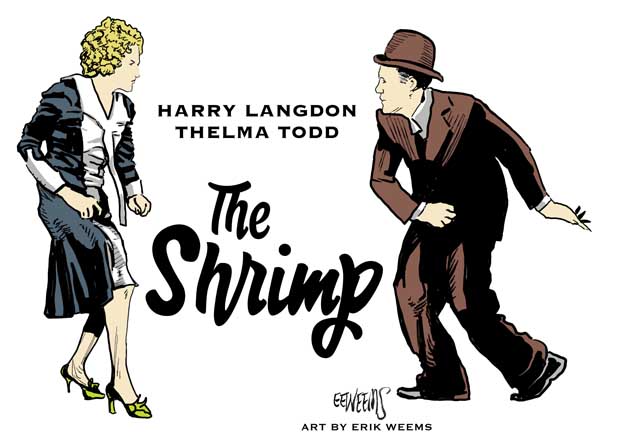 The Shrimp - released May 3, 1930. Directed by Charley Rogers
Harry Langdon in a 20 minute short in which he's a milquetoast weakling at a boarding house where he is repeatedly and cruelly victimized and bullied at every turn, that is, until a strange scientist injects "the personality of a bulldog" into a willing human guinea pig: Harry.
Thelma Todd is on hand as one of the laughing tormentors, along with Nancy Drexel as Harry's girlfriend who encourages him to stand up for himself, advice that gets completely out of hand once Harry is transformed into a man on a mission rampaging through the boarding house. Langdon's ability to make a hybrid character between his usually mild-mannered Harry from other shorts and comedy features and a muttonchop-swinging avenger is quite a feat, still retaining the goofy man-child aspects of one without descending into sadism with the other. The violence is a bit of a shock compared to other Langdon features.
The Shrimp leaves you asking one question: do you like berries?
---
The Last Man on Earth - 1964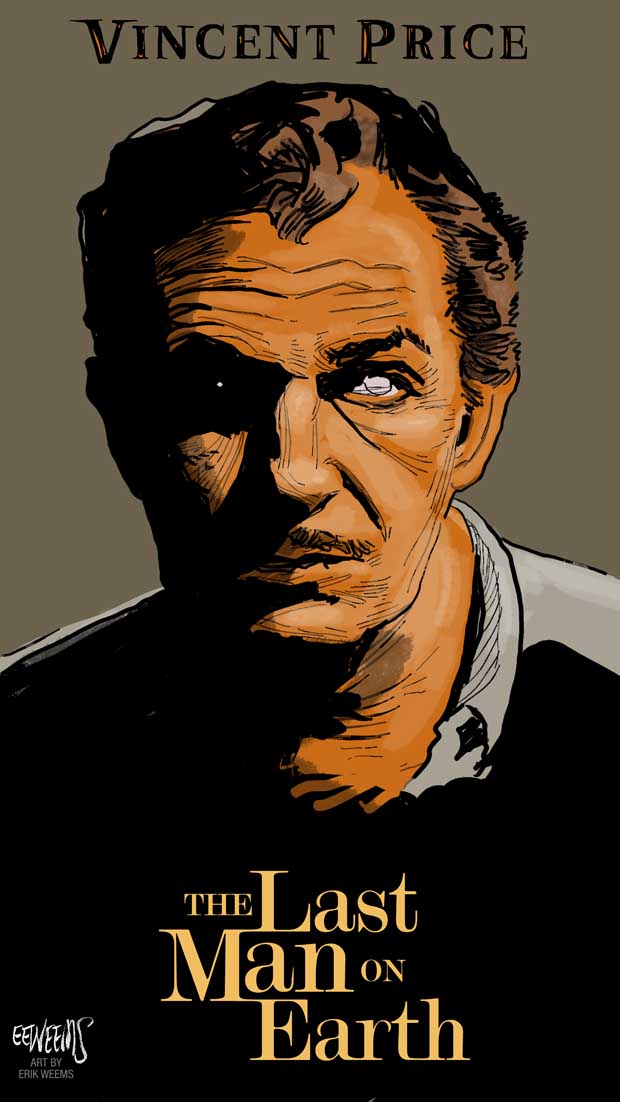 The Last Man on Earth - Released March 8, 1964. Directed by Ubaldo Ragona and Sidney Salkow
He (Vincent Price) is the "last man" on earth only in a technical sense. His home has plenty of visitors once nightfall comes, people infected with a strange bacillus that turns them into some kind of quasi-vampire/zombie determined in their slow-moving and drunken-sounding way to get at the occupant (this seems to have been lifted whole-hog by George Romero for the famous Night of the Living Dead of 1968). Instead of cowering in fear inside his boarded up home, Dr. Robert Morgan (Price) grumbles against the noise of the attackers, drinks booze and in a surreal bit of horror and comedy mixed together, plays a swinging jazz vinyl record which the director then times with the unorganized gate of the creatures outside. If only the whole film had the same pizzazz.
The original source novel for The Last Man on Earth is Richard Matheson's I Am Legend, and it is a story that has been filmed numerous times elsewhere and 'borrowed' from repeatedly for TV, movies, novels, comic books, etc. Matheson, before his death in 2013, said that nobody had yet to actually film his story the way he wrote it, which is a tale of how ancient superstitious legends about vampires (garlic, crucifixes, running water, etc) meet the god science which explains the plague of vampirism that takes over the world as the workings of a germ which gives the infected a food allergy against garlic, a psychological fear of crucifixes (unless you're non-Christian, obviously) and in Matheson's plot, the basis for the creation of something far worse than the germ, a new authoritarian society of half-human, half-vampires who are determined to drive anyone not like them into extinction. It's political conformity weaponized by microbe, and to make sure the idea isn't misunderstood, in both this film and the original book, the members of this new, improved society are dressed in black uniforms, better to make the allusion to National Socialism and fascism explicit.
The Vincent Price version of 1964 is the first effort at dealing with Matheson's book, and is probably the only filmed version (that I have seen) which tries to address all of Matheson's elements equally, however garbled it gets on screen. The 1971 Chuck Heston version and the 2007 version starring Will Smith threw out significant portions of the original Matheson story.
The battle for survival in The Last Man on Earth is simplicity itself, and as far as cinema goes, is something more or less like a hundred cowboy movies showing the wagon-train or fort surrounded by rampaging Indians, or even more directly, Hitchcock's The Birds from 1963 which depicted a similar siege of attackers with humans trapped inside their home.
Vincent Price plays Dr. Morgan as a desperate and determined scientist trying to find a way to cure or kill the vampires that have him surrounded at night. He is immune to the bacillus and has been trying to find a way to create a vaccine from his blood that will transform the infected back into less-lethal humans. As the film progresses, we flashback to how Morgan's wife and daughter are taken by the germ, and old friendships turn dangerous. Unfortunately for Price (and the audience), the paucity of the visual storytelling and his own over-emphasized acting style, which the directors seem to have no idea how to utilize, turns many scenes from The Last Man on Earth into unintended humor. If only someone like Roger Corman had optioned the tale, a director who would have kept Price from having to try and carry the whole picture by himself.
---
The Only Game in Town - 1970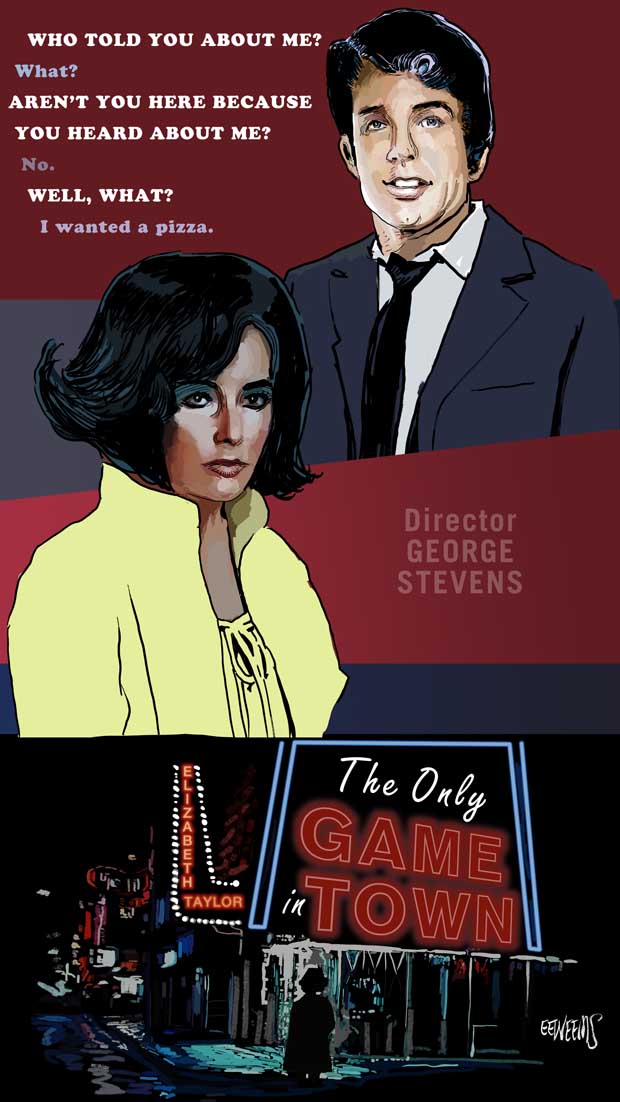 The Only Game in Town - Released January 21, 1970. Directed by George Stevens.
Compact tale of two "losers" in Las Vegas who are each self-destructive in their obsessions but together find a way out of their self-imposed traps. The wit of the dialogue and the difficult journey of the two is an engaging tale, though a survey of critical responses to this movie indicate many viewers find it either mundane or flat-out maudlin. The melodrama is rather thick: Fran Walker (Elizabeth Taylor) has been waiting years for her married boyfriend in another state to finally get the promised divorce that will allow them to get together legally. She finally put an ultimatum on the man and he hasn't been heard from since. Meanwhile, she works as a very bored-looking chorus girl in a Vegas show. From this starting point the whole film develops simply - one night after work she is looking for pizza and comes across a night club piano player named Joe Grady (Warren Beatty) who caustically ingratiates himself to her by way of his self-deprecating joking and wry comments about Vegas in general.
Grady's dilemma is that he plans to leave Vegas, a place he claims to loathe, and head to New York City to work as a musician. He says he needs $5,000 to be able to survive long enough in NYC until he'll get the jobs he'll need to take care of himself. He has been steadily saving the money so that he can do just that. He says he has had a gambling problem in the past but has it under control now, a lot of information Fran doesn't really want to know because she shields herself from anything that is more than a superficial engagement with other people, especially men, as she waits for her absent prince charming to show up.
The dialogue in the film is filled with funny lines, and Beatty is effective as an easy-going, jocular and slightly manic spectator and analyst about everything around him. The problem is his compulsive gambling streak, which has a cruel edge to it, comes out whenever he gets near his self-imposed $5k goal line, and in the course of this film we will see him blow up his nest egg several times, then return to his penny-pinching to build it back up.
Taylor is low key in a way that isn't in too many of her higher-profile movies. Her character comes across as a highly intelligent, empathetic woman who nonetheless is tied up in a long distance relationship with an invisible man who may have been chosen deliberately because he is out of reach. When that guy is suddenly "free" and Grady has more than $5K in his hands, this will present the biggest challenge the two friends Fran and Joe will face as they see their "no strings attached" relationship now under threat of extinction. How Fran and Joe Grady conquer their problem (in a sense it is really the same problem) and finally can get out of the purgatory of Las Vegas is the main thing in the script by Frank Gilroy. Whatever glamour and excitement Vegas holds in the American mythology of "the good life" it isn't available in The Only Game in Town.
---
Quick Reviews
The Naked Prey - 1965 - Cornel Wilde stars in and directed this small scale (but still quite epic) movie about a colonial era English hunting party in Africa that casually insults a local tribe who then exact a horrible recompense for the bad behavior. Cornel Wilde is known only as "Man" in this mostly wordless story. He is a safari guide who cautions the Englishmen to be respectful and friendly, advice that is completely spurned. After the other members of the party are slain,"Man" is set free to dash for freedom while being hunted by a band of the tribe's best lion hunters. It is meant as only a simple "game" to finish off the last of the offending safari, but Wilde's 'Man' is a seasoned veteran of the land and resourceful, and he leads the group of lion-hunters on a massive cross-country chase with interactions with a variety of lethal wildlife, slave-raiders, warring tribal groups, and through an often desolate and foodless landscape. Categorized in a variety of ways in film literature, and usually considered the best of Wilde's personal film projects, The Naked Prey contains a paean to understanding, compassion and respect in between the brutality. There's not much dialogue, though we do get a slate of exuberant tribal songs and Wilde sort-of singing "little brown jug" accompanied by a young child (Bella Randles) he rescues from slavers who assault her village (and she in turn will rescue Man a bit later). There's nothing else like this film.
Jacqueline - 1956 - Set in Northern Ireland, little Jacqueline (played by Jacqueline McNeil) wants to help her family survive both difficult financial problems and her father's periodic alcoholism. At times, as unexpected tragedies intervene, her family seems to be on the verge of fragmenting completely. Despite the dark problems surrounding the story, the little girl always finds a way around them by either sheer grit or outright lying. Director Roy Baker gives the story a sense of tension and conflict that never gets too out of hand to change the otherwise sunny determination of the central character. In a way, Jacqueline is like a Lassie movie or Disney live-action tale featuring a plucky hero up against stiff odds, but the grim realities of the adult world color this movie differently and in a more forceful way than Walt would have ever allowed, and the setting of Irish society with it's own peculiar twists separates it from it's American-style cousins. Altogether well-made and containing an understated sense of drama, Jacqueline is an unpretentious portrait of a unique little heroine.
---
Jean Brooks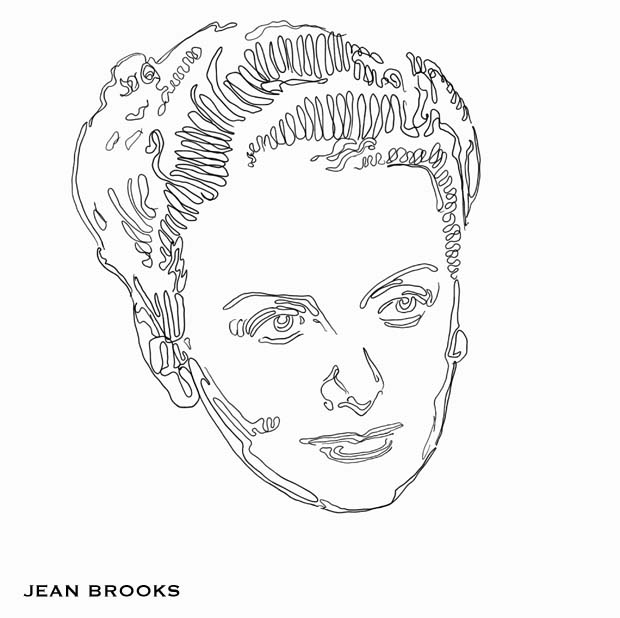 ---
The Hideous Sun Demon - 1958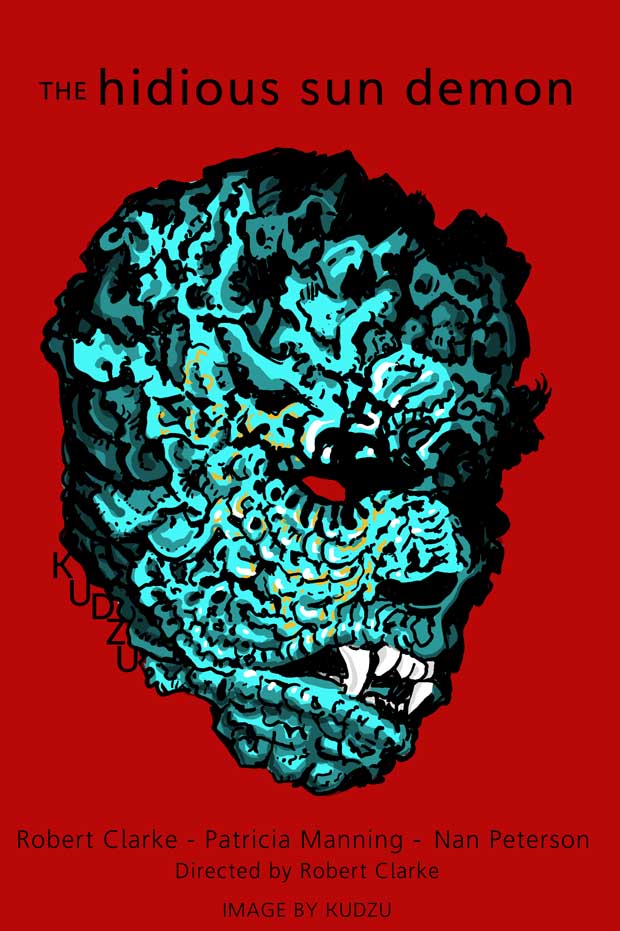 The Hideous Sun Demon - 1958 - Low budget monster effort starring Robert Clarke. He is a tormented nuclear scientist who discovers after a lab accident involving isotopes that he alters into a violent lizard-man when exposed to sun light. Needless to say, this is problematic for he and his would-be girlfriend (Patricia Manning). Consequently, a good portion of this tale takes place at a night, conveniently at a night club where the scientist watches a pretty lounge singer (played by Nan Peterson) and the pair take off to swim and sleep overnight at the local beach, which turns into a disaster when the sun comes up.
Star Robert Clarke also directed this film and he keeps it moving as the lizard-man/scientist struggles to keep his sanity and to defeat the gangster boyfriend who keeps a proprietary eye on the lounge singer.
While The Hideous Sun Demon seems to mimic the usual 1950s science-gone-wrong films that had come before, it also throws in a piece of King Kong for a poetic finis, and contains a certain energetic get-up-and-go that helps compensate for the thin budget.
---
---
AMAZON: Boris Karloff: A Gentleman's Life - 356 Page Biography
---